Snow biomes are some of the most beautiful as well as the most challenging biomes of Minecraft. You can witness the beautiful mountain ranges, make snow golems and find polar bears, and even make goat horns in Minecraft 1.19. But at the same time, you also need to avoid stepping into powder snow that can sink you in while killing you. With a mix of good and bad, there is a lot for you to look forward to and our collection of best snow biome seeds for Minecraft 1.18.3 is here to help. We have gathered the most iconic, rare, and beautiful worlds of Minecraft along with key coordinates to help you find the perfect place for your snowy base. With that said, get ready to fall in love with the cozy world of Minecraft with these snow biome seeds.
Best Minecraft 1.18.3 Snow Biome Seeds (2022)
Keeping your ease in mind, all the seeds in the list work on both Minecraft Java and Bedrock editions. We have tested all these seeds on the latest Minecraft 1.18.3 update on both editions. You can freely use them on any device that supports Minecraft 1.18.3. Additionally, as our list isn't ranked in any way, you can explore the seeds as per your interest. Moreover, if you are running an older version of the game, check our list of the best snow biome seeds for Minecraft 1.17 and earlier.
1. Stranded in Ice
Opening with a challenge, our first Minecraft 1.18.1 snow biome seed is a great place to test your survival skills. It spawns us in a snowy ice-filled biome with only a regular ocean beyond the snow. There are trees here that can be great for making items but nothing more. You can't even find many caves for resources, adding to the survival aspect.
Most importantly, the only mob around spawn is polar bears, so you have almost zero sources of food. So, if you want a snowy challenge, this is the seed to opt for. Just make sure to learn how to make a boat in Minecraft first.
Seed Code: 39831394
Biomes: Snowy Plains
2. Wooded Snow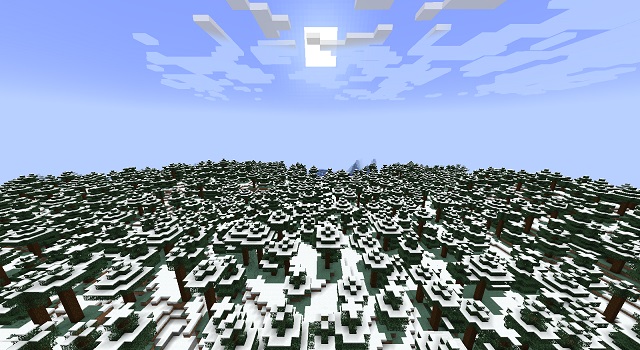 Our next snow biome seed is simple in many terms as it only serves a single purpose. It's made for tree lovers in the game and provides us with a seemingly endless snowy forest with dozens of cave openings. Not only that. But if you keep following the forest, then it slowly transitions into a regular forest creating a scenic view. Like most seeds on our list of Minecraft 1.18.1 snow biome seeds, this too serves us aesthetically while making it a challenge to survive.
Seed Code: 876020622
Biomes: Snowy Taiga
3. Frozen Mushroom Island
Among all the Minecraft biomes, the mushroom fields island is the rarest and most unique. No hostile mob can naturally spawn in this biome, making it the safest place to explore and settle. This seed presents us with the same mushroom island but in a rare frozen world with ice and frozen ocean all around it. The location isn't at our spawn, so you will have to travel a bit to reach there.
But once you do, you will have food sources, along with the perfect and safest location to make a snowy base in the game. If you are wondering about the resources, the frozen ocean has a few underwater caves that you can explore. The players coming to this location later in the game can even make a potion of water breathing to explore the caves.
Seed Code: 1706992951
Biomes: Frozen Ocean
Island Coordinates: X:-568, Y: 70, Z: -442
4. Snowy Survival Island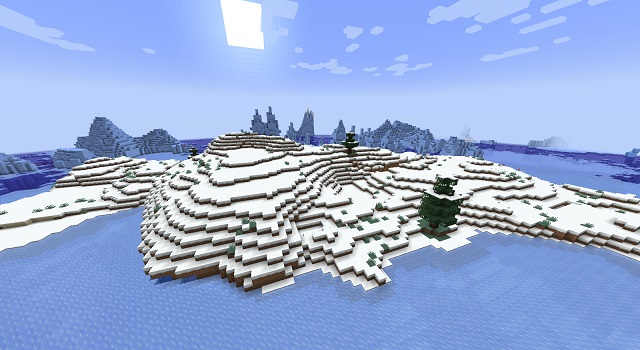 If you have checked our list of best island seeds, you probably agree that survival islands are a great way to explore Minecraft. Such seeds see you stranded on an island with limited resources and an ocean around you. Sounds familiar, right? This seed gives us the same survival adventure fun but with a twist. Instead of a regular ocean, a frozen ocean and ice spikes surround our survival island. You might not survive the tricky snowy situation unless you find the nearby plains island to gather resources. So, keep an eye out for greenery and get ready for survival fun.
Seed Code: -510513385
Biomes: Snowy Plains
5. Largest Frozen Spawn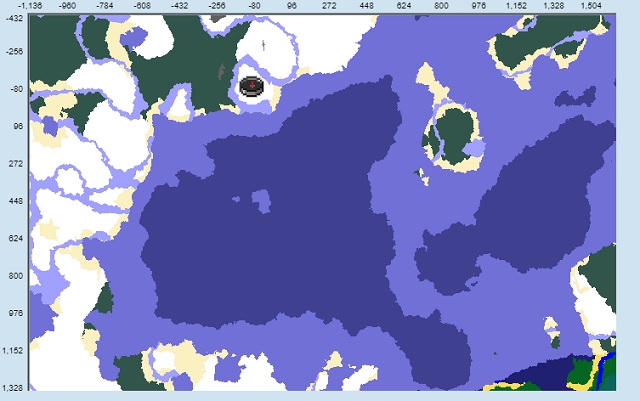 This seed made it to our list of Minecraft 1.18.1 snow biome seeds just because of its sheer size. It spawns us on the edge of possibly one of the largest frozen areas in any Minecraft world. It goes well beyond the first 1500 blocks and includes a variety of smaller islands, deep caves, and a lot of structures on both editions of the game.
Not to forget, unlike many other seeds on the list, you can find other smaller biomes here and there while exploring the snowy biomes. That means you won't have to struggle for food and resources if you look at the right places.
Seed Code: 1889391968
Biomes: Snowy Plains
6. Shattered Snowy Mountain
Since the new update hit the game, finding shattered biomes with floating chunks has become a thing of the past. Due to extended terrain generation, most mountains in every biome are now generated completely. You can find a couple of savanna scattered mountains but never snowy ones.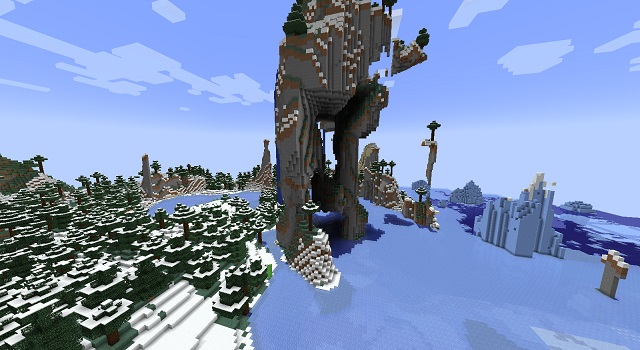 Keeping that in mind, this Minecraft seed offers you an aesthetic spawn with a variety of biomes and a tall scattered snowy mountain. With its high treeline, it touches that 183 block height, which is more than enough to see the iconic world around you. Now, the only thing you need to take care of is figuring out how to climb to the top.
Seed Code: 2122612140
Biomes: Snowy Beach and Frozen Ocean
Mountain Coordinates: X:-31, Y: 174, Z: 273
7. Smallest Snowy Biome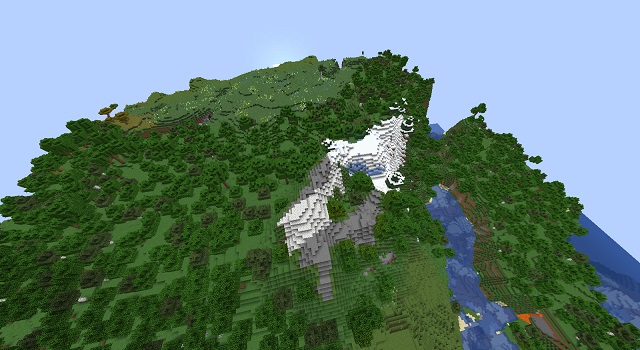 Usually, snowy biomes in the Minecraft worlds are fairly large, covering dozens of blocks but not with our next seed. This seed spawns us next to a jungle with various biomes but nothing snowy within 4000 blocks of the spawn. Well, almost nothing snowy for miles, but out of nowhere, you will stumble on probably one of the smallest snowy mountains. The location is perfect for players that want to collect snow but not for a base and only a temporary resource.
Seed Code: -253321634
Biomes: Forest
Coordinates: X: -307, Y: 186, Z: 232
8. Frozen Mountain with Exposed Dripstone Caves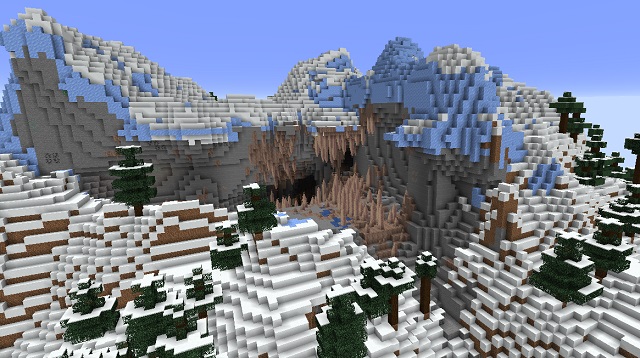 Our next snow biome seed truly focuses on the Minecraft 1.18.1 caves and cliffs update but combines the two. It spawns you close to a tall snowy mountain with an exposed dripstone cave on top of a snowy mountain. It won't be wrong to call it an almost impossible dripstone cliff. The chances of finding another seed with such a glitched situation are next to nothing.
Seed Code: -98990689
Biomes: Snowy Plains, Snowy Taiga, and Frozen Peaks
Mountain with Dripstone Coordinates: X: -258, Y: 163, Z: 377
9. Realistic Mountain Range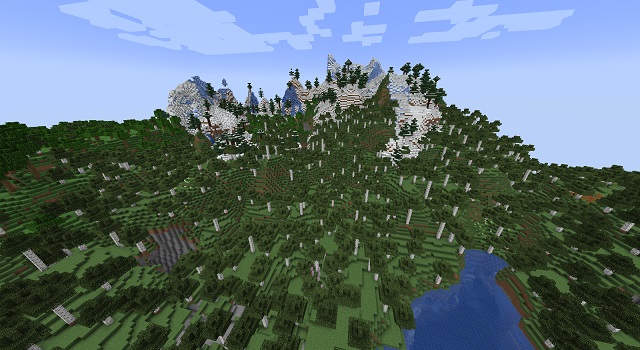 Focusing on the aesthetics, we have our next seed that features a realistic-looking mountain. It has greenery and a river at its feet and slowly increasing snow at its top. The spawn doesn't have any open area for creating a base but clearing out the forest might be worth the efforts for such scenery. As for the resources, you can find food, trees, and a lot of ores in the nearby forest and its cave openings.
Seed Code: 664228344
Biomes: Meadow
Mountain Coordinates: X: 110, Y: 100, Z: -494
10. Survival Snowy Mountain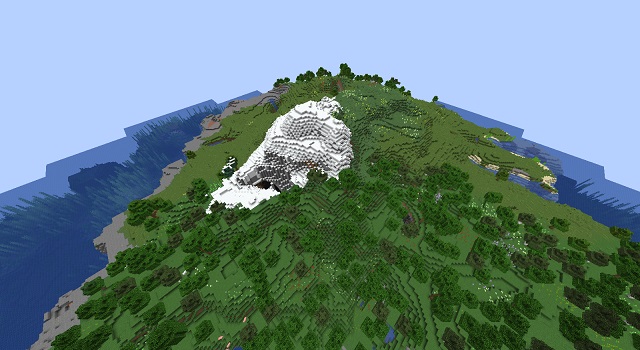 Similar to the last seed, our final seed also features a realistic snowy mountain but in a survival island setting. It includes a flowering plains biome and a leveled plain surrounding the mountain. The area makes up quite an easy and level place for a simple base. The only downside of this seed is that there are almost no reliable villages nearby. So, populating our spawn might be an issue. Though, our guide on how to breed villagers in Minecraft might help you out.
Seed Code: -325424792
Biomes: Forest & Plains
Coordinates: X: 46, Y: 111, Z: 178
11. Iconic Snowy Forests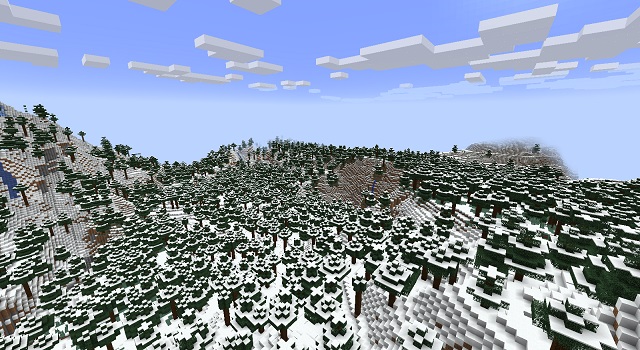 If we look back at the music videos from not more than a decade ago, it won't be hard to find ones with forest and snow in them. Now, even though that trend is fading, the love for the snowy forests isn't going anywhere. And that's what our next snow biome seed is all about. It spawns in Minecraft's most beautiful forest with snow-covered trees that sit on top of a mountain looking down at beautiful scenery.
If you ever wanted a good spot for an ice kingdom base, this spawns you just at the right place. Not to forget, as a bonus, the area also has multiple small exposed dripstone caves too.
Seed Code: 5396770582156086762
Spawn Biome: Snowy Taiga
12. City Of Ice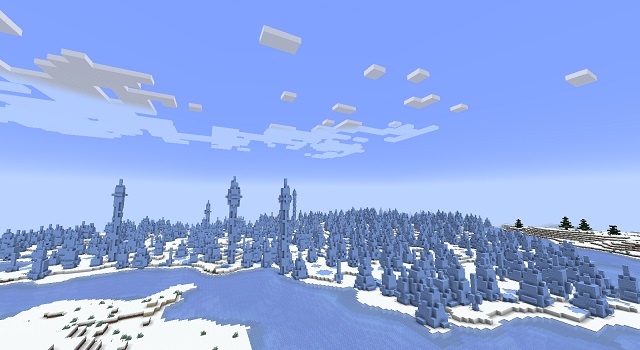 Collection of ice spikes is common in the snow biome but nothing comes to the level of ice this next seed spawns. With random structures spreading across hundreds of blocks, this seed offers us the largest and most well-designed ice city. You can use it to make one of the best custom maps of Minecraft or just to have a new ice village. Whatever you do, just make sure not to melt any of the ice.
Seed Code: 6663329188681236862
Spawn Biome: Snowy Plains
Ice City Coordinates: X=-117, Y= 73, Z= 140
Try these Minecraft 1.18.1 Snow Biome Seeds
With that said, you are now ready to explore all the snowy biomes in Minecraft 1.19 and older versions. You can find polar bears, ice, snow golems, outposts, and a whole world of snowy features. And if our predictions of the new Minecraft 1.20 are correct, we might even see new a new village in the snow biomes. However, if you don't plan on waiting, you can try out one of the best Minecraft modpacks. Some of them even upgrade the snowy biomes with new mobs and structures. With that said, even the vanilla snowy biomes are worth exploring after the recent updates. Just make sure to carry enough cooked food. Happy exploration!