The iPhone 7 and 7 Plus are very similar in what they offer but if you are a smartphone camera enthusiast, we'll recommend you the iPhone 7 Plus. The dual camera on the 7 Plus brings some great camera quality and capabilities, like optical zoom, easy to create bokeh effect and more. That's not all, as the iPhone 7 Plus is arguably the better smartphone of the two, with a bigger & higher resolution display and larger battery. So, if you've bought an iPhone 7 Plus or plan to buy one, you've made a good choice. Well, since you've paid a hefty amount for the iPhone 7, we'll suggest you to get a screen protector to protect the device because you wouldn't want the screen to get a scratch or shatter, now would you? To help you out, here are the 8 best iPhone 7 Plus screen protectors you can buy:
1. Armorsuit Ultra Clear Screen Protector for iPhone 7 Plus
The iPhone 7 Plus features a gorgeous display and if you want the best clarity while protecting it, you should get the Armorsuit ultra clear screen protector. The super thin screen protector is optically clear and UV resistant, so it shouldn't get a yellow shade over time. On the protection front, it is scratch proof and made up with military grade material, so it should offer decent protection. Plus, it has self-healing capabilities and offers resistance against oil, smudges and dust. Along with the screen protector, the package includes flexible squeegee, spray bottle solution, microfiber cloth and installation Instructions.
Where to Buy: Amazon.com
Price: $7.85
2. Omotion Anti-scratch Tempered Glass Screen Protector for iPhone 7 Plus
The Omotion screen protector for the iPhone 7 Plus is a pretty heavy duty screen protector. The 2.5D tempered glass offers 9H hardnesss and should easily protect the display against hard devices like knifes, keys or even drops. Along with the great protection, the screen protector also brings high-transparency, so there shouldn't be any problems with the clarity. Also, it features a oleo-phobic & hydrophobic coating, so it should do pretty well against dirt, smudges, oil and fingerprints. The package includes wet wipes, microfiber cloth, dust removal, guide sticker, installation instructions, bubble removal card and the screen protector, of course.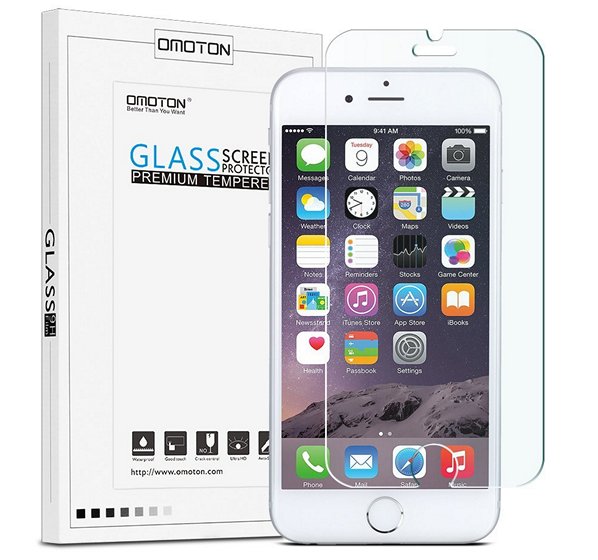 Where to Buy: Amazon.com
Price: $5.99
3. Skinomi Matte Screen Protector
Like other matte screen protectors, Skinomi's matte screen protector for the iPhone 7 Plus brings that great smooth, satin like surface, which is a pleasure to use. The screen guard is full coverage, which means the bezels too will be well protected from any drops or bumps. It's made up of a self-healing, flexible and tough material that ensures great protection. Overall, the anti-glare screen protector should do well enough to protect your iPhone 7 Plus' display against scratches, punctures, UV light, smudges and fingerprints.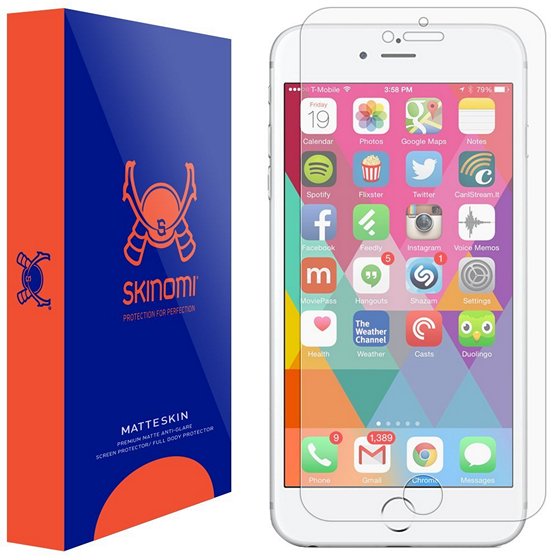 Where to Buy: Amazon.com
Price: $9.95
4. Casemate Iridescent Screen Protector
Ever wanted a screen protector that not only protects the display but also brings a unique design touch? Well, that's exactly the Casemate screen protector offers. The edge-to-edge screen protector is dubbed "Iridescent" for a reason, as it features beautifully etched metallic and iridescent patterns on the bezel of the screen protector. The tempered glass protector, like most other offerings, offers 9H hardness in a very thin profile. Overall, the beautiful screen protector offers great scratch protection, anti-fingerprint attributes and high-touch sensitivity.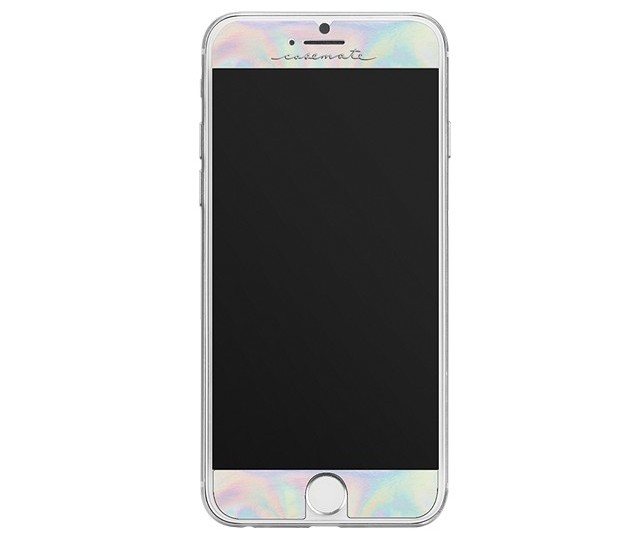 Where to Buy: Case-mate.com
Price: $35

5. Dmax Anti-Spy Screen Protector
If you travel a lot through public transport, you must have come across people who like staring at your display. Well, that can be pretty awkward and they might even get to see something private on your phone. Thankfully, the Dmaz Anti-Spy screen protector comes with a solution. The iPhone 7 Plus screen protector is designed with a coating which makes sure that only the person in front of the device is able to view the display properly. Makers recommend full brightness to get the maximum effect. The screen protector is full coverage and features multiple layers, which make it scratch & oil, fingerprint resistance.
Where to Buy: Amazon.com
Price: $3.49
6. Tranium Soft Glass Screen Protector for iPhone 7 Plus
Tempered Glass screen protectors can be a little too hard, which is not everyone's liking and that's why some people tend to prefer a simple film or matte screen protectors but the good news is, Tranium offers a tempered glass screen protector, which features a soft surface. It achieves this through a high quality material that's used in the screen protector. It also features oleo-phobic and hydrophobic coating, which makes it resistant to sweat, oil and fingerprint. It's no slouch when it comes to protection, with 9H hardness in a very slim 0.2 mm thin profile. It also features slightly rounded edges to cover the corners too.
Where to Buy: Amazon.com
Price: $7.95
7. Spigen Glass Screen Protector for iPhone 7 Plus
Spigen is a pretty well known brand when it comes to screen protector and it offers a fairly simple tempered glass screen protector for the iPhone 7 Plus. The protector offers 9H hardness and is designed in a way that it fits perfectly well even if you have a heavy duty case snapped on. It also offers great clarity and TrueTouch sensitivity, so 3D Touch should work perfectly fine with the screen protector applied. The Spigen offering has an oleo-phobic coating too, which makes it resistant to fingerprints, smudges and dirt. It is available in a double pack and the company offers lifetime warranty.
Where to Buy: Amazon.com
Price: $7.99 
8. Sparin Full Coverage Screen Protector for iPhone 7 Plus
As the name suggests, the Sparin screen protector for the iPhone 7 Plus offers edge-to-edge protection. The tempered glass screen protector is 0.26 mm thin, offers 9H hardness and is 99% transparent, so the display should be well protected while also looking the way it should. It is also resistant to dirt, dust & scratches and it brings high-touch sensitivity, so you don't have to worry about the user experience getting hampered due to poor touch response. The Sparin full coverage screen protector is available in custom colors for the bezel, so you can get one that goes with the color for your iPhone.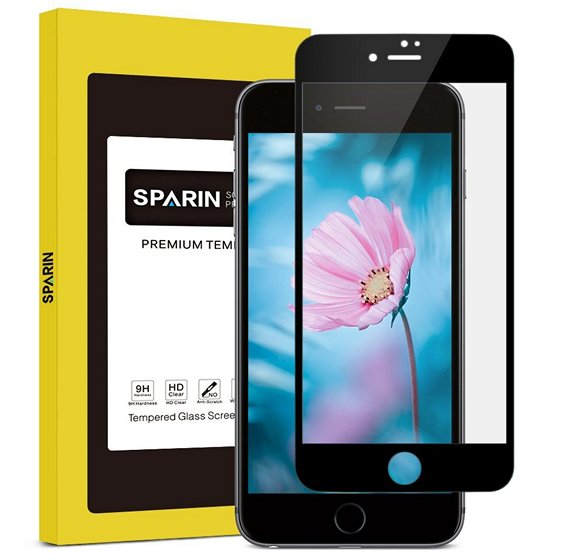 Where to Buy: Amazon.com
Price: $9.99
SEE ALSO: 10 Best iPhone 7 Plus Cases and Covers
Add protection to the iPhone 7 Plus' Retina Display
Well, those are the best iPhone 7 Plus screen protectors that you can buy right now. There are all types of screen protectors in our list, from tempered glass, full coverage to anti-spy screen protectors. So, if you have bought an iPhone 7 Plus, get one of these now before you accidentally drop it and it's too late. Do let us know the one you bought, sound off in the comments section below.