Along with the brand new iPhone 7 and 7 Plus, Apple also introduced a pair of cool new Bluetooth earbuds dubbed AirPods to make up for the lack of the headphone jack. Ever since AirPods unveiling, it has been the butt of many memes and jokes, with most of them concentrating on how you can easily lose them. Jokes apart, if you do plan on getting the AirPods when it's available, you should make sure you don't lose it, considering it's not very affordable, right? Well, thanks to accessory maker Spigen, a brand new accessory category has arrived, the AirPods Strap!
Basically, we now have accessories for an accessory, how cool is that? 😛 So, let's take a look at 3 AirPods Straps you can buy to make sure you don't lose your AirPods:
1. Spigen AirPods Strap
Let's begin with Spigen's offering first because they are obviously the torchbearers when it comes to AirPods accessories. The AirPods Strap is nothing but a wire cable connector for the wireless Apple AirPods. With the cable, you can connect one ear piece to the other, so that you can place it around your neck, your pocket or anywhere else, where you can hang a strap. The compact, lightweight and durable AirPods Strap features a tangle-free design, so you don't have to worry about knots.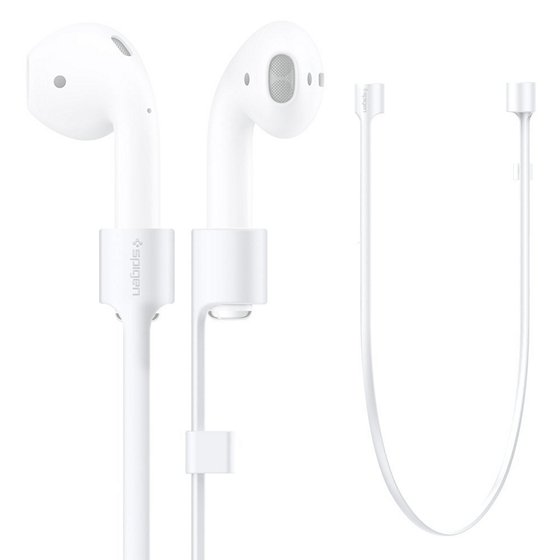 Spigen has already applied for a patent with AirPods Strap and we can expect them to innovate further after the patent is approved.
Where to Buy: Amazon.com
Price: $9.99
2. Proboths Retractable AirPods Strap
Another innovative AirPods Strap comes from Proboths. This one features a retractable strap made of polyester fiber, so it's durable and you can easily adjust the length of the strap to suit you. While it may not look great with your beautiful Apple AirPods, it's at least making sure you don't lose them. These work with most other Bluetooth earbuds, so you can make sure you never lose them too.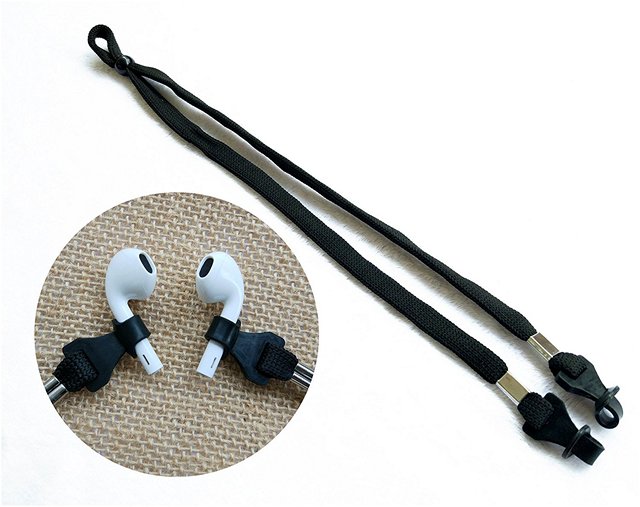 Where to Buy: Amazon.com
Price: $7.99
3. Courage Model 1
Apple showed "courage" when they removed the headphone jack from the iPhone 7 and that has resulted in a brand new Courage Model 1 accessory, aimed at AirPods users. The Courage Model 1 features a top tier leash, which look stylish and sophisticated while ensuring you never lose your Apple AirPods. The leash is made up of full grain leather & nylon, so it should look pretty amazing hanging around your neck. It also features adjustable spec ends, so what's not to like.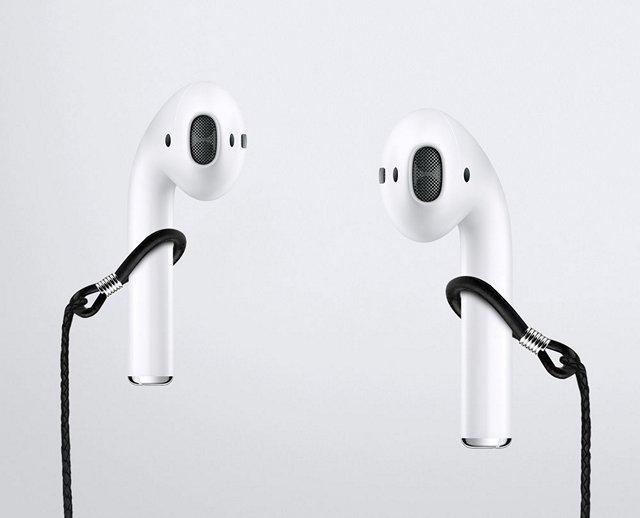 Where to Buy: Getyourcourage.com
Price: $8
SEE ALSO: 12 Best iPhone 7 and iPhone 7 Plus Accessories You Should Buy
Protect your wireless AirPods with these AirPods straps!
If you plan on buying the Apple AirPods and you're scared you will lose it (we think you will), these AirPods Straps will come to your rescue. These wires *cough* straps will connect with your wireless AirPods and make sure you don't lose them. Considering the fact that you are shedding around $150 for the AirPods, you might as well shell $10 too, to make sure you don't lose them and who knows, the accessory makers might even consider bringing a strap that connects these wireless earbuds to your iPhone. We certainly look forward to some amazing innovation!
---
Load More