Selfies are all the rage today and keeping that in mind, Apple has equipped the iPhone 7 and iPhone 7 Plus with 7 MP Facetime cameras, which we are sure will take some amazing pictures. While you can easily take a selfie from your hand to capture a small number of people, your hands can't stretch enough to capture a large number of people in the frame. Well, that's where you need selfie sticks aka monopods. These sticks even come in handy when you want to capture a selfie with a highly visual background. So, if you are looking for selfie sticks for the iPhone 7 and 7 Plus, there might be a little confusion, as most wired battery free selfie sticks will not work with the new iPhones, considering it lacks the headphone jack.
Well, your only option is to get a Bluetooth Selfie Stick and the good news is, we are listing down the best ones for you. Here are the 5 best Bluetooth selfie sticks for your iPhone 7 or 7 Plus:
1. Spigen Selfie Stick
If you are looking for a capable selfie stick, which is also quite portable, look no further than that Spigen selfie stick. It's highly portable and you should be able to easily carry it anywhere you want. Plus, it is pretty lightweight and easy to grip. It even features a rubber coated mount to make sure your shiny new iPhone 7 or 7 Plus doesn't get scratched. The Bluetooth compatible selfie stick features an extendable stick up to 31-inches and you can adjust the holder angle to up to 270-degrees to get that perfect selfie.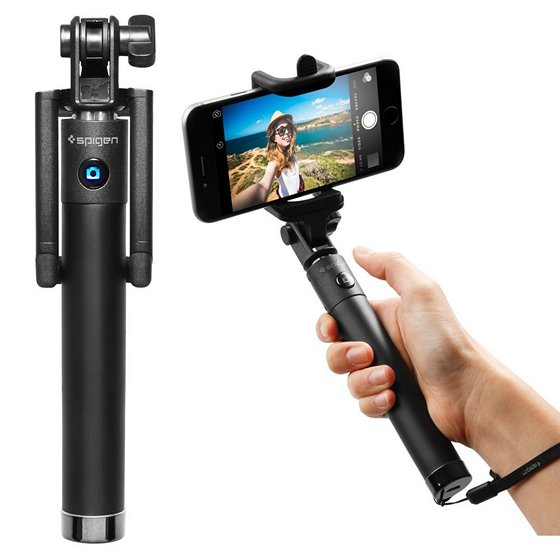 The battery on the selfie stick can be charged via a microUSB cable and while Spigen does not reveal the battery rated time of the stick, reviews suggest it does last for quite a few hours. The device comes with a microUSB cable and a wrist strap in the box.
Where to Buy: Amazon.com
Price: $13.99
2. Anker Selfie Stick
Anker is well known name when it comes to smartphone accessories like power banks but it offers a pretty cool selfie stick too. The Anker selfie stick features a robust aluminium frame but is still pretty lightweight and like Spigen's offering, it is portable and comes with Bluetooth compatibility. The arm of the stick is extendable to 29-inches and the cradle is very flexible, so you should be able to set any angle for the camera. Along with all that, the selfie stick lasts up to 20 hours on one full charge, so you can capture selfies all day. In the box, you get a microUSB charging cable, wrist strap, welcome guide, 18-month warranty card and of course the Anker selfie stick.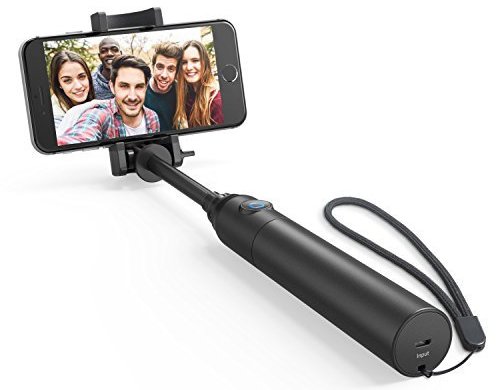 Where to Buy: Amazon.com
Price: $16.99
3. Mpow Selfie Stick
Mpow is the most portable selfie stick of them all, as it is only 7.1-inches long when collapsed, so you can even carry it on your pocket. The stick can be extended to 31.5-inches and it has mount that can be angled up to 270-degrees, so you can set your iPhone 7 or 7 Plus any way you want. It also comes with a wrist strap, so you that you don't have to worry about the stick falling off. The Bluetooth compatible selfie stick is claimed to have a great battery, so you should be able to take a ton of selfies.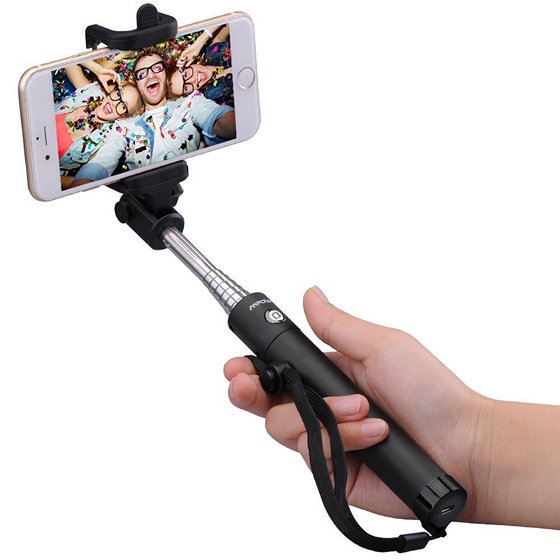 The package includes a microUSB cable along with the stick and wrist strap. Mpow offers 18-months of warranty, 45-day money back guarantee and free lifetime technical support.
Where to Buy: Amazon.com
Price: $9.99
4. Accmor Selfie Stick
The Accmor selfie stick is for iPhone 7 owners that want a selfie stick and tripod, both built into one. The Bluetooth compatible wireless selfie stick can be used as a selfie stick or as tripod, thanks to the mini tripod stand that comes in the box, so you will no longer need a bulky tripod to carry with you on your trips. The extendable stick is made up of lightweight aluminium and features grooved poles for better stability. It comes with a Bluetooth remote for capturing and the package includes with a ton of accessories like tripod mount, water resistant pouch and more. Like other selfie sticks on this list, the battery rating isn't mentioned but reviews suggest it to be decent enough.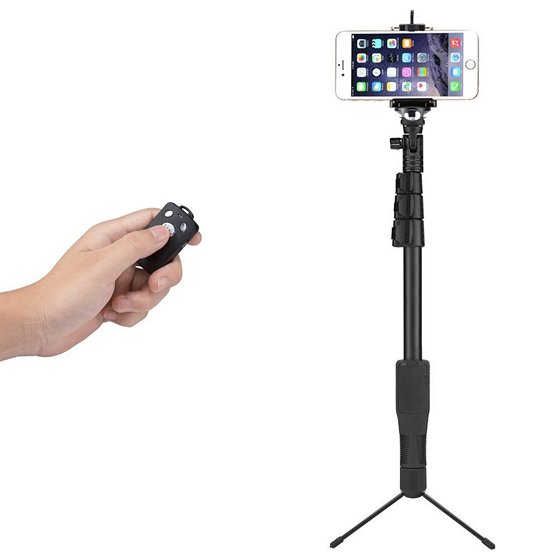 Where to Buy: Amazon.com
Price: $29.99
5. XSories Selfie Stick
The Xsories Me-Shot Deluxe 2.0 selfie stick is a pretty cool telescopic monopod for the iPhone 7 and 7 Plus, as it brings a few cool accessories along with it. Talking about the stick first, it's made up of stainless steel and features a silicon grip, so that you can hold it easily. The stick is extendable up to 36-inches, so you should be able to capture the view pretty well. When you collapse the stick, it goes down to 9-inches, which is great for portability. The device comes with a smart adapter aka the device clamper, which is highly customizable and lets you set your device any way you want, be it horizontal or vertical or any other angle. The Xsories offering also comes with a smart remote, so you can easily capture the shot on the go.

While Xsories does not reveal anything about the battery performance but as selfie sticks go, it should be decent enough. It's available in different colors like Black & Orange, Burgundy & Off White, Black & Grey, White & Pink, Turquoise & White and Yellow & Grey.
Where to Buy: Amazon.com
Price: $14.99
SEE ALSO: 12 Best iPhone 7 and iPhone 7 Plus Accessories You Should Buy
Capture Amazing Selfies from your iPhone 7 or 7 Plus with these selfie sticks
Selfie sticks have become a lot prominent over the years and it's now one of the must-have accessories. So, to go with your new iPhone 7 or iPhone 7 Plus, the aforementioned selfie sticks are the best ones you can get right now. Check them out and buy the one you like. Don't forget to let us know the one you bought. Sound off in the comments section below.