Enamored by the cool new Dynamic Island notch on the iPhone 14 Pro and 14 Pro Max, you rushed to buy the latest iPhones from Apple. Apart from the island animations, the iPhone 14 Pro series offers top-of-the-line hardware to attract users. This includes a stunning 6.1-inch (Pro) and 6.7-inch (Pro Max) Super Retina XDR display with up to 2000 nits of brightness, a 48MP triple camera setup, A16 Bionic chipset, and much more. But all that comes for a hefty price, and you would want to protect your shiny new iPhone from any mishaps. If that's why you are here, find our curated list of the best clear cases for iPhone 14 Pro and iPhone 14 Pro Max below. Choose the case that best fits your requirements while showing off your iPhone's beautiful color and aesthetics.
Best iPhone 14 Pro and 14 Pro Max Clear Cases
In this list, we have included clear cases from some of the most popular accessory makers, like Spigen, ESR, Mkeke, OtterBox, and many others. You will even find thin, rugged, and standard cases here. So use the table below and pick the case that suits your needs.
Note: The iPhone 14 Pro (6.1-inch) and 14 Pro Max (6.7-inch) clearly differ in size, so the cases are not interchangeable. Please choose the right case for your iPhone model to avoid hassles.
1. Mkeke iPhone 14 Pro Clear Case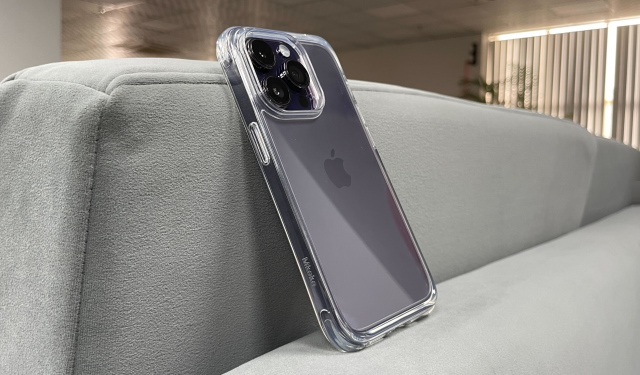 Key Features
built-in corner bumpers
screen and camera dual protection
anti-yellowing technology
First up, we have one of the most value-for-money iPhone 14 Pro and 14 Pro Max cases from Mkeke. Made out of polycarbonate, the case delivers a clear transparent look that lets you perfectly show off your new iPhone. This material also protects the case from yellowing over time, maintaining the raw aesthetic of your iPhone 14 Pro. The case fits perfectly, and in my brief time with the case, the button tactility is good too.
Now, it's not the slimmest case out there but should be comfortable to grip and use. Another reason for its build is the durability it offers, including three-layered bumpers on the corners and an enhanced dual-protection setup. Mkeke is aware of user complaints concerning the camera lens scratches, so it has considerably raised the edges (3.5mm) around the camera. The same applies to the screen bezel (1.9mm) too, completing the military-grade certification here. So you are well-protected against scratches and accidental drops with Mkeke's iPhone 14 Pro clear case.
Another thing I quite like about Mkeke's clear case lineup is the fact that you get a ton of color options. You can obviously go for the clean case with transparent borders. But, to mix things up, Mkeke offers clear cases with dual-tone gradient borders like blue and purple, green and red, and more. Also, if you want to add a splash of color in there, you could opt for the gradient clear cases, wherein the colored finish flows from the bottom to the top (see image above).
Buy from Amazon:
2. ESR Classic Hybrid Magnetic Case
Key Features
crystal-clear acrylic material
military-grade protection
built-in powerful magnets
ESR is a well-known accessory maker and offers a better alternative to the official Apple clear case (detailed below). The ESR Classic case includes hybrid in its name because it's crafted using polycarbonate and TPU materials. That means you have got an acrylic back with scratch resistance, along with shock-absorbent Air-Guard corners. Couple this with precise cutouts and raised corners, and you get a nice but slightly expensive clear case.
However, one of the best things about this iPhone 14 Pro clear case will have to be HaloLock. Much like Apple's case, ESR bakes strong magnets into the back of their case to make it easier for you to align and attach your iPhone to MagSafe chargers. You can also attach and use MagSafe accessories with this clear case. Moreover, the magnets are so strong that they have 1,500 g of holding force, which is great!
Buy from Amazon:
3. Apple iPhone 14 Pro Clear Case
Key Features
built-in corner bumpers
screen and camera dual protection
support MagSafe charging
Now, if the price is no bar, and you want to pair your iPhone 14 Pro or 14 Pro Max with an official clear case from Apple, this is the one you should go for. Priced at a buck under $50, this transparent case lets you show off your new iPhone in all its glory. It's crafted using a combo of clear polycarbonate and flexible materials, which are treated to prevent yellowing over time.
This case fits on snugly and provides scratch resistance against daily wear and tear. There aren't any reinforced corners here, but the raised camera and screen edges are present. Finally, you can see the MagSafe ring on the back, which includes built-in magnets, to make easy work of the wireless charging process. It bolsters magnetic connectivity and offers a quick snap-and-charge solution, making it the obvious pick for MagSafe users.
Buy from Amazon:
4. totallee Thinnest Clear Case
Key Features
thinnest iPhone 14 Pro case
minor drop and scratch resistance
raised camera lip protection
If you don't like bulky covers and want a slim case for your iPhone, the accessory maker totallee is here to the rescue. On our list of the best iPhone 14 Pro or 14 Pro Max clear cases, this is the thinnest one, and that too, with no competitor in sight. This ultra-thin case adds only 0.02-inches to the overall thickness of the iPhone, making it feel like you are using no case at all.
Since this case is pretty slim, it doesn't provide the best protection. It only safeguards your phone against minor drops and scratches. Even the camera lenses won't get scratched, thanks to the raised camera lip here. However, the main focus of this sleek case is aesthetics rather than safety. So we suggest you think twice before you make a buying decision – do you wanna flaunt or protect your iPhone 14 Pro?
Buy from Amazon:
5. Spigen Ultra Hybrid Clear Case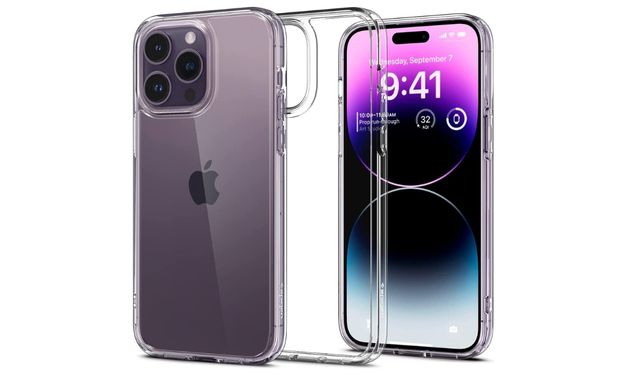 Key Features
hybrid TPU + PC clear build
air cushion corners
raised camera + screen bezels
Spigen needs no introduction for Apple users. It's one of the most trusted accessory makers and is well aware of the needs of the users. The Spigen Ultra is another one of the best clear cases for iPhone 14 Pro and 14 Pro Max you can buy. Much like other covers on this list, it has a hybrid build — TPU bumpers and a polycarbonate back. So you have a crystal clear look at the glass back and aluminum edges, and the case will not go yellow quickly.
Moreover, in terms of protection, you have air cushions at the corners and raised bezels around the camera cutout and screen. So yeah, this case will safeguard your phone against accidental drops and scratches with ease. Also, there are precise cutouts and tactile buttons, and the case does not interfere with wireless charging.
Also, if you are not looking to spend a fortune, Spigen's Ultra clear case is also priced reasonably, making it a worthy contender on this list.
Buy from Amazon:
6. Case-Mate Tough Plus Clear Case
Key Features
rugged transparent case
enhanced drop protection
anti-yellowing technology
Looking for an iPhone 14 case with the most protection against drops and impacts? Check out the Case-Mate Tough Plus, whose name is already enough to confirm its enhanced focus on 360-degree protection. Crafted using recycled impact-absorbing polymer material, we get this amazing iPhone 14 Pro/ Pro Max clear case. It has shockproof bumpers running along the edges and soft cushion corners that shield your phone against nasty impacts.
Not only do these bumpers offer good protection, but also make this Case-Mate case stand out among s sea of transparent cases. Also, if you hadn't noticed, the edges around the screen and camera are raised to protect against scuffs and scratches.
The company also boasts about its anti-yellowing tech that supports UV protection and Qi wireless charging compatibility. While that is great, you need to spend nearly $40 on this case, making it way pricier than the majority of options on this list.
Buy from Amazon:
7. Caseology Skyfall Clear Case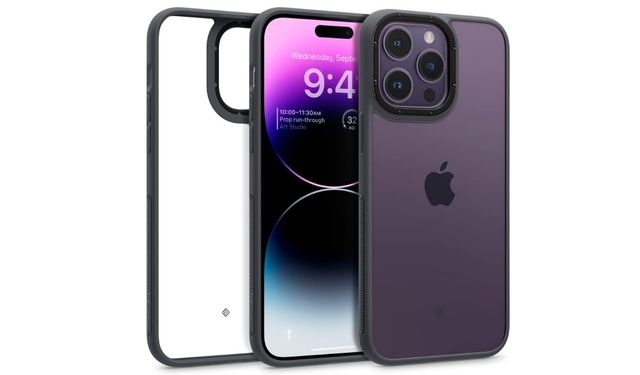 Key Features
dual-tone clear aesthetic
pattern grip on edges
raised screen and camera lip
I'm a fan of clear cases, but I despise how the case starts to look once grime and dust settle in and peek through the transparent edges. Well, Caseology offers a solution for this issue with a transparent polycarbonate back and colored TPU sides. You can choose between black, blue, and red edges for a clean dual-tone aesthetic.
Not just that, the TPU frame here includes a pattern strip on the edges for better grip. This is accompanied by raised lips around the screen (1.2mm) and camera (2.0mm), plus a standout camera ring for enhanced protection. Further, Caseology touts that its case is military-grade certified and supports wireless charging with no issues.
So if you like dual-tone cases that will add to your iPhone 14 Pro's look, you can go for this option without much thought.
Buy from Amazon:
8. OtterBox Symmetry Series+ Clear Case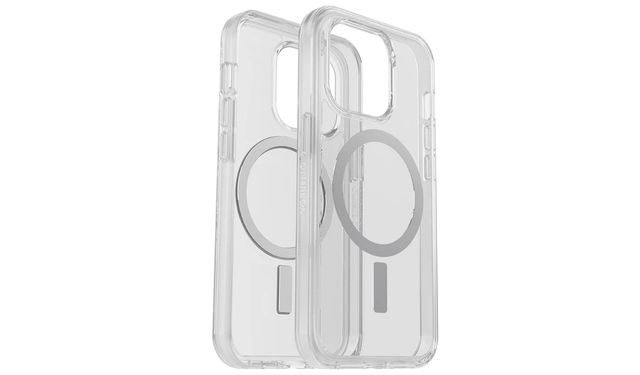 Key Features
built-in corner bumpers
screen and camera dual protection
support MagSafe charging
OtterBox is another popular brand among Apple users, and its Symmetry Series+ Clear Cases are one of the best you can get for the iPhone 14 Pro and 14 Pro Max. They boast a sleek profile and are crafted with more than 50% recycled plastic, along with synthetic rubber to mask the built-in magnets that support MagSafe wireless charging.
Much like others on this list, this OtterBox clear case also includes raised edges to protect the screen and camera. It's common among cases these days, but the company promises 3x as many drops as MIL-STD-810G 516.6. Also, there's one thing that sets this case apart – lasting antimicrobial properties. That means the exterior of your case will be safe against many common bacteria.
There's one major qualm with this case, though. This clear case costs twice as much as the Mkeke or ESR covers we listed above.
Buy from Amazon:
9. elago Magnetic Hybrid Clear Case
Key Features
hybrid TPU + PC construction
reduced yellowing
shockproof protection
Talking about the most affordable iPhone 14 Pro/ 14 Pro Max case on our list, the elago clear case offers almost the same features and properties as the more expensive covers. It features a hybrid construction, which mixes polycarbonate and TPU to offer resistance against accidental drops, bumps, and scratches.
The company touts its in-house design process for the quality and safety it delivers, along with raised edges for camera and screen protection. The fit is said to be pretty good with precise cutouts and responsive buttons. This clear case will have reduced yellowing as opposed to other cases and supports wireless charging.
So even at its $12.99 price tag, it covers all the basics for a good iPhone clear case, and you can consider buying it if you are on a strict budget.
Buy from Amazon:
10. Speck Gemshell iPhone 14 Pro Case
Key Features
UV light protection
dual-layer perimeter protection
support wireless charging
Metting in the middle at around $25, we have the Speck Gemshell clear case for iPhone 14 Pro and Pro Max. This clear case boasts a slim construction and does not add much bulk to the overall thickness of the device. However, when we talk about the edges, you have dual-layer perimeter protection. That means your phone will be able to survive scratches and drops from up to 8 feet. There's raised
Also, the clear exterior of the case can show off your iPhone 14 without turning yellow for a long time. That is because the polycarbonate material used to make this case protects against UV light. Further, this clear case brings antimicrobial protection into the fold, offering a 99% reduction in bacteria growth on the case. And let's not forget about wireless charging, which is another common feature among the cases.
Buy from Amazon:
Best iPhone 14 Pro/ Pro Max Clear Cases and Covers
So yeah, these are the best clear cases you can buy for your iPhone 14 Pro or iPhone 14 Pro Max right now. You can choose from a variety of different case types, ranging from thin or grip cases to rugged cases with sturdy edges and reinforced corners. Surely, there's something for everyone on this list. Did we miss out on any good clear cases for the iPhone 14 Pro series? Do let us know in the comments section, and we will make sure to check it out.