After spending almost a thousand dollars on your brand new iPhone, you might not be willing to invest in a new Apple Watch. However, that means you will have to carry your iPhone if you want to track your exercises or listen to music while going on a run. Well, that's where armbands come into play. An armband allows you to securely carry your iPhone on your body while ensuring that it is not flailing around in your pocket. It also comes very cheap, which is great for your budget. So, if you are in the market for some good armbands, here are the 7 best armbands for iPhone 11, iPhone 11 Pro, and iPhone 11 Pro Max that you can buy right now.
Best Armbands for iPhone 11, 11 Pro, and 11 Pro Max
Since armbands are flexible and can stretch or squash to accommodate multiple sizes of smartphones, most of the armbands mentioned below will work with any of the three new iPhones. However, if there are any exceptions, it is mentioned in the list so read carefully before ordering one.
1. LETSCOM Running Armband
LETSCOM Running Armband is one of the best armbands that you can buy for iPhone 11, iPhone 11 Pro or iPhone 11 Pro max. The armband is made of premium grade breathable and super soft material which is sweat proof. That means, even during intense exercises, your phone will not feel like a burden or be impacted by sweat. Since the armband twists, folds, and bends without any resistance, you won't feel it hindering your workouts. Apart from holding your phones, the LETSCOM Running Armband also comes with extra pockets that can hold your credit cards. There is also a headphone jack slot allowing you to easily connect your wired earphones if you have not already switched to AirPods.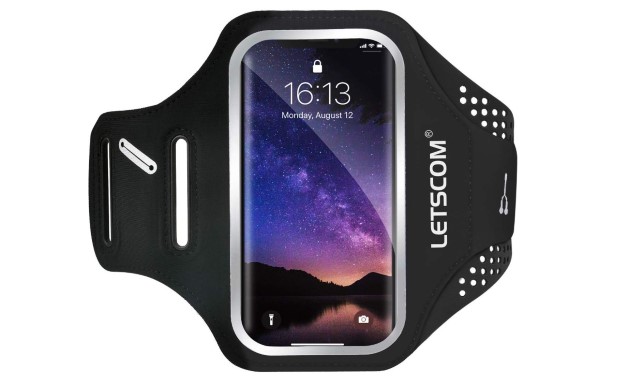 Buy from Amazon: $11.99
2. LOVPHONE iPhone 11 Pro/iPhone 11 Armband
The LOVPHONE armband for iPhone 11 and iPhone 11 Pro is a great armband for anyone looking for an ultra-budget armband. The armband is big enough to host your iPhone even if you are using cases with it. The armband offers exact cutouts for iPhone's lightning port so you can easily connect wired headphones if you want. What I love most about this armband is that it offers an adjustable soft band which supports a wide range of arm girth from 10″ (25.4cm) to 15″ (38.1cm). One unique feature of this armband is that it brings in a reflective strip around the screen window thereby keeping you visible even in low light. This is great for runners who always wake up for early morning runs.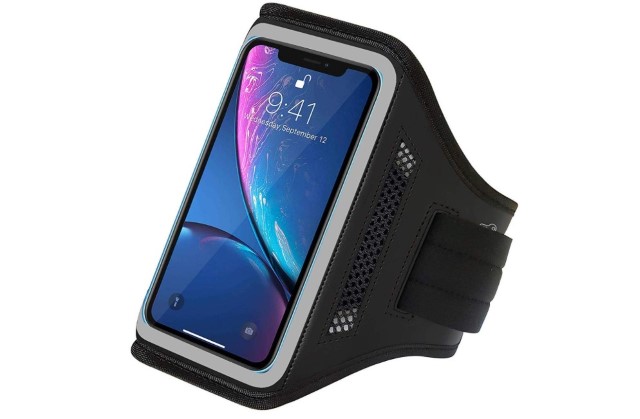 Buy from Amazon: $7.99
3. Venoro Arm Bag for iPhone 11, Pro, and Pro Max
If you are paranoid about your armband falling and want extreme protection for your new iPhone 11 in such situations, then you should check out the Venoro Arm Bag. The arm bag gives 360-degree protection to your iPhone. Since its a full bag, you can not only carry your iPhone but also keys, cash, credit cards, and more. This is a great accessory for those cyclists who take long trips and want to keep essential items and documents in person. The arm bag is made of high-quality, water-resistant, and sweat-proof, breathing Lycra which fabric perfectly disperses heat and absorbs sweat. This means, your things are safe even when you are running and cycling while it's raining. Overall, a great product for someone looking for a more versatile and durable armband.
Buy from Amazon: $12.99
4. JEMACHE Water Resistant Workout Exercise Armband
Another great workout exercise armband comes from a company called JEMACHE. This is a great armband to carry your iPhone to the gym. It is made of stretch resistant neoprene material which can easily bend and flex without warping. The armband comes with an adjustable strap which allows you to secure it around your arms without any problem. What I love about this armband is that apart from allowing you to carry your iPhone, earphones, and credit cards, it has a separate slit for keeping keys. The armband also features a precise cutout for using your wired earphones or charging cable. Note that this armband has been specifically designed for iPhone 11 so you won't be able to fit your iPhone 11 Pro Max into this. So keep this in mind before buying.
Buy from Amazon: $9.99
5. Revere Sport iPhone 11 Pro Running Armband
While the above-mentioned armbands can hold your iPhone 11 Pro, if you want an armband that is specifically designed to hold it, then you should check out this Revere armband. The armband is designed to snugly fit your iPhone 11 Pro even when you have a slim case on it. This armband also uses the premium neoprene material which is sweat-proof. Also, neoprene is a super-grippy material which means there is no chance of this armband sliding down and falling, no matter how intense your workout. It also features a reflective surface around the phone which acts as a warning light when you are running in low-light conditions. Finally, the band comes with a no-question asked 30-day money-back guarantee. So, in case you are not happy with the product, you can always return it.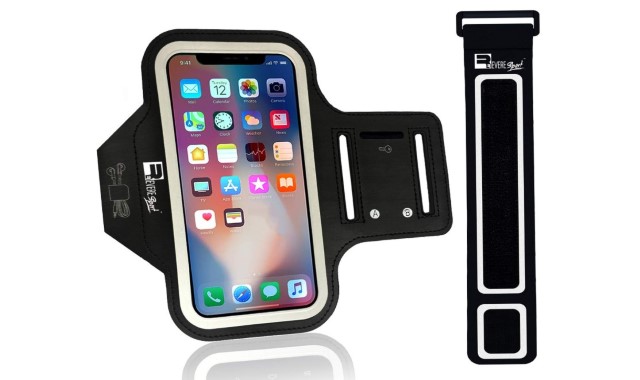 Buy from Amazon: $14.99
6. ArmPocket Water Resistant Armband
If you are looking for a completely water-resistant armband for your iPhone 11 which can not handle rain and sweat but can also withstand a dip in pool or ocean, then this is the armband you should take. The armband comes with zip seals and snap-lock closing mechanism which keep the water out in any condition. It is available in two sizes which you can choose depending on the size of your iPhone. Apart from your iPhone, you can also carry ID, credit cards, keys, money and more in its interior storage compartments which are also water-sealed. However, note that carrying two many things will make it a little uncomfortable while you are exercising. Lastly, it also comes with flotation foam which will make this float on water. This is great as it will allow you to easily find your armband and its content if in case it falls inside water.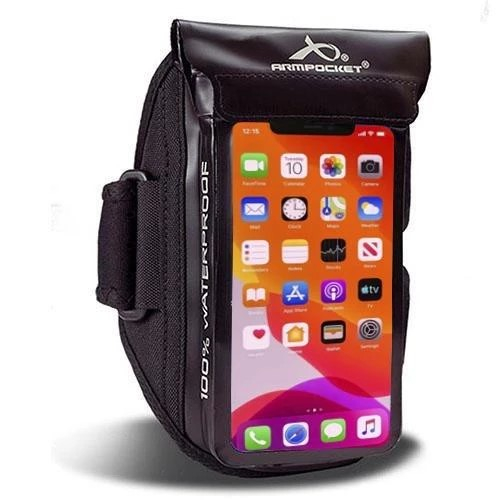 Buy from Amazon: $39.99
7. Comsoon Sports Wristband
The final armband on our list is not exactly an armband rather it is a wrist band which allows you to attach your iPhone on your wrist. If you don't like the feel of armbands and still want to be able to carry your phone to the gym, this is the product to get. First of all, this wristband comes with universal compatibility which means it will fit all the new iPhone 11 models. Secondly, the wrist band comes with a 360-degree rotation swivel which allows you to adjust the angle to use the most suitable viewing position for your iPhone. This is great if you are also using your iPhone for navigation while on a run or biking expedition. You can easily track your position something which won't be possible with all the other armbands featured on this list. Finally, it's open face construction also ensure that you can easily access the screen and the buttons for your iPhone 11. However, that also means that it won't be as protective as other armbands and will only have space for your iPhone and not other things like keys, cards, etc.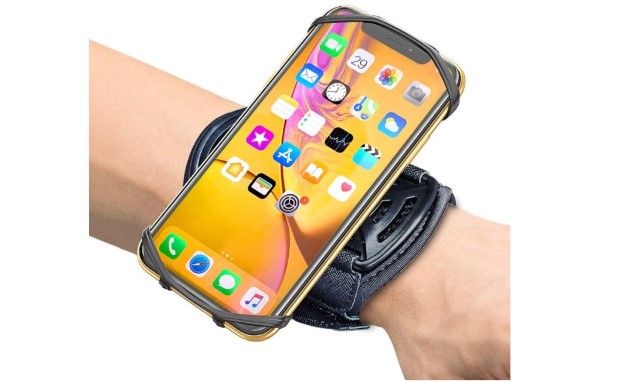 Buy from Amazon: $12.99
SEE ALSO: 10 Best Car Chargers for iPhone 11, 11 Pro, and 11 Pro Max
Best Armbands to Carry Your New iPhone 11
That ends our article on the best iPhone 11, iPhone 11 Pro, and 11 Pro Max, armbands that you can buy right now. I have tried to include armbands for various price points so you can find one to your liking no matter your price range. I have also included wristbands for users who are not comfortable using armbands but still use them as they don't know any better alternate. Do check the list out and let us know which one you are going to buy by writing in the comments section below.