Apple's 2019 smartphones – iPhone 11, 11 Pro, and 11 Pro Max – may not bring an all-new design but they do sport more powerful cameras. While the budget-friendly iPhone 11 comes with a dual-camera system on the back the high-end iPhones' feature a triple-lens camera setup on the rear side. All the three phones bring the same 12MP TrueDepth camera on the front. With long overdue night mode, slow-mo video, and 4K60 recording in the selfie camera, the cameras look very promising. Just in case you have got one of these new smartphones, you may be willing to explore the best selfie sticks for iPhone 11, 11 Pro, or 11 Pro Max so that you can capture amazing intimate or wide-angle shots. To help you easily discover a more suitable selfie stick, I have made an extensive roundup which you would love to take a peek at.
Best Selfie Sticks for iPhone 11, 11 Pro and 11 Pro Max
Having checked out plenty of options, I have chosen the 10 most efficient Bluetooth selfie sticks for the 2019 iPhones. All the below mentioned selfie sticks sport compact design and are fully adjustable. Not to mention, many of them also double up as a tripod so that you have a more proficient asset for capturing videos and pics. And with a handy wireless remote at the disposal, snapping attractive shots becomes pretty easy. Enough talk. Let's find out more about what these best Bluetooth selfie sticks for Apple's latest iPhones have to offer!
1. Vproof
Sporting a pretty lightweight and compact design, Vproof is an ideal selfie stick for your all-new iPhone 11 or 11 Pro/Max. Made of aviation-grade aluminum alloy material, this 26-inch selfie stick is very durable. When collapsed, it becomes an ultra-portable 6.5″ pipe which can slip into even a tiny pocket.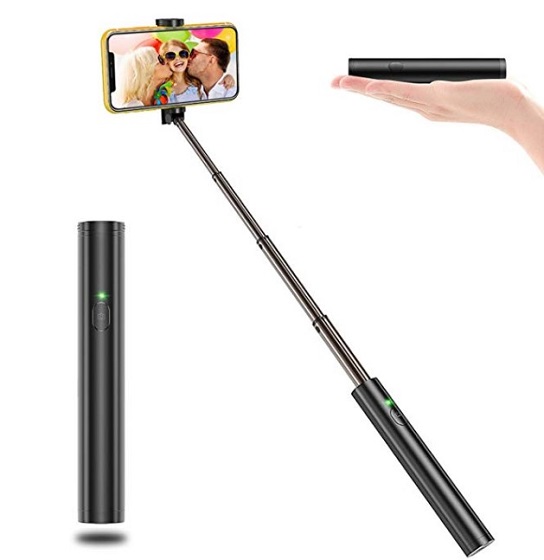 Using Bluetooth, you can quickly connect your smartphone to this modern-looking selfie stick. Thanks to the 90-degree adjustable head, you can comfortably find the right angle for your shot. And with the 65mAh battery, it can deliver up to 25 hours of battery life which is more than good enough to last during your long trip. At $13.99, Vproof is one of the most affordable selfie sticks in the market.
Buy from Amazon: $13.99 
2. Wevon
Should you want to have a super handy selfie stick-cum-tripod, try out this offering from Wevon. Thanks to the high-grade aluminum alloy material, the selfie stick is corrosion resistant. The selfie stick extends between 10.8-40-inches that make makes it ideal for both photography and videography.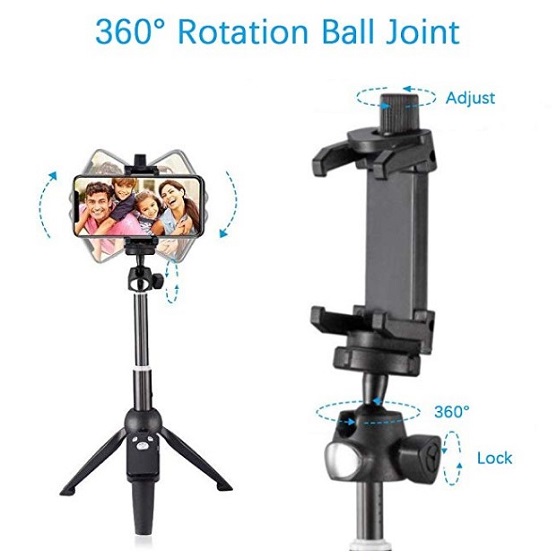 When you fold the stick, it becomes a tiny stick of just 8-inches. As a result, you can conveniently carry it wherever you want. With the help of a 360-degree rotation ball joint, you will be able to securely hold your smartphone. It comes with a rechargeable remote to let you comfortably snap pics or record videos. As for price, Wevon selfie stick tripod for iPhone 11, 11 Pro, and 11 Pro Max comes at $19.99 which seems to be a reasonably good deal considering the two-in-one functionality.
Buy from Amazon: $19.99 
3. Appolab
Both in terms of portability and reliable functionality, the Appolab selfie stick can live up to the mark. Aside from working as a smart selfie stick, it also doubles as a useful tripod to bring more fun to your photography. The 7.64″ folded size and 5.1oz weight makes it one of the most portable selfie sticks in the market.
You can extend it up to 27.6″ to capture both close-up and wide-angle shots. The 360°rotatable phone holder offers you the flexibility to position your iPhone both in a horizontal and vertical orientation. Moreover, it also comes with a Bluetooth remote so that you can capture shots with ease. Speaking of price, Appolab comes at $14.99 which puts it in the affordable category.
Buy from Amazon: $14.99 
4. Erligpowht
When you are all geared up to go for a long selfie spree, a versatile selfie stick like Erligpowht can come into the play really well. It's designed to be fully adjustable so that you can securely position your smartphone in the desired orientation and capture cool pics. Depending on the type of shots you would like to take, you can extend the stick between 7.9 – 27″.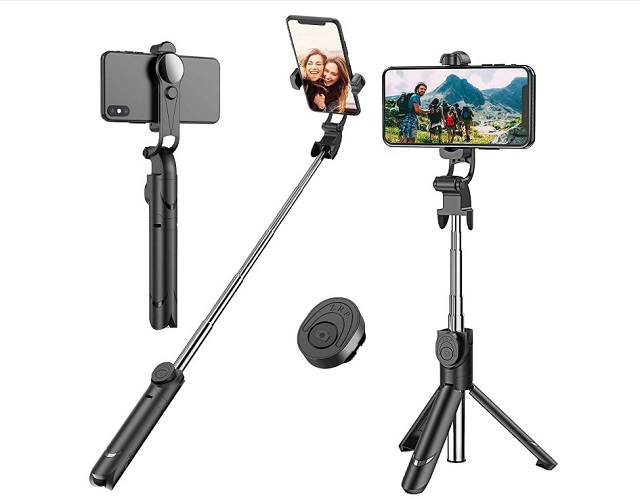 Besides, it also works efficiently as a tripod. There is a detachable rechargeable remote so that you can snap photos more conveniently without any last-minute shake. As for durability, it looks pretty compact but has enough strength to resist regular wear and tear.
Buy from Amazon: $14.99 
5. BlitzWolf
BlitzWolf is well-known for producing some of the finest Bluetooth selfie remotes for smartphones. And BW-BS 10 certainly belongs to an elite league. What has caught my eyes in this selfie-stick is the modern design that can get along nicely with your stylish look. Besides, its length can be extended between 7.68-32.5inch that can fit into both wide-angle and close up pics.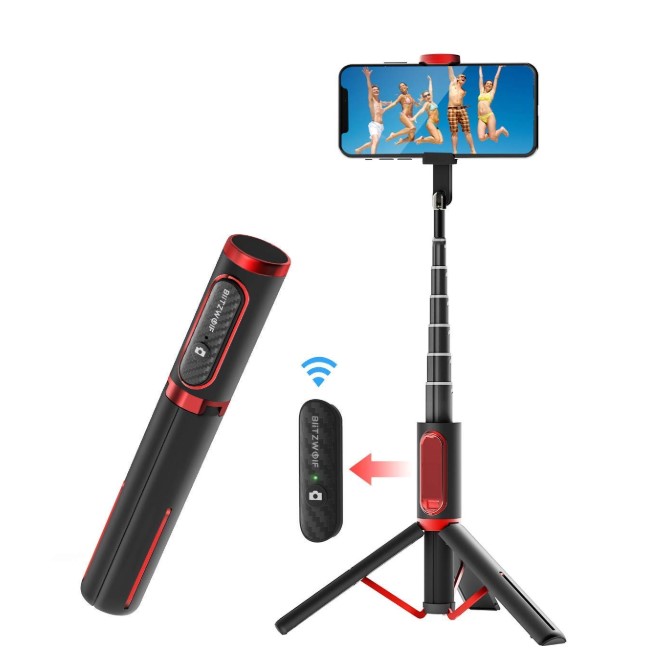 BW-BS 10 also dons the role of a reliable tripod. With the non-slip footpad and secure holder, it can keep your iPhone intact. Using the wireless remote, you will be able to capture stunning pics without putting much effort. Speaking of battery life, BW-BS 10 can last up to 24 hours which is up to the mark. At $24.99, it does seem to be a bit more expensive but considering the elegant design and long battery life, it's a reasonably good deal.
Buy from Amazon: $24.99 
6. Selfie World
Whether you want to capture pano shots or go for HD pics, Selfie World can live up to your demand without any complaint. The selfie stick comes with a rubber clamp that makes sure your smartphone stays in place. And with 270-degree rotation, the mount allows you to snap pics from almost any angle.
Design-wise, it has got a trendy look and extends up to 27-inches which is comparatively low but in most cases, the length should be more than sufficient. When you fold the stick, it comes down to just 7.5-inches which can get inside even a small pocket.
Buy from Amazon: $15.99 
7. Matone
As someone who prefers a more flexible Bluetooth selfie stick, I have found Matone selfie stick at par with the best in the business. It features a 360-degree rotation head which allows you to take photos from any angle. And with a secure holding mechanism, it doesn't allow your smartphone to slide or fall.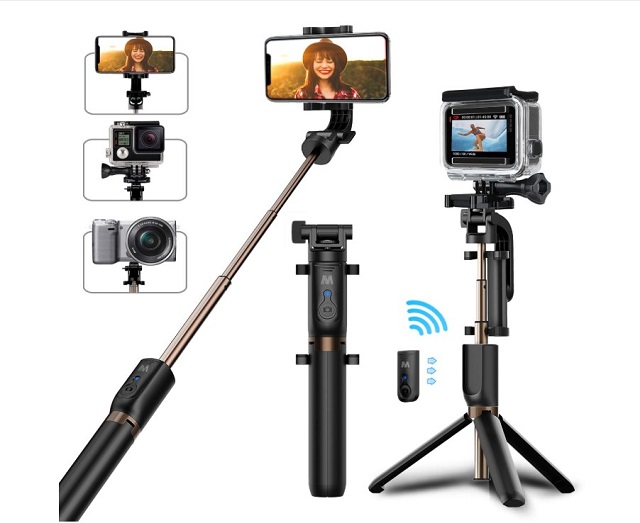 While the 28.74" extension length makes a fine asset for selfie spree, the 7.87" folded size makes it highly portable. When you want to rest your hand, the tripod functionality would come into the picture. As for the wireless remote control, it works without any issues. Overall, Matone is great option considering the flexibility it offers.
Buy from Amazon: $21.99 
8. Pobon
Pobon selfie stick can easily tick off most essential boxes – no matter how choosy your demand is. There are three features that I like most in this stylish selfie stick for iPhone 11 or its siblings 11 Pro and 11 Pro Max. First and foremost, it has a solid build quality that can resist impact.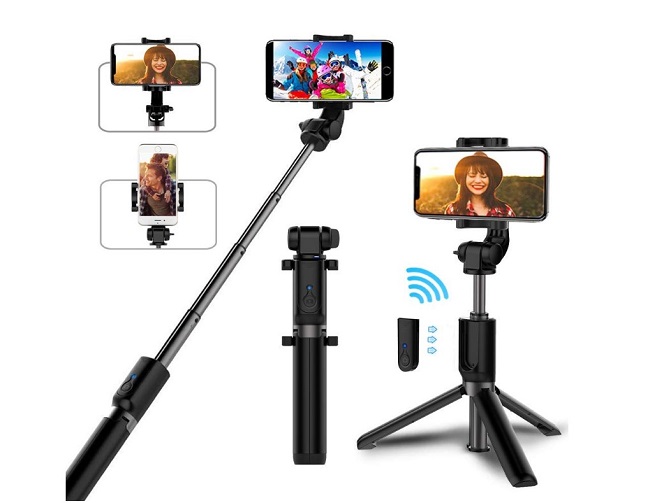 The second, it can be extended from 7.8" to 26.77" which is just good for normal usage. Besides, the phone holder is fully rotatable, allowing you to position your smartphone at the ideal angle. And the third, it comes with a very capable 65mAh battery that can allow you to capture thousands of pictures after just one charge.
Buy from Amazon: $19.99 
9. LifeStyle Designs
If you are you looking for a selfie stick that can also work as a standalone tripod, LifeStyle Designs would be the right choice. It has a rugged design and can extend from 12″ to 36″ which is great for capturing all sorts of photos and videos during your fun-filled trip or joyful beach drive.
The tripod functionality is the main highlight of LifeStyle Designs, courtesy of the enhanced flexibility. Talking about built quality, it's made of anodized aluminum and has a durable construction. And with a wide base, it has a bit more stability. Price-wise, it comes at $39.99 which is more expensive than many other selfie sticks. But if you take the impressive tripod into account, the price does seem to be justifiable.
Buy from Amazon: $39.99 
10. Eocean
Are you in quest of a long selfie stick that can let you capture awesome wide-angle shots? Choose this offering from Eocean as it can extend up to 45-inches. Based on your needs, you can use it as a tabletop tripod, mini tripod or a handheld selfie stick.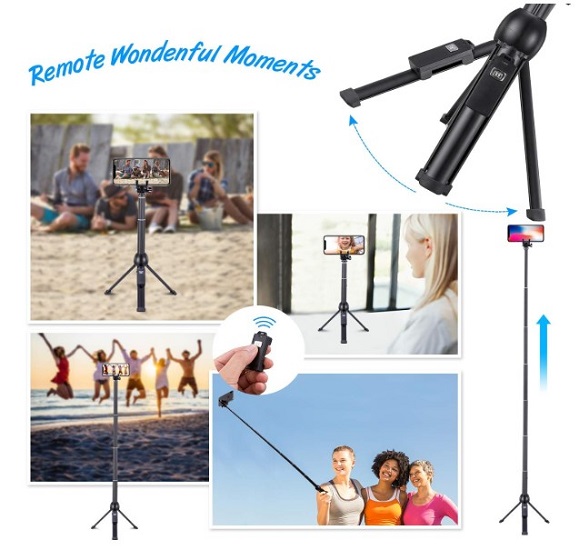 Despite the long length, it weighs just 6.7 oz and becomes 9.06″ when folded. You can rotate the phone holder within 270-degree to take nice-looking shots during your fun-filled vacation or joyful party. In terms of battery life, it can last up to 25 hours after one charge. Lastly, Eocean selfie stick for iPhone 11 Pro/Max comes at $15.99 that makes it a smart pick for the folks who want a more proficient tool for taking group photos.
Buy from Amazon: $15.99 
SEE ALSO: 10 Best iPhone 11 Pro Max Leather Cases You Can Buy
Choose the Top Selfie Sticks for iPhone 11, 11 Pro, and 11 Pro Max
There you go! With so many trendy and versatile selfie sticks, I hope you have found a better asset for your selfie spree. By the way, I would like to know your feedback about the selfie stick that has caught your attention. Of course, I would also appreciate it if you could share the names of the worthy contenders that deserve a mention in the above lineup.