If you took iPad Pro as yet another iPad from Apple, you're wrong — seriously wrong! iPad Pro is certainly more than that, bringing a thinner, lighter user experience while ensuring maximum performance. With a screen of 12.9 inches, you can even compare the Tablet PC to MacBook, although the former doesn't come with a keyboard. But, wait, you can get one if you want — thanks to the variety of iPad Pro keyboard cases out there.
A keyboard case is a combination of detachable (or non-detachable, sometimes) keyboard and protective case for an iPad Pro. By using this keyboard case, you actually connect a keyboard to iPad Pro and you can start using the device just as if it were a MacBook. Don't you think it's interesting? It will become so when we list out the best iPad Pro keyboard cases you can buy.
1. Logitech CREATE Backlit iPad Pro Keyboard Case
Logitech CREATE Backlit iPad Pro Keyboard Case is not only the best keyboard case but also one of the best iPad Pro accessories out there. The keyboard case can easily be connected with your iPad Pro and it works as a fine keyboard, making your tablet PC more of a notebook-kind-of one. Talking of keys, the keyboard has full-size keys with backlit in addition to complete support for iOS 9 exclusive features. Logitech CREATE Backlit iPad Pro Keyboard Case is having a Smart Connector. Also, the keyboard is powered using battery of your iPad Pro. On top of all these, this keyboard is an Apple Recommended accessory for those who need productivity. Moreover, when compared to Apple Official Keyboard for iPad Pro, it's less expensive.
2. IVSO iPad Pro Keyboard Case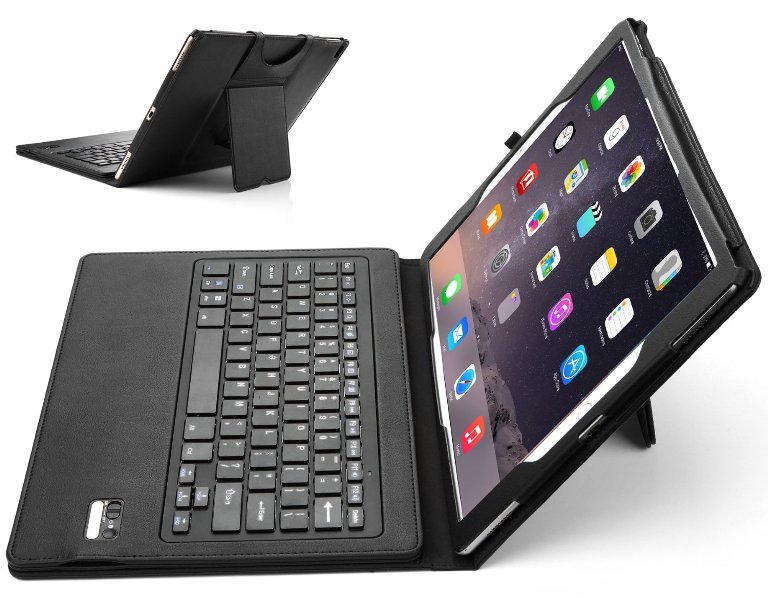 IVSO iPad Pro Keyboard Case is yet to be in stock but it will be in stock by December 7, 2015. A perfect-fit choice for iPad Pro tablet PC, you can use the accessory for convenient typing experience and viewing angles at a time. It is powered using Bluetooth v3.0. Another factor to note is that IVSO iPad Pro Keyboard Case can be used as a viewing stand and carrying case, thanks to the leather cover and microfiber-based interior. As opposed to commonly used silicone keys, laptop-like keys are used here. However, it is to be noted that IVSO iPad Pro Keyboard Case comes with an external battery that offers a usage time of somewhat 60 hours, and it requires 2.5 to 3 hours to complete a full charge. It's available in five colour variants.
3. Apple Smart Keyboard
Here comes the official answer of Apple Inc for the best keyboard cases for iPad Pro. This can be used as an effective viewing stand for your iPad Pro along with the better placement option as a typical keyboard. So, three functions — type, watch and cover — can be accomplished using Apple Smart Keyboard, which is quite expensive, by the way. It's having a lot of features as well. Taking the case of keyboard it has 64 keys, aligned with enough space in-between them. The water-and-stain resistant keyboard case would be impressive enough, we suppose. At the same time, the cover of Apple Smart Keyboard is a blend of three different materials including fabric material. Of course, it's Smart Connector for powering up. Other features include complete support for iOS features, keyboard shortcuts and nice build.
4. ZAGG Slim Book iPad Pro Keyboard Case
ZAGG Slim Book iPad Pro Keyboard Case is a Bluetooth-based keyboard case for Apple iPad Pro but the case would be available in December 2015 only. You can pair the keyboard with 3 different devices at a time but compatibility of the device isn't compromised anywhere. Coming to the keyboard, backlit keys are there and there's enough space between each key in the 12-inched key frame. Quite amazingly, ZAGG Slim Book iPad Pro Keyboard Case comes with a battery life of two long years on a single charge. So, literally, this keyboard case is your answer to all-time easy-to-use typing solution for your iPad Pro. Considering all these, not to mention the high-quality build, you can go for this keyboard case without thinking much.
5. ZAGG Universal Tablet Keyboard Case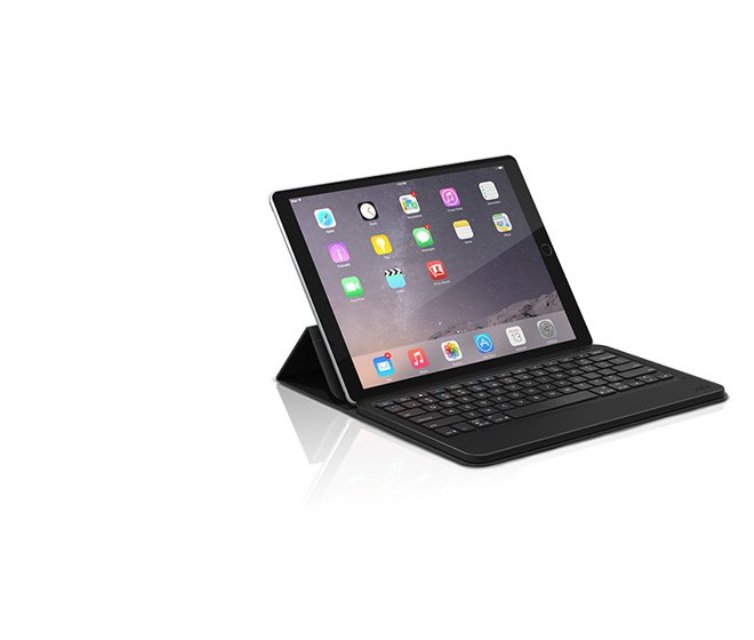 As its name says, ZAGG Universal Tablet Keyboard Case is a keyboard case that can work well with variety of devices, and the list includes Apple iPad Pro as well. The universal compatibility of the keyboard case lets you to connect your Android phone, iOS phone or Windows Phone-based device and have a keen typing experience, thanks to the use of Bluetooth. Also, the case is having a set of island-style keys on a 12-inched key frame and the typing experience is as natural as possible. The case also has a magnetic secure cover over to keep your iPad Pro safer than it really is. If you make use of the sleep/wake function of the keyboard, you can have a battery life of up to three months, which does seem quite impressive. Thanks to the built-in stand, you can have good viewing angles as well.
6. Peyou Wireless iPad Pro Keyboard Case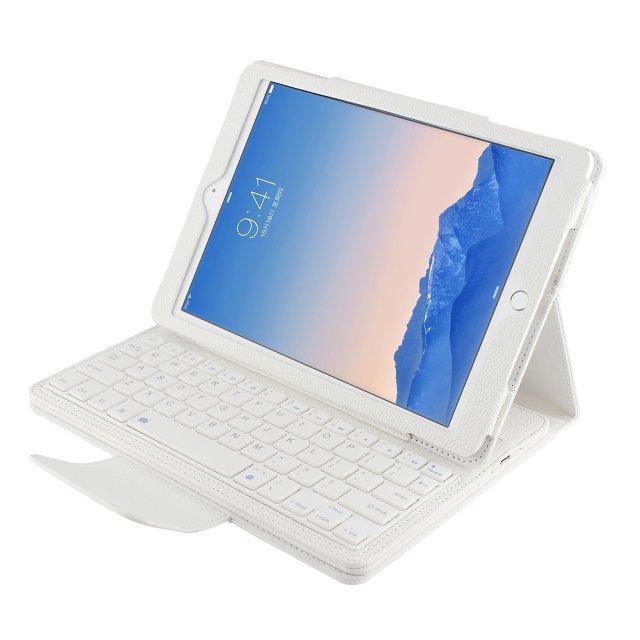 One of the best keyboard cases for iPad Pro available, this one is available in a variety of colour combinations ranging from Black to White and from Dark Blue to Hot Pink. The design is multi-functional — you can use it as a keyboard case, stand and protective cover. The keyboard is magnetically detachable; if you just wanted the case once, you can get the keyboard detached from iPad Pro. If we are to talk of the keyboard, the ABS keys need to be mentioned and the typing will be smoother when compared to the silicone-made keys we normally find. It also has a sleep mode for saving energy. When we count the inexpensive pricing into the deal, it's all good with Peyou Wireless iPad Pro Keyboard Case. It's powered by Bluetooth and has maximum range of 10 meters.
7. Ionic Pro iPad Pro Bluetooth Keyboard Case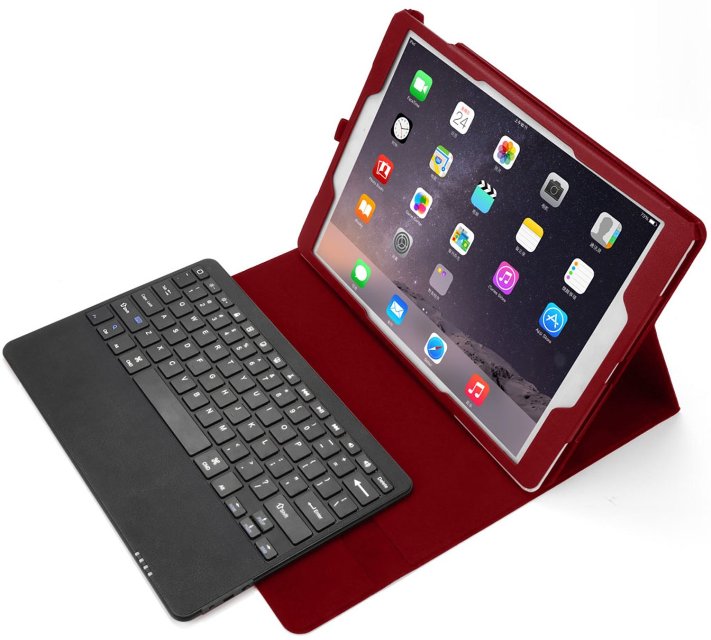 Made specifically for the 2015 edition Apple iPad Pro, this is an accessory that ensures protection, style and usability at once. By the way, Ionic Pro is a trusted brand when it comes to the case of gadget accessories and you can trust it as in terms of quality. The included keyboard is small in size and is connected to the iPad Pro using Bluetooth, which is convenient for most users out there. It also comes with an easier installation process and there's an on-off switch on the side section of Ionic Pro iPad Pro Bluetooth Keyboard Case. When compared to other keyboard cases that are available for iPad Pro, this one is offering a stylish approach.
8. Ionic Pro Aluminum iPad Pro Keyboard Case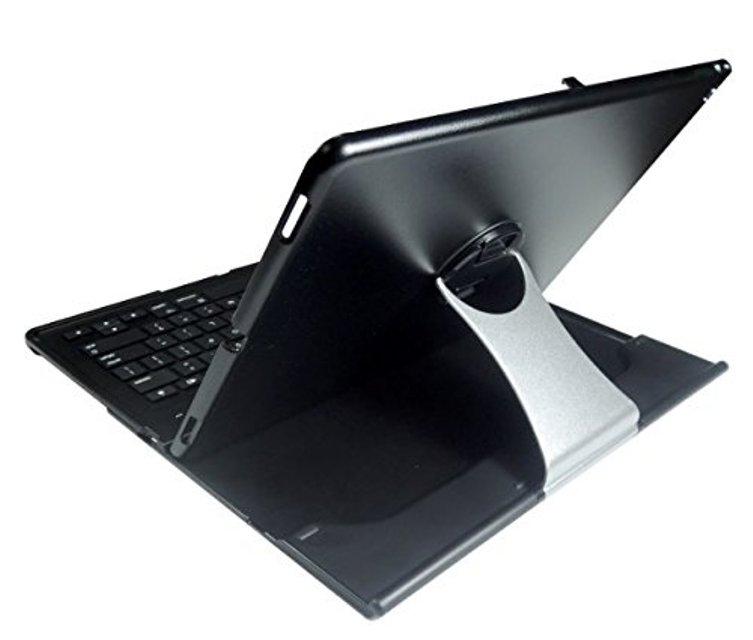 If for nothing else, Ionic Pro Aluminum iPad Pro Keyboard Case can be preferred for the Aluminum-based build and a good design philosophy. Nevertheless, being a product from Ionic Pro, we do not have to be afraid about the quality, either.  This keyboard case for iPad Pro is similar to the above mentioned product but, except in the case of build and sturdiness. For instance, the exterior is made using pebble-grain leather. On the other hand, the semi-rigid keyboard used by the keyboard case will provide a firm typing experience in the end. It is connected using Bluetooth and there is a switch you can use for turning ON or OFF the keyboard. If you loved the Aluminum-based construction of the case, you can go with the product, quite without any doubt.
9. Vostrostone KuGi iPad Pro Keyboard Case
Vostrostone KuGi iPad Pro Keyboard Case comes with a detachable Bluetooth-powered keyboard, accompanied by a good-to-go stand as well. Once connected, your iPad Pro will have the looks of an impressive notebook, as seen in an image shown here. It's based on Bluetooth v3.0 and is compatible with a variety of devices, not only your iPad Pro. If compared with the commonly-found silicone-made keyboards, the keys are rigid. That's all about the keyboard part but there's a good protection section as well. For instance, along with its magnetic closure, we get a PU leather cover. On the inner part, what we find is microfiber that can resist scratches & common bumps. With a charging time of around 4 hours & backup of 90 hours, Vostrostone KuGi iPad Pro Keyboard Case is a good choice.
10. FYY iPad Pro Wireless Keyboard Case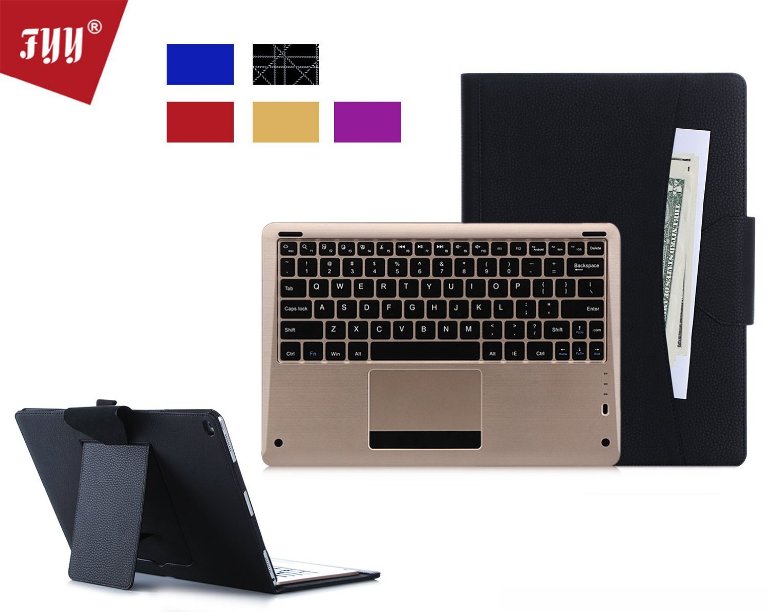 The last in our list of top keyboard cases for iPad Pro, we have this magnetically detachable keyboard from FYY! This one is all set as a combined accessory, which can be used as a viewing stand, keyboard and a holder. In all the sorts of cases, you get a cleaner experience. There's even an elastic strip to make sure that your iPad Pro doesn't get out of the protective case. It's a Luxury Gold keyboard included with the deal and is powered using Bluetooth. Talking of construction, FYY iPad Pro Wireless Keyboard Case makes use of PU leather exterior and there's a microfiber layer inside. Altogether, it's a good multi-functional keyboard case for Apple iPad Pro.
SEE ALSO: 8 Best Ergonomic Keyboards
With these we end our list of top ten keyboard cases for Apple iPad Pro. Some of the cases are just-right for common use while some of them give prominence to style and build. So, it's up to you — the iPad Pro owner — to choose.