In our previous post, we told you how standard computer mouse can affect your health, and why you have to use an ergonomic mouse instead. It is a matter of fact that the problem of being non-ergonomic is not limited to the mouse but extends to various sections of your computers. Another prominent section is your computer keyboard. As you're able to understand, the manner you place your hands on top of normal keyboard is not that advisable, from the health point of view, particularly when you stay in the same position for hours and hours.
Quite effectively, an ergonomic keyboard can help you fix the muscle-strain issue and injuries caused by regular use of your keyboard. Even while giving you complete access to all the keys in standard keyboards, ergonomic keyboards organize them in a different manner. So, if you are a writer, an avid gamer or a coder — who spends a lot of time in front of your PC, typing —, it is a good thing to get an ergonomic keyboard. That having said, it's important to choose the best-available ergonomic keyboard for better convenience in the long run.
In this post, we have created a list of top eight ergonomic keyboards you can buy! We have taken into consideration a variety of factors, such as design, usability and customer reviews etc.
Best Ergonomic Keyboards
Kinesis Advantage Ergonomic Keyboard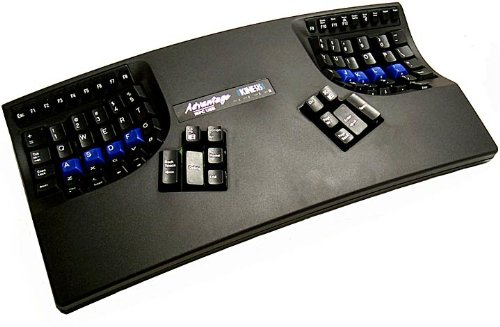 This product from Kinesis is one of the most expensive ergonomic keyboards available in market, but it's praised for the high-quality build and ergonomic design it possesses. As you can see in the image, keyboard has been divided to two parts, separated by a flat surface. Amidst two sections, there are two sets keys that can be controlled using your thumbs. The keys in the set are commonly used ones, such as space, backspace, delete, Enter, Ctrl, and Alt etc. Also, it's having Windows key. Kinesis Advantage Ergonomic Keyboard has two integrated USB ports and it can be configured easily. In addition, you have on-board programmability; that is you'll be able to remap all the keys as per your requirement. The keyboard supports QWERTY & DVORAK layouts. However, Kinesis Advantage Ergonomic Keyboard has somewhat bizarre organization of arrow keys. Apart from that, the product is a worth-the-money.
Kinesis Freestyle2 Ergonomic Keyboard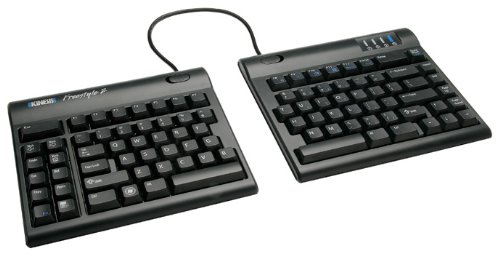 Another product from Kinesis, Kinesis Freestyle2 Ergonomic Keyboard is a good choice when you need a portable yet ergonomically-built keyboard for continuous work or gaming. Design of the keyboard has zero degree slope, thus giving you an effective typing experience and it is way too compact as well. So, you will be able to have fully-fledged typing experience along with portability. By default, the keyboard has a removable pivot, to connect two pieces of keyboard. If you remove the pivot, you will be able to separate two parts by a maximum distance of 9 inches. While the pivot gives comfort of use, separation enhances the ergonomics. When compared to the other keyboard from Kinesis, this variant has a rather standard key organization, keeping things easier for newer users. Other features of this wired ergonomic keyboard include support for driverless hot keys, sleek design and easy-to-type switches.
Microsoft Sculpt Ergonomic Keyboard

It's a product from Microsoft Sculpt series and is highly-recommended for those who need a compact and ergonomic keyboard for regular use. The keyboard has two portions, one for the alphabetical keypad and the other one for the numeric keyboard. The alphabetical keyboard itself is split into two parts, offering a relaxed position for arms. Angle of Microsoft Sculpt Ergonomic Keyboard is domed and the arc layout of keys is impressive from the hand-positioning point of view. Because the keyboard has a separate numeric keypad, you can set up your workspace easily. If you do not use the keypad often, you can even keep it apart. The keyboard also offers space for resting your palms, which is a good thing. One problem you might face during the use of Microsoft Sculpt Ergonomic Keyboard is the absence of dedicated media keys. That having said, it's one of the best wireless ergonomic keyboards you can get for the price. It does not come with mechanical switches and has a sleeker design instead.
Goldtouch V2 Adjustable Comfort Keyboard
With Goldtouch V2 Adjustable Comfort Keyboard, you don't have to adjust your body according to keyboard design. On the other hand, using its 0 to 30 Degree adjustability, you can choose a design that's good for your health as well as comfort. It comes with the split keyboard design, as you can see and has almost every key you need. Goldtouch V2 Adjustable Comfort Keyboard is compatible with both PC and Macintosh devices and has corresponding keys for working in both environments. Here too, you have soft keys instead of mechanical one. That having said, if you think the removal of consistent stress and easier usability, the keys can do well, especially when we take the low activation force into account. In addition, the design is so compact that Goldtouch V2 Adjustable Comfort Keyboard will just fit into your workspace. The wired keyboard connects using USB.
Goldtouch Go!2 Wireless Bluetooth Keyboard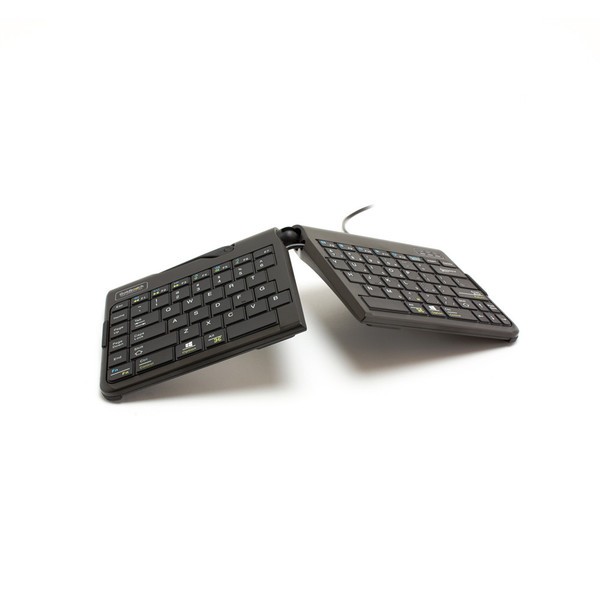 Here comes the Bluetooth-enabled ergonomic keyboard some of you might have been waiting for! Both in vertical & horizontal plane, you can adjust the keyboard angle up to 30 degrees, as per your comfort. Its split key design becomes way too impressive when we consider the cordless design. In that way, you can arrange the board in accordance with your workspace set up. Even then, you can be assured about the ergonomics. Thanks to attached pivot, you can handle the keyboard easily and carry it around, without giving much weight. It's compatible with wide variety of devices and platforms, including Windows, Macintosh, iPad, Android Smartphones, Ultrabooks etc. With all these, you can use Bluetooth to connect — goodbye cables. It is to be noted here that two sections of Goldtouch Go!2 Wireless Bluetooth Keyboard cannot be separated, but the swivel offers enough comfort.
Microsoft Sculpt Comfort Desktop

Microsoft Sculpt Comfort Desktop can be the best choice when you have less money to spend but want a nice typing experience in the long run. The deal is a combination of keyboard and a comfort mouse. When combined, it can give you a good workspace. Talking of keyboard, it's having a contoured style arrangement and the keyboard layout looks like a wave. Even while keeping the compactness there, Microsoft Sculpt Comfort Desktop consists of a palm rest, which can be removed as per your requirement. Other features of Sculpt comfort keyboard includes the split spacebar, cushioned palm rest for enhanced usability, palm lift for an effective neutral wrist position etc. In short, the keyboard is comfortable to use and has enough features. By the way, mouse included in the deal offers four-way scrolling and easy access to Start screen etc; albeit all these, this ergonomic keyboard from Microsoft is affordable.
Matias Ergo Pro Keyboard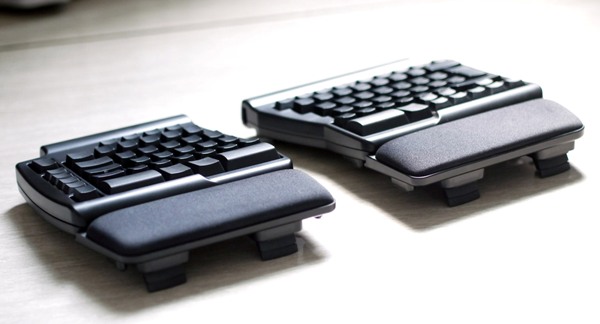 Matias Ergo Pro Keyboard is often recommended by a lot of experts, for those who need an unprecedented typing experience. It's one of the few keyboards that offer tactile feedback, despite having an easy-to-handle design. On top of everything, the keyboard has one of the best keyboard layout, specifically designed for the best output. Also, it makes use of Matias Quiet Click mechanical switches, which bring the clicking sound to lowest even while giving you that feel. Other noticeable features of Matias Ergo Pro Keyboard include the comfortable design, leg that offers support for tilting and tenting, palm support that is spacious enough, laser-etched keys, sculpted key tops. Also, from the productivity point of view, we can find out the three USB ports and dedicated switches for performing, cut, copy and paste functions. When adding the media controls to the account, Matias Ergo Pro Keyboard becomes a superb ergonomic keyboard for regular users.
Truly Ergonomic Mechanical Keyboard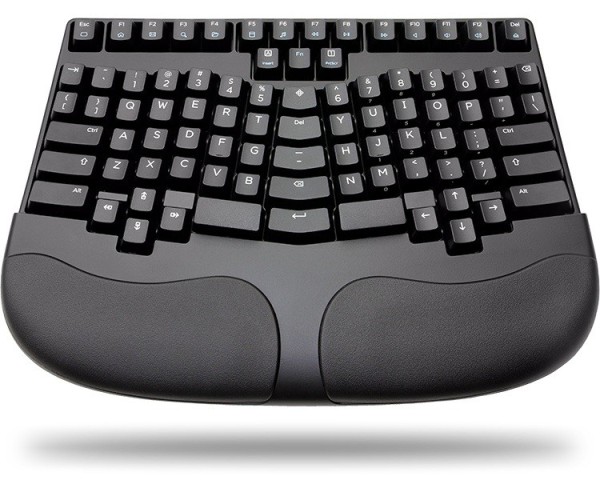 Unlike all the above mentioned ergonomic keyboards in the list, Truly Ergonomic Mechanical Keyboard has compact, easy to handle and impressive layout for keys. The layout keeps the commonly used keys such as Enter, Backspace and Delete in the middle column and the rest two columns are filled with alphabets. Indeed, columnar arrangement of Truly Ergonomic Mechanical Keyboard is simply superb from the health and productivity point of view. As it has an incredibly smaller design, you can keep the mouse nearby, thus minimizing the clumsiness of extending your hand to reach the mouse. So, in the long run, keeping your hands straight, Truly Ergonomic Mechanical Keyboard gives you a superb typing experience, thanks to the mechanical key-switches it comes with. The keyboard comes with cushioned palm rest but you can remove it if you want. Talking of the layout, Truly Ergonomic Mechanical Keyboard offers on-board programming and customizable — you can even create your own keyboard layout. It's compatible with Linux, Mac OS X and Windows.
SEE ALSO: 15 Great MacBook Pro Accessories
We're sure that you can have an improvement of productivity with these ergonomic keyboards along with an escape from Repetitive Strain Injuries and other health issues. Which one is your favourite? Let us know.
---
Load More