In its "Time Flies" event on Sept 15, Apple announced the the most substantial update to the iPad Air since its conception. Not only it's getting a complete redesign, but it's also getting the latest A14 Bionic SoC, even before the iPhones. I know Apple has overused this line, but it is the best iPad that the company has ever made. However, all these changes come at an additional cost. Instead of starting at $499, which was the usual price, the iPad Air (4th Gen) starts at $599. So, if you plan to buy it, you should also plan to protect it. On that note, here are the 8 best iPad Air (4th Gen) Cases you can buy right now.
Best iPad Air (4th Gen) Cases You Can Buy
I love the new iPad Air (4th Gen), and I am probably going to buy it. I always wanted an iPad Pro but could never justify its price. Now that iPad Air (4th Gen) brings the same design with almost all the same features. I am inclined to buy it. If you are also considering which iPad to buy, maybe our article on iPad Air (4th Gen) vs iPad Pro 2020 vs iPad 8, can help you out.
With that out of the way, let's get to our list. I have divided the list into two sections. The first section deals with keyboard cases, while the second section hosts all the other types of cases and covers. You can click on the links below to move to the section you want.
Best Keyboard Cased for iPad Air (4th Gen)
1. Magic Keyboard for iPad Air (4th Generation)
Why not start the list with the best keyboard case you can buy for your iPad Air and which costs half the cost of the iPad Air itself. The Magic Keyboard for iPad Air by Apple is a marvel of technology. Products like these keep my faith alive in Apple's design and engineering team.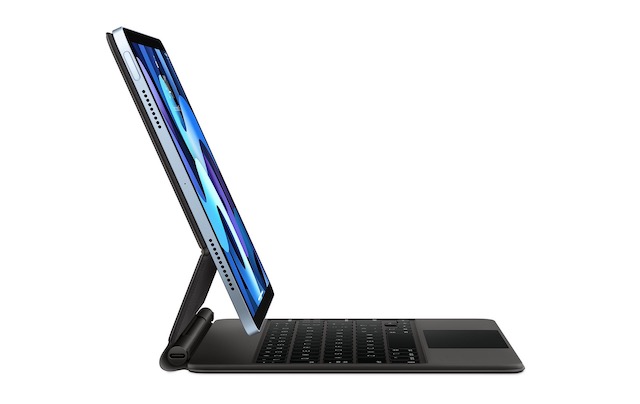 With this keyboard case, you are not only getting a backlit keyboard but also a trackpad that works best with the latest iPadOS. You also get better flexibility as the tilt angle can be adjusted up to 130-degrees. And what about that floating iPad look. I will never get tired of it.
But, all the praise aside, most iPad Air (4th Generation) owners should not buy this keyboard case. It costs $299, and I can't think of any way to justify this price. I mean, it's half the price of the iPad Air itself. But, if you can somehow convince yourself to buy this one, you are going to love it.
Buy from Apple: $299
2. Smart Keyboard Folio Case
For most iPad Air buyers, the Smart Folio Keyboard Case is a better option. First, at $179, it's significantly cheaper than the Magic Keyboard. Second, in my opinion, it's a far better keyboard case for users who are also planning to use Apple Pencil 2 (for cheaper options, check out our article on Apple Pencil 2 alternatives for iPad Air 4th gen) with their iPad Air.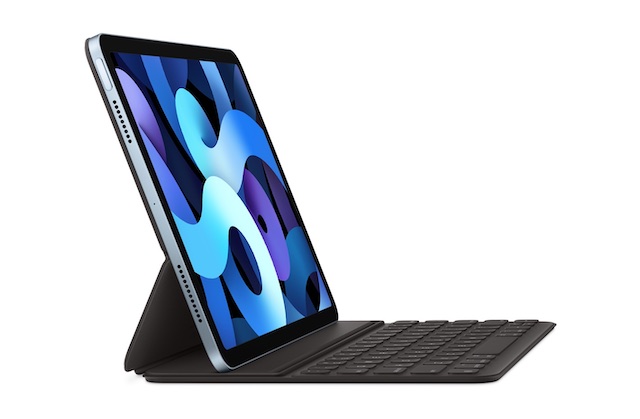 It's because the Magic Keyboard doesn't have a 360-degree hinge, so anytime you want to use the Apple Pencil for writing, you are going to have to take it off the keyboard case, which defeats the purpose of using a case. That's a problem that you don't have to face with the Smart Keyboard Folio Case. You can fold it back and use the Pencil without any issues.
Buy from Apple: $179
Best Normal Cases for iPad Air (4th Gen)
3. Supveco iPad Air 4 Case 2020
If you are looking for a budget yet feature-rich protective case for your new iPad Air 4, then let me recommend the Supveco case. The case is slim and lightweight. It uses the flexible TPU material which doesn't add bulk to your device and still provides ample protection.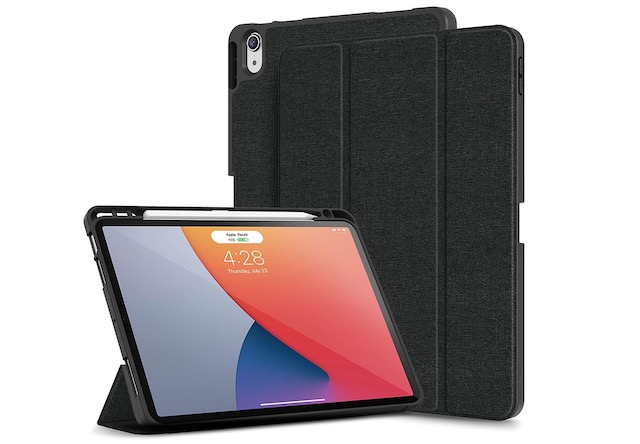 My favorite feature of the case is the built-in pencil holder that not only allows you to store the Apple Pencil 2 but also supports wireless charging. I think this is my favorite case as an Apple Pencil user. Other features of the case include a tri-fold magnetic front cover that lets you prop-up the iPad Air in multiple modes (viewing mode and drawing mode).
It also features raised bezels for protecting the camera and gives you easy access to all the ports and buttons. At it's asking price of $14.99, this is a great case for iPad Air 4th generation.
Buy from Amazon: $14.99
4. Smart Folio for iPad Air (4th generation)
If you only prefer first-part cases but you don't want the keyboard, the original Smart Folio case is available for the iPad Air (4th gen). And say what you may about Apple's high pricing, they do make killer premium accessories. I have used the smart folio case for the iPad Pro at the office and have always loved it.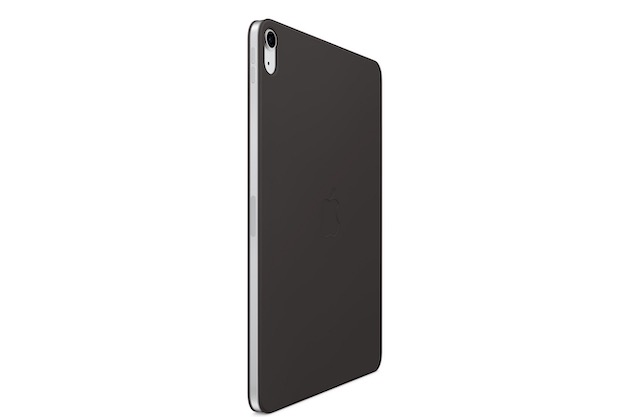 The folio case is simple with a hardback and a tri-fold top cover that lets you prop the iPad Air in both drawing/writing and viewing modes. It's made from a single piece of polyurethane which feels good in hands. The case automatically wakes your iPad when opened and puts it to sleep when closed.
It's available in multiple colors including Black, Deep Navy, Cyprus Green, Pink Citrus, and White. I love the Deep Navy color and am thinking of buying it. So click on the links to check it out.
Buy from Amazon: $79
5. Otterbox iPad Air (4th gen) Symmetry Series 360 Case
Symmetry Series 360 is the iPad folio case that features a clear, scratch-resistant design fortified with drop protection. If you have used Otterbox cases before, you know that they provide next-level protection to your devices. Yes, they cost more than other third-party case makers, but they also do a better job of protecting your device.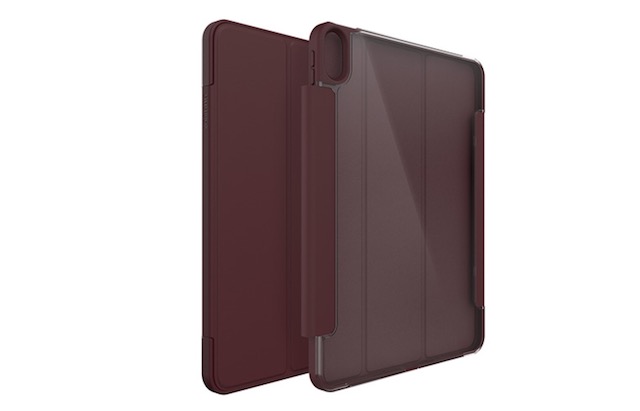 What I love about the symmetry series case for the iPad Air is that it has a clear back that allows you to showcase the beauty of your iPad. I mean, suppose you get that incredible Blue iPad, you don't want to hide it under covers. You want to flaunt it, and this case lets you do that.
The case features a similar tri-fold design that we have seen on some of the other cases on this list. That means you can prop-up your iPad Air 4 in multiple positions. The case is made using polycarbonate and synthetic rubber material. The flap is magnetic which wakes up and sleeps the iPad when you open and close it. It's available in three different colors so you have a couple of options available.
Buy from Amazon: $89.95
6. TiMOVO Case for New iPad Air 4 10.9″ 2020
If you don't like folio cases and want a simple case to protect just the back of your iPad Pro, then you should check out this case from TiMOVO. What I love about this case is that it's ultra-slim and doesn't add any noticeable bulk to the devices. Despite its slim form-factor, it provides ample drop protection thanks to extra material at the corners to absorb shock.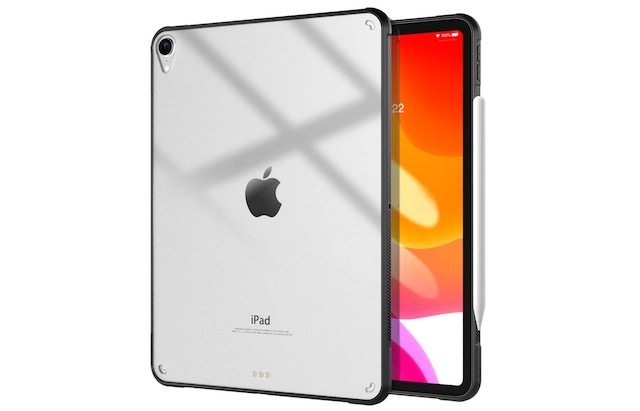 The case also lets you charge the Apple Pencil 2 so you don't have to worry about taking it off when charging the Pencil. I also like that it features a clear back that lets you flaunt the iPad Air. If you are looking for a simple and clean case, you can't go wrong with this one.
Buy from Amazon: $9.95
7. MoKo Case Fit New iPad Air 4 2020
MoKo is a company known for making good accessories for Apple products that they have released their case for the new iPad Air 2020. The case is similar to the other folio cases that we have seen in this lineup. That means you are getting a hardback cover with a folding top flap that magnetically closes, keeping your iPad Air secure.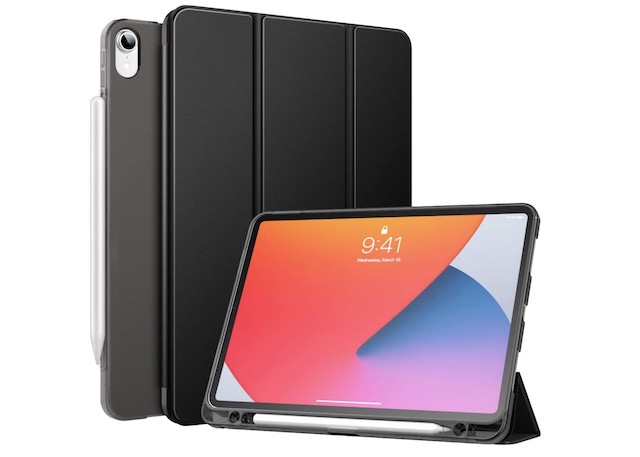 The case is slim and doesn't add much bulk to the device. It supports auto sleep-wake, differencing viewing modes, and comes in two different colors. What I love most about this case is the use of PU material on the outside with a microfiber lining on the inside. This means that the case not only protects your iPad Air in case of drops and falls but also keeps it scratch-free.
Buy from Amazon: $13.99
8. DTTO New iPad Air 4 Case iPad 10.9 Inch Case 2020
If you want a case that lets you adjust the angles when you are using it in viewing mode, you should buy the DTTO case. Made of premium synthetic leather, the case feels right in hand. It adds a leather aesthetic to the whole look while providing adequate impact protection.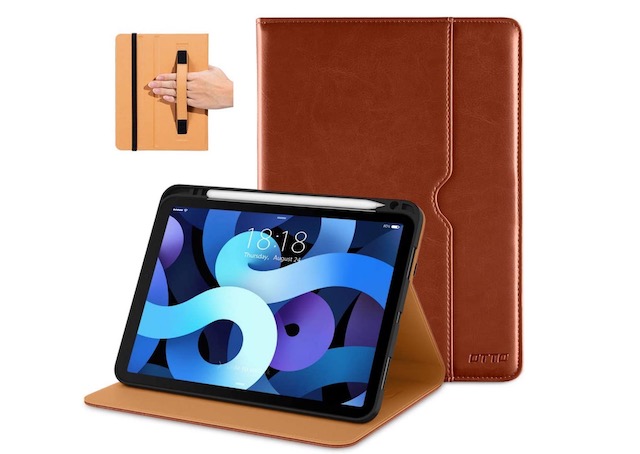 The case also has an inner micro-fiber lining that scuffs and scratches at bay. That said, the USP of this case is that it allows you to prop the iPad Air in multiple viewing angles. It also has a place to store the Apple Pencil 2 without disabling the wireless charging. Other features of the case include a built-in leather strap, front document card pocket to keep notes, cash, and cards, and more.
Buy from Amazon: $18.99
Best Cases and Covers to Buy for the 10.9-inch iPad Air
That ends our article on the best iPad Air (4th gen) cases and covers that you can buy. I have included keyboard cases, protective cases, folio cases, and normal cases. I hope you can find the perfect case for you. Check them out and let us know which is your favorite one by writing in the comments below.
---
Load More