GoPro Hero 9 Black is one of the finest action cameras on the market right now. It brings 5K recording, multiple shooting modes, new features, and more. If you wanted to buy an action camera, this is the one to get right now. One reason why GoPros are so popular is that they are supported by a plethora of accessories that enhance their capabilities. And my favorites accessories are the add-on lenses that allow me to shoot creatively. In this article, we list the best GoPro Hero 9 Black lens mods and lens filters that you can buy right now.
Best GoPro Hero 9 Black Lens Mods and Filters
If you are interested in other GoPro Hero 9 Black accessories, visit the linked article to find our list. There you can find the best GoPro Hero 9 Black cases, screen protectors, mounts, and more. This article is dedicated to GoPro Hero 9 Black lenses and lens filters only. You can see the list of lenses in the table of content below and click on the names to move to the corresponding items.
1. HERO9 Black Max Lens Mod
The GoPro Hero 9 Black Max lens mod is for people who want to get a wider field of view in their videos. The Max mod brings a lens with an ultra-wide 155˚ field-of-view. It is perfect for taking both up-close shots where you want to capture more around your subject and ultra-wide nature shots.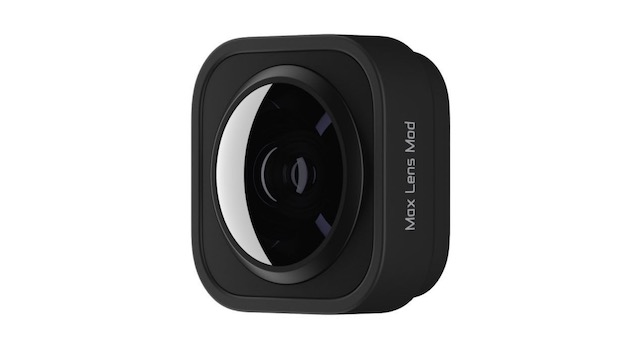 I love that even with the Max Lens Mod on, you are not losing out on the HyperSmooth stabilization. So, your footage will be as smooth as it is with the original lens. The mod also supports the Horizon Lock feature that keeps your videos on the horizontal or vertical axis, even if your camera is mounted off-center or rotates a full 360°.
Buy from GoPro: $99
2. TELESIN CPL Polarizing Lens Filter for GoPro Hero 9 Black
Lens filters are great for enhancing the footage you capture using your GoPro Hero 9 Black. A circular polarizer filter or CPL improves the footage by enhancing the sky color and cutting down reflections. This lens filter is perfect for people who want to capture dramatic and vivid skies and reduce the reflections in the footage.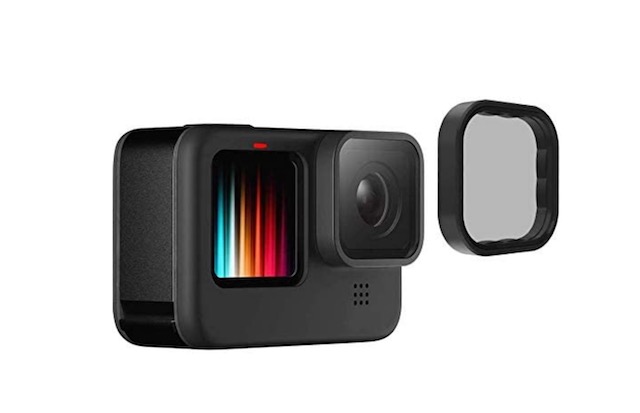 The TELESIN CPL filter uses multi-layer coating optical glasses with an aircraft aluminum frame. It is durable and lightweight and comes with a protective cover to protect the lens filter in transit. It removes unwanted reflections such as scattered light in the air, the reflection of metal and water, and allows only parallel light to pass through. The filter also increases color saturation, thus creating deep, rich scenic images.
If that's an effect you want on your footage, buy this CPL filter for your GoPro Hero 9 Black.
Buy from Amazon: $15.99
3. Skyreat ND Filters for GoPro Hero 9 Black
The Skyreat ND filter set for GoPro Hero 9 Black brings six different filters in the box. With one purchase, you are getting a CPL filter, an ND8 filter, an ND16 filter, an ND32 filter, an ND64 filter, and an ND1000 filter. We have already talked about the CPL filters, so let me explain a little bit about the ND filters.
Neutral Density filters or ND filters is a filter that reduces or modifies the intensity of all colors in the light equally. An ND filter reduces the amount of light that is making its way into the camera. And since the reduction is equal for all the wavelengths (colors), the images and videos color doesn't change. The ND value shows the amount of light that is reduced. So, if you want to cut more light, you will use a filter with a higher ND value.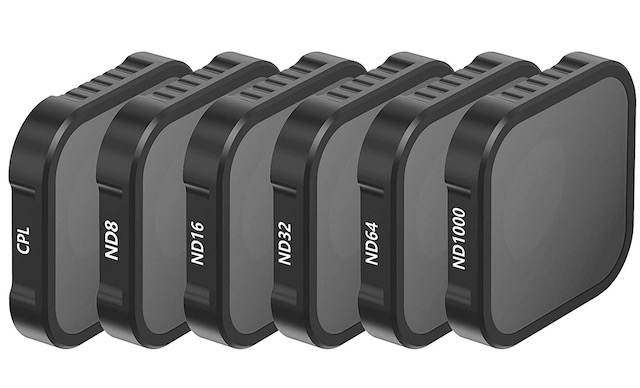 These filters are helpful when you are shooting in bright light conditions where you GoPro Hero 9 Black is getting overexposed footage. The filters will reduce the light pass through without affecting the color grading of the footage. You can also use these filters with slower shutter speeds to generate a blur effect for fast-moving objects.
If you are interested in achieving the motion blur effects, reducing shutter speeds, or just reducing the amount of light entering your GoPro Hero 9 Black, you should buy these.
Buy from Amazon: $59.99
4. Fstop Labs 4 Pack Lens Filters
Fstop Labs makes some of the best lens filters on the market, and they have released their lens filter pack for the GoPro Hero 9 Black. The pack contains a CPL filter along with one of each ND8, ND16, and ND32 filters. The filters use high-grade multi-coated optical glass with a high definition that provides crystal clear footage.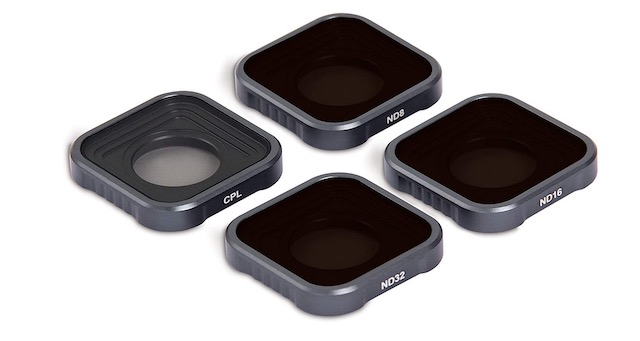 The glass uses a special multi-layer coating that minimizes reflections and flares and improves image quality. There's also hydrophobic nano-coating that reduces fingerprints fog, water, and dust, so you won't have to keep cleaning the filters every time you want to use them.
Buy from Amazon: $39.99
5. QKOO Filter Kit for GoPro Hero 9 Black
The QKOO filter kit for the GoPro Hero 9 Black brings a collection of a CPL filter, an ND8 filter, an ND16 filter, and an ND32 filter. Like others, you can use these filters to reduce reflections, reduce shutter speed, decrease the amount of light reaching the camera, and generate motion blur effects.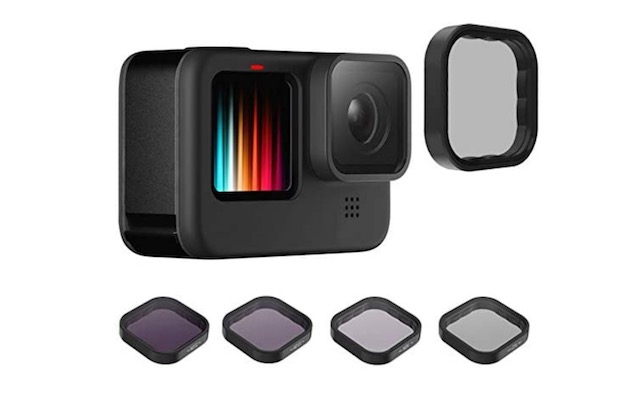 Like the Fstop kit, it uses an optical glass lens with a multi-layer coating to give you the best results. The frame is made of aviation aluminum alloy that is both lightweight and durable. For some reason, if you don't like the options mentioned above, you can check this out.
Buy from Amazon: $46.99
Use These Lens Mods and Filters to Improve Your Footage
Since GoPro Hero 9 Black is new on the market, the lens and filters market is still developing. I am sure that more companies will release cheaper lenses and filters for the GoPro Hero 9 Black in the future.
We will keep updating the article monthly to include more products as they are released. So, keep checking back to get the latest and greatest GoPro Hero 9 Black lenses and filters.