G Suite is a fantastic ensemble of productive tools and services which can help companies bring their team together in an efficient way. However, many organizations find the subscription cost expensive. There are also some organizations who prefer Microsoft Office instead of Google Docs. That's why big and small companies alike are looking for the alternatives of G Suite which bring the same set of features and that too without any compromise. Well, we have put together this list of 8 best G Suite alternatives in this article. Most of the services are collaborative and have all the necessary features that you would need in a productivity suite. Having said that, let's go through the list and find the best service provider for you.
Best G Suite Alternatives for You (2020)
Here, we have mentioned 8 best G Suite alternatives that have more or less same features. However, if you solely want G Suite email alternative, I have mentioned two services at the end. According to your preference, you can go through the list and choose the one you find desirable. With that said, let's jump to the list without any delay.
1. Office 365 Business
If you are looking for the best G Suite alternatives with all the popular features, Office 365 by Microsoft is your safe bet. It's the most complete office suite which has all the tools and services for your business. First of all, you can create personalized emails for your business with your own domain name. It will help you promote your business during communications either with a client or end consumer. Secondly, you have access to all the Microsoft Office apps, both online and offline. You can create word documents, spreadsheet, etc and collaborate with multiple people just like Google Docs in real-time. The best part is that just like on G Suite, you can access your Office documents in a browser. No need to install offline apps.

For communication purpose, there is Outlook for emails and Skype for chatting and video calls. In a nutshell, it's a complete replacement of Google's Gmail, Chat and Meet apps. And that is not all, you also get 1TB of OneDrive cloud storage within the Business plan. Similar to Google Docs, OneDrive allows you to store large files which you can share with your team members seamlessly. Having said all of that, no service is good until it has advanced security protections. Just like Google's security, Microsoft has brought its cutting-edge Advanced Threat Protection for Office 365. It restricts data theft using various parameters like location, apps and on-device security protocols. That is not all, under the business plan, you have access to 24/7 chat and call support to Microsoft Support. So all points considered, Office 365 Business is your obvious and an excellent alternative to G Suite.
Visit: Office 365 Business (Starts at $5/month)
2. Zoho Workplace
Zoho is another great alternative to G Suite for small and medium-sized enterprises. Among the giants in this cut-throat competition, Zoho comes with its own set of apps and services which are quite good and reliable. To start with, you can create your own custom domain name for business emails. It will help you create a professional impression on your customers. Besides that, you can create Docs, Spreadsheet, and conceptualize big projects with its native apps. Just like G Suite, all the apps and services are online and you can collaborate with as many users as you want.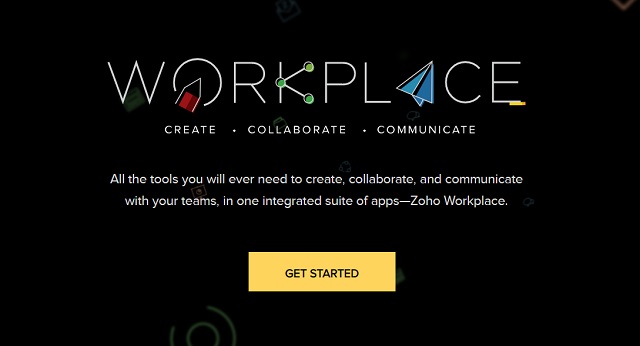 For communication, there are standalone apps like Mail, Connect, Showtime, and Meeting. There is, in fact, a separate workplace called Cliq which lets you collaborate with your team without much effort. There is chat support, calendar scheduling, file sharing and a lot more. In term of cloud storage, every user in a team gets 30GB of storage under the Standard plan. You can also get 100GB of storage space with the Professional plan, but that is a bit pricey. Nevertheless, Zoho is quite secure and uses something called Bullet-resistant walls to protect its servers from exploits and breaches.
My favorite feature of Zoho Workspace is that it also gives a limited free plan which is perfect for small businesses who are not ready to invest in a suite of business apps. As we can see, Zoho has everything to make you switch from G Suite and it's relatively cheap too. If you want to move from the hands of Google and Microsoft, Zoho is a great alternative.
Visit: Zoho Workplace (Free, starts at $3/month)
3. GoDaddy Email and Office
GoDaddy is a web hosting company, but recently it has forayed into the world of productivity services. The company now provides its new suite of services under Email and Office program. The best part of being with GoDaddy is that it lets you create as many email addresses as you want under your company domain name. GoDaddy claims that 75% of customers respond to professional-looking business emails so having a business email account should help your enterprise grow. Besides that, GoDaddy has partnered with Microsoft to provide its Office 365 apps under this program. So you will have access to all the Microsoft Office apps including Word, Spreadsheet, Powerpoint, etc. You can also team up with your members using the Office 365's comment and collaborate feature.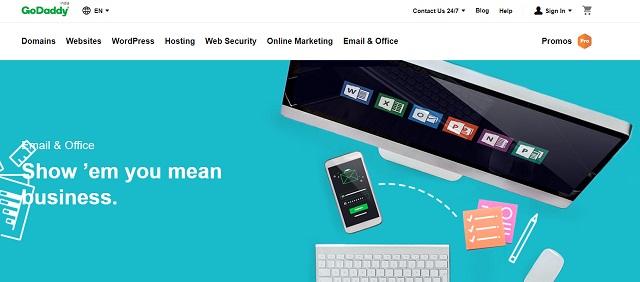 The only con is that you don't have any instant messaging app. You will have to rely on Outlook for email purpose. The comment feature on Office 365 should help you in communicating with your team members. Apart from that, you get 1TB of OneDrive cloud storage where you can store and share files, documents with your team members seamlessly. Talking about security, GoDaddy is known for protecting its web servers securely, so you can expect similar protection for Email and Office program as well. There is also a dedicated 24/7 call support for resolving your issues. Overall, GoDaddy is a great alternative to G Suite because of its limitless email personalization and having Microsoft's reliable Office at the back.
Visit: GoDaddy Email and Office (Starts at $4.99/month)
4. Rackspace
Rackspace is another one of G Suite alternatives which is very similar to GoDaddy's service. At the heart, it's an email hosting company that also provides a suite of office apps in collaboration with Microsoft. Office 365 is deeply integrated with Rackspace to make it a complete productivity service. You can access Office 365 on the cloud and collaborate with your group members effortlessly. Since Microsoft Office is providing the service for content editing and collaboration, you can be assured of its reliability. Coming to business emails, you can create several business email addresses for users as well as your enterprise wings like sales, marketing, support, etc.

Other than that, you have Outlook and Microsoft Exchange for communication within the team. However, keep in mind, there is no OneDrive cloud storage offered by Rackspace. If you want to store files on the cloud, you will have to buy a separate OneDrive subscription. As it's with other providers, Rackspace also has a dedicated 24/7 customer support in all three channels. So to sum up, if you run a small business and need a collaborative service for cheap, Rackspace can be a great alternative.
Visit: Rackspace (Free trial for 14 days, Premium plan starts at $2.99/month)
5. Samepage
Samepage is an all-in-one collaborative service which is very similar to G Suite in terms of content creation and seamless sharing. Like other productivity services, it does not offer email hosting but does support third-party email integration. It's not the best solution, but if you are already hosting your email service somewhere else, Samepage can help you bring your team together. It has its own set of office apps including text editors, presentation, calendar management, and many more. You can even bring multiple people on a single document and brainstorm then and there without much effort. There are also chat, video call and comment support inside all the office apps.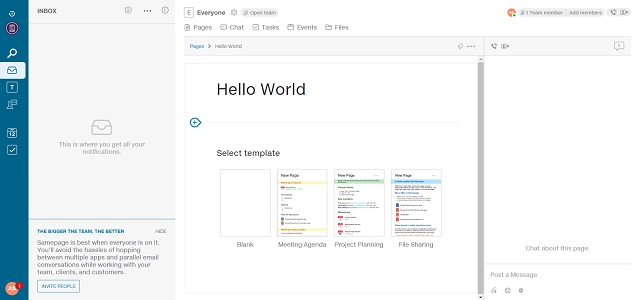 The best part about Samepage is that you don't need to move your Dropbox or OneDrive storage to Samepage. You can simply connect your cloud storage and it will be available right there. Besides that, you can use its cloud storage to store and sync files. In essence, Samepage is trying to bring all the third-party services at one place so that your team can work together. If you are using multiple services already, Samepage can be a great unified portal.
Visit: Samepage (Free, Premium plan starts at $8/month)
6. Fastmail
While Fastmail does not necessarily fit into G Suite alternatives, it's a great email service for providing business email accounts. If you just want to create professional-looking email addresses for your company, Fastmail is the most reliable and secure email provider to opt for. The best part about Fastmail is that it's completely private and does not monetize your data. Unlike Gmail, it does not show you ads or learn your interests from email messages.
Apart from that, Fastmail has various services baked in. Under the single app, you can access calendar, contacts, and notes seamlessly. Also, Fastmail has a superior spam blocking technology which helps you declutter your emails efficiently. All things considered, if you want business email accounts for your organization, go with Fastmail. You won't regret.
Subscribe: Fastmail (Free trial for 30 days, plan starts at $3/month)
7. Proton Mail
One of the reasons why people are looking for G Suite alternatives is that they want to be in control of their information. If you are also someone who wants complete privacy, Proton Mail is a good option for you. Proton Mail has been developed by a Swiss company so you know your data is secure. The service brings end-to-end email encryption so your emails are encrypted and cannot be read by anyone else. What's best is that even the company doesn't keep any information on you so your data is completely private.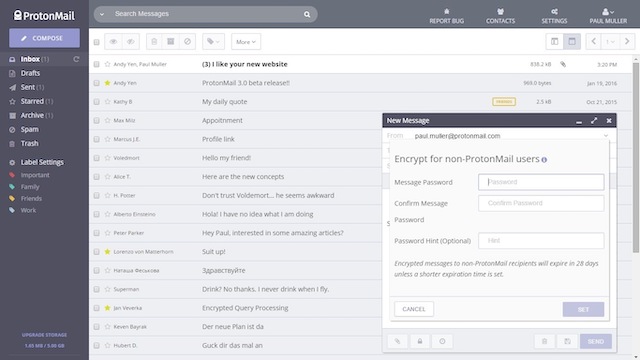 Proton Mail is also open-source. Anyone can check their code and verify their privacy claims. Also, they offer a free version which is great for checking out the service. However, note that you cannot get an email account based on your personal domain name for the free account. If you want to get your own domain name, you will have to go with their paid plans. Finally, even though the email service is encrypted, it's as easy to use as any other email providers. If you value security, this is the email provider you should use.
Visit: Proton Mail (Free, paid plans start at €5.00/mo)
8. The Arrangers
The Arrangers is another email service provider for business accounts with lots of flexibility. You can create as many business accounts as you want. The whole service is based on the concept of scalability. As and when your company grows, you can create further email accounts without paying a premium or buying bulk email accounts. This helps you in cutting down the cost significantly so that you can opt for a better collaborative platform.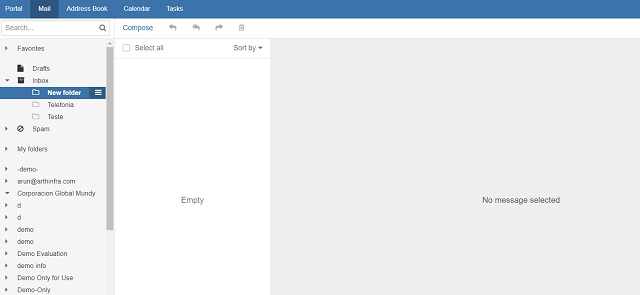 Similar to Fastmail, the emails are completely private with an advanced virus and spam protection on top of it. In terms of storage, you get 5GB of space dedicated only for emails and can attach up to 30MB of files in an email. Apart from that, there are several productivity tools like calendar, contacts, and tasks integrated inside the app. To sum up, if you are looking for a cheap email service provider with all the necessary safeguards, The Arrangers can be a great alternative to G Suite's Gmail.
Visit: The Arrangers (Starts at $0.33/account/month)
Get Productive With The Best G Suite Alternatives
So that was our list of 8 best G Suite alternatives. To be frank, G Suite is a really great platform for many enterprises, but the steep price makes it difficult for small companies to afford it. In that case, you can opt for the alternatives. From Office 365 to email providers like Fastmail, all have something unique to offer at a much cheaper cost. To conclude, I hope this article helped you find the best G Suite alternatives that suit your need. If you liked the alternatives, do comment down below and let us know which one did you pick.