GarageBand is one of the best digital audio workstations (DAW) in the market, but it's only available for Apple devices. That means you can only use it on Macs, iPhones, and iPads, but not on Windows, Linux, or Android. So if you are looking for a GarageBand alternative to use on your Windows 10 PC, you have come to the right place. Today, we will tell you about the 12 best free and paid digital audio workstations (DAW) that are great GarageBand alternatives for Windows users.
Best GarageBand Alternatives for Windows (2021)
We have already written about the best GarageBand alternatives for Android, so check that out if you are looking for music production software to use on your mobile phone or tablet. On the other hand, if you are looking for audio editors, check out a curated list of the best audio editing software for Windows, Mac, and Linux. As for this article, here we will tell you about the best GarageBand alternatives (top free and affordable DAWs) for Windows PCs. So without any further delay, let's get cracking.
1. Cakewalk
One of the best free digital audio workstations around, Cakewalk is the ideal alternative to GarageBand on Windows. It is partially based on technology developed by Roland under its "Sonar" software brand and comes with Sonar's 64-bit mix engine that helps deliver clean, dynamic, accurate mixes. Rebranded from Sonar to Cakewalk following its acquisition by BandLab, the software offers unlimited audio, MIDI, instrument, loop, and auxiliary tracks in every project.
Cakewalk also offers advanced mixing tools and built-in mastering tools to polish your finished mixes. It is one of the best DAWs for tracking, mixing, or mastering, with a range of FX and synths.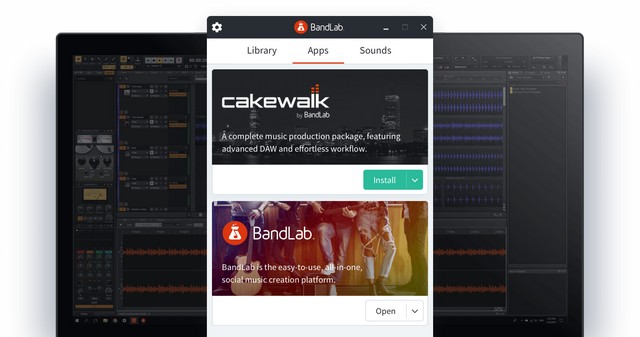 Designed to emulate the layout of an analog console, Cakewalk allows users to build and upgrade their channel strip with an expandable library of ProChannel modules. It ranges from convolution reverb, resonant filtering, dynamic compression, and powerful EQ to tape and console emulation, peak limiting, and tube saturation. It also offers VST3 support, full compatibility with touchscreen devices, and ARA functionality for seamless integration of powerful and modern editing tools. You can also use the software to export and publish your songs directly to YouTube, SoundCloud, Facebook, and more.
2. LMMS: Best Open-source GarageBand Alternative
One of the best GarageBand alternatives on Windows, LMMS is cross-platform free and open-source software (FOSS) with a wide range of built-in samples and instruments. Available on Windows, Mac, and Linux, it offers a powerful music production solution with numerous mixing and mastering tools. With LMMS, you can sequence, compose, mix and automate songs in one simple interface. It also lets you note playback via MIDI or typing keyboard. There's also support for full user-defined track-based automation and computer-controlled automation sources.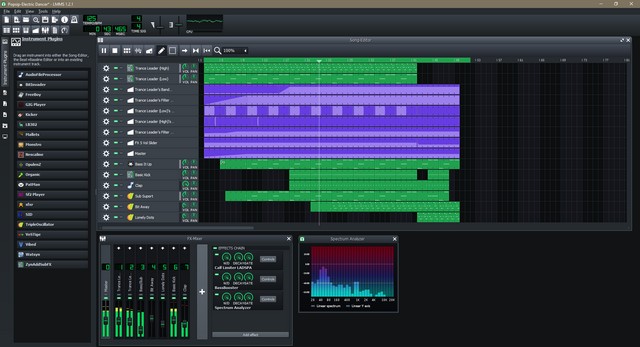 LMMS further brings built-in 64-bit VST instrument support with a 32-bit VST bridge. As for supported instruments, you have 16 built-in synthesizers, including emulation of Roland TB-303, Commodore 64 SID microchip, Nintendo NES and GameBoy, Yamaha OPL2 chip, and more.
You also get polyphonic, multitimbral, microtonal, multi-voice additive, subtractive and pad synthesis as part of the embedded open-source ZynAddSubFx plugin. LMMS also offers native multisample support for SoundFont (SF2), Giga (GIG), and Gravis UltraSound (GUS) formats for high-quality instrument patches and banks.
3. FL Studio
Audio production on Windows was once synonymous with FL Studio. While the scene has changed somewhat with the availability of other high-quality DAWs on the platform, FL Studio remains one of the best, most advanced, and popular software in the segment. Unlike Cakewalk or LMMS, it isn't free but still makes for one of the preferred GarageBand alternatives on Windows. It comes with a full-featured trial that allows you to edit and save projects and export them to audio formats like MP3 and WAV.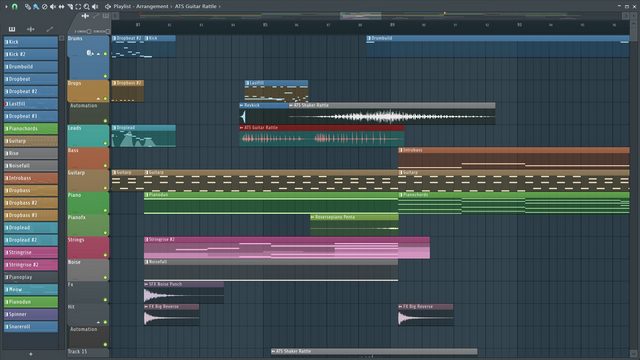 Other notable features of FL Studio include effects chains, audio sends, sidechain control, advanced automation, plugin delay compensation, etc. It also has a huge array of native instruments and effects, including a piano roll to send notes and automation data to plugin instruments (sequencing).
FL Studio also supports all VST standards (1, 2, and 3), giving you access to the widest range of third-party plugins. It also offers a range of synths, effects, samples, loops and presets, making it one of the best GarageBand alternatives for professionals on Windows.
4. Reaper
Another great GarageBand alternative for Windows, Reaper, is a complete digital audio production application. It offers a complete multi-track audio and MIDI recording, editing, processing, mixing, and mastering toolset. It supports a vast range of hardware, digital formats, and plugins and can be comprehensively extended, scripted, and modified. Other features include 64-bit internal audio processing and support for thousands of third-party plugin effects and virtual instruments, including VST, VST3, LV2, AU, DX, and JS.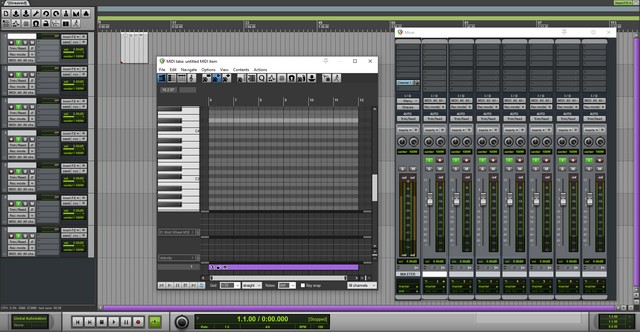 Reaper offers hundreds of studio-quality effects for processing audio and MIDI and built-in tools for creating new effects. It also supports automation, modulation, grouping, VCA, surround, macros, OSC, scripting, control surfaces, custom skins, layouts, and more. You can also import, record to, and render to many media formats at almost any bit depth and sample rate.
Finally, you get extensive customization via Tweaker script, as well as a variety of fixes and improvements, including Dynamic Split improvements, per-track positive or negative playback offset, and faster and higher quality sample rate conversion.
5. Magix MusicMaker
Another great free DAW, MusicMaker from Magix, makes for one of the best Garageband alternatives on Windows. The software offers a massive collection of high-quality beats, tunes, and vocals to help you get started. You can also combine sounds and loops per drag & drop, play a whole library of software instruments and apply professional effects. It also supports live recordings, unlike some other free options on this list.
While the free version comes with a multi-core audio engine and other advanced features, the paid-for versions offer VST2 and VST3 support, tiny instruments, and more. It also offers a full MIDI editing suite and piano roll capabilities.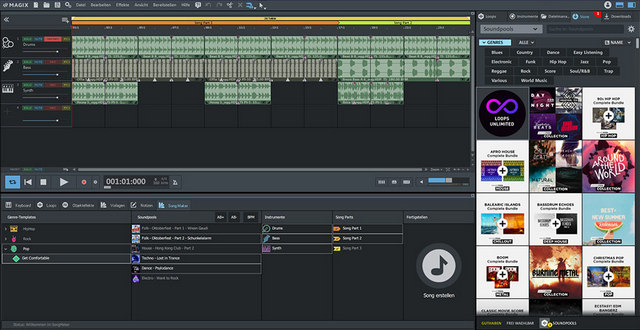 MusicMaker also includes full integration of audio interfaces, MIDI keyboards, external instruments, microphones, and other sound sources. In addition to that, you also get a whole host of effects and processing plugins, including free audio effects such as delays and flangers, as well as the Vandal SE amplifier.
MusicMaker also offers an 'auto master' feature for novice music producers, which uses an algorithm to adjust elements of your mix based on the genre of their choice. For advanced users, it offers several stereo-imaging plugins, limiters, EQs, and compressors.
6. MPC Beats
MPC Beats is a free full-featured beat-making DAW with drum programming, sampling, and audio recording. Built on Akai's famed MPC music production hardware, this is another great GarageBand alternatives on Windows. It is a powerful software for beat-making with VST and AU plugin support. The software offers various genre templates, like Trap, Dance, Pop, and more. It offers 2GB worth of free content, including samples, loops, and built-in virtual instrument plugins to help craft your sound. It also comes with MPC Beats expansion pack editions from leading musicians and music producers, such as Araab Muzik, Motif Alumni, and more.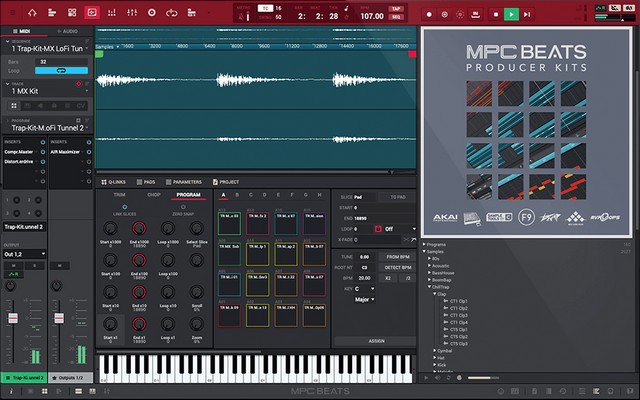 MPC Beats offers plug-and-play compatibility with various USB controllers, including MPK Mini, M-Audio Oxygen, Alesis V-Mini, and more. It also offers more than 80 audio FX plugins, including compressors, echo/ delay/ reverb, EQ, software synthesizers, and more. They will help you wrap, manipulate and transform audio with ease. You can even record instruments or vocals with two stereo audio tracks to add live elements to your music.
This software offers 16 pads for triggering drum samples and loops, a piano roll to record MIDI notes, a sample editor to chop and edit, and a browser to search and select sounds. Finally, MPC Beats is also available as a plugin you can add to your existing DAW as specialized beat-making software.
7. Ohm Studio
Ohm Studio advertises itself as the "first real-time, pro-grade collaborative digital audio workstation." It leverages the power of the cloud to let multiple people work together on a music project in real-time from the comfort of their home or studio. A great tool to have during the pandemic, Ohm Studio enables each member of a team or band to record their raw tracks separately and have them available on the cloud for every member of the project. While the software offers cutting-edge features, it also makes things easy for beginners with a simple interface and built-in tutorials.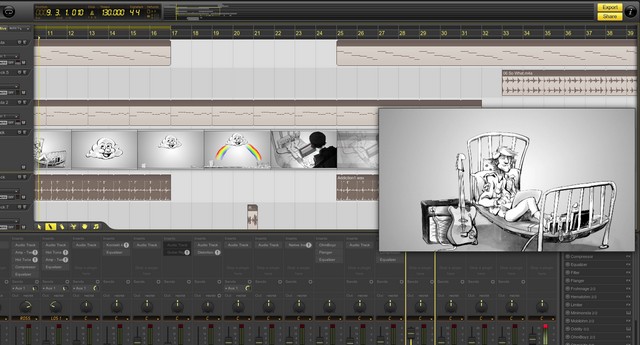 Ohm Studio's collaborative architecture is based on an in-house algorithm called 'Flip' that ensures every member of a project can perform actions on any element with no risk of conflicts. Every change in the project is uploaded to the server and synchronized across every member in real-time. At the same time, project data is also stored on your computer in a cache folder. You can get admin status for each project you create. You can choose to make your projects private or public, hidden or visible, clonable or not.
With its vast feature set and cross-platform compatibility, Ohm Studio is an amazing GarageBand alternative on Windows and other platforms, especially for cloud-based real-time collaborations.
8. Audiotool
Yet another online collaborative music production software, Audiotool, offers a decent set of music creation tools, including 50,000 device presets and 250,000 samples via its community library. Like Ohm Studio, it is not a true alternative to traditional entry-level DAWs like GarageBand but offers enough grunt for music creation on the go. The software stores all track assets on Audiotool servers, enabling collaborators to access them from anywhere in the world.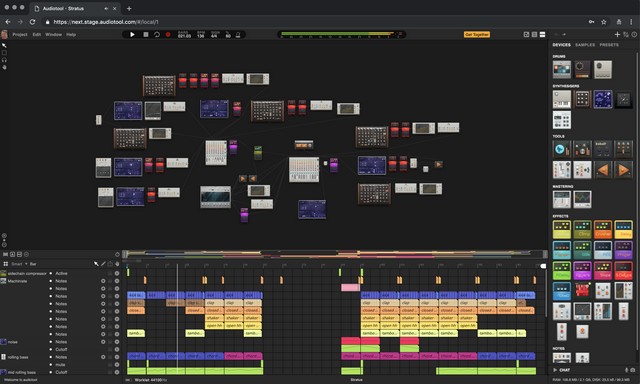 Audiotool offers all the traditional mixing and routing options, including splitter, merger, crossfader, sub-mixer, and much more. Instruments include the Heisenberg, a modular polyphonic synthesizer called the Pulverisateur, beatbox functionality, and a drum sampler called the Machiniste. And well, you also get access to a graphical EQ, auto filter, stereo enhancer, and other effects here. Overall, Audiotool is great at what it does, making it a worthy online DAW in its own right.
9. Mixcraft
Mixcraft is one of the best GarageBand alternatives on Windows for folks wanting to mix music with many different samples and loops. Moreover, it also offers an editing interface similar to that of GarageBand. Mixcraft offers over 7,500 professionally produced loops, music beds, sound effects, and percussion samples in many different genres.
It also has a fast sound engine, impressive pitch-shifting and time-stretching technology, and massive support for third-party plug-ins, audio interfaces, and hardware controllers. Mixcraft's suite of effects and instruments include samplers, authentic emulations of classic synthesizers, electric pianos, rock organs, and ToneBoosters reverbs, compressors, filters, equalizers, and other effects.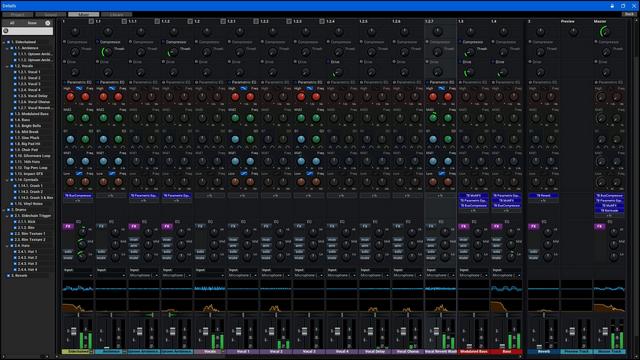 Mixcraft also has a 'Performance Panel' for live performances and loop-based composition. You can trigger audio and MIDI loops with a Launchpad, MIDI controller, or even your typing keyboard. The software lets you record directly to slots and even make real-time edits to sounds mid-performance. Other notable features include a powerful piano roll editor, notation editor, and step editor views. There's also built-in Freesound.org browsing and import functions.
You can also create tempo-synced MIDI automation with Mixcraft's powerful new automation tools and use the new Step Recording feature to create MIDI patterns. It also features integrated Melodyne tuning, as well as advanced routing and control. There's even a capable video editing function baked into this software. It lets you edit, crop, and crossfade video clips, and create seamless video transitions, add titles, scrolling text, and other effects. Finally, the editor also lets you mix your tracks down to many different file formats.
10. Cubase
One of the best DAWs for music professionals around the world, Cubase is a great GarageBand alternative on Windows if you are ready to loosen your purse strings. The Cubase audio engine features 64-bit floating-point resolution at a 192 kHz sample rate. It also includes true surround capability, with each track and channel offering up to six discreet channels for 5.1 surround mixes.
The software also offers a bewildering array of features, including audio warp-quantize, advanced channel strip modules, chord pads to help compose music quickly, comping to create the perfect track from multiple takes, etc.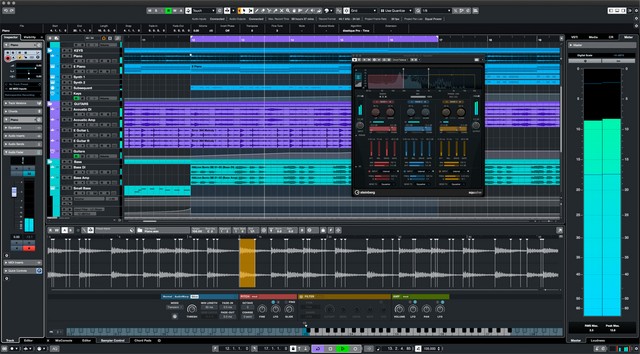 Cubase also lets you export the complete signal path, including master bus effects, to replicate the mix. You can also export your audio, FX, groups, instruments, MIDI, and video tracks as track archives for import into other projects, including all the information associated with each track.
Other notable features include VariAudio 3, scale assistant, a comprehensive drum production software instrument called Groove Agent SE, easy side-chaining, spectral comparison EQ, track visibility management, channel batch export, latency monitor, imports from projects, logical editor, ARA support, and more.
11. Adobe Audition
The penultimate software on our list, Adobe Audition, is also a capable GarageBand alternative for Windows, especially if you already subscribe to Adobe's CS bundle. Of course, it isn't free. But like Cubase, it offers you a full range of features, including a multitrack, non-destructive mix/ edit environment, as well as a destructive-approach waveform editing view.
The software helps you record, edit, and apply effects to audio clips as well as record and adjust multitrack sessions. It also comes with a great built-in noise-reduction tool, as well as a Dynamics Processing effect called 'music ducking' that automatically lowers the audio level of one track when there's a voice-over track present.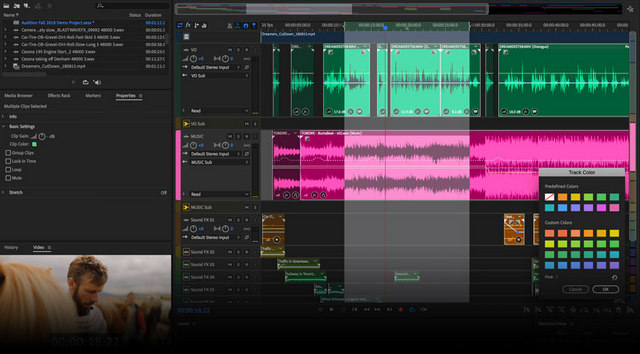 A part of Adobe Creative Cloud (CC), Audition integrates seamlessly with Premiere Pro, allowing it to work directly with audio tracks in Adobe's video editing tool. One of the notable features in Adobe Audition is Strip Silence, which allows you to identify and remove silent or inactive parts in recorded clips without losing synchronization in multi-track audio.
There's also a new Loudness Meter that provides industry-standard ITU-based loudness monitoring for broadcast, podcast, and streaming media content. Overall, Adobe Audition is a powerful digital audio workstation to accelerate video production workflows and audio finishing and deliver a polished mix.
12. Audacity
Last but not least, we have the one and only Audacity. Wildly popular with amateur musicians and starters in the music business, the free and open-source program is one of the best GarageBand alternatives on Windows for beginners. While it is largely used as an audio editor, it is still capable of recording, editing, and producing audio files, making it a DAW by the strictest of definitions.
Audacity is an easy-to-use all-purpose multi-track audio editor and recorder, with live audio recording capabilities through a microphone or mixer. It can also digitize recordings from other media as well as import, edit and combine sound files.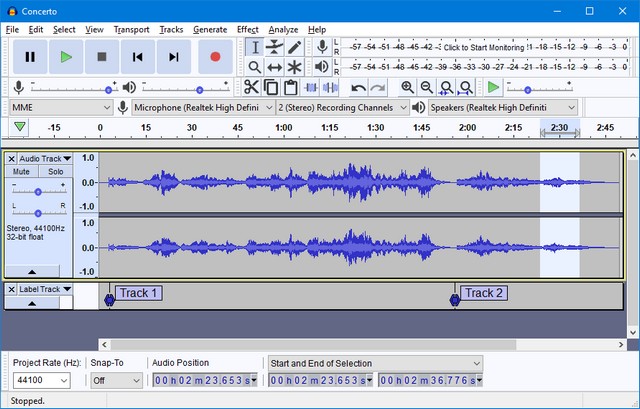 Audacity supports 6-bit, 24-bit, and 32-bit sound and converts sample rates and formats using high-quality resampling and dithering. It supports LADSPA, LV2, Nyquist, VST, and Audio Unit effect plug-ins, and Nyquist effects can be easily modified in a text editor. With Audacity, you can even write your own plug-ins.
However, while Audacity is a great option for beginners, it lacks some of the advanced functionality of other free DAWs, such as LMMS and Cakewalk. Still, what the tool lacks in functionality, Audacity makes up for in its simplicity of use. If you are starting a YouTube channel with no prior experience of audio production, Audacity is likely your best bet.
Notable Mentions: Other Free and Premium Apps Like GarageBand for Windows
Another feature-rich free software in this category is WavePad (website). Like Audacity, it is a capable and full-featured audio editor that offers some basic production capabilities, especially when used in conjunction with its stablemate, MixPad. That said, it is still more of an audio editor that passes for an entry-level DAW that's free and easy to use for beginners.
The list above largely includes free audio production software for folks looking at GarageBand alternatives on Windows. However, we have also included a few paid apps in case you are ready to dive deeper into the music production world. Some of the other notable paid DAWs are the industry-standard Pro Tools from Avid (website), as well as Studio One (website), Ableton Live (website), etc.
While they are all great DAWs in their own right, they didn't make it to our list because they all cost a pretty penny. However, if you are feeling flush, check all of them out using the links above and try out their trial versions to see if any of them is the right fit for you. Once you decide on one, let us know which one you chose and why.
Use the Best GarageBand Alternatives on Windows For Professional Music Production
GarageBand is one of the best at what it does, but you don't need to switch to Mac to be able to churn out pro-level tracks for your YouTube channel. With the best free and paid GarageBand alternatives listed above, you can get the best digital audio workstations (DAWs) and high-quality music production software on Windows as well. So go ahead, take your pick and let us know which alternative you chose and why in the comments below.
---
Load More