When it comes to customising and personalising your Apple Watch, the watch face you set on the display is of paramount importance. It should fit in with your personal style, display information that's most important to you, and look good. While Apple doesn't allow third party watch-faces on the Apple Watch, the company does offer a pretty large library of faces itself. So, here are the best Apple Watch faces that you should check out.
Best Apple Watch Faces (2022)
watchOS 8 brings a ton of features to the Apple Watch. While watchOS 7 features included things like sleep tracking on Apple Watch, with watchOS 8 you get the ability to track sleeping heart rate on Apple Watch as well, among many other things. Plus, as always, there are new watch faces, such as the really cool Portraits watch face.
That means, the already fairly decent library of watch faces on Apple Watch is growing steadily, and in this article, I will be discussing the best Apple Watch faces that are available pre-installed on your Apple Watch. That said, if these watch faces aren't enough for you, you can actually create and set custom Apple Watch faces as well.
Note: As one would expect, I am ranking these faces based on my personal preference. I would recommend that you go through the entire list.
1. Portraits (watchOS 8)
So far, Portraits is the only new watch face in watchOS 8, but it is really cool (and loads of fun). With this new Apple Watch face you can simply choose any portrait mode photo as your watch face background. You also get two complications that you can set — one in the middle and one on the bottom. Now the cool thing about this face is how it shows up your photos. You get a neat 3D effect on your Apple Watch, complete with perspective motion. Plus, you can rotate the digital crown to bring the subject in your photo forward, which is also quite cool. This is definitely my favourite new watch face for Apple Watch, and you can learn how to set Portrait watch faces on Apple Watch with our linked article.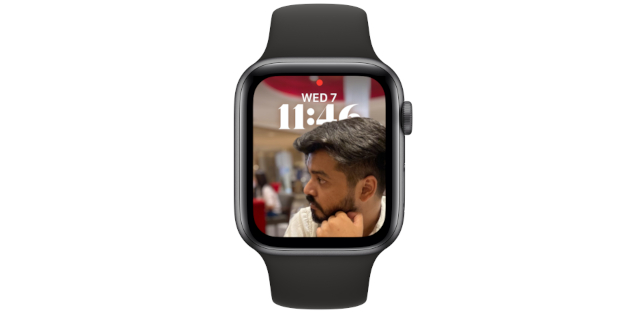 2. Infograph
One of my personal favourite Apple Watch faces, and the one you'd likely see me sporting on my watch most often is the Infograph watch face. This watch face brings a total of eight complications to the screen, which means there's ton of information on here, which is great for me.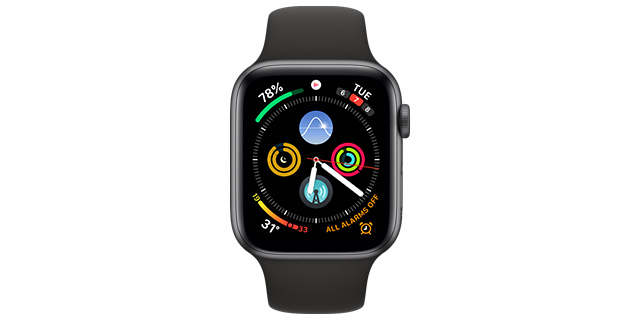 Also, the watch face makes great use of space, and it just looks amazing to me. Some people might find this to be too loaded with information, and if that's the case you can either choose a different watch face from the rest of the list, or you can just turn off some of the complications from Infograph as well.
Personally, I even use some of these complications as quick-launchers for third party Apple Watch apps that I use, such as Spotify and Overcast.
Infograph is also the best watch face for exercise enthusiasts because you can add complications and shortcuts for all your workout related apps and features. So you can have things like the workout app, water logging apps (if you use any), heart rate tracking, and everything else in the same watch face.
3. California
This is the watch face I usually go with on slightly more formal occasions where the Inforgraph watch face might feel a tad out of place.
This watch face brings the basics right up-front and looks really classy. You get the time, obviously, along with a bunch of options for the dial-markers including Devanagari if you want hindi numerals.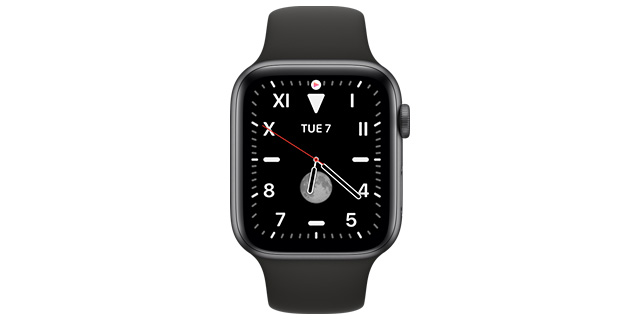 You can go full-screen or circular with the watch face. I prefer full-screen which gives me access to two complications. However, if you go circular, you'll get four extra complications on each corner of the watch face. So if you want extra information on your wrist, you can go with that.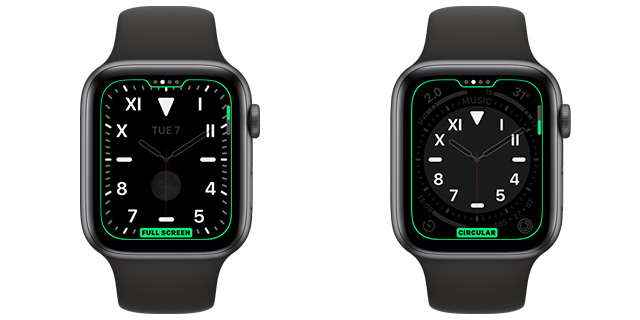 Another thing I really like about this watch-face is that it has one of the best looking Always-on-Displays of any Apple Watch face.
4. GMT Watch Face
There is also the GMT watch face which came with watchOS 7. This was announced alongside the announcement of the new Apple Watch Series 6 and Apple Watch SE in September 2020. The GMT watch face is inspired by classic watches, with a modern twist.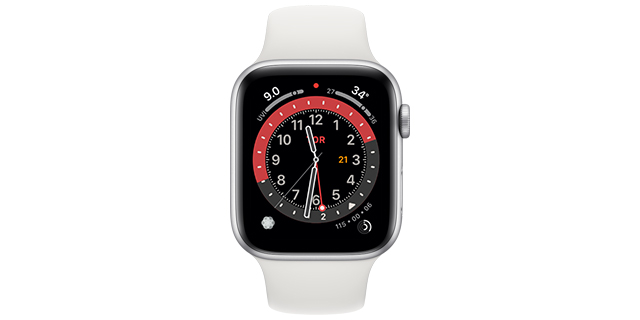 It comes with an inner dial with 12-hour markings that shows your local time, and an outer dial with 24-hour markings that shows you a different time zone. This, you can set by simply rotating the Digital Crown to see all the available time zones, and selecting the one you want to view on your watch face.
5. Liquid Metal, Fire/ Water Watch Faces
Technically these are separate watch faces, but they are basically the same thing, except for the element used. These watch faces show awesome animations every time you tap the screen or wake your watch.
The animations were recorded by Apple, and you can choose between water, fire, and liquid metal in the watch faces.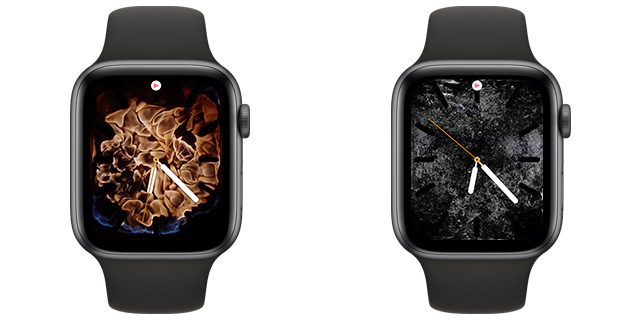 These are by-far the coolest looking Apple Watch faces you will find. The animations are insanely captivating to look at, and I would recommend you keep the dial shape to full-screen for a more immersive animation. However, if you want complications on the screen, you can opt for a circular dial shape as well.
6. Meridian
Meridian is like a slightly more casual version of California. It offers a refined look to your watch while still being slightly playful. Meridian only offers a full-screen look, but includes four complications in the middle of the screen that you can customise.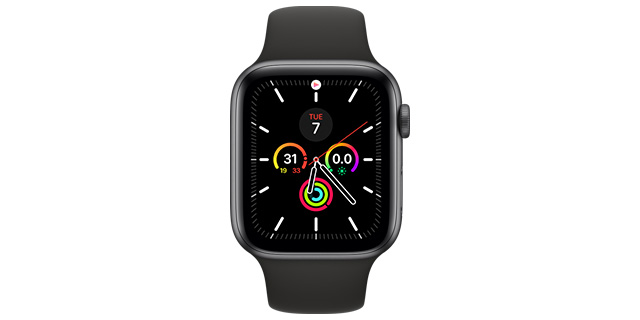 Meridian's always on display is pretty decent as well, and after California, I think this is the best AOD watch face for Apple Watch.
7. Simple
As the name suggests, this is the simplest watch face you can find, which is why it can be the perfect choice for any minimalists reading this list.
The Simple face lets you choose the dial design, so you can go completely minimal with just the watch-hands if you like, or add the hour-markers to your watch face.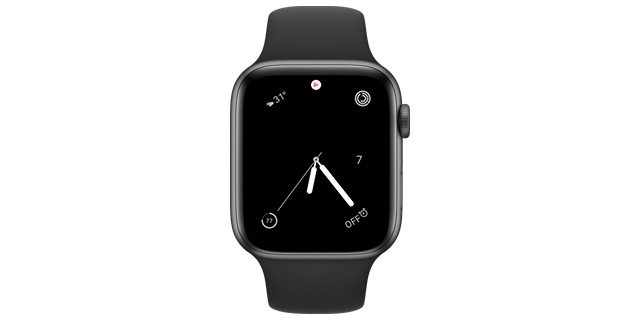 The watch face does include complications, but I would suggest that you turn them all off, and just keep the date complication on for the cleanest, most minimal Apple Watch look you can get. Check out the screenshot below.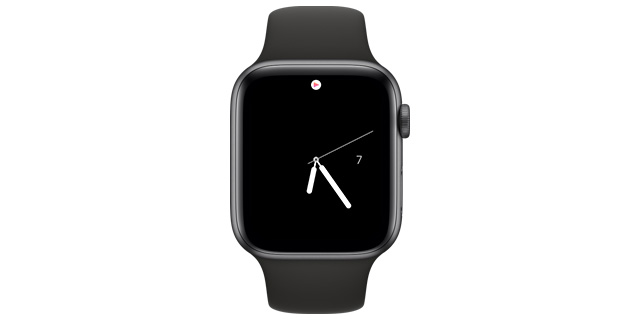 8. Siri Watch Face
I don't know how dependent you are on Siri for running your day to day life, but if you like Siri's context-aware suggestions, this watch face can make your life a lot easier.
The clean-ish looking watch face shows you the time, along with a bunch of Siri cards that surface information based on what Siri thinks you might need to know at that given point in time. It will show you your upcoming events, the weather, sunset/sunrise times and more.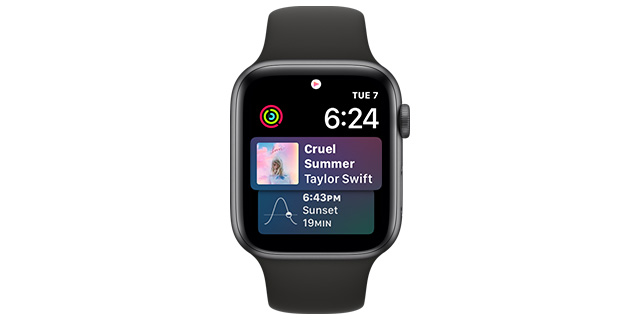 It's pretty great for anyone who wants a smart-assistant right on their watch face.
9. Numerals Duo
If you're looking for a watch face that's perfect for a casual outing with your friends, or maybe a trip to the beach, check out Numerals Duo. This watch face displays just the time in two-toned numerals on your watch screen and looks pretty nice.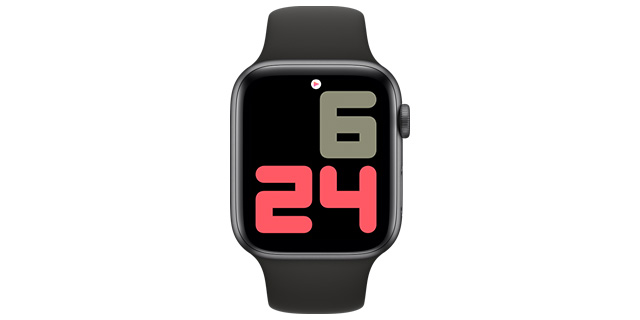 There are a bunch of color-schemes that you can choose from, and a couple of styles as well.
10. Typograph
Another interesting casual watch face you can use on your Apple Watch is the typograph face. As the name suggests, typography takes center stage with this watch face. You get to choose from three custom type styles: classic, modern, and rounded.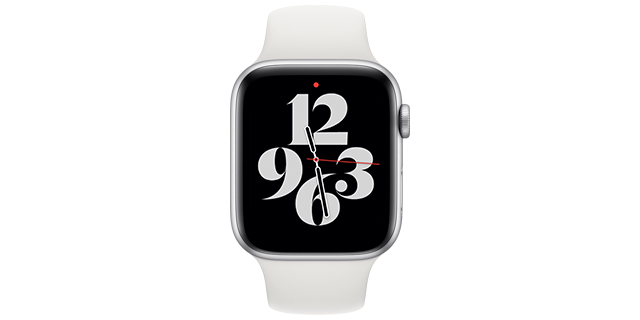 Plus, you get to choose whether you want to view just four numbers (12,3,6,9) or all 12 numbers on your watch face, and which script you want to view them in. Personally, the default settings look the best to me, but if you want you can choose from Arabic, Arabic Indic, Devanagari, and Roman.
11. Solar
If you like slightly more interactive watch faces, check out Solar. This watch face tracks the movement of the sun around your location, and has a clock that runs opposite it to display the time. Check out the screenshot.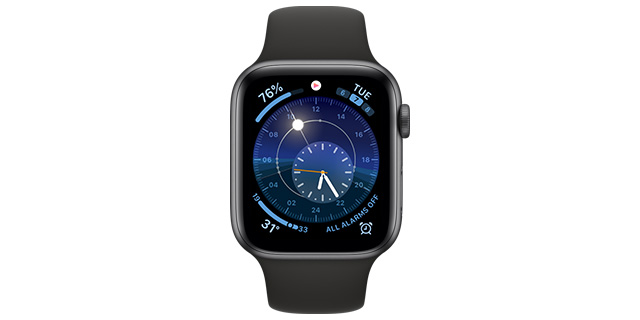 Moreover, you can rotate the Digital Crown to move ahead in time and see the position of the sun throughout the day. The face even marks the twilight, sunset, dawn, and other times right on the watch face itself.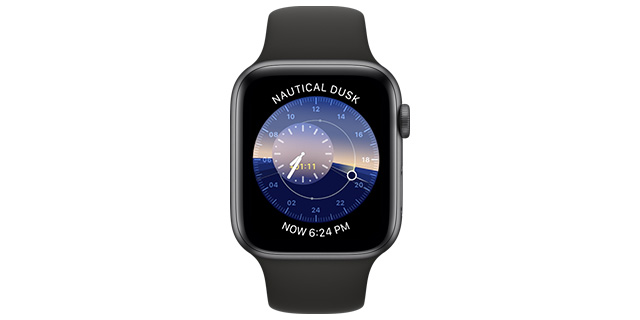 12. Toy Story
Who doesn't love Toy Story? It's one of my favourite animated movies of all time, and if you're a die hard fan of the movie, the Toy Story watch face will definitely interest you.
The watch face features fun little animations from all the main Toy Story characters, so you can have Buzz Lightyear, or Woody play around on your wrist. You can tap on the watch face to see more animations from different characters as well.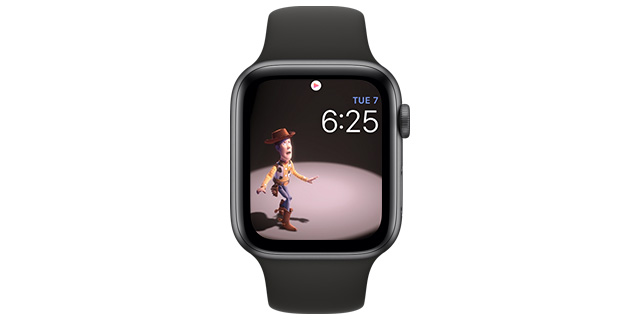 Pro-tip: This is also a great way to keep a young kid playing around with the watch, in case you're looking for something to distract your kids at times.
13. Photos
Lastly, there's the 'Photos' watch face, which does pretty much what you'd expect it to do. You can choose a photo from your library and use it as the watch face on your Apple Watch.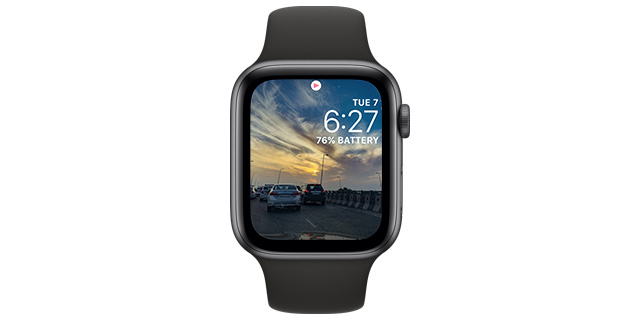 You can also choose a bunch of up to 24 photos for the face and your watch will randomly shuffle between them so you get a fresh picture every time.
14. Memoji Watch Face
The Memoji watch face is perfect for people who want to show off their Memoji creations to the world, while having some fun seeing them be animated on your wrist. The watch face features all the standard memojis, and all the memojis you've created on your iPhone. That's pretty cool because it opens up the watch face quite a bit. You can create a memoji unique to you and your watch.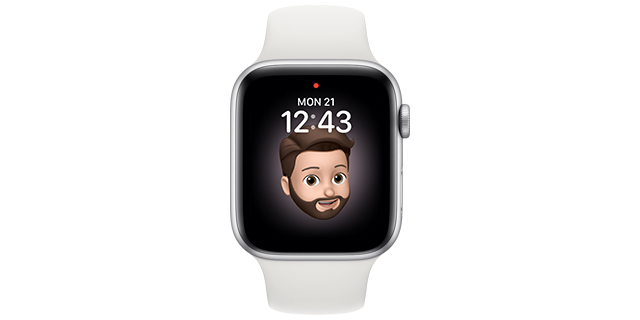 Oh, and since watchOS 7, you can share Apple Watch faces with your friends if you want to.
15. Artist
The Artist watch face doesn't really offer much in the way of customisation or even information for that matter (which is why it's quite low on my list), but it's still a neat face to have.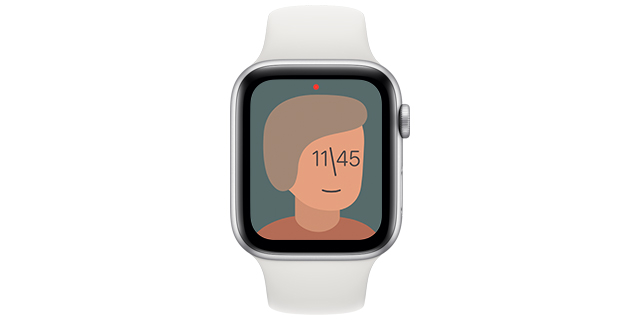 This one has been created with artist Geoff McFetridge. So what's special about it? The portrait algorithmically changes every time you raise your wrist. You can tap on the face to change the portrait to a new design as well. It's pretty neat, and as an added bonus, the always on display looks good.
Best Apple Watch Faces by Use-cases
Most Informational: Infograph
Best for Exercising: Infograph (with custom complications)
Most Minimal: Simple
Best for Formal Wear: California
Coolest Looking: Fire/Water, Liquid Metal
Best for Informal Wear: Numerals Duo
Best Always on Display: California
Personalise Your Apple Watch Completely
As I said before, watch faces are the most important aspects of personalising your Apple Watch and making it uniquely yours. Plus, with watchOS 8, you can use some third party apps to create custom watch faces for your Apple Watch as well. However, of all the faces that Apple ships with its smartwatch, these are my picks for the 15 best Apple Watch faces that you should try on your watch. If you think some other watch face deserves a spot on this list, do let me know in the comments below and I'll definitely reconsider my choices.