Even though the market is flooded with a bunch of devices with crazy good performance and battery life, not everyone in the Android ecosystem is using the latest smartphone, or even the latest Android operating system. Since a large population of Android users make use of outdated low or mid-range devices, it's quite obvious that they aren't getting the best battery life or performance from their devices. If you've been wondering about how you can improve the battery life and performance of your Android smartphone, then you can make use of a task manager. So, we've curated this list of the five best app killers for Android that you can try to improve your smartphone's battery life and performance.
Best App Killers for Android in 2020
1. Greenify
Often claimed to be the best battery saver app for Android, Greenify is one of the best task killers for Android which doesn't even claim to kill apps. The app works to identify other apps that drain a significant chunk of your battery and then limits the time they can run in the background but putting them in a hibernation-like state, which leads to improved battery life and slightly smoother performance. For users on recent Android version (Android 6.0 Marshmallow and above), Greenify even comes with an Aggressive Doze Mode, which amps up the Doze Mode features built into Android to make them more effective.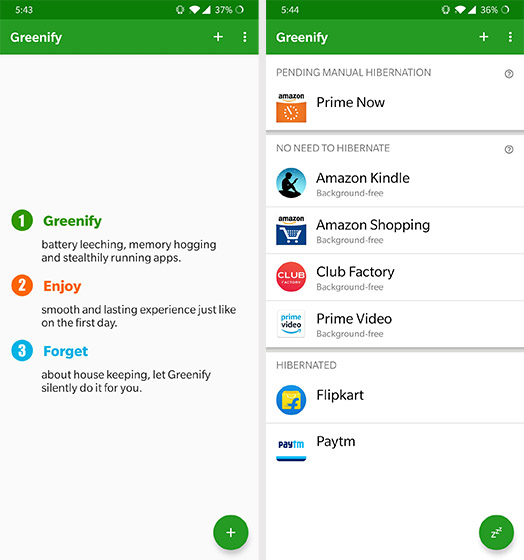 Greenify is one of my go to apps whenever my device starts getting old and can't really deliver the same battery life as before. Hibernating background apps also stops them from lagging your device, which can really be beneficial for low-end devices. The app gives you more control over which apps are allowed to run in the background when your phone is idle and in case you have a rooted device, you'll have the opportunity to give Greenify even more control and improve battery life even further. Greenify is a great choice just for the fact that it lets you blacklist the background apps that you want to stop without disrupting the functionality of any other apps.
Download Greenify (Free)
2. KillApps
KillApps is one of the few app killer apps on the Play Store that seems to work well. As the name suggests, it allows you to close all the running apps by a simple tap. You can permanently disable an app from running its services in the background and save battery life. And the best part is that it supports both third-party and system apps. It basically means that you will be able to restrict battery-hogging services like Google Play Service to get longer battery life. Other than that, KillApps offers a Custom list where you can choose a list of apps and set rules to restrict them based on your preference.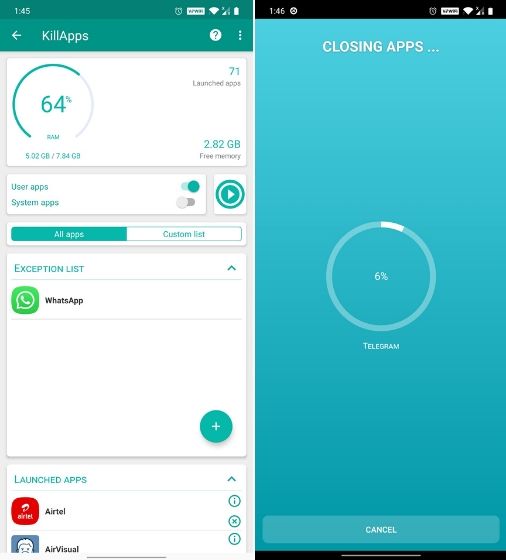 Additionally, the app reduces memory consumption and makes your smartphone fast and efficient. What I like more about KillApps is that it's pretty simple to set up and use. Furthermore, for those people who don't want to manually kill apps every time, they can enable Accessibility permission to the app. It will allow KillApps to automate the closing process without having to trigger the app manually. In addition to all of that, KillApps also features Speed booster, RAM cleaner, Lag remover, and Game booster. So if you are interested in a feature-packed app killer for Android then KillApps has you covered.
Download KillApps (Free, in-app purchases)
3. Kaspersky Battery Life: Saver & Booster
Kaspersky Battery Life is another app that you can rely on to kill apps on Android. The app is meant to improve battery life by closing the background apps, but it can also improve the performance significantly. It lets you shut down unnecessary apps running in the background and limit their activities effectively. In case, the app blocks your favorite apps like WhatsApp or YouTube, you can whitelist them from Kaspersky's scanner list. Furthermore, with this app, you can monitor apps that are taking a toll on your battery life and block them completely.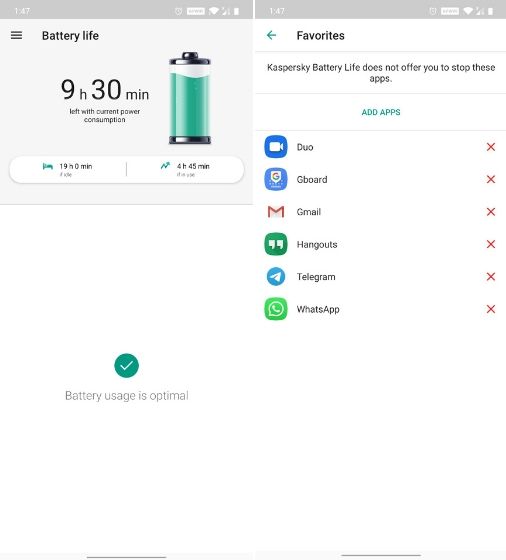 The best part about Kaspersky Battery Life is that the battery life stats on this app is much more detailed and meaningful, unlike Android's default battery figures. You can readily find out which apps are consuming the most energy and get notification whenever an app starts acting out. Kaspersky Battery Life maintains a real-time list of hungry apps on your smartphone and guides you to block them from running any services. Apart from that, the app also offers a widget so you don't have to open it manually and trigger an action. You can kill all the apps by a simple tap on your home screen.
Download Kaspersky Battery Life (Free)
4. App Killer and Manager
App Killer and Manager is one of the most intuitive Android apps for killing tasks, apps, and services running in the background. With just one tap, you can find out all the apps and hidden services that are hogging your smartphone resources like RAM, CPU, and internet connectivity. After that, it lets you inspect all those apps, and then you can completely restrict them from initiating any service call. As a result, this frees up the RAM too and that leads to better performance while offering you longer battery life. Other than that, App Killer and Manager has a dedicated memory cleaner that looks for all the unnecessary processes and kills them automatically in the background.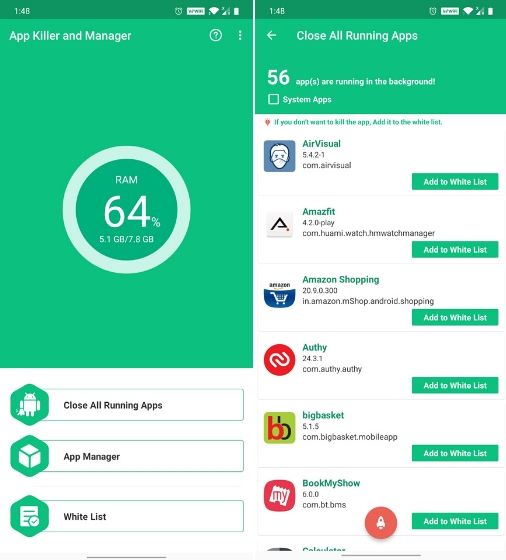 What I like about App Killer is that it offers a one-stop App Manager where you can find detailed information about third-party apps. You can learn about an app's battery consumption behavior, RAM usage, and CPU overhead. After going through the details, you can choose to uninstall the app then and there. Not to mention, you also have the option to whitelist apps so that they don't get killed in the background. All in all, I would say App Killer and Manager is a capable Android app and you should definitely give it a try.
Download App Killer and Manager (Free)
5. Naptime
Developed by renowned Franco kernel developer Francisco Franco, Naptime makes good use of Android's built-in doze feature and makes it work right after your turn off your phone's screen. The aggressive doze option stops working as soon as you turn on the display, which means that none of the processes are hindered whenever you're using the device.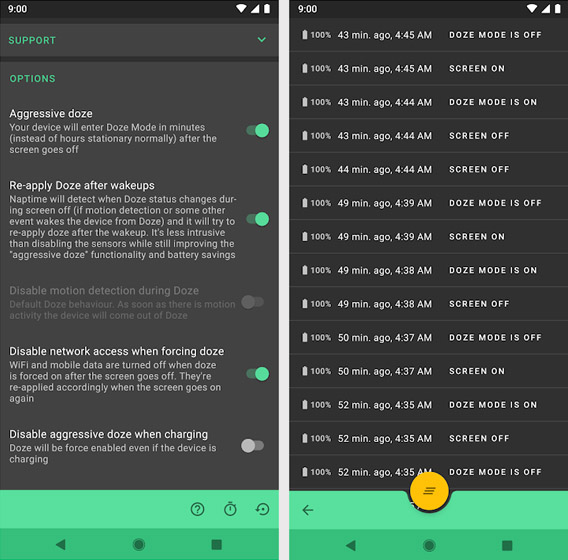 The app requires root access to work which gives you another reason to root your Android. But if you are still against rooting, there's a simple workaround you can use. You can do that by granting Naptime DUMP permissions via ADB by executing a couple of commands that conveniently pop up as soon as you use the app for the first time. It's quite obvious that the app isn't meant for absolute beginners and should only be used by someone who has at least a basic understanding of how ADB works.
Download Naptime (Free, in-app purchases)
Bonus: Advanced Task Manager
Another great option for ageing Android devices is the Advanced Task Manager which supports devices up to Android 7.0 Nougat. The Advanced Task Manager app lists down all the apps running on your device and gives you the option to select which apps to kill to improve battery life and speed up your device. The app even has an ignore list which will allow you to whitelist important apps so that you don't kill them accidentally.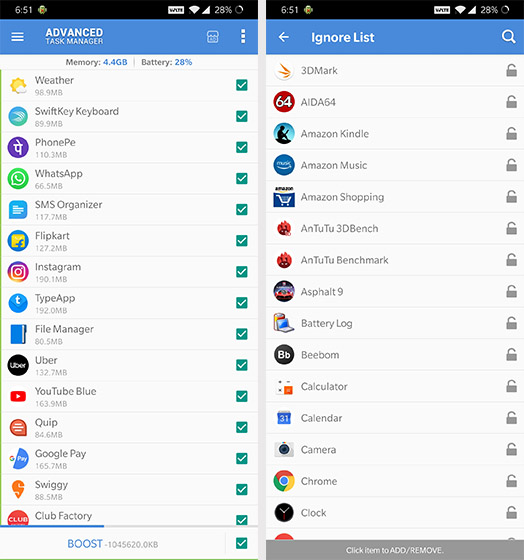 The app also comes with a virus scanner to rid your device of any malicious files and a neat batch uninstall feature which will allow you to remove unwanted apps from your Android smartphone with relative ease. On top of that, the app even allows users to automate the app killing process so that the app can automatically kill selected apps when the device's screen is turned off, upon startup or keep killing apps on its own in the background.
Download Advanced Task Manager (Free, with ads)
Using Developer Options to Limit Background Apps
In case you don't want to depend on third-party apps to kill apps for you, you can even make use of a built-in feature on Android to get the same effect. The feature in question will allow you to limit the number of background processes that can run on your device. In order to access the feature you'll need to follow these simple steps:
Enable developer options on your device by repeatedly tapping on the build number in the 'About Phone' section of the settings menu.
In the developer options, scroll down to the Apps section and tap on Background process limit.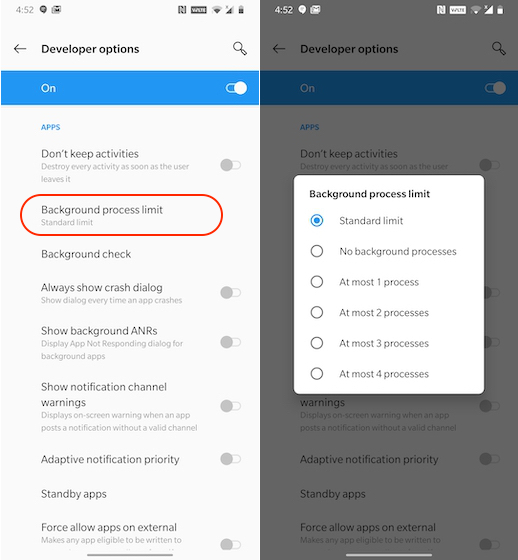 Tap on the number of background processes you want to allow and you're all set.
You can even prevent apps from running in the background by switching on the Don't keep activities options in the same menu which will destroy every activity as soon as you switch to a different task. However, this might not have a great effect on the overall performance of the phones as it'll have to load up apps from scratch each time you access them which will take a fair bit of time.
Use The Best Android App Killers
Well, that rounds up our list for the best app killers for Android. Once again, I'd like to stress on the fact that the aforementioned apps aren't meant for recent flagship and might not make a significant difference if used on a new phone. The best results can be achieved on older low to mid-range devices which have slowed down over time and don't deliver the kind of battery life you require. What's your opinion on task manager for Android? Do you think they're useful or do they not have a significant enough impact on the battery life and performance? Let us know in the comments section below.