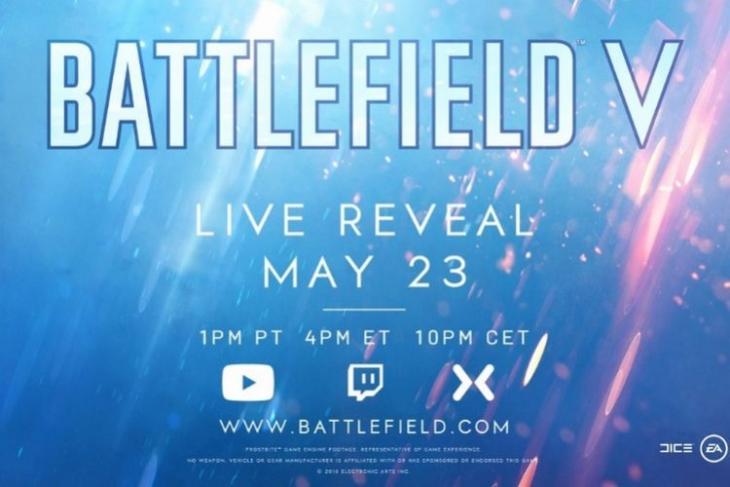 Back in January this year, EA's CFO Blake Jorgensen confirmed that a new Battlefield game is in development and that it will be released soon. Following the announcement, reports started pouring in that the next Battlefield game will explore the World War II era and might be released later this year.
EA has now put an end to all speculations and rumors by officially announcing a new game in the Battlefield franchise titled 'Battlefield V'. Teaser for the next game in the popular franchise has already gone live on the official Battlefield website, which confirms that the studio will host an official reveal event on May 23.
#ad The rumors are true (rumors that I started, but still…) I will be hosting the @Battlefield Live Reveal on Wed, May 23rd. Catch it streaming live on the #Battlefield YouTube. V EXCITING! pic.twitter.com/7B3fpTpQ6x

— Trevor Noah (@Trevornoah) May 16, 2018
The next chapter of EA DICE's groundbreaking all-out war saga is Battlefield V.
The Battlefield V reveal event will be hosted by comedian and The Daily Show host, Trevor Noah, who confirmed the same via a tweet. EA has already started the hype campaign for the next Battlefield game, publishing a ten-point teaser post about the upcoming game on the official Battlefield website.
EA claims that Battlefield will introduce exciting gameplay changes and will also bring back the fan-favorite War Stories that will add a compelling narrative and engaging storyline elements to the game. The studio is also teasing new modes and experiences which surely has something to do with the in-game Operations, alongside the promise of an even more immersive gameplay with unmatched sights and sounds.
"You can of course expect large-scale multiplayer in the next Battlefield – but Battlefield V takes it to the next level. Prepare for multiplayer that spans multiple maps and modes, meaning you'll experience more varied and exciting Battlefield moments", says the official blog post. As for the rumors of a World War II setting, EA has not confirmed it, but the teaser post does namedrop the World War I setting in Battlefield I, and later adds that Battlefield V 'happens on another frontline'. So yeah, there is a chance that Battlefield V might take players to the World War II era, but we'll advise you to wait until the official reveal event to find out what EA has in store for the excited fans.
In case you want to watch the livestream of the official Battlefield V reveal event, you can do so on the Battlefield YouTube channel and the Battlefield website. The event will also be streamed on Twitch and Mixer on May 23 at 1 PM PT / 4 PM ET / 10 PM CEST.