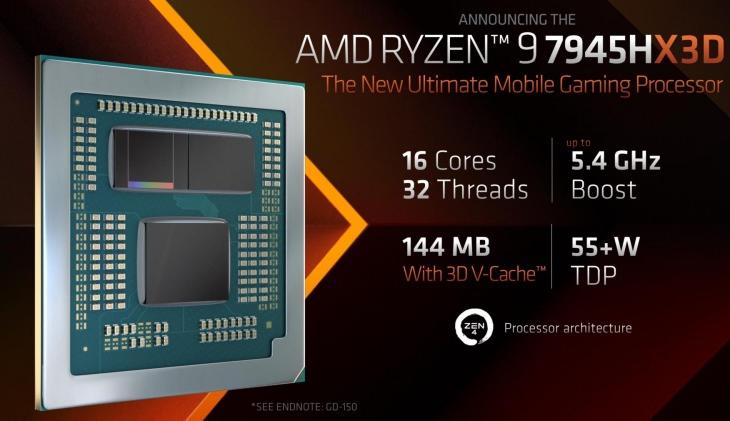 AMD has been an extremely popular choice among consumers that want a desktop chip suitable for gaming, as well as for work. Their Ryzen 7000 3D V-Cache CPUs offered massive performance advantages in many games while being slightly faster than Intel in less intensive games. Now, they have officially released the Ryzen 9 7945HX3D, which is a new CPU powered with 3D V-Cache technology.
AMD's Ultimate Flagship Gaming Processor Arrives
The new AMD Ryzen 9 7945HX3D CPU has 16 cores and 32 threads. This is the same as their Ryzen 9 7945HX that was announced as part of the Ryzen 7000 Mobile CPU Lineup. However, the L3 Cache has been upgraded from 64MB on the normal CPU to a staggering 144MB with 3D V-Cache. By the way, AMD has reduced the maximum operating temperature to 89C on this CPU, which is much lower than the normal CPU's 100C limit.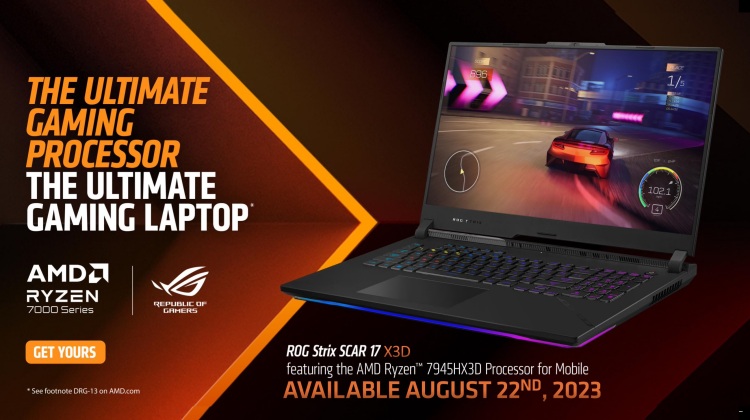 These improvements help in supercharging the gaming performance by more than 15% when compared to the normal R9 7945HX CPU without any 3D V-Cache. To balance things out, the base clock has been lowered by 200MHz on the new CPU. It should be noted that the boost clock remains the same as the normal variant of the same processor, at 5.4GHz. This new CPU can produce higher gaming performance at lower power levels, making it 11% faster when limited to 70W, and 23% faster at 40W. AMD tested these figures by capping both the Ryzen 9 7945HX3D and its non-3D V-Cache variant at the respective power figures.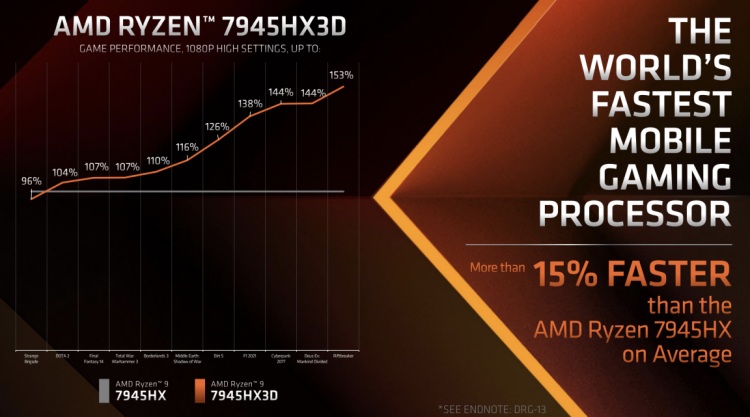 The above performance comparison figures were tested on a few titles. 3D V-Cache will definitely bring an advantage to the gaming performance across most games. If the 15% figure did not seem impressive to you, in a heavy game such as Cyberpunk 2077 the performance uplift was 44%. Riftbreaker saw the highest jump with up to 53% higher performance. I personally expect that esports games such as Valorant and Counter-Strike 2, which are sensitive to CPU performance will also see a big jump in FPS.
So yes, the Ryzen 9 7945HX3D might just be the fastest gaming laptop CPU available in the world. We will test it for ourselves when possible. But so far, this new CPU is very impressive and will be extremely appealing to gamers.
The AMD CPU will be a part of the upcoming ASUS ROG Strix Scar 17 gaming laptop, which will be launched on August 22nd, 2023. If you were looking to find this new super-fast AMD 3D V-Cache CPU in other gaming laptops, you won't be able to. This is because AMD and ASUS have a partnership for this, making the CPU exclusive to this particular ASUS gaming laptop for now.
We have not received a price from AMD or ASUS for the new Scar 17 gaming laptop, but we should have more details soon. So, are you planning on buying the upcoming ROG Strix Scar 18 laptop with Ryzen 9 7945HX3D CPUs? Let us know in the comments below.