In the wake of dreading the COVID-19 outbreak, Apple and Google have teamed up to help people fight out the pandemic. The two leading tech giants first introduced basic "Exposure Notifications" (back in April this year), which required users to install an app from the local health authority. Now, they have launched a far more efficient contact-tracing system called "Exposure Notifications Express" which delivers exposure alerts even without an app. If you want to help the public health authorities combat the pandemic and even safeguard yourself, don't fail to activate COVID-19 contact-tracing on your iPhone.
Enable COVID-19 Contact Tracing on iPhone in iOS 13.7 or Later
How Does COVID-19 Contact Tracing Work on iPhone?
iPhone uses Bluetooth to store a log throughout the day. Once the Exposure Notifications is enabled, the device looks for other iOS and Android smartphones that have Exposure Notifications turned on. According to Apple, the device keeps a rolling 14-day log of their shared identifiers.
If someone is affected by the novel Coronavirus, they can report it anonymously and also notify those who have been near them. Your iPhone will keep a tab on your log for exposure to anyone who is COVID-19 positive. Besides, if an exposure exceeds the public health authority's guidelines, you will be alerted.
Does Exposure Notifications Express Offer Essential Privacy to Your Personal Information?
Exposure Notifications Express ensures the privacy of your personal information remains secure. It uses random, rotating Bluetooth identifiers to figure out if you may have been exposed to someone who has reported a positive COVID-19 diagnosis.
For those unfamiliar, the Bluetooth identifiers consist of a string of random numbers that change every 10-20 minutes. They are produced cryptographically from a randomly generated key that keeps changing almost every 24 hours to safeguard your privacy. Moreover, they don't include sensitive information like location and identity.
Is Exposure Notifications Available Everywhere?
Unfortunately, Exposure Notifications is not yet available everywhere in the world. Though the contact-tracing feature no longer requires you to install a local health department app, the support from the local health authority is still a must.
But don't lose hope as the introduction of iOS 13.7 has made it much easier for public health authorities to adopt the API. Apple has stated that 20 countries including Canada, Italy, Brazil, and Switzerland have already launched apps based on their API and 25 U.S states are intensely exploring the use of the contact-tracing system.
Considering the fast roll-out, we expect several other countries to launch contact-tracing apps based on Apple and Google's API. So, you might not have to wait for too long for it to arrive in your region.
Turn On/Off Exposure Notifications on iPhone
1. Launch the Settings app on your iPhone running iOS 13.7 or later.
2. Now, tap on Exposure Notifications.
3. Next, tap on the "Turn on Exposure Notifications" option.
4. Next up, tap on Continue.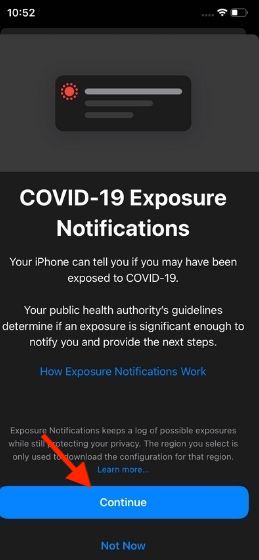 5. Up next, select your country and region and confirm. 
That's pretty much it! If the contact-tracing system is available in your region, it will confirm that the feature is now active. Just in case, the feature is not yet rolled out in your region/country, it will let you know that it hasn't yet been released/supported there.
Note: 
Just in case the Exposure Notifications feature finds a contact-tracing app in your region, it will suggest you download it. Simply, open it in the app store and download it. After that, launch the app and enable contact-tracing. 
Once you have enabled contact-tracing in the app, you can keep a tab on the exposure checks and even delete the exposure log as and when you want.
Check out the Availability Alerts which send you notifications if Exposure Notifications are available in your region.
Enable Exposure Notifications Express on Your iPhone
So, that's how you can enable contact-tracing on your iPhone in iOS 13.7 or later. At a time when the entire world is struggling to take control of the deadly pandemic, a feature like exposure notifications seems to be a boon. If executed effectively, it can play a good role in preventing the spread of COVID-19.
The latest version of iOS has introduced some notable health features like the ability to automatically reduce loud headphone audio and sleep tracking. Not to underestimate the handwash detection feature of the watchOS 7 which looks well-timed as well. By the way, what's your take on these new additions? Share your thoughts in the comments below.
---
Load More