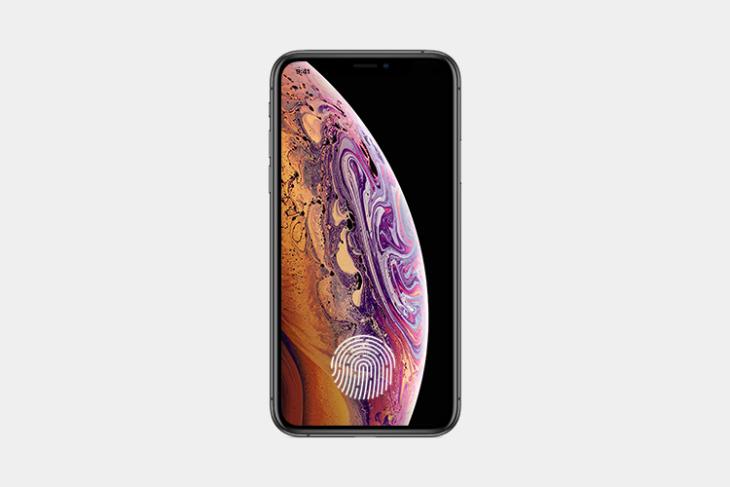 According to new reports about Apple's upcoming iPhone line-up, the Cupertino giant might be planning to bring out an iPhone with under-display fingerprint scanners, specifically aimed at the Chinese smartphone market.
The report comes from Chinese outlet The Global Times, which says that Apple is going to launch a tailored iPhone in the country owing to the company's declining sales in the increasingly budget conscious Chinese smartphone market. Apparently, a switch from Face ID to this under-display fingerprint scanning technology would prove to be cheaper for Apple.
The Global Times' report says "The new phone will reportedly remove Face ID, the facial recognition system for the iPhone, and instead employ an under-display fingerprint function, news site caijing.com.cn reported, citing sources on the upstream industry supply chain. An industry insider revealed that this is likely to "save on costs." 
A structured light laser emitter, the major component of Face ID, would cost several hundred yuan, said a Beijing-based representative who preferred to be anonymous. He told the Global Times on Monday that 'only Apple can afford it but that would also affect its sales.'"
It has been rumored multiple times that Apple is working on implementing under-screen fingerprint scanners; in fact there were rumors that the iPhone X will come with an under-screen fingerprint scanning technology but that never happened. If anything, Apple has solidified its stance on phasing out Touch ID from iPhones, with even the affordable iPhone last year – the iPhone XR – coming with Face ID instead of Touch ID.
Still, reports keep coming in that Apple is actively trying to work on under-screen fingerprint scanning technologies, including a report from Barclays that claimed that the 2020 iPhones might come with an acoustic fingerprint scanner that will allow for full screen Touch ID.
Whether Apple actually comes out with a China specific iPhone to stop its declining sales in the country is anyone's guess. However, Apple CEO Tim Cook recently said that performance in China had improved as compared to the last quarter, and if Apple is convinced of its decent hold on the Chinese smartphone market, I don't see why the company might launch a special China-focused iPhone.