Zhongli aka the god of contracts is one of the most sought-after characters in Genshin Impact, mainly due to his shielding capabilities. As it stands now, he's the best shielder in Genshin Impact, and not only that; he's one of the most versatile Genshin Impact characters and can be used as Support, Burst DPS, DPS, and Sub-DPS. This is the reason why we have kept Zhongli in the S-Tier in our Genshin Impact character tier list. Zhongli/Rex Lapis is or rather was the ruler of Liyue who protected the nation of contracts over centuries, now lives as a mortal wandering the streets of Liyue as he has now entrusted the nation to the people of Liyue. If you already have Zhongli or plan to pull for him, here's our Zhongli guide with some of the best builds for him in Genshin Impact.
Zhongli Talents and Passives
If you didn't already know, Zhongli is a Geo character and uses a Polearm to deal damage. Here's everything you need to know about Zhongli's kit and what he brings to the table.
Zhongli Talents
Starting with Zhongli's Normal Attack "Rain of Stone," it's no different from other normal attacks. Zhongli does six consecutive strikes to deal physical damage. His charged attack has this cool animation where Zhongli lunges forward to attack and stones appear. His plunging attack is similar to any other character and does AoE damage.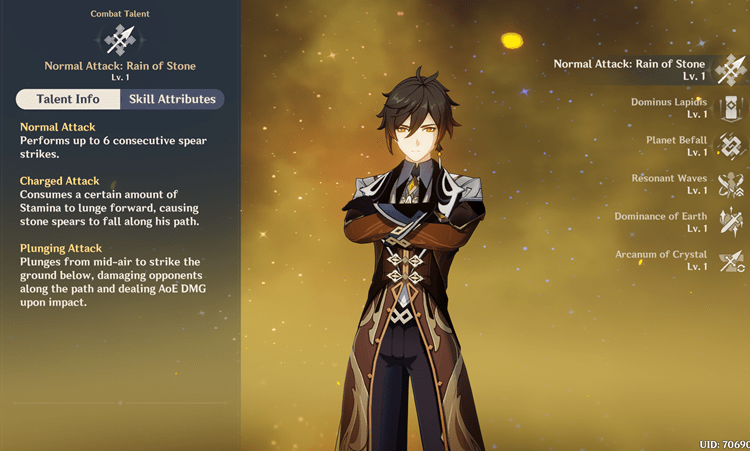 Zhongli's Elemental Skill Dominus Lapidis unleashes a stone pillar that lasts for 30 seconds and deals damage when created and continuous AoE Geo damage once on the field. Holding the skill unleashes both the stone pillar (Maximum of two at a time on the field) and a shield of jade. The shield's damage absorption scales off of Zhongli's max HP. Besides, it has 150% damage absorption against all elemental and physical damage, and characters protected by the shield can, in a small AoE, decrease the Elemental Resistance of enemies by 20%.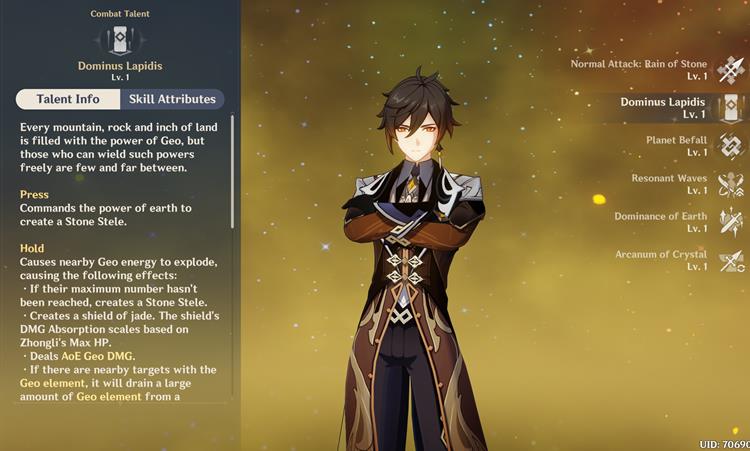 There are two uses of his Elemental Burst, Nuking Enemies with a meteor and applying Petrification status, meaning the enemies will be turned to stone and freeze for four seconds.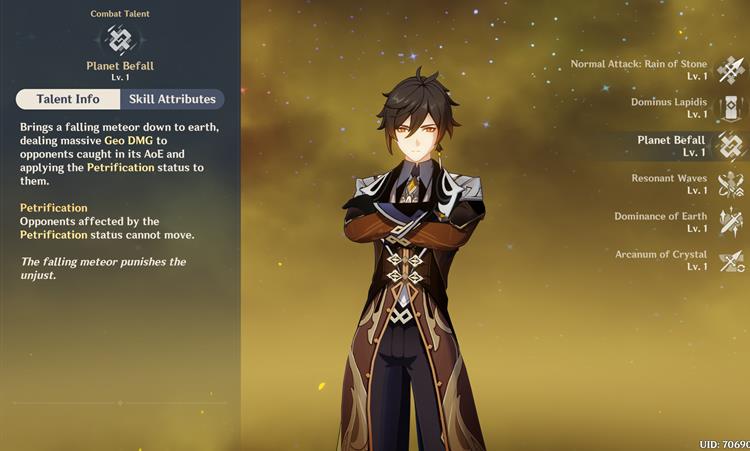 Zhongli Passives
As for the passives, his first passive Resonant Waves makes it so that when the Jade Shield takes damage, it gains the "fortify" effect which increases the shield strength by 5% each time the shield takes a hit (Max 5 stacks) and lasts until the shield disappears.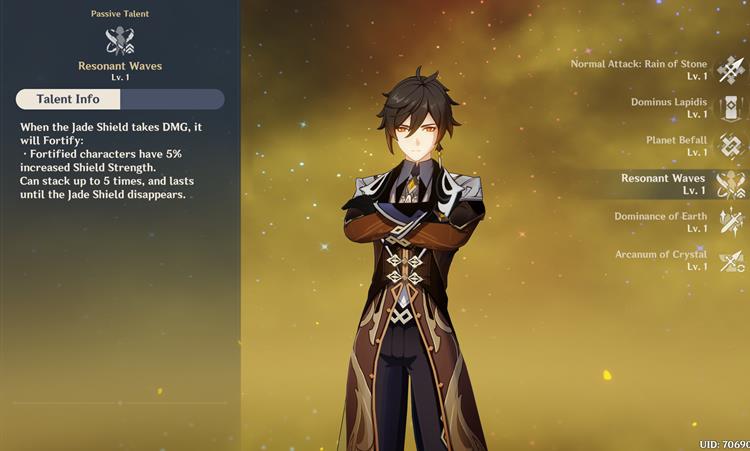 His second passive "Dominance of Earth" makes Zhongli's Elemental Burst deal additional damage, equal to 33% of his Max HP to be precise. This will help increase his burst damage if you stack HP on him using artifacts.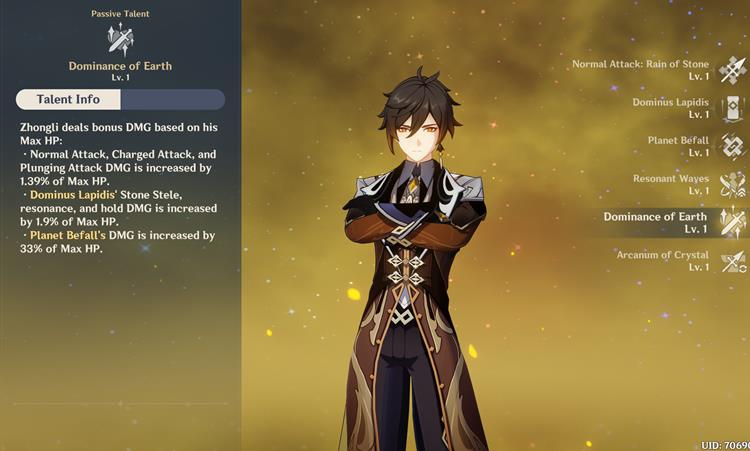 His last passive "Acranum of Crystal" refunds 15% of the ores used when Zhongli crafts a Polearm weapon.
Zhongli Talent Level Up and Ascension Materials
Since Zhongli is from Liyue, he needs Ascension and Talent Level-up materials that can only be found in Liyue. Some of the materials he needs for Ascension and Talent Level-up are Basalt Pillar which can be obtained from the Geo Hypostasis and Tusk of Monoceros Caeli which can be obtained by defeating Childe in his Trounce Domain. If you already have the other Childe materials "Shard of Foul Legacy" or "Shadow of the Warrior," you can craft Tusk of Monoceros Caeli using Dream Solvent.
Zhongli Ascension Materials
| Material | Nos. Needed |
| --- | --- |
| Prithava Topaz Silver | 1 |
| Prithava Topaz Fragment | 9 |
| Prithava Topaz Chunk | 9 |
| Prithava Topaz Gemstone | 6 |
| Basalt Pillar | 46 |
| Slime Condensate | 18 |
| Slime Secretions | 30 |
| Slime Concentrate | 36 |
| Cor Lapis | 168 |
| Mora | 420,000 |
Zhongli Talent Level Up Materials
| Material | Nos. Needed |
| --- | --- |
| Teachings of Gold | 9 |
| Guide to Gold | 63 |
| Philosophies of Gold | 114 |
| Slime Condensate | 18 |
| Slime Secretions | 66 |
| Slime Concentrate | 93 |
| Tusk of Monoceros Caeli | 18 |
| Crown of Sagehood | 3 |
| Mora | 4,950,000 |
As for the talent level-up priority, players should priorotize his Elemental Skill (Dominus lapidis) followed by Elemental Burst (Planet Befall), and Normal Attack. This is because the shield is where Zhongli's potential and main use lies, and he's mostly better off as a shielder, support, and sub-DPS rather than main DPS.
Zhongli Genshin: Best Builds
The best build for Zhongli is hands down the 4-Piece Tenacity of the Millelith artifacts combined with the weapon Staff of Homa. Since Zhongli's Talents scale off of his HP, it's important to build HP% on all three types of artifacts – Sands, Goblet, and Circlet. This should make his shield invincible, and his Elemental Burst should deal lots of damage since his Talent "Dominance of Earth" increases his Elemental Burst damage by 33% of his Max HP.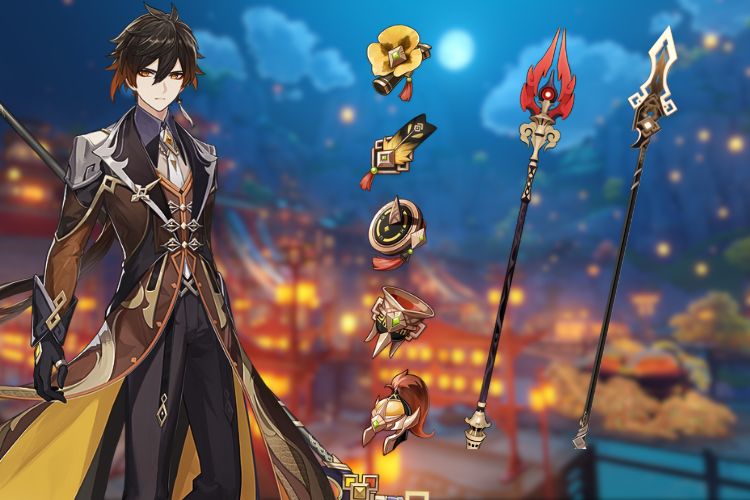 However, the Staff of Homa is not the only weapon that's good on Zhongli. Thanks to the large number of Polearms in the game, there are quite a few decent picks that work well with him, albeit none are better than the Homa. In the end, here are the desired stats for Zhongli.
| Stat | Target number |
| --- | --- |
| HP | As much as you can (No cap) |
| Attack | 1200+ |
| Elemental Mastery | Any |
| Crit rate | 50%+ |
| Crit Damage | As much as you can |
| Energy Recharge | 150%+ |
4-Piece Millelith is great for a Support Zhongli but if you're more inclined towards building him as a sub-DPS, you may substitute 2-Piece Noblesse Oblige by removing 2-Piece Millelith. For those unaware, 2-Piece Noblesse adds a healthy 20% extra Elemental Burst Damage. If you lack good Noblesse Oblige artifacts, you could replace it by 2-Piece Archaic Petra which should give Zhongli 15% Geo damage, great for Burst DPS.
Zhongli Genshin: Best Weapons
The Vortex Vanquisher is Zhongli's signature weapon but Staff of Homa is a better overall choice. For starters, it's Hu Tao's signature weapon but pairs nicely with Zhongli, as it does with most of the characters in Genshin Impact.
1. Staff of Homa – Best Weapon for Zhongli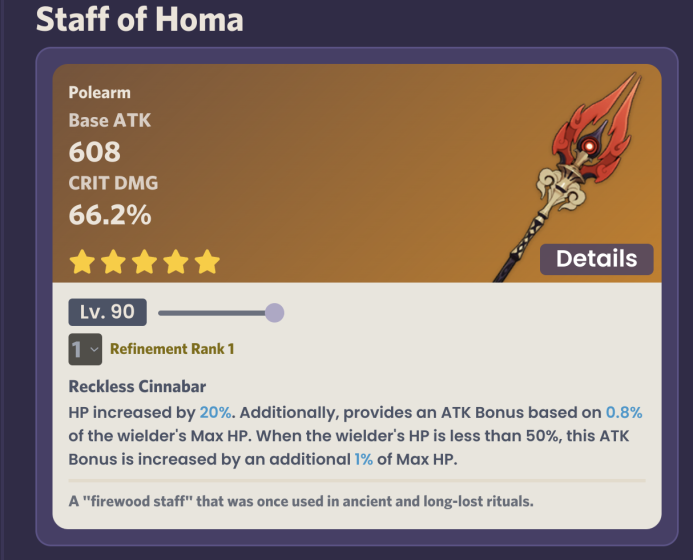 Staff of Homa is one of the best weapons for Zhongli in Geshin Impact. It has a good base attack and scales off of Crit Damage but what's really good about this spear are its passives that complement Zhongli quite nicely. For starters, it increases a character's HP by 20%, gives an attack bonus based on the character's max HP, and when the HP is below 50%, it adds an extra attack bonus based on the character's max HP. It meets all the requirements and buffs Zhongli's attack and shield strength.
2. Vortex Vanquisher
While not the best weapon for Zhongli, it's quite usable. With a base attack of 608 and sub-stat of 49.6% attack (Which doesn't really matter for Zhongli), the selling point of this weapon is in its passives. The Golden Majesty passive increases Zhongli's shield strength by 20% and increases attack by 4% for 8 seconds (5 stacks). While protected by a shield, this ATK increase effect is increased by 100% (40% in total for 5 stacks).
3. Black Tassel – Best F2P Weapon for Zhongli
Since Zhongli's firepower and shield strength depends on his HP, Black Tassel becomes the perfect free-to-play weapon for him. The weapon is easily dismissed by most players due to its three-star nature, but it's one of the best weapons for characters that scale off of HP. Hence, it's one of the best weapons for Zhongli in Genshin Impact.
Honorable Mentions:
Primordial Jade Winged-Spear
Favonius Lance
The Skyward Spine
Zhongli Best Team Compositions
Since Zhongli is a support and sub-DPS/Burst unit, he can be part of any team, especially those that have an on-field DPS that gets close to enemies to deal damage, and/or those who need to sacrifice their HP to deal more damage. Although, these are some of the best team compositions for Zhongli in Genshin Impact.
Hu Tao Team
Hu Tao (DPS)
Xingqiu (Support)
Zhongli (Burst DPS, Shielder)
Kazuha (Crowd control) (Substitutes: Bennett for Attack buff and healing)
Raiden Shogun Team
Raiden Shogun (DPS, Battery)
Zhongli (sub-DPS)
Bennett (Attack Buff and Healer)
Kazuha (Crowd control)
Geo Mono Team
Zhongli (DPS/sub-DPS/Support)
Albedo (sub-DPS)
Ningguang (DPS/sub-DPS)
Gorou (Buff) (Substitute: Yun Jin)
Ayaka Team
Ayaka (DPS)
Yelan (Support)
Zhongli (sub-DPS)
Kazuha (Crowd Control)
Are Zhongli Constellations Worth It?
All five-star characters at C0 are pretty good even without constellations and Zhongli is no exception. Although, we wouldn't recommend it.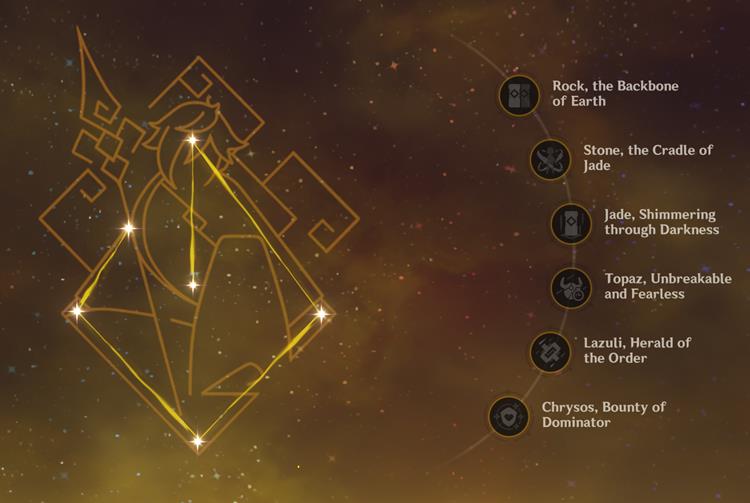 | Constellation's Name | Description | Priority |
| --- | --- | --- |
| C1 – Rock, the Backbone of Earth | Increases the maxiumum number of Stone Steles that may exist simultaneously to 2. | Low |
| C2 – Stone, the Cradle of Jade | Planet Befall grants nearby characters on the filed a Jade Shield when it descends | High |
| C3 – Jade, Shimmering through Darkness | Increases the level of Dominus Lapidis by 3. Maximum upgrade level is 15. | Low |
| C4 – Topaz, Unbreakable and Fearless | Increases Elemental Burst's AoE by 20% and the duration of Petrification by 2s. | Medium |
| C5 – Chrysos, Bounty of Dominator | Increases the level of Planet Befall by 3. Maximum upgrade level is 15 | Low |
| C6 – Chryos, Bounty of Dominator | When the Jade Shield takes damage, 40% of that incoming Damage is converted to HP for the current character. A single instance of regenation cannot exceed 8% of that character's Max HP. | High |