Genshin Impact is home to lots of flamboyant characters that players sometimes patiently wait for to appear on the official banners. That patience is driven by the character's charisma, their play style, or just the thinking "This character would be an excellent addition to my rooster." One such character is Kamisato Ayaka, the lady of the Yashiro commission in Inazuma, and the Kamisato Clan.
Ayaka is a fan-favorite and one of the strongest Cryo Vision holders and sword-wielders in Genshin Impact that's really fun to play. We placed her in S-Tier in our Genshin Impact Character tier list, and if you recently got her or have owned it but didn't use her for a long time, in this guide, let's look at the best weapons, artifacts, and overall builds for Kamisato Ayaka in Genshin Impact.
Ayaka: Talents and Passives
In Genshin, Ayaka's fighting style is quite unique. For starters, her normal attack does five slashes with a nice and smooth flow and animations, and her sprint ability "Kamisato Art: Senho" lets her sprint faster and apply Cryo to the enemies when she jumps up, which applies one of her passive talents, i.e., it replenishes stamina by 10 points and gives her 18% Cryo damage bonus for 10 seconds. Here are the damage multipliers for her normal attack talent "Kamisato Art: Kabuki."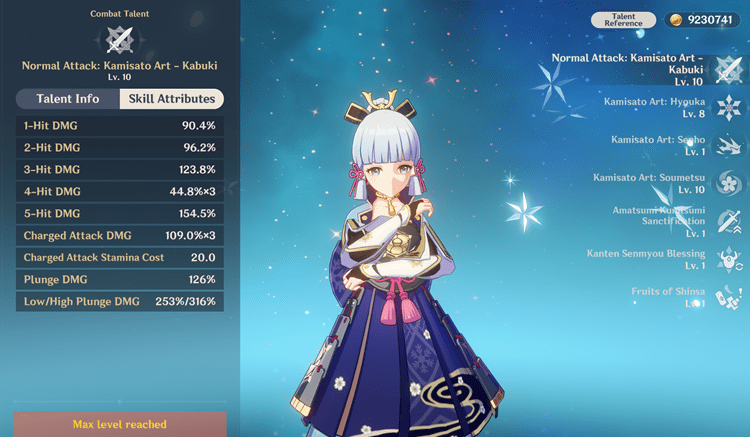 Then we move on to perhaps one of the most powerful elemental skills in the game and it's called "Kamisato Art: Hyouka." When used, Ayaka unleashes an AoE Cryo attack that deals heavy damage and increases Ayaka's normal and charged attack damage by 30%. This, when combined with the passive "Kamisato Art: Kabuki" can deal obnoxious amounts of damage if your Ayaka is built right (Scroll down for best builds).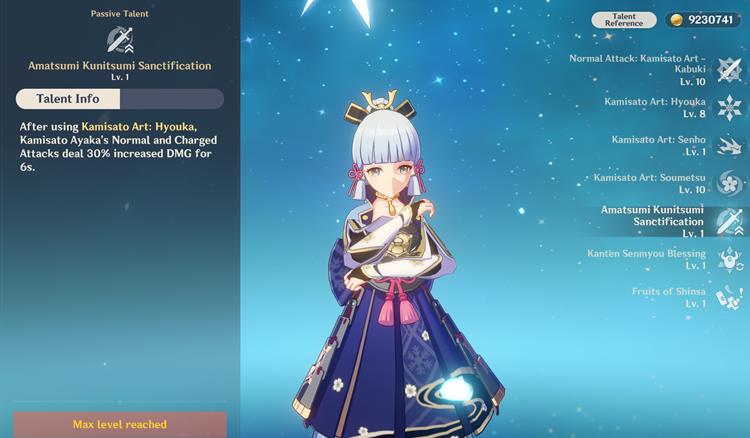 Ayaka's signature talent is "Kamisato Art: Soumetsu" where she unleashes Cryo slashes that lasts for five seconds and deals lots of damage. It has a cooldown time of 20 seconds and consumes 80 energy. As for numbers, the slashes do 202% damage of Ayaka's attack and the bloom damage in the end does 303% damage.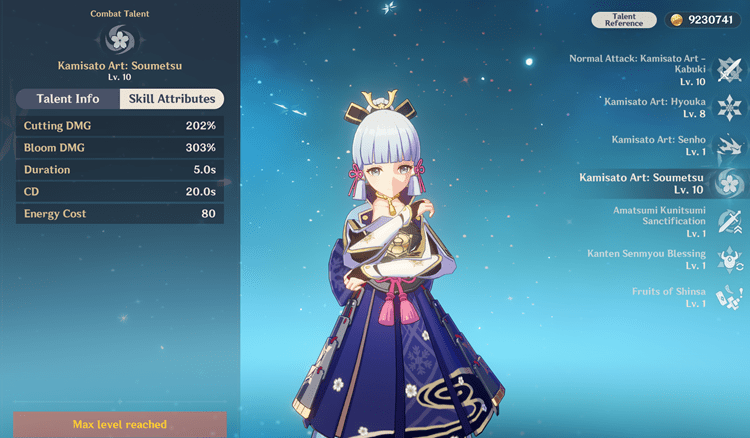 As for her passive talents, the first one is Amatsumi Kunitsumi Sanctification which increases Ayaka's normal and charged attack damage by 30% right after Kamisato Art: Hyouka is used. Her second passive is called Kanten Senmyou Blessing where when Ayaka hits enemies by Kamisato Art: Senho, her Cryo attack bonus increases by 18% and replenishes 10 stamina. As for her final talent passive "Fruits of Shinsa," when Ayaka crafts weapon ascension material, there's a 10% chance she could receive double the product.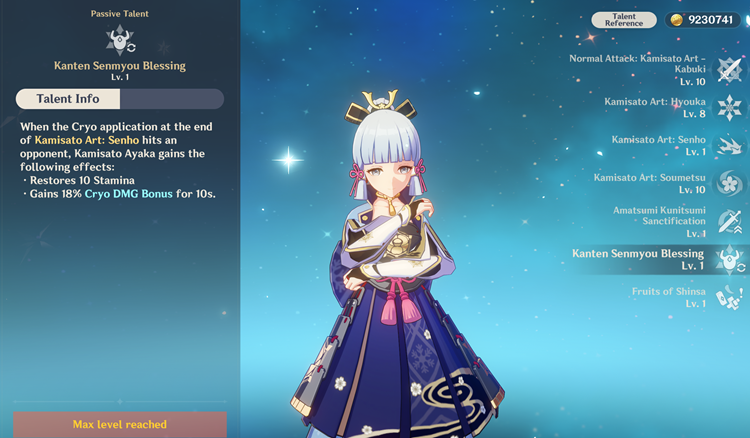 Kamisato Ayaka: Level Up and Ascension Materials
Leveling up Ayaka requires Sakura Bloom, Perpetual Hearts (obtained by defeating perpetual mechanical array in Inazuma), Handguards, and Shivada Jade. The hardest part is collecting talent level-up materials as Ayaka requires materials from one of the hardest weekly bosses in Genshin Impact, Azdaha, Handguards, and Philosophies of Elegance. To sum it up, here's everything you'll need to level up Ayaka's level and talent levels.
Ayaka Genshin Ascension Materials
| Material | No. of Materials needed |
| --- | --- |
| Shivada Jade Silver | 1 |
| Shivada Jade Fragment | 9 |
| Shivada Jade Chunk | 9 |
| Shivada Jade Gemstone | 6 |
| Mora | 2,092,530 |
| Hero's Wit | 419 |
| Old Handguard | 18 |
| Kageuchi Handguard | 30 |
| Famed Handguard | 36 |
| Sakura Bloom | 168 |
| Perpetual Heart | 46 |
Ayaka Ascension Materials
Ayaka Genshin Talent Materials
| Material | No. of Materials Required |
| --- | --- |
| Teachings of Elegance | 9 |
| Guide to Elegance | 63 |
| Philosophies of Elegance | 114 |
| Old Handguard | 18 |
| Kageuchi Handguard | 66 |
| Famed Handguard | 93 |
| Mora | 4,957,500 |
| Crown of Insight | 3 |
| Bloodjade Branch | 18 |
Ayaka Talent Level-up materials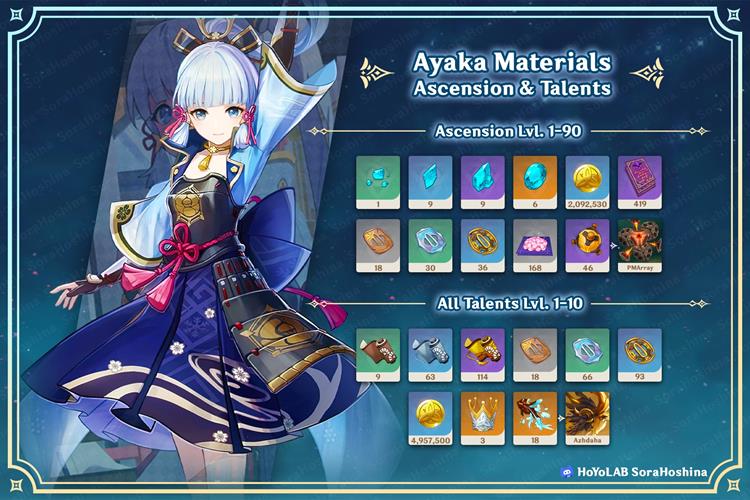 As for the talent priority, you should prioritize Ayaka's elemental burst and then proceed with leveling up her normal attack. Lastly, level up her elemental skill. This way, you can ensure you're getting the most out of her attack and cryo damage buffs. Fighting Azdaha could be tedious so make sure you use others' help, i.e., Co-op.
Kamisato Ayaka: Best Builds
Blizzard Strayer is, hands down, the best Artifact set for an excellent Ayaka build. A 2PC set grants 15% Cryo damage bonus and a 4PC set sets you (pun intended) free from worrying too much about Crit rate since the same increases Crit rate by additional 20% when the equipping character inflicts Cryo damage.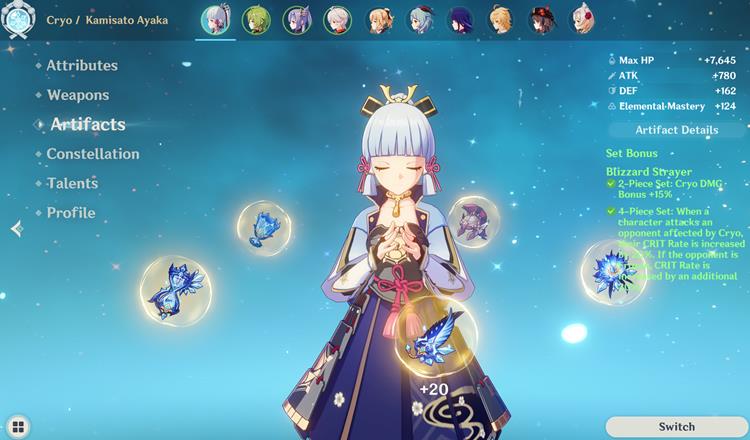 That Crit rate is further increased by 20% if the enemy is frozen; Also, make sure the goblet has Cryo damage bonus as main stat. By having Blizzard Strayer on Ayaka, you can solely focus on Crit damage (and slight crit rate here and there) to make her one of your best DPSes.
In the end, if you want to know what good Ayaka stats look like, it should be around 30% Crit rate and over 200% crit damage, paired with a weapon with crit damage stats (scroll down for more). That said, Blizzard is not the only artifact set you can use. Also, here are some of the stats and their values that you should watch out for to build a good Ayaka.
| Stat | Value |
| --- | --- |
| HP | Any |
| Attack | 1700+ |
| Elemental Mastery | 100+ |
| Crit Rate if running 4PC Blizzard/ or else | 30%+ / 60%+ |
| Crit Damage | 200%+ |
| Energy Recharge | 130%+ |
Target Ayaka Build Numbers
If you lack good Blizzard artifacts and can manage to have 2PC set on Ayaka, the other 2PC set that we recommend for her is Noblesse Oblige. For those unaware, 2PC Noblesse Oblige increases the elemental burst damage of a character by 20%, which is great for Ayaka. That said, if you go with Nobless, you'll have to have good Crit rate stats on your artifacts and balance it out with good Crit damage.
If you lack good Noblesse pieces, Gladiator's finale is a decent replacement; Although, don't expect it to outdo Nobless or 4PC Blizzard in overall attack output.
Kamisato Ayaka: Best Weapons
Since Ayaka heavily relies on Crit stats and especially Crit damage, it's important you equip her with a Crit damage weapon. Ayaka's signature weapon is Mistsplitter Reforged. Here are the best weapons for Ayaka.
1. Mistsplitter Reforged – Best Weapon for Ayaka in Genshin Impact
Ayaka's signature weapons are a little too good on her. For starters, its primary stat adds 44.1% Crit damage when maxed out which is important for Ayaka. Besides, the weapon's passive gives the equipping character a 12% elemental damage bonus (at Refinement 1).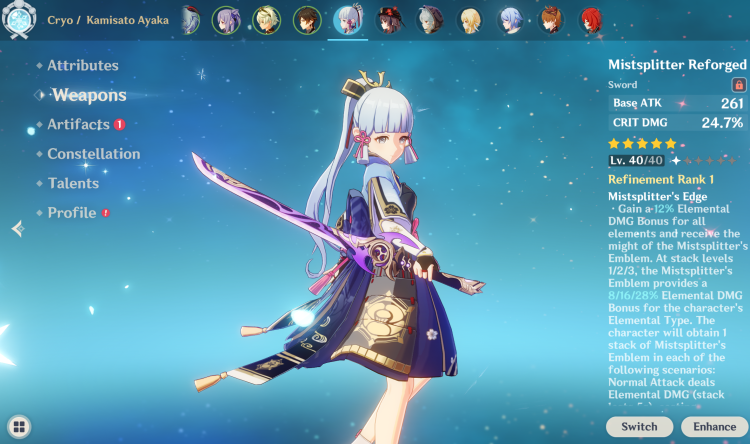 This passive stacks as you attack and grants 8/16/28% additional elemental damage bonus during stacks 1/2/3. These stacks can be obtained when the character deals elemental damage with normal attacks and elemental skills.
2. Blackcliff Longsword (F2P-friendly)
Blackcliff Longsword is obtainable via the shop and it's one of the best free to play options for Ayaka. Its primary stat adds 36.8% Crit damage and passive increases the attack by 12%, three stacks, for every attack.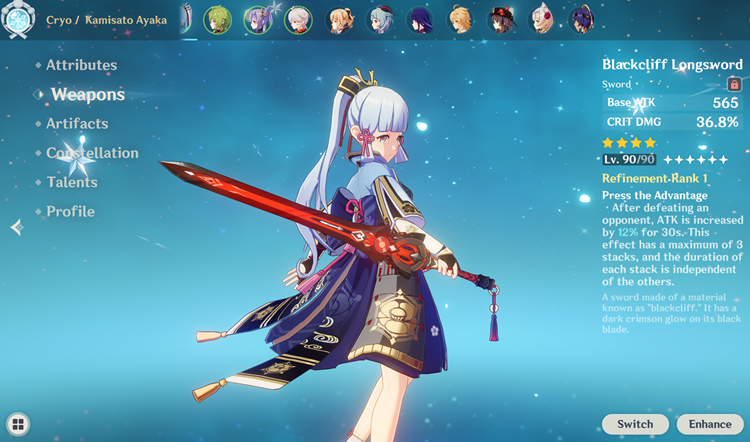 Each stack lasts for 30 seconds and is independent of the existing stacks. The increase in attack and crit damage on a free to play sword makes Blackcliff Longsword one of the best swords for DPS characters, especially for Ayaka in Genshin Impact.
3. Primordial Jade Cutter
If you don't have good Blizzard artifacts to form a 4PC combination and are using Nobless or Gladiator's instead but do have Primordial Jade Cutter, you're saved from the miseries of dwelling too often in domains in search of good Crit rate artifacts.
Jade Cutter's main stat scales off of Crit rate, providing a whopping 44.1% Crit rate at level 90. Its passive increases HP by 20% and provides an attack bonus based on 1.2% of the character's max HP. While that doesn't exactly bring huge value, it's a good replacement for Ayaka in Genshin Impact nonetheless.
Other honorable mentions:
Amenoma Kageuchi
The Black Sword
Kamisato Ayaka: Best Team Compositions
Here are some of the best team compositions for Ayaka for all kinds of uses.
Ayaka Hypercarry or Cryo Mono:
Kamisato Ayaka
Ganyu
Shenhe
Mika
For Ayaka freeze comp:
Kamisato Ayaka
Sangonomiya Kokomi (If not, Xingqui)
Kadehara Kazua (If not, Sucrose or Venti for crowd control or resistance shattering)
Diona (Substitutes: Rosaria and Layla)
For Melt Ayaka comp:
Kamisato Ayaka
Layla (Substitutes: Diona, Rosaria)
Xiangling
Kazuha (Substitutes: Venti, Sucrose)
Of course, given the huge rooster of characters, you could experiment with lots of team compositions, but the above ones are a few that work phenomenally well against any kind of enemy.
Kamisato Ayaka: Are Constellations Worth it?
If you're a free-to-play player, let us tell you that Ayaka at C0 in Genshin Impact is still very good and you may want to invest those hard-earned primogems toward getting other characters. However, if you like the character as a F2P or big spender her constellations are worth getting. The ones that are of the highest priority are C2, C4, and C6; Although, C1 is also very good.
C1 constellation brings a 50% chance that Ayaka's elemental skill cooldown will decrease by 0.3 seconds every time you hit an enemy with her Cryo damage (either normal or charged).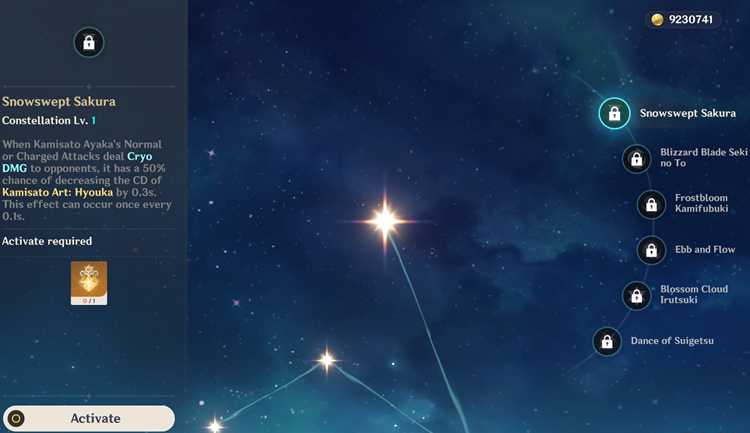 C2 adds two smaller frostflake storms that widen Ayaka's burst range and damage "Kamisato Art: Soumetsu." While this may not sound very prioritizing, it's important if you want to spread the Cryo application.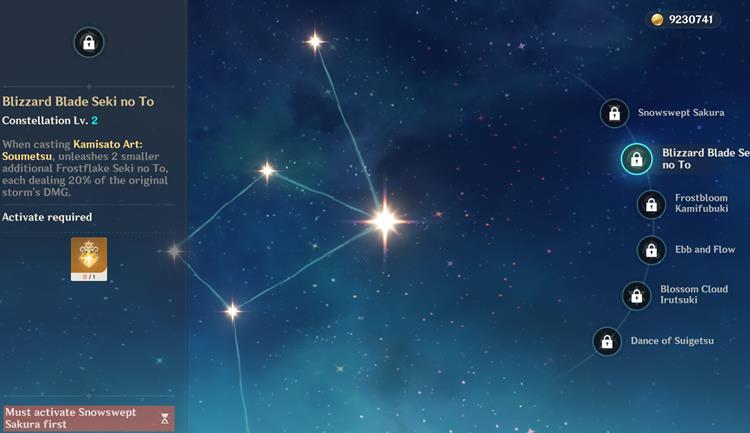 C4 brings down the defense by 30% whenever Kamisato Art: Soumetsu's frostflake hits the enemy.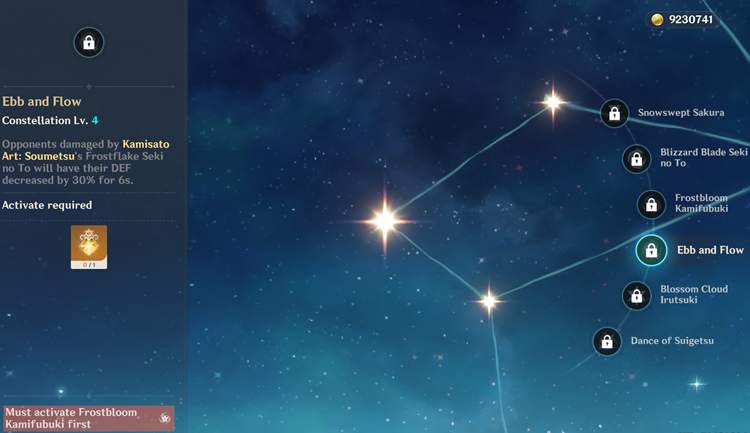 C6 is the one that brings the most value to Ayaka; She gains Usurahi Butou every ten seconds which increases her charged attack damage by 298%.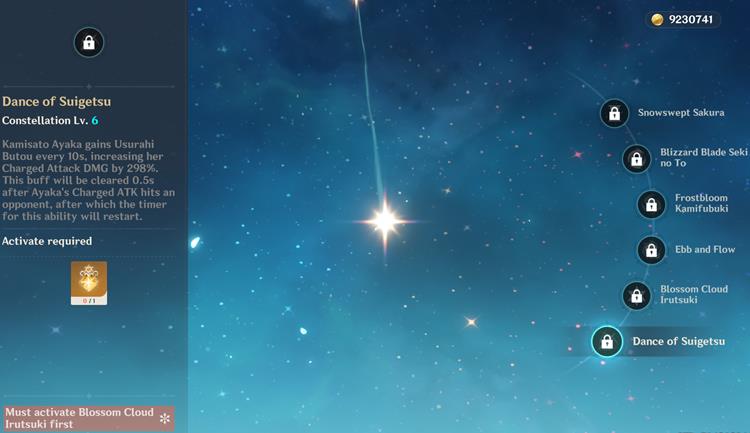 Again, these aren't necessary as Ayaka's already an excellent damage dealer, but if you have the resources, you may want to go all out to build the best Ayaka among any Genshin Impact player out there!