Genshin Impact has a few goofy and fun characters and personalities but the character that's arguably the goofiest is Hu Tao. She's the 77th director of the Wangsheng Funeral Parlor in Liuye and manages the funerary affairs of Liuye as her ancestors used to do. Besides her quirky marketing tactics that always revolve around asking the opposite party to prepare for death and incineration, she's one of the, if not, the strongest Pyro characters in the game.
In fact, she's so strong for a DPS character that we had no choice but to put her in the S-Tier in our Genshin Impact Character tier list. If you already have Hu Tao in Genshin Impact or are planning on pulling for her in the future, in this guide, let's look at the best builds, weapons, artifacts, and team compositions for Hu Tao in Genshin Impact.
Best Builds for Hu Tao in Genshin Impact
The best way to build Hu Tao is by giving her the 4-piece Crimson Witch of Flames artifact set and the Staff of Homa Polearm, her signature weapon. 2-piece Crimson Witch grants a 15% Pyro damage boost whereas 4-piece increases the Overloaded, Burning, and Burgeon damage by 40% and Vaporize and Melt damage by 15%. There's no other artifact set like Crimson Witch of Flames for Hu Tao in Genshin Impact.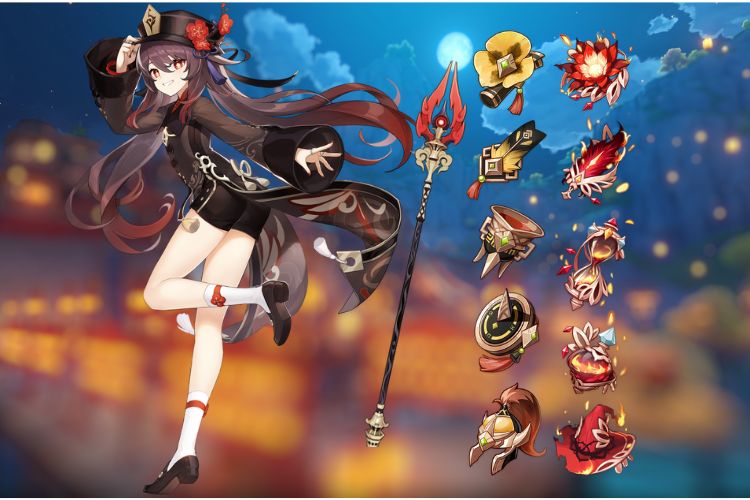 As for the sub-stats on the artifacts, you must focus on the Crit rate, Crit Damage, and Pyro damage bonus in all but HP% on the Sands. The other best artifact set for Hu Tao is the 4-piece Shimenawa's Reminiscence which grants a character an 18% Attack bonus and a 50% normal, charged, and plunging attack damage boost by sacrificing 15 energy. This should work well with characters such as Hu Tao and Xiao as most of their damage comes from their plunging and charged attacks, respectively. Similarly, the complete list of good artifact sets for Hu Tao is as follows:
Crimson Witch of Flames (4-piece)
Tenacity of the Millelith (4-piece)
Guilded Dreams (4-piece)
Crimson Witch of Flames and Tenacity of the Millelith (2-piece + 2-piece)
Crimson Witch of Flames and Guilded Dreams (2-piece + 2-piece)
It's difficult to get a good Witch of Flames artifact set since you have to deal with Lavawalker artifacts in the Hidden Palace of Zhou domain, which in itself has tough conditions for defeating enemies, in which case, we've mentioned the substitutes above.
Pair her with one of the weapons mentioned later in this article and you're good to go. In the end, the recommended stats for Hu Tao should be a 60% Crit rate and preferably over 220% Crit damage. This is necessary because Hu Tao's attack scaling is somewhat low and she heavily relies on buffs from her passives and talents.
Best Weapons for Hu Tao in Genshin Impact
There's no shortage of good polearms in Genshin Impact. Most of them, including Hu Tao's signature weapon, are excellent options for Hu Tao. Here are the best weapons for Hu Tao in Genshin Impact.
1. Staff of Homa: The Best weapon for Hu Tao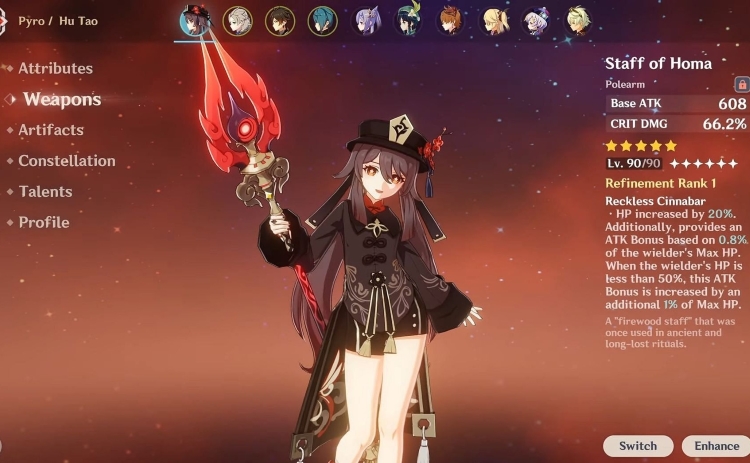 Staff of Homa is Hu Tao's signature weapon tailor-made to go with her attack talents and passives. It has a good base attack and scales off of Crit Damage but what's really good about this spear are its passives. For starters, it increases a character's HP by 20%, gives an attack bonus based on the character's max HP, and when the HP is below 50%, it adds an extra attack bonus based on the character's max HP. It meets all the requirements and buffs Hu Tao's attack and damage which makes it the best weapon for Hu Tao in Genshin Impact.
2. Dragon's Bane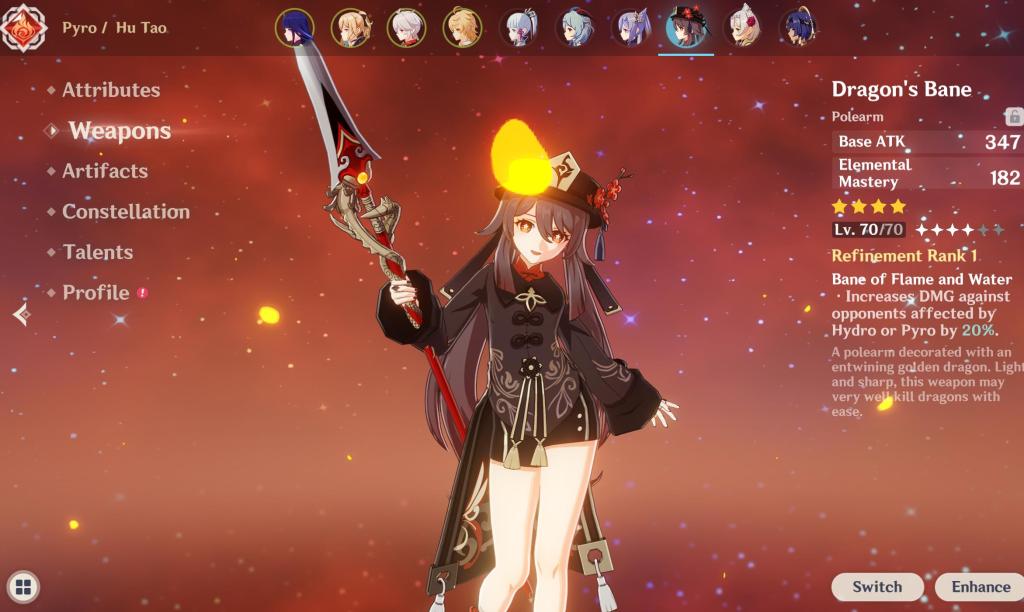 If you're looking for a more F2P-friendly option, your search ends here. Dragon's Bane's main stat scales off of Elemental Mastery and its passive increases damage against opponents affected by Hydro and Pyro, which is great for Hu Tao. While it's a great option, do remember to balance off that crit ratio. If your crit numbers are low, prioritize increasing them first and use another weapon that has Crit Damage stats. If your crit damage and rate are pretty good on Hu Tao, Dragon's Bane is a great F2P option.
3. Deathmatch
Deathmatch is a good F2P weapon for Hu Tao if you already have a good Crit rate and Damage stacked on her. It increases the attack and defense percentage based on the number of enemies on the field. If there are more than two enemies, attack and defense are increased and if there are less than two enemies, Attack is increased even more. The secondary stat of Deathmatch scales off of Crit rate; hence, it'll come in handy for Hu Tao who needs crit stats, which makes Deathmatch one of the best weapons for Hu Tao in Genshin Impact.
4. Blackcliff Pole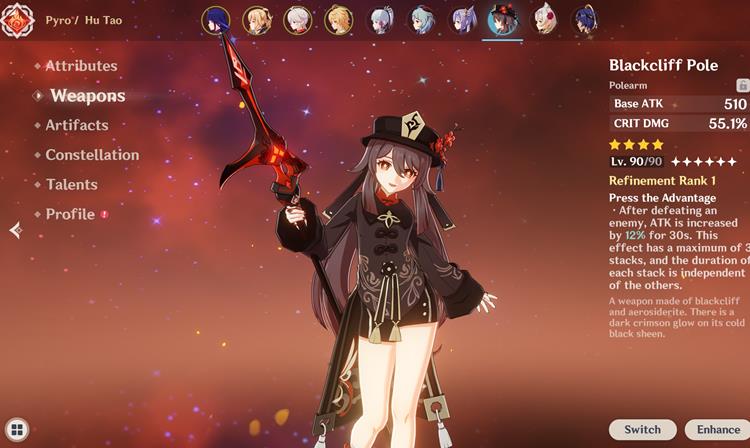 If your Hu Tao lacks Crit damage, Blackcliff Pole is the weapon for you. It increases the Crit damage by 55.1% at level 90, and while its passive doesn't impact Hu Tao much, it's still pretty decent as the same increases the attack by 12% every time an enemy is defeated (max three stacks). This makes Blackcliff Pole one of the best F2P weapons for Hu Tao.
Honorable Mentions:
Staff of the Scarlet Sands
Primordial Jade Winged Spear
Hu Tao Best Team Compositions
Since Vaporize is essential to get the most out of Hu Tao, here are some of the best team comps revolving around the same and a few other elemental reaction teams.
Vaporize team:
Hu Tao
Xingqiu
Bennett
Kazuha
Vaporize team – Two:
Hu Tao
Xingqiu
Yelan
Kazuha
Melt team:
Ganyu (Substitutes: Rosaria, Chongyun, Kaeya)
Hu Tao
Xingqiu (Substitute: Yelan)
Kazuha (Substitute: Sucrose)
Burgeon team:
Hu Tao
Nahida (Substitutes: Traveler, Collei)
Yelan (Substitute: Xingqiu)
Kazuha
Hu Tao: Talent Level Up and Ascension Materials
Since Hu Tao is a character from Liuye, she requires materials from the same place for both ascension and talent upgrades. The boss drop required to ascend Hu Tao is Juvenile Jade which can be obtained by defeating Primo Geovishap. The second boss drop — Shard of a Foul Legacy — requires you to defeat the weekly boss Childe. If you end up getting Shadow of the Warrior or Tsk of Monoceros Caeli, you could always use Dream Solvent to convert them. Here's everything you'd need to level up Hu Tao.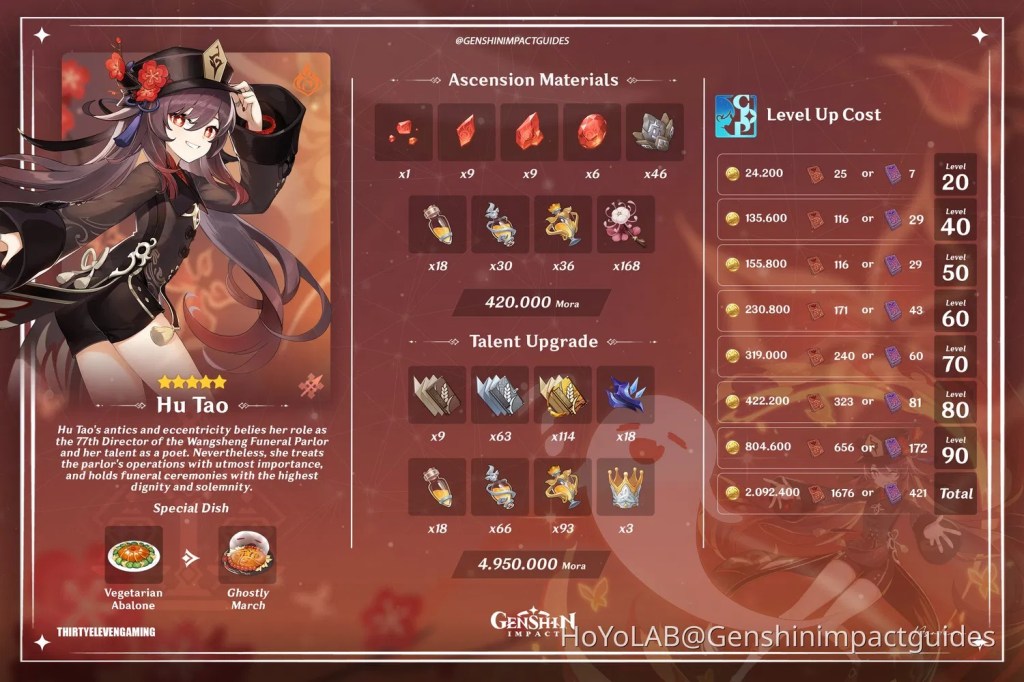 Hu Tao Talent Level Up Materials Genshin Impact
| Material | Nos Needed |
| --- | --- |
| Teachings of Diligence | 9 |
| Guide to Diligence | 63 |
| Philosophies of Diligence | 114 |
| Whopperflower Nectar | 18 |
| Shimmering Nectar | 66 |
| Energy Nectar | 93 |
| Shard of a Foul Legacy | 18 |
| Crown of Sagehood | 3 |
| Mora | 4,950,000 |
Hu Tao Talent Level Up Materials
Hu Tao Ascension Materials Genshin Impact
| Material | Nos Needed |
| --- | --- |
| Agnidus Agate | 1 |
| Agnidus Agate Fragment | 9 |
| Agnidus Agate Chunk | 9 |
| Agnidus Agate Gemstone | 6 |
| Juvenile Jade | 46 |
| Whopperflower Nectar | 18 |
| Shimmering Nectar | 30 |
| Energy Nectar | 36 |
| Silk Flower | 168 |
| Mora | 420,000 |
Hu Tao Ascension Materials
Hu Tao Talents
Hu Tao's overall damage heavily depends on her Talents and Passives; Hence, it's important to level her up once you've got a hold of good artifacts. Let's look at hertalents and passives that you need to focus on while playing with her. Every limited event character has something unique and Hu Tao is no exception. Besides her elegant sprint animation which is brilliantly done, her talents and gameplay require her to sacrifice a part of her health to do insane damage numbers.
Her Elemental Skill "Guide to Afterlife" puts Hu Tao in the state of "Paramita Papilio" where it takes 30% of her current HP while on the field and increases her attack by 6.26% of her total HP. Once she hits enemies with her charged attack, they're affected by Blood Blossom where they take Pyro damage every four seconds; concurrently, it also increases Hu Tao's interrupt resistance. Guide to Afterlife lasts for 9 seconds and has a cooldown of 16 seconds.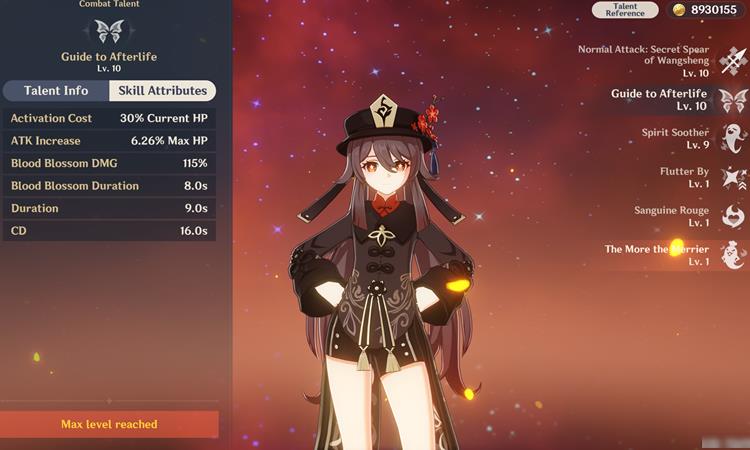 When Hu Tao gains "Paramita Papilio," she imbues Pyro to her normal attacks; hence, the more leveled up her normal attack skill is, the more damage she will deal. Her normal attack is a series of six strikes unique to her. Although, a lot of people use her charges attack instead since it deals the most damage and inflicts Blood Blossom damage. Get Hu Tao to C1 and her charged attacks no longer consume stamina and you'd be able to do even more damage.
As for her Elemental Burst "Spirit Soother," it helps Hu Tao regain a portion of her lost HP while doing a hefty, wide AoE Pyro damage. When Hu Tao's HP is equal to or below 50%, Spirit Soother both regenerates more health and does more damage as compared to when used if her HP is above 50%. This has a cooldown of 15 seconds and an energy cost of 60.
Hu Tao Talent Level Up Priority
Let's get the talent level-up priority out of the way. For Hu Tao, it's vital that you first focus on leveling up Guide to Afterlife and then her normal attack Secret Spear of Wangsheng. However, don't completely ignore her Elemental burst as it too is a vital talent in her kit. Therefore, to sum up, your talent level-up priority should be Guide to Afterlife > Secret Spear of Wangsheng > Spirit Soother.
Hu Tao Passives
Coming to Hu Tao's passives, her first passive "Flutter By" increases the Crit rate of all party members but Hu Tao by 12% for 8 seconds as soon as her Paramita Papilio state ends. This way, if you have another DPS or Sub-DPS in your team, you can take advantage of the Crit rate and do more damage.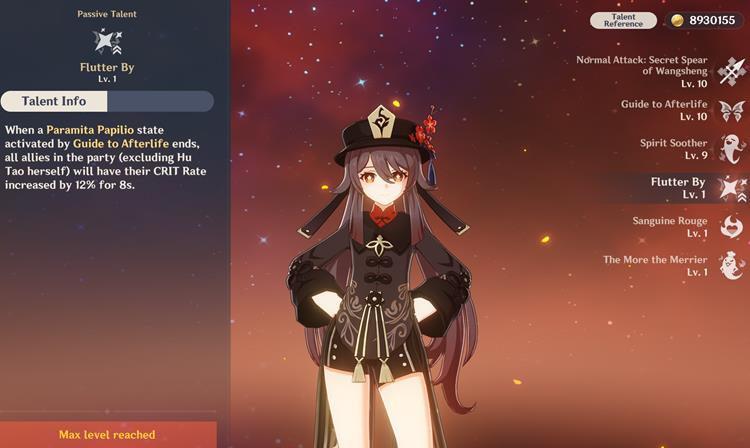 Her second passive "Sanguine Rogue" increases her Pyro damage bonus by 33% if her HP is below 50%, giving her even more damage potential. As for her last passive "The More the Merrier," it gives Hu Tao an 18% chance to obtain a suspicious dish when cooking. However, this doesn't work on the dishes you've already mastered.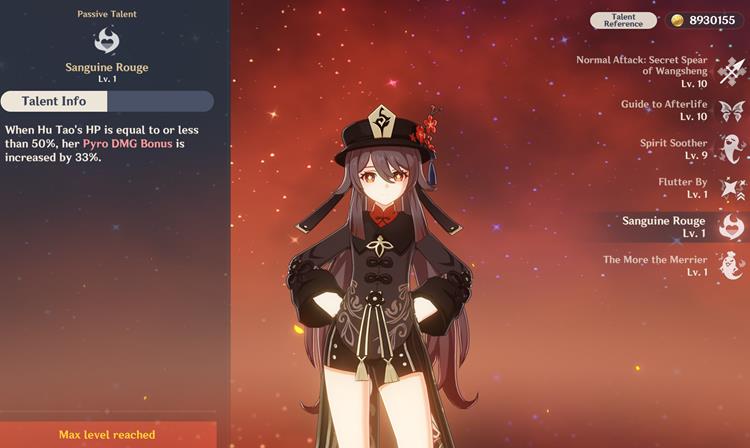 Are Hu Tao Constellations Worth It?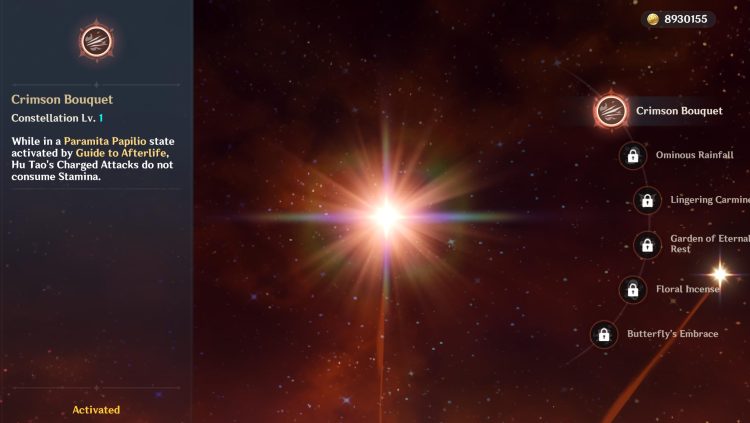 All five-star characters at C0 are pretty good even without constellations and Hu Tao is no exception. Although, if you have a chance of getting her constellations, go for it as she immensely benefits from them. But which of them is worth it? Here's everything you need to know. TL;DR, C1, and C4 are the best Hu Tao constellations to increase her overall damage.
| Constellation | Description | Priority |
| --- | --- | --- |
| C1 | Charged attacks don't consume stamina when Elemental skill is active | Very High |
| C2 | Increases Blood Blossom's (Passive) damage by 10% of Hu Tao's max HP. Elemental Burst can apply the passive. | High |
| C3 | Increases Elemental Skill level | Low |
| C4 | Defeating an enemy with Blood Blossom passive increases crit rate of all party members but Hu Tao by 12% for 15 seconds. | Very High |
| C5 | Increases Elemental Burst level | Low |
| C6 | When Hu Tao's HP drops below 25% or suffers a lethal strike, she will not fall and her elemental and physical resistance is increased by 200% for the next 10 seconds. | High |