After being rolled out to a limited group of early testers last month, YouTube's music streaming service – YouTube Music – is rolling out to all users in 17 countries. Along with this, the video company is also rebranding YouTube Red as YouTube Premium and launching it in these 17 countries.
YouTube Music is meant to replace Google Play Music and is designed to combine all the music present on the previous service as well on YouTube. Not just official tracks from a specific artist, the new app features music videos, covers, and live performance as well as what the company claims to be "hard-to-find music" which is not available anywhere else but YouTube.
Aside from the anthology of especially accumulated music, YouTube Music also brings curated playlists based on the popularity of music. You can also look for music even if complicated names elude your memory. Type a phrase in the search bar that might describe a song and you'll be suggested be a slew of options suiting your requirements.
YouTube Music is available for free but if you do not want to deal with ads, YouTube is blatantly offering users to buy a $9.99-per-month subscription. Following Apple's footsteps, Google is also offering a free membership for the first three months.
Along with the new service, what was formerly YouTube Red has now be dressed in a new gown and dubbed YouTube Premium. For $11.99 a month, users can watch YouTube Originals as well as enjoy ad-free music streaming via the new Music app. Those who'd previously subscribed to YouTube Red and Google Play Music will automatically be upgraded to new YouTube Premium accounts.
These services are now available in the US, Mexico, Australia, South Korea, New Zealand, Austria, Canada, France, Germany, Italy, Russia, Spain, the UK, Finland, Ireland, Norway, and Sweden.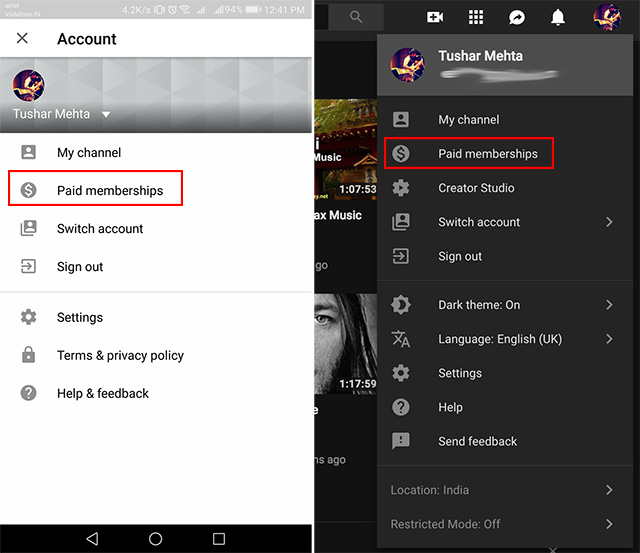 YouTube Music and YouTube Premium are to be launched in India but even before the launch, "Paid memberships" tab has started to show on the website as well as the YouTube app. This suggests that at least YouTube Premium should arrive in the country soon. If you want to be notified, you can sign up using this link.
---