In today's always-connected world, having access to all your data at all times is tantamount to a lot of people, irrespective of where they are and what device they're using. We are consumers of knowledge and entertainment whether commuting on the subway, waiting for a bus, or even when doing business. The challenge, however, is that mobile storage comes precious and is often limited. With certain platforms, you have the luxury of adding external memory, but if you're an iPhone or iPad user, the best you get is 128GBs of device storage for a hefty price tag. Naturally, you cannot put every piece of data and every file you own in there, so what's the solution? younity streaming media server aims to solve exactly that for you.
The app works on the premise that all data and media that matters to you is stored on your PC, and let's face it – it's true for a vast, vast majority of users. The challenge is, you cannot always carry your PC around with you; it's just not practical or feasible. So what if there was a way to enable access to all those files no matter where you were, without going through the trouble of traditional file storage solutions which need you to upload everything to their servers before you can access them remotely? That's the idea behind younity, which creates a media streaming server on your computer and "streams" various file types to your iPhone or iPad.
How younity Works
younity (the name is a clever play on "unity") brands itself as a 'personal cloud' service that doesn't rely on cloud storage to give you access to files across all your devices. It is available for iPhone, iPad, Mac and Windows PCs, and requires app installation on these devices. Suppose you want to access the files on your Macbook on the go, wherever you are. Download younity on your Mac, create an account (or log in using Facebook or Google), grab the iOS application for your iPhone or iPad, sign in using the same account, and you're set. You can now access files on your Mac on your iPhone or iPad on the go without them uploaded to the internet.
In its essence, younity is a file streaming service with higher focus on media/music, and support for documents/images as well.
Compatibility & Availability
younity is primarily centered around iOS, so it's compatible with iPhones, iPads, Macs and Windows PCs. You naturally need an active internet or local area connection as well for this service to work. You can grab the latest version of younity for your respective platform here; the page is intelligent enough to detect your operating system and initiate the right download for you. On iPhone and iPad, it will take you to the iTunes App Store for grabbing the client app.
Setting Up younity
The set up for younity is pretty straight forward, especially if you've cloud storage services like Dropbox that come with a desktop client. First, grab the desktop client for your PC or Mac and go through the installation process. Once installed, you can either sign in using a Facebook account, a Google account, or you can sign up for a dedicated younity account (most preferred option). As soon as you log in, the application will index all your user files for quicker access. Please note that your CPU usage might spike during this process, but it's a one-time thing and doesn't happen every time.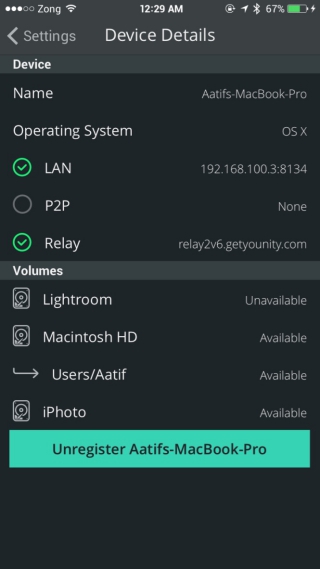 Which Files Are Compatible
This is one question that needs answering before you begin using younity. This service will not work if you're looking to access system files on your computer from your iPhone or iPad. younity only accesses, scans and indexes your user folder, so you will have access to music, videos, documents and pictures, and any other general file types that are stored in this location. However, for any file that doesn't fall in these four categories, you can download it to your device using younity but it won't work (I had an ISO in Downloads, for instance, but it cannot be opened in any way).
On a Mac, younity will also pick files from your Photos/iPhoto library. The app also does some smart categorization like identifying videos that have been shot with GoPro and putting them in a separate folder, differentiating between movies and TV shows etc.
younity On Your iPhone/iPad
Once you've taken care of setting up the desktop part, you need to download the universal app for your iPhone or iPad and log in using the same account that you used on the PC. This is a must; if you used a Facebook login on your PC, use the same Facebook account to sign in to younity on iPhone – otherwise, the link won't establish. As soon as you're signed in, your files are presented in a neat interface (albeit the color schema could use an overhaul, or more customization options).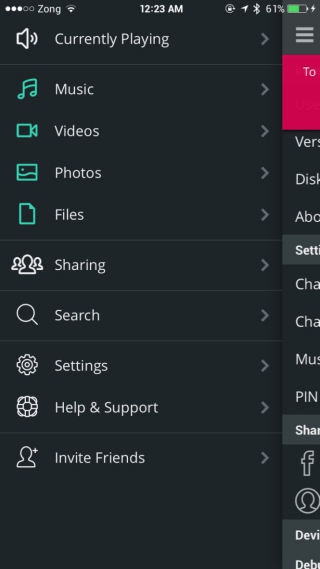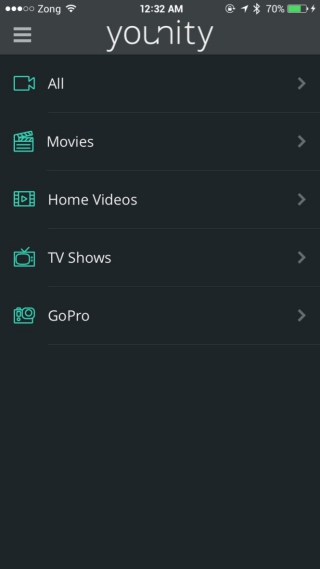 All compatible files are presented in categories. First up, you get Now Playing, which is a quick way to access any music that you might be streaming on your phone from your PC. Next you have a dedicated Music category that will show your entire collection. Following that are Videos and Photos, which follow the same format – categorization by file type. Finally, you have an option for Files, which will replicate the exact folder structure that you have on your computer in the indexed folder. This is if you want to locate a file that you know where it was and just want to quickly reach that.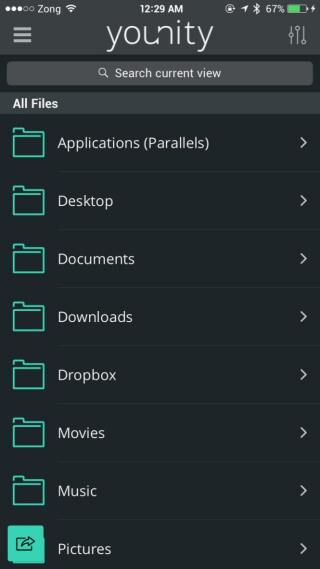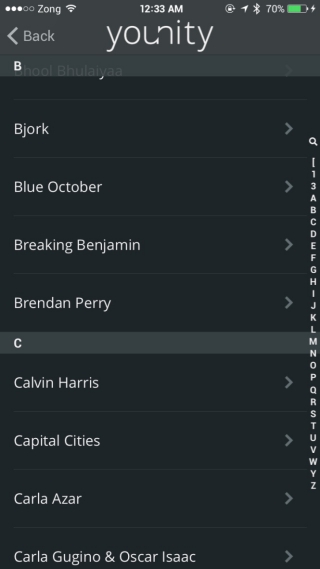 Other options in the main interface include Sharing, Search, Settings, Help & Support, and finally, Invite Friends.
Search in younity
Earlier, we talked about how installing younity scans and indexes all your files. Search is an integral component to younity, and I'm amazed by how fast and how well it works. Start typing anything in the search area and relevant results will immediately start popping up. It was so fast, in fact, that it felt like I was looking up files on my Mac instead of my iPhone. An example in the screenshot below is that of me looking for photos of my daughter and getting instantaneous hits.
Sharing Files Using younity
younity is more than just a file streaming service; it captures really powerful file sharing features as well. When sharing data, there are a number of scenarios that can come into play. One, you can share any file with someone who is also using younity, and be done with it. However, what if the recipient isn't using this service? Do you force them to download it? Not quite. Almost everyone and their grandmother these days uses Facebook, and younity offers a powerful feature that allows you to share files with any Facebook user where they will receive a private message containing a link to the file, and will never be shown publicly. younity has a Facebook app that the recipient can use to access the shared content, without needing to download anything. Frankly, this is one of the best solutions that I have found to date.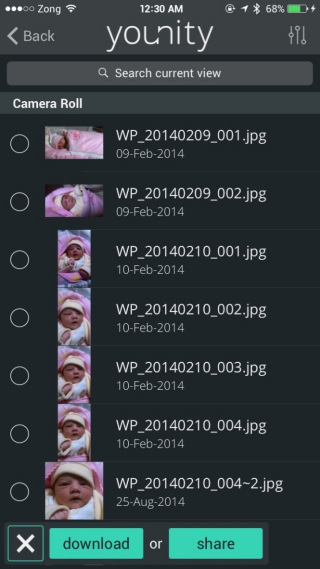 It should be remembered, however, that younity is a file streaming service and doesn't upload stuff to the cloud. Hence, anything that you share with another user will only be available as long as the host – the system containing the file – is on and connected to the internet. With Facebook sharing, files are uploaded to younity's servers but for a small window, and will expire after that. This is something that the app-maker is currently working on.
Using younity – The Experience
In my testing of younity, there were a number of scenarios that I experimented with. I tried streaming video and music, browsing my entire Photos library, searching for stuff, sharing files with my wife, tested speeds on both LAN and internet, and I couldn't be more pleased. Video streaming, for instance, was lag-free on LAN, and when done via internet, depends on your connection speed and bandwidth. The app also supports subtitles and closed-captioning if they're available for video files.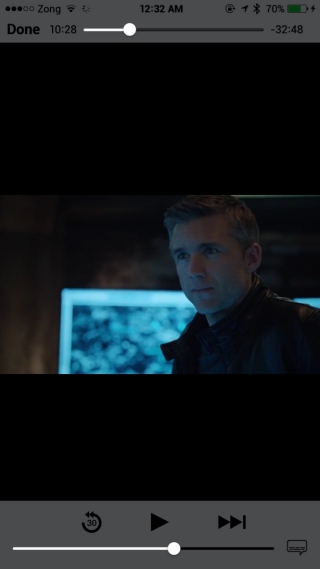 This however does not mean that younity is perfect and doesn't have any shortcomings. For instance, I was only once able to get the subtitles to load properly, while all other time failed despite all other factors having been the same. The auto-categorization was also a little wonky, being unable to differentiate between Movies and TV Shows on its own unless I specified those in my iTunes library. Finally, and it is me being really nitpicky here, the app was unable to index those pictures in my Photos library that were stored on iCloud and hadn't been downloaded to my Mac.
My younity Verdict
younity is a game changer, there's no denying that. I've used other file streaming/remote access services before, and nothing comes close to the finesse of younity. All features work, and those that are a little irksome are also not broken (and frankly, they're not even that big anyway). There's no storage limit other than what you have in your desktop computer. There's no limit to the number of machines that you can connect with younity. The best part is, this service is giving you something that is priceless and for free. It can't get any better than that.