Xiaomi currently holds the pole position in the Indian smartphone market and it's going to only further this lead, thanks to the introduction of the Redmi Note 7 series. It, however, also plans to capture the entry-level segment and the growing number of 4G users in the country by debuting its most-affordable smartphone to date – the Redmi Go.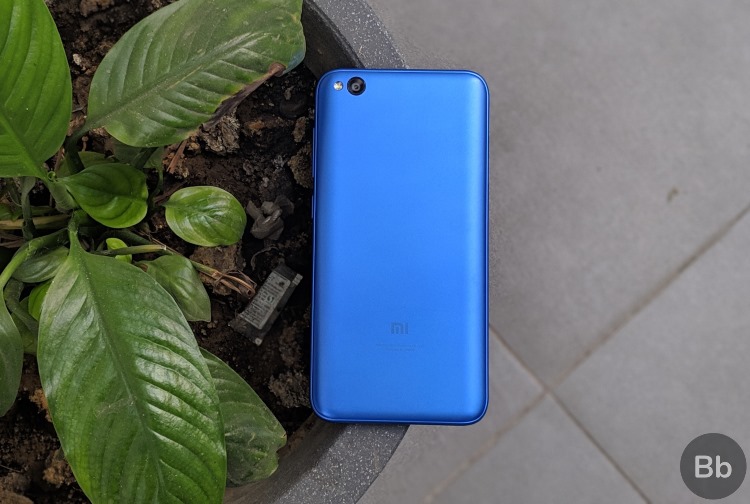 I know, Redmi Go (Rs 4,499) isn't the most exciting smartphone to launch in India in the previous month, but it's going to be a boon for users looking to upgrade to a smartphone experience. That's the audience Xiaomi is targetting with this handy smartphone, running Android Go Edition, packing a decent processor and dual-cameras.
Xiaomi lent us the blue variant of the Redmi Go and I've been using it as my daily driver over the last two weeks now and my experience has been quite satisfactory, except for a couple-odd issues. So, keep reading to know whether the Redmi Go is worth its Rs 4,499 price tag and if you should buy it or not:
Xiaomi Redmi Go: Specifications
Instead of diving straight into my thoughts on the Redmi Go, here's a quick peek at some key specifications:
| | |
| --- | --- |
| Dimensions | 140.4 x 70.1 x 8.35 mm |
| Weight | 137 grams |
| Display | 5-inch HD (720x1280 pixels; 296 ppi) |
| Processor | Qualcomm Snapdragon 425 |
| GPU | Adreno 308 |
| RAM | 1GB |
| Storage | 8GB (Expandable up to 128GB) |
| Primary Camera | 8 MP, Scene Recognition, Real-time filters |
| Secondary Camera | 5 MP, Auto HDR, HD Calling support |
| Battery | 3000 mAh |
| Operating System | Android Oreo (Go edition) |
| Colors | Black and Blue |
| Price | Rs. 4,499 |
Xiaomi Redmi Go: What's in the Box
Xiaomi ships the Redmi Go in a familiar red cardboard box with the smartphone branding up-top. Digging in, you will first find the device sitting at the top, followed by all of your essential accessories tucked into the bottom. There's no earphones or case bundled with the smartphone here, which is understandable at this price point.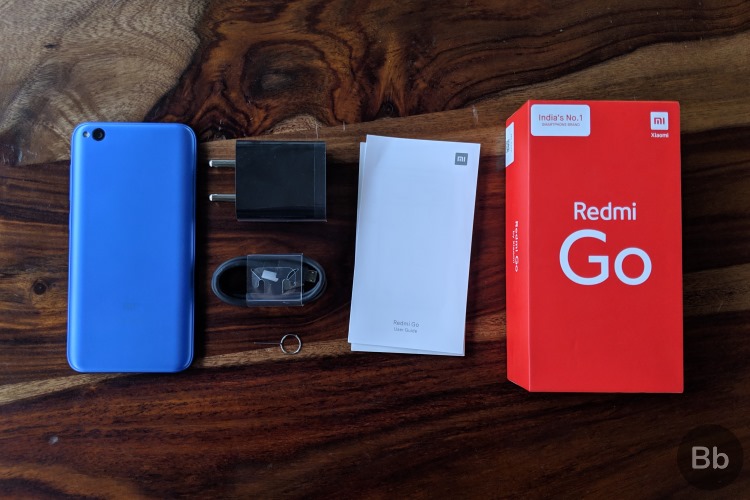 Here's everything you will find inside the Redmi Go box:
Redmi Go handset
1x microUSB cable
1x Charging adapter
1x SIM ejector tool
1x User manuals
Xiaomi Redmi Go: Design and Build
Right off the bat, Redmi Go's design will remind you of older Xiaomi budget phones that boasted a polycarbonate build with a metallic finish. The Redmi Go has been launched in two color variants, black and blue, where we have the latter one and it looks shiny and vibrant than the former. The smartphone is really compact and fits well in your hand, making it comfortable to use for longer durations.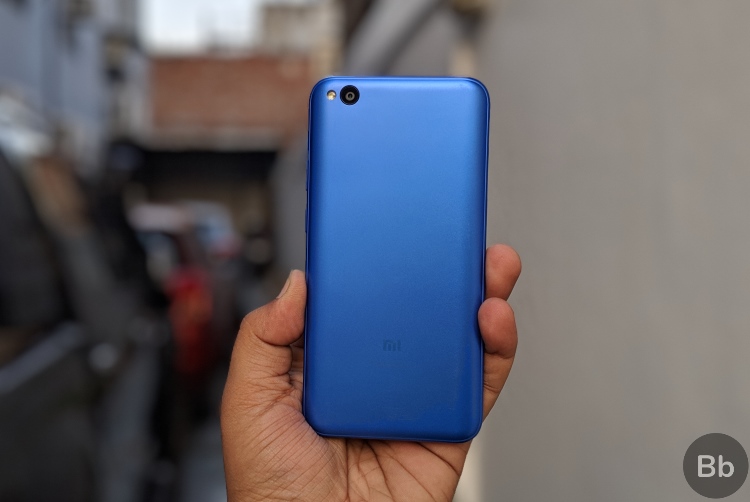 The polycarbonate build isn't premium, but it isn't cheap either, and the Redmi Go has a sturdy build that's good enough for the retail price. The back panel does attract smudges quite easily but the blue variant helps mask it, however, the same cannot be said for the myriad of scratches. Even the 'Mi' logo at the bottom rear of our unit has started to wear off within just two weeks.
Redmi Go feels pretty sturdy in the hand and its compact size is perfect for comfortable use, especially for longer durations.
There's also no clutter or bumps on the rear, which I really like, and is something which premium phone makers are now trying to achieve in prototype with no ports or buttons. The camera and flash rest flush with the back and I've gotten over the higher placement for the sensor, which I found to bug me for a couple of days in the beginning.
The front of the smartphone boasts a tiny 5-inch HD screen, with huge bezels at the top and bottom (something that's necessary to mention in 2019 and we'll talk more about it below). The latter here hosts your capacitive buttons for navigation across the device. It doesn't come with on-screen buttons, yeah, and the capacitive buttons don't have a backlight, so using the Redmi Go could be a difficult affair. You'll, however, get used to the position of the capacitive buttons in a couple of days, well, at least I did.
The power and volume buttons on Redmi Go sit at the usual position, on the right edge, and are made from plastic. They feel a little mushy for my liking. Redmi Go includes the microUSB port, speaker, and a primary microphone at the bottom edge, and the 3.5mm headphone jack up-top with a secondary noise cancellation mic.
Xiaomi Redmi Go: Display
Xiaomi has opted to go with a 16:9 display on the Redmi Go in contrast to the taller 18:9 displays that've found their way to most devices, of recent. While anyone would prefer to have a bigger display on their phone, I came to appreciate the smaller form factor on this device. It was surely a pleasant change over the massive screens that we all keep staring onto all day.
Redmi Go sports a 5-inch HD LCD display, with a 1280×720 pixels resolution and it's pretty decent for a smartphone in the sub-Rs. 5,000 price range. This display panel is certainly not the brightest. It will perform adequately indoors, with contents easily visible, but you shouldn't expect the same results outdoors. The screen suffers in broad daylight and the viewing angles are okay-ish, to say the least.
The touch response is pretty shabby and latency creeps into the picture most of the time, which is in part due to the measly 1GB of RAM. To deliver a final word on the Redmi Go's display, well, you can put all of the shortcomings aside simply by taking into account the price of the device.
Xiaomi Redmi Go: Performance
The Redmi Go is powered by the Snapdragon 425 chipset, coupled with 1GB of RAM and 8GB of onboard storage. These are low memory and storage specifications in contrast to most entry-level smartphones, which also cost a grand or two extra. Xiaomi has also not given users any choice and launched merely the lower-end variant of the smartphone in India, leaving out the 2GB+16GB variant.
Since we are getting only 1GB of RAM, I'd already anticipated the Redmi Go to stutter and lag in daily use, without fail, and that's exactly how my daily experience with the smartphone has been. The occasional frame drops and lag is common when opening the app drawer, scrolling through Instagram, reading stories in Chrome, or sometimes even typing out a text.
Thankfully, multi-tasking isn't too bad and the smartphone retains some recently opened apps in the memory. You should, however, mostly run lightweight apps or services on this device as opposed to heavy and memory-intensive tasks. As you can see in the video I've attached above, it takes a couple seconds or more for apps to open at times. This can be annoying for someone with little or no patience, but for someone switching to the Android ecosystem for the first time can live with it.
1GB RAM certainly is a bottleneck for overall performance, but first-time smartphone users shouldn't really be worried.
The 1GB surely is a bottleneck for the overall performance of the smartphone, but users who're mostly going to use it for calling, WhatsApp, and watching YouTube videos will be satisfied with the Redmi Go. They may encounter one issue though and that's storage. If you think your mom or dad can live with 8GB (usable only around 5GB) of storage, then you're mistaken – because 'Good Morning' WhatsApp messages.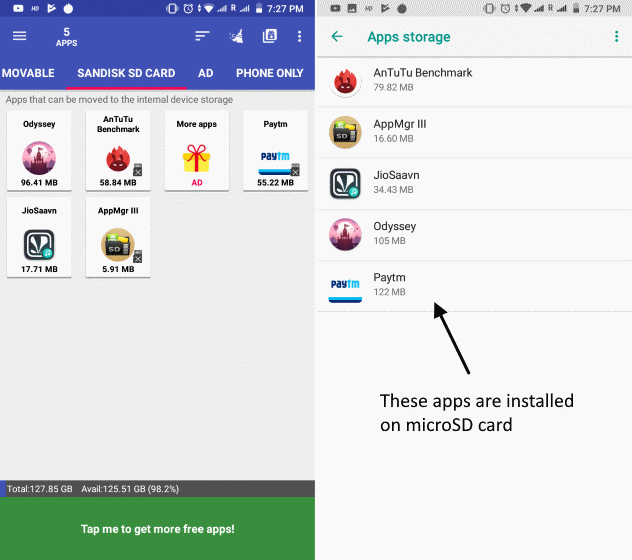 The storage can turn out to be a bottleneck too, but Xiaomi has included a dedicated SD card slot on the Redmi Go and you can use it as internal storage. This means you can expand your storage, especially to store media files, and can transfer compatible apps to the microSD card. New apps that support being installed on an SD card will automatically be installed on the SD card, which is awesome.
Note: You can check out what apps installed on your smartphone can be transferred to your SD card by downloading the AppMg III app (Free) from the Pl55ay Store.
This is an entry-level device and if you're expecting to use it for lengthy gaming sessions, especially PUBG Mobile, then you would be disappointed. Redmi Go only has 1GB of RAM and the minimum requirement for the game is 2GB RAM, so PUBG Mobile does not run on it. We still installed and tried running it, just to be greeted with an error telling us our device was unsupported.
Dont' expect to run PUBG Mobile on Redmi Go, or any Battle Royale game for that fact
So, with PUBG Mobile out of the picture, I resorted to its renowned alternative – Garena Free Fire in an attempt to push the Redmi Go to its limits. This game did open, assumed the lowest (smooth) graphics setting by default and I was able to play a couple matches but with constant frame drops and lag. I couldn't complete any of the games as the ping was usually off the roof and the game crashed on me each time.
Finally, I gave up on battle royale games and tried other popular game titles that weren't as graphics intensive including Temple Run 2, Alto's Odyssey, Ludo King, and more. Well, these games all run pretty smoothly and without any hiccups, further confirming that the Redmi Go isn't meant for a younger cousin who's a PUBG Mobile fanatic, but parents who rather prefer the snake game.
The 1GB RAM appears to be a bottleneck for benchmark apps as well. I was successfully able to run Geekbench 4 on the Redmi Go, but the AnTuTu benchmark app just doesn't work and freezes at zero percent in one of the tests. You can find the benchmark scores attached below:
Xiaomi Redmi Go: Cameras
Even at its sub-Rs 5,000 price point, Redmi Go offers users an 8MP (f/2.0) rear camera, with a single LED flash and a 5MP (f/2.2) selfie camera on board. Xiaomi has packed a number of features into the camera app of this smartphone, including real-time filters, Auto HDR, the ability to choose between 11 different scene type and manual controls, to make sure users have a fulfilling experience – even at an affordable price.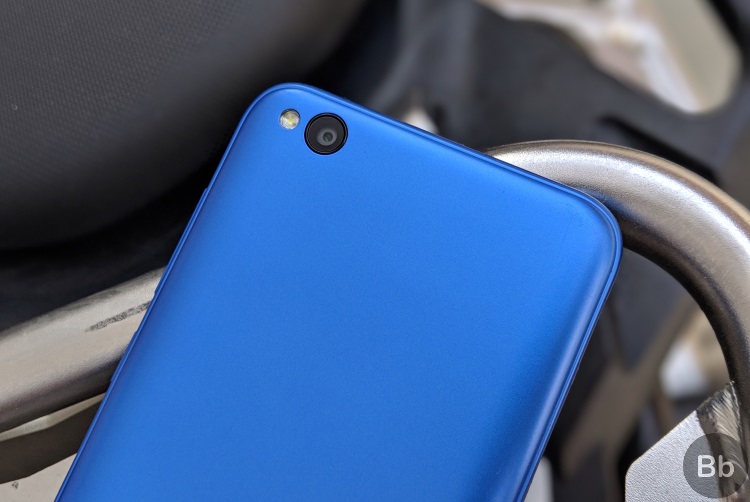 The photos captured with the Redmi Go look lackluster and not-as-good when viewed on the HD screen of the device, but transferring them to a PC makes you realize they're not really bad. They're good pictures that your mom or dad can share with their friends. Don't believe me, well, here are some camera samples I captured over the past week:
The Redmi Go performed better than my expectations in broad daylight, with the photos turning out to be pretty good for a sub-Rs 5,000 smartphone. There's ample detail, the dynamic range is decent, and the color reproduction also isn't too bad either. The photos captured look over-sharpened in most of the cases, with subdued shadows, but that's manageable and you can easily share these photos on social media.
Redmi Go isn't really meant for low-light photography and the captures are half-decent. The camera samples captured in such scenarios are worth sharing and will give others a sense of what's happening or what the picture represents. However, the pictures usually come out to be grainy (with a lot of noise) and don't have a lot of detail.
Even though you get a 5MP selfie camera, you don't get the infamous portrait mode that has gained importance over the past few years. It has become a necessity for buyers to have this background-blurring feature on their phones. As for the selfies clicked with the Redmi Go, they're okay-ish with a decent amount of details but look soft in all situations. Be it indoors or outdoors.
The Redmi Go is capable of recording videos up to 1080 pixels resolution at 30fps from both the front and rear cameras. This is pretty great for casual video recordings as the sensors aboard this device aren't the greatest (overall, not in the segment) and you can expect pretty good results. You can check out the sample video recording right here:
The video recordings look decently detailed with good color reproduction, but they aren't stabilized and look jittery. I, however, can't complain about it as I never expected it to be included in the first place – especially at the Redmi Go's selling price. The device is also a wee bit slow to focus at times, but that shouldn't affect users who would mostly whip out their phones to capture family members have some fun and share videos on WhatsApp.
Xiaomi Redmi Go: Software
As should be evident from the name of the smartphone, the Redmi Go is powered by a lightweight version of Android known as Android Go. Xiaomi is offering users Android 8.1 Oreo (Go Edition) with this smartphone and I'm really disheartened to see the latest Android flavor not being offered out-of-the-box even when it has been out for more than six months since its release.
Being a Go Edition smartphone, the Redmi Go comes baked in with a myriad of Go apps including Google Go, Assistant Go, Gmail Go, YouTube Go (which surely comes in useful when you want to save data and keep video offline for viewing later), and Maps Go. We, however, get the official versions of Google Photos, Chrome, and Gboard pre-installed.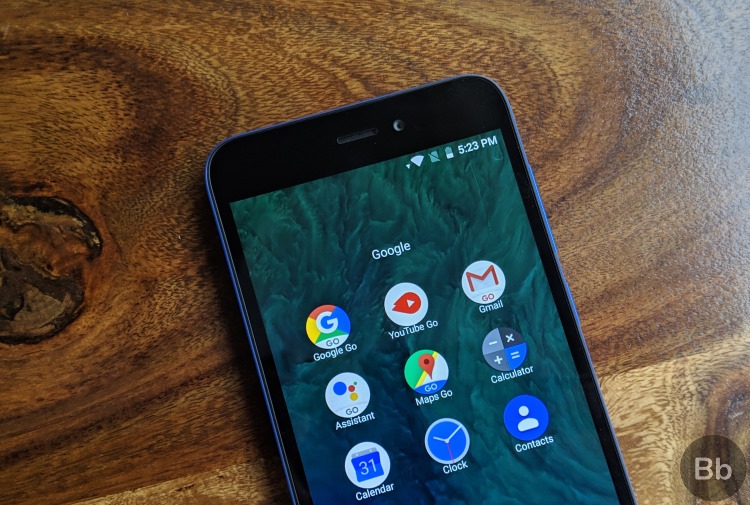 The smartphone also has some bloatware apps like Facebook Lite, Amazon, Xiaomi's Mi Drop file transfer app, and lightweight Mint browser pre-installed, but it doesn't cripple the user experience in any way – except for taking precious storage space. While I can uninstall the former two, the latter two can't be removed.
Leaving that aside, my overall experience with Android Go has been quite fulfilling, except for couple-odd features that I found to be missing on this lightweight Android version, like notification access and inability to install the official YouTube app (though you can sideload it).
Android Go offered a pretty fulfilling experience on the Redmi Go
Redmi Go offers you a stock Android experience, something a lot of users prefer, but the Chinese giant can't go without showing off its flair at some point, thus, the device comes plastered with Mint Launcher. It's nothing new though. Instead, it's merely a rebranded version of Xiaomi's own Poco Launcher, bringing all the goodness of that app in tow.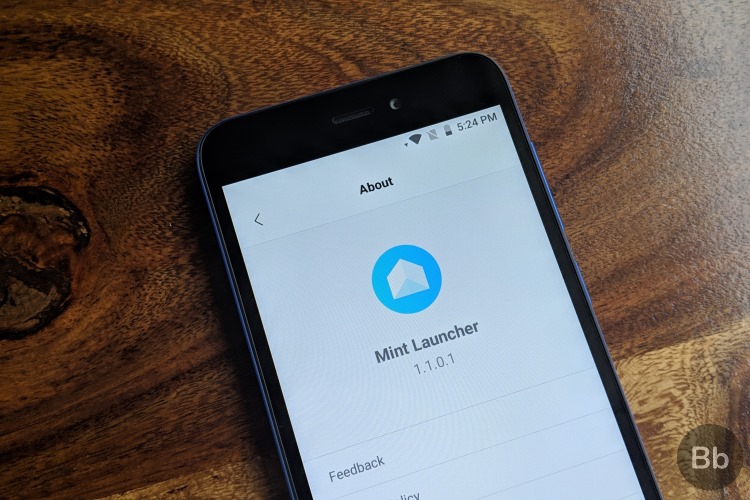 There wasn't really a need for a third-party launcher here, but it seems as though Xiaomi wants to differentiate its Go Edition smartphone from others. Putting everything aside, I'll state that Android Go is feature-rich and adequate for anyone looking to make a move to Android smartphones for the first time.
Xiaomi Redmi Go: Audio and Telephony
Redmi Go includes a single bottom-firing speaker and it's pretty good. The audio output gets loud enough for you to be able to share your music taste with peers and it's clear too, however, don't expect much bass from this teensy smartphone. Xiaomi has long offered a 16-step media volume control for its devices, which is excellent, and Redmi Go comes as no exception.
As for the telephony experience, well, I didn't encounter any issue with the audio output from the earpiece sitting in the top bezel here. It's crisp and decently loud, enabling the users to hear the caller clear even in noisy locations. The addition of two microphones on the Redmi Go enhances the calling experience and none of the callers complained of my voice not being audible or clear.
Xiaomi Redmi Go: Connectivity
Even though the Redmi Go comes as Xiaomi's most affordable smartphone to date, the Chinese giant hasn't really compromised on the feature set. The device includes 2 SIM card trays – one offering you access to only a single nano-SIM card, whereas the other packs support for a nano-SIM card, as well as microSD card (up to 128GB storage).
Redmi Go doesn't support dual-VoLTE, but that's okay and understandable at this price point. microSD card support is a boon!
This means you will not only be able to use two SIM cards at the same, where only one would support 4G at a time, but also insert a microSD card to expand the storage right from the get-go – something I suggest you do if you don't want to be annoyed with the 'Free up space' notification from the Play Store time and time again.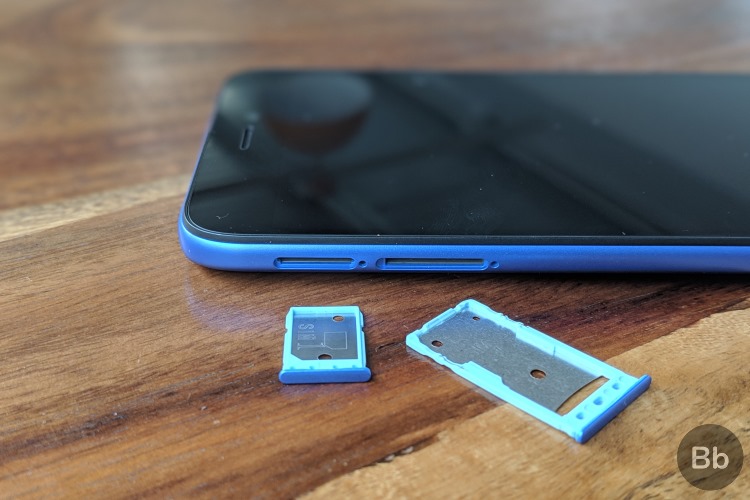 Further, the Redmi Go comes integrated with all your usual connectivity options including Wi-Fi 802.11 b/g/n (you won't be able to connect to 5GHz networks and that's nothing to crib about at this price point), Wi-Fi Direct, Bluetooth 4.1 (where I've noticed a few issues with static and connection drops while using Bluetooth earbuds), GPS, A-GPS, GLONASS, BeiDou, and more.
Xiaomi Redmi Go: Battery Life
Xiaomi has included in the Redmi Go a modest 3,000Ah battery pack that it boasts is going to offer you a standby time of up to 10 days. I haven't managed to set aside the smartphone and not use it for such a long duration, but it lasts you a complete day on a single charge with ease.
I usually had close to 20% battery left when I got back home after work, where I mostly used the device for calling, texting with friends and peers, listening to music, surfing the Internet, and watching videos on the way to/fro from work. I was getting a screen-on time of 6.5 to 7 hours, on average, which is pretty good.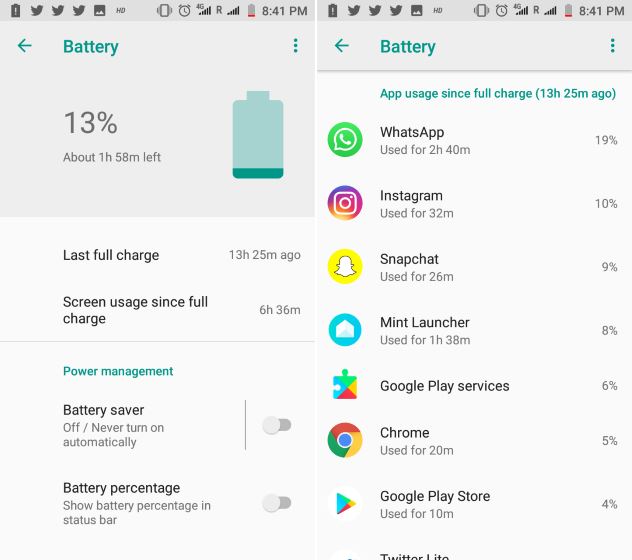 Xiaomi hasn't offered any fast-charging tech with the Redmi Go. Instead, you find a 5W (5V, 1A) charging adapter bundled inside the box that would require you to plug in your smartphone for close to 3 hours to fully juice up the 3,000mAh battery.
Xiaomi Redmi Go: Bang for the Buck or Bust?
Redmi Go is certainly a "bang for the buck" smartphone, making about everything you'll ever expect in an entry-level smartphone available for under Rs 5,000. There's a decent display, a compact form factor with a metallic finish, powerful Snapdragon 425 processor, dual camera (one on the rear and another on the front), a huge 3,000mAh battery and a lighter Android experience for beginners.
There's just one shortcoming for this smartphone and I won't really call it a shortcoming. It's Xiaomi who's at fault in this case since the company has just launched the lower-end variant of Redmi Go in India, while there's also a 2GB+16GB variant that would've been much better in terms of overall performance.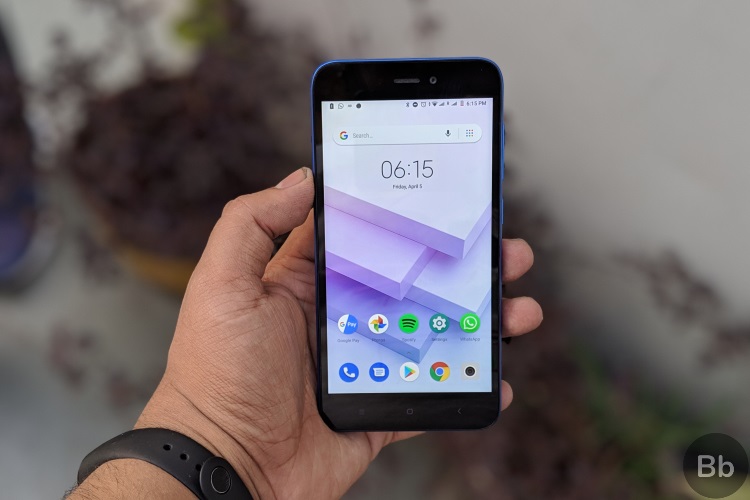 Now, let me answer the most important question that a lot of you have asked on Twitter. Who is the Redmi Go meant for? Well, this entry-level smartphone is the perfect pick for three sects of users – first, the ones who're finally upgrading from a feature phone to the Android ecosystem for the first time, our parents and grandparents who don't need a plethora of features but the right ones to get through the day, and finally, users who are looking to curb smartphone addiction.
If you're someone who falls into any of the aforementioned categories, or someone you know does, then Redmi Go (Rs 4,499) is quite a feature-rich and handy smartphone for them. Another major thing to take into account, however, would be the price. There's a possibility that you've got budget restrictions, maybe 5,000 rupees, then the Redmi Go becomes a no-brainer decision for you.
I, however, have a couple more suggestions in the said price bracket for users wary of bottleneck issues due to the low memory. You could wait for one of Flipkart's sales and grab the Asus Zenfone Lite L1 with Snapdragon 430, 2GB RAM, and 16GB storage for as low as Rs. 4,999. I'm not recommending you any other Go-edition smartphone, like the Nokia 1 or Samsung J2 Core since they're pretty dated, according to today's standards.
PROS:
Sturdy build
Comfortable in-hand feel
Okay-ish HD display
Decent cameras
Great battery life
CONS:
1GB RAM is a bottleneck
8GB storage isn't enough
Unnecessary bloatware
SEE ALSO – Redmi 6A Review: The Budget King May Lose its Crown
Xiaomi Redmi Go Review: Affordable, Substantial, And Worth Recommending!
Xiaomi is pretty well-versed with the budget smartphone segment in India at this point, and the Redmi Go is a great entry-level smartphone with the right mix of hardware and software to attract the growing number of 4G and Android users in the country. There's nothing more you can expect from a sub-Rs 5,000 smartphone except for maybe a little more memory for an extra thousand bucks.
The Redmi Go is going to work especially well in the offline market, tying perfectly with Xiaomi's rural expansion, and reaching more users in India. What are your opinions on Redmi Go? Do you think it's the best entry-level smartphone or not? Leave a comment below and let us know.
Buy Redmi Go from Flipkart (Rs 4,499)
REVIEW OVERVIEW

SUMMARY

Redmi Go is Xiaomi's most affordable smartphone to date and even though I feel it's priced slightly higher than expectations, it boasts of some impressive hardware and software performance for the price. I know, memory and storage bottleneck can be a major qualm for some, but if we're talking about casual users here, then Redmi Go's HD display, lightweight Android Go experience, and dual cameras are worth all the money you'll be shelling out.