Microsoft is still riding high on the initial success of the Xbox One X, that saw the console beat its arch-rival Sony's PS4 in sales figures at the end of the year 2017. The company has also been rolling out Xbox One X Enhanced updates to several game titles to attract more customers. The company is also reportedly in the works to bring a new controller as the successor to its Elite Controller.
Microsoft had announced the original Xbox Elite Controller back at E3 2015. The $149 was hailed by the company as the world's most advanced controller. Much like Razer's high-end gaming controllers, the Xbox One Elite controller offers four interchangeable paddles at the back, Hair Trigger Locks, remappable buttons, and completely swappable components.
Now, as reported by recent images posted on Baidu and Reddit, a second version of the Xbox Elite Controller is reportedly being developed by the company. According to the images, the "Xbox Elite Generation 2" will include a USB-C port for charging, Bluetooth support for Windows 10, three-level Hair Trigger Locks, longer key travel for the paddles, and a three-profile switch.
The new controller seems to be making use of adjustable lock same design for the thumbsticks. There are also three LEDs alongside the thumbsticks that could indicate battery life or extra profile support.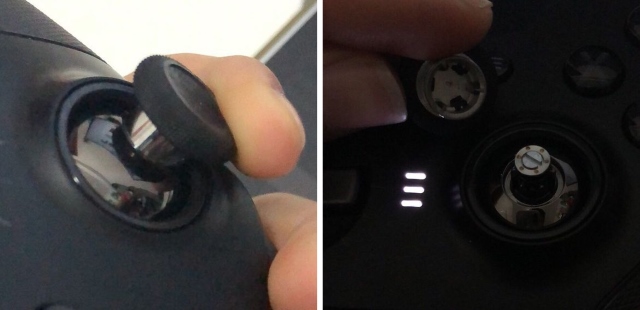 With the second-generation controller, there also seems to be a newly designed grip section, so hopefully, the controller will be able to stand the test of time.
While there has been no official word from the company, a source familiar with Microsoft's Xbox plans has confirmed to The Verge that the image of the controller is genuine. There are also talks of a new case for the controller that would charge it on-the-go. However, there is no word as of yet when Microsoft plans to unveil this new controller.
For now, we feel Microsoft could potentially unveil the controller and its case at the upcoming Game Developers Conference in March or E3 in June. Considering the fact that the Hyperkin's Xbox Duke Controller is expected to release in March, Microsoft could very well announce the second gen Elite Controller alongside that.
As a consumer, which product are you the most excited for – the Second Gen Xbox Elite Controller, or the Xbox Duke Controller? Let us know your thoughts in the comments section down below.