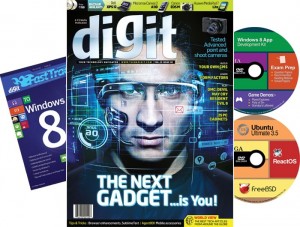 Readers,
We are glad to announce very first giveaway on thetecnica. It's been close to 2 years since we published our first post. It took us so long to start with Giveaways but now as we have started, you will be seeing a lot of giveaways in the coming months.
What this Giveaway holds for you?
One year Digit Magazine's Subscription.
In case you are not aware, Digit is the most read Indian technology magazine with a readership higher than even the combined readership of its counterparts (e.g., Chip, PC Quest, etc.).
Duration of Giveaway
15 days, (Feb, 10 to Feb, 25).
Here's how to participate in the Giveaway
Just follow the instructions in the widget given below.

Everyone is eligible. So, Suit up and get ready to take part in this amazing Giveaway which can fetch you one year subscription of your favorite technology magazine for free.
The winner will be declared on February 25.
Update: The winner of this Giveaway is Deep Kagathara. Congratulations, dude!
Thank you all for participating, we'll be coming back with our second Giveaway next month.