Anime can evoke a wide range of emotions among viewers. And while we have a myriad of inspirational and uplifting anime out there, we have an equal amount of sad anime that can tug at our heartstrings. Even an emotionally strong person can break down in tears watching these anime. Now, there is no lack of heartbreaking anime that deal with themes like love, war, catastrophe, death, and much more; having a lasting impression on us. So, in this article, let's take an emotional ride and look at the best heartbreaking anime that will definitely make you sad and touch your soul.
1. Grave of the Fireflies (1988)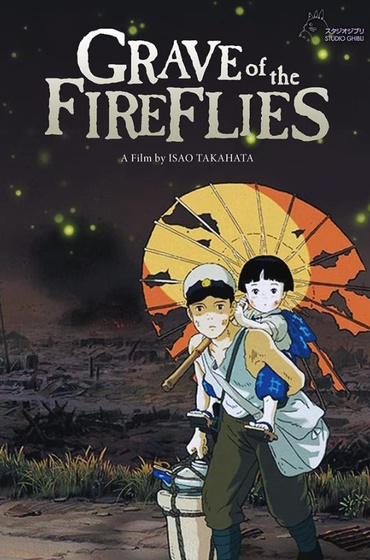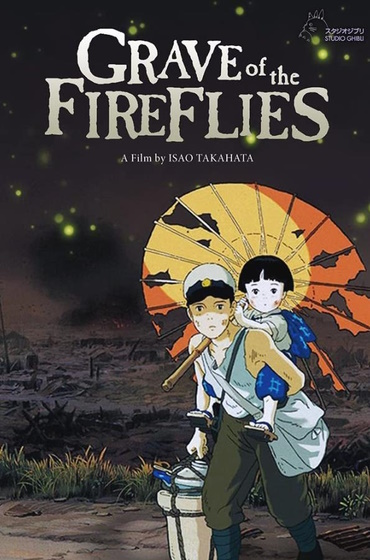 Title: Hotaru no haka
Author: Nosaka Akiyuki
Genre: Animation, Drama, War
Duration: 1 hour 29 minutes
IMDB/MAL: 8.5/8.5
As for the most heartbreaking piece of art to be created in the history of anime, it's none other than Grave of the Fireflies. Studio Ghibli movies are known for their heartwarming stories but don't get fooled by that common perspective here. Grave of the Fireflies is the tragic tale of a young boy and his little sister struggling to survive in a war-torn Japan during World War II.
This anime is not just highly praised by anime fans worldwide, it even got the attention of the greatest critics and cinema-goers and earned the title of one of the greatest war anime to be ever produced. Just when we thought things couldn't get worse, this anime is based on a real-life incident and details the experience of the author in his early life. This movie might leave you weeping like a child for days.
2. A Silent Voice (2016)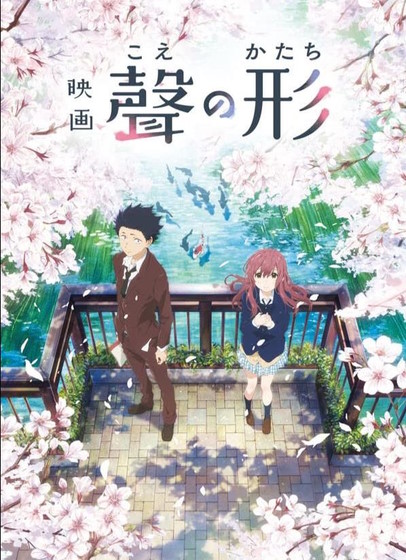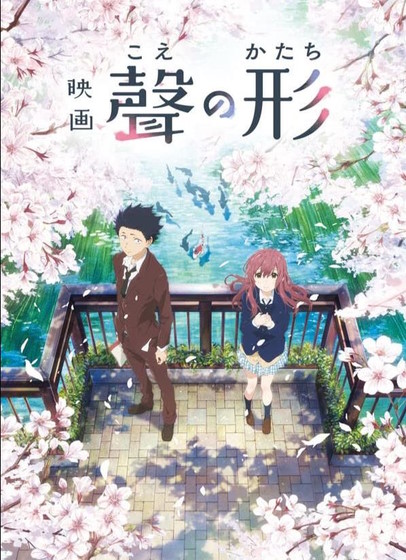 Title: Koe no katachi
Author: Yoshitoki Ōima
Genre: Animation and Drama
Duration: 2 hours 10 minutes
IMDB/MAL: 8.1/8.9
A Silent Voice is a comprehensive anime package that takes you on an emotional roller coaster. It portrays a youngster who bullies Shouko Nishimiya, his classmate. She is a deaf girl who decides to leave after being victimized by this boy's bullying. Shouya Ishida, the young boy, then receives the cold shoulder from his classmates because of such behavior. Later in life, he comes to understand his mistakes and seeks absolution.
As mentioned earlier, this anime is a heartbreakingly beautiful tale with splendid animation. It's highly emotional and portrays the themes of depression, bullying, anxiety, and more pretty well. Although most of the story portrays heartbreaking moments, it has a perfect climax that will completely uplift your mood in the end. A Silent Voice is one of the most highly-rated anime and a must-watch.
3. Fruits Basket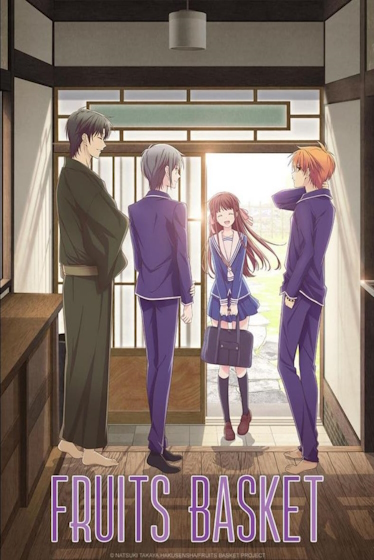 Title: Fruits Basket
Author: Natsuki Takaya
Genre: Animation, Drama, Romance, Comedy, Fantasy
Episodes: 63
IMDB/MAL: 8.6/9.0
Fruits Basket is a sad slice-of-life anime where you'll experience the most intense emotional ups and downs of your life. Subsequently, it rose to the position of becoming MAL's all-time top-rated anime. when the show's last season aired. That speaks a lot about the quality of this show. It is currently ranked among the best anime ever made which is a noteworthy feat, isn't it?
Fruits Basket offers you valuable life lessons that you won't soon forget in addition to offering sheer romantic fulfillment. While romance is typically depicted as a cheerful topic, this anime also addresses its darker aspects alongside the positive aspects of love. It becomes a melancholy anime at that point, and watching it often made my heart hurt every time when I watched it. So before you watch this anime, be sure to grab a box of tissues or a handkerchief.
4. I Want to Eat Your Pancreas (2018)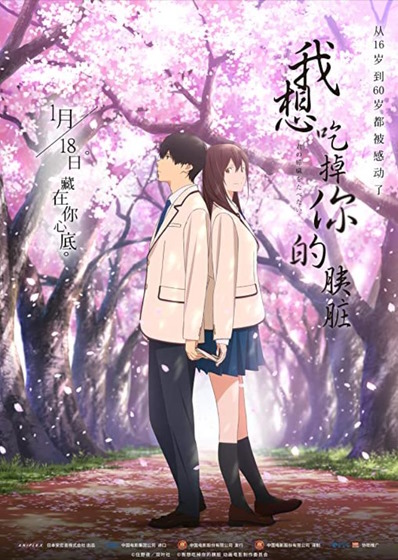 Title: Kimi no suizô o tabetai
Author: Yoru Sumino
Genre: Animation, Drama, Family
Duration: 1 hour 49 minutes
IMDB/MAL: 8.0/8.6
I Want to Eat Your Pancreas is a rom-com anime that takes a sudden twist towards the end. Several fans, including me, found the main character to be relatable. The protagonist Haruki Shiga is an introvert and leads a secluded life. One day he finds his classmate's secret diary, and it changes both of their lives forever. If we reveal anything more about the plot, it will spoil your movie-watching experience. So, don't read the plot and dive straight into this movie.
This anime has a beautiful pair that captivates you completely and the depiction of the growing bond between them is exquisite. It tells a simple story, but the characters and the animation take this anime movie to the next level. I bet you don't come out of this movie without an aching heart, especially in the end.
5. Erased (2016)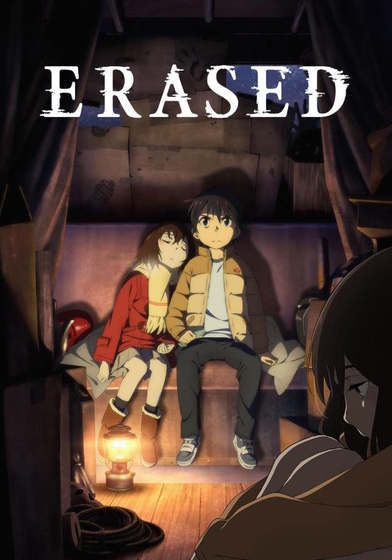 Title: Boku dake ga inai machi
Author: Kei Sanbe
Genre: Animation, Drama, Fantasy
Episodes: 12
IMDB/MAL: 8.5/8.3
In our list of heartbreaking anime, Erased holds a special place as it takes over two different timelines. Yeah, it's an anime based on the concept of time-traveling. Satoru Fujinuma is a 29-year-old manga artist but his life turns upside down when he is struck by a tragedy. Due to a mysterious phenomenon, he is sent 18 years back in time to prevent said tragedy from happening. When he goes back in time, he finds out that the murder of one of his classmates in the past is connected with the tragedy in his present.
He must unravel this mystery to save the loved ones in his life. The heart-wrenching story built around the age-old time-traveling concept is riveting to watch and keeps you glued to the screen. The character development is great to keep you connected to the story and feel the gravity of the emotions. That said, Erased only features 12 episodes, and you can easily binge-watch this anime in one sitting.
6. Tokyo Magnitude 8.0 (2009)
Title: Tôkyô magunichûdo 8.0
Author: Natsuko Takahashi Kazuya Murata
Genre: Animation and Drama
Episodes: 11
IMDB/MAL: 7.8/8.0
As the title suggests, this anime is about an earth-shattering earthquake with a magnitude of 8.0 that hits Tokyo, Japan. Mirai Onozawa is a 13-year-old student who's traveling with her younger brother Yuuki to a robot exhibit far from home. That's right when the earthquake hits and leaves the two kids stranded in this devastated city. Luckily, they meet a motorcyclist named Mari Kusakabe who decides to help these poor kids. Now, this trio must survive amidst the chaos with the longing to reunite with their families.
Whenever we witness a story based on a natural-disaster theme, it always affects us no matter what. That's exactly the case here, and Tokyo Magnitude 8.0 handles human emotions and realism well. It doesn't get over the top and stays grounded, which makes for a gut-wrenching and realistic viewing experience of the aftermath of an earthquake. It's only 11 episodes and another one of the best sad anime we have on our list.
7. Clannad (2007-2008)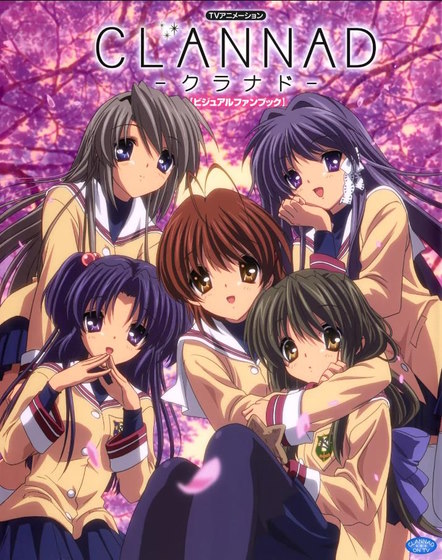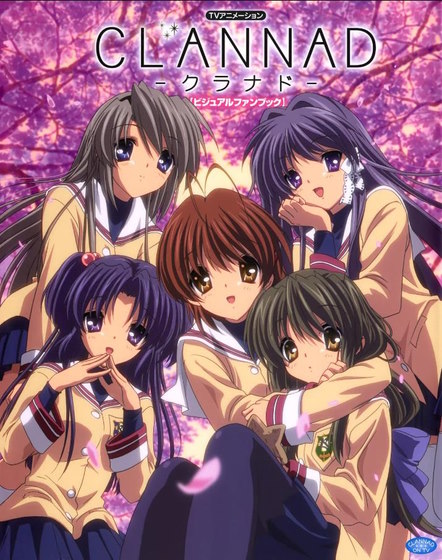 Title: Clannad
Author: Jun Maeda
Genre: Animation, Drama, Comedy
Episodes: 49
IMDB/MAL: 7.8/8.0 and 8.6/8.9
One anime that has been warmly welcomed by both fans and reviewers is the Clannad series. Clannad, the first season, is about high school students trying to succeed in life by overcoming the various challenges in their path The second part is a continuation of that, showing how the protagonists are fighting to make ends meet. Called Clannad After Story, the second season concentrates on the hardships of adulthood. It largely emphasizes the difficulties faced in order to highlight the value of family.
The Clannad series is also highly rated on the anime tracking website My Anime List, which speaks a lot about the quality of the show. The anime's plot is slightly depressing in the second half, so be ready for it to completely shatter your heart into pieces. Clannad is a must-watch sad anime; skip it only if you aren't ready for a gut-wrenching experience.
8. Violet Evergarden (2018)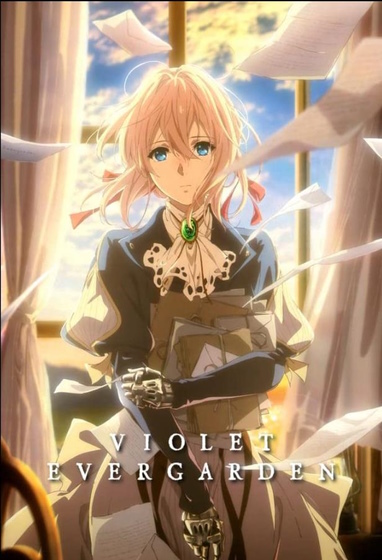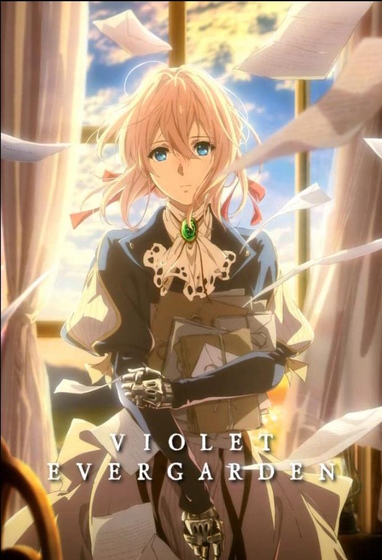 Title: Violet Evergarden
Author: Kana Akatsuki
Genre: Animation, Drama, Fantasy
Episodes: 14
IMDB/MAL: 8.4/8.7
As every episode of this anime delivers an emotional tale, Violet Evergarden chips away at you with each episode, unlike any other anime on our list. The anime's main plot revolves around the protagonist Violet Evergarden. Once the great war was finally over, she secured a new position as an auto memory doll in the postal service. Now, she embarks on a mission to assist others by writing letters that capture the client's ideas and feelings. The major goal of Violet's trip is to comprehend herself and the world, as well as her emotions.
Violet Evergarden is one of the most beautiful anime you will ever watch, as it offers spectacular and eye-pleasing visuals with numerous different emotional stories. The characterization of Violet has been done beautifully, helping you emotionally connect with her. This sad anime is thought provocative and will leave you longing for those you've lost.
To sum it up, Violet Evergarden is a must-watch anime. Additionally, it even has several movies, which are equally heartbreaking as the anime.
9. Plastic Memories (2015)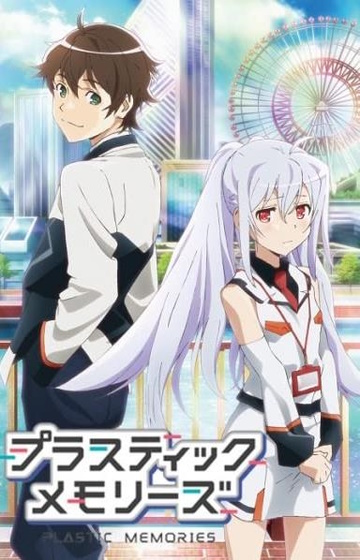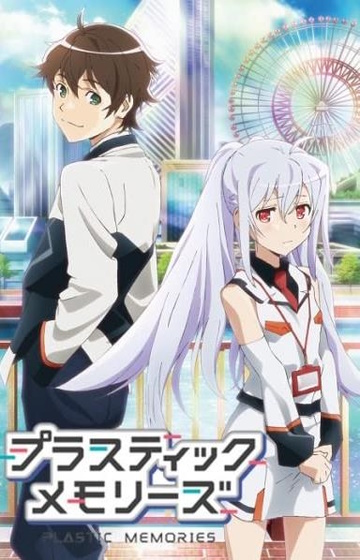 Title: Purasutikku Memorîzu
Author: Naotaka Hayashi
Genre: Animation, Drama, Romance
Episodes: 13
IMDB/MAL: 7.3/7.91
With his father's help, Tsukasa Mizugaki is hired by Sion AI Corporation. The SAI Corporation is an AI business, well-known for creating and managing androids with human-like emotions termed Giftia. Isla is a stunning AI who Tsukasa is partnered with, but he begins to develop feelings for her. This situation is similar to the movie "Her," where a human falls in love with an AI (which might soon become a reality with all the hype around ChatGPT and other AI assistants). And even though we know this anime will break our hearts in the end, it is still worthwhile.
This is nowhere close to the Clannad series or any other heartbreaking anime but it is certainly a good watch. A twist to the typical slice-of-life genre involving the sci-fi concept is refreshing. Finally, it is only a short 13-episode series, complete with romantic and heartbreaking moments.
10. Orange (2016)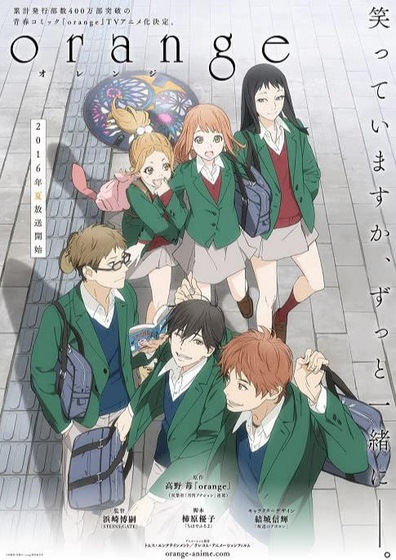 Title: Orange
Author: Ichigo Takano
Genre: Animation, Drama, Romance
Episodes: 13
IMDB/MAL: 7.6/7.62
Orange is the right anime for you if you're looking for an emotional high school drama. Talking about the plot, we see high school student Naho Takamiya having some difficulties adjusting to life in her senior year. One mysterious day, she gets a strange letter from her 26-year-old future self. In that letter, the future Naho expresses her deep regret for her previous errors and the desire that her younger self might correct those errors. This tale is engaging and draws you in for a typical slice-of-life anime ride.
All young anime fans should definitely watch this series as it will teach you valuable lessons about friendship, life, and other things. While Orange is a passionate anime that might occasionally leave you depressed, it ultimately uplifts you, making it a worthwhile anime to binge-watch. Also, it has a sequel movie, Orange: Mirai, which you ought to watch
11. Made in Abyss (2017 – )
Title: Made in Abyss
Author: Akihito Tsukushi
Genre: Animation, Action, Adventure
Episodes: 25
IMDB/MAL: 8.4/8.66
One look at the poster might have you thinking that Made in Abyss is a kid's anime. That is what everyone thinks, but you are totally wrong. It is a perfect example of Don't judge a book by its cover. Made in Abyss is another highly-rated anime on our list. This sad anime has all the elements one would want from a story such as top-tier worldbuilding, excellent art style, and well-written characters.
Made in Abyss is perfectly balanced with light-hearted moments as well as gruesome content. That's what makes it a wonderful anime that is appreciated by fans all over the world. Its last season aired recently and further attracted more fans to the story. You can start watching this hidden gem of an anime right away.
12. Your Name (2016)
Title: Kimi no na wa
Creator: Makoto Shinkai
Genre: Animation, Drama, Fantasy
Duration: 1 hour 46 minutes
IMDB/MAL: 8.4/8.8
Your Name is the anime movie that became a sensation and led to its writer and director Makoto Shinkai gaining a massive fanbase. It was a worldwide blockbuster and not only in Japan. Even today, it gets re-released as a special screening (even in India). That's how much the anime fandom loves this movie; alongside the recently released Suzume (review). This sad anime is known for its stellar animation and its soulful songs.
The movie's story is about Taki Tachibana, a high school student who is struggling with his part-time job and studies. Meanwhile, Mitsuha Miyamizu is also a high school student who lives in the countryside and dreams of moving to the big city in the future. One day, as one can expect in such stories, the souls of these two individuals get switched.
Now, these high-school students are connected by this strange phenomenon and look forward to meeting each other to solve this mystery. What fate has in store for them is what the rest of the story focuses on. It's an amazing tale of love that's highly celebrated by the fans. So, it's another must-watch heartbreaking anime.
13. 5 Centimeters per Second (2007)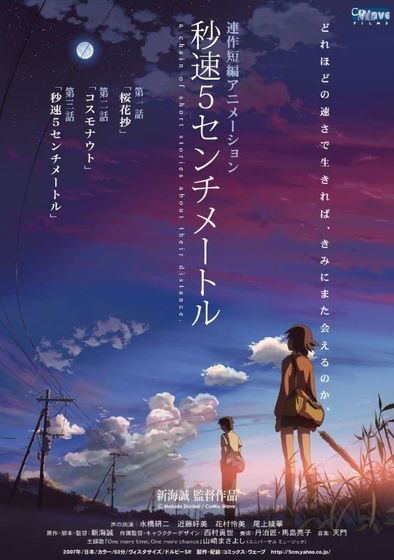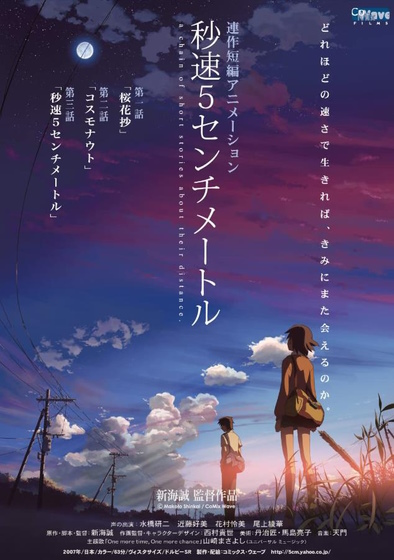 Title: Byousoku 5 Centimeter
Creator: Makoto Shinkai
Genre: Animation, Drama, Family
Duration: 1 hour 3 minutes
IMDB/MAL: 7.5/7.6
5 Centimeters per Second is the first breakthrough in Makoto Shinkai's career. It was his first full-length feature film, and he delivered it well. This anime depicts the harsh realities and struggles of a long-distance relationship through the protagonists Takaki Toono and Akari Shinohara's eyes.
They are trying to work things out and stay together but life tears them both apart. Now, the question is – will they get reunited? Well, you need to watch this sad anime to find the answer. 5 Centimeters per Second is a wonderful anime with excellent animation and characters, so it's another anime movie worth watching.
14. Your Lie in April (2014)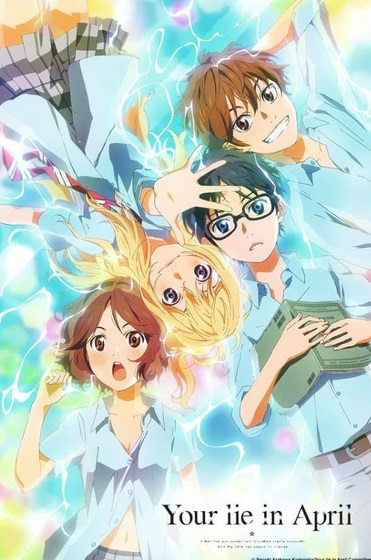 Title: Shigatsu wa Kimi no uso
Author: Naoshi Arakawa
Genre: Animation, Comedy, Drama
Episodes: 22
IMDB/MAL: 8.6/8.65
You must have already heard of this title because Your Lie in April is always mentioned as the show that will break your heart at the end. It depicts the story of Kousei Arima, who is a child prodigy when it comes to piano, but a traumatic incident destroys his talent. But all of this changes when he meets a violinist named Kaori Miyazono who helps him rediscover his abilities and start being in the spotlight again.
This anime is a tear-jerker as it's completely moving right from the start. As much as it's depressing in the end, it uplifts you with beautiful emotions and teaches you about moving forward in life. It focuses on themes of trauma, depression, and loss in the best possible way. It is an inspiring and heartbreaking anime and should not be missed at any cost.
15. Terror in Resonance (2014)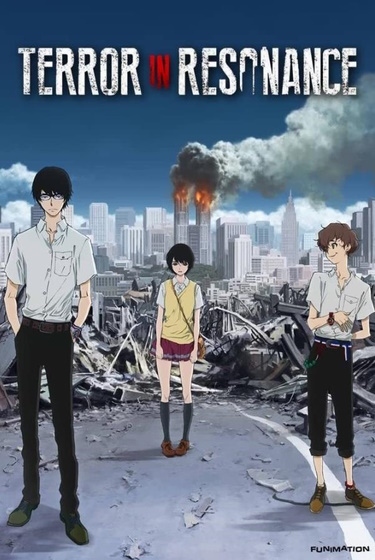 Title: Zankyou no Terror
Author: Shinichirō Watanabe
Genre: Animation, Crime, Drama
Episodes: 11
IMDB/MAL: 7.8/8.1
Terror in Resonance is not your typical shounen anime and delivers a palpable experience. The plot of the anime revolves around a horrific terrorist attack in Japan, where the only clue left behind is the word "VON" painted red all over the area where the attack took place. After a few months, a strange internet video appears as the next clue. In that video, two boys namely Nine and Twelve threaten the whole of Tokyo, as they are going to wreak havoc there with mass destruction.
These two boys are from a clan named Sphinx and have a tragic backstory. While the story of the anime is said to be rushed, the emotions are the same and will captivate you, especially the ending (said to be extremely emotional). This sad anime will keep you engrossed, and at the same time, make you sad with its backstories and ending.
16. Angel Beats (2010)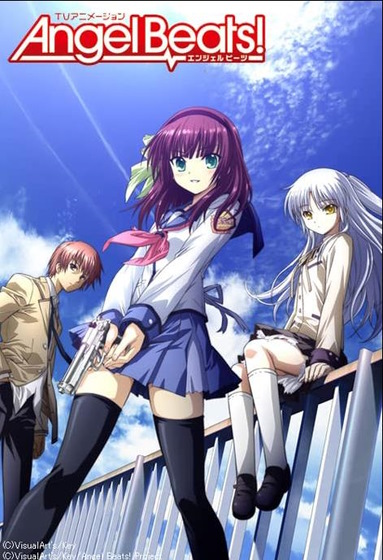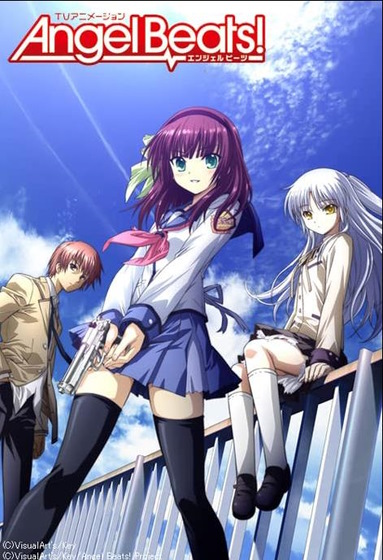 Title: Angel Beats!
Author: Jun Maeda
Genre: Animation, Action, Comedy
Episodes: 15
IMDB/MAL: 7.6/8.1
Angel Beats! may sound like it's the name of a musical anime, but no! It tells the story of a young boy named Otonashi who discovers he is attending high school after he awakens in the afterlife. In an effort to defeat the student council president Kanade "Angel" Tachibana, God's henchwoman, he teams up with a bunch of rebellious teenagers. This is the only Isekai anime with a heartbreaking story on our list.
Although the anime is filled with comedic plotlines in the first half, it tends to get serious soon after. The animation and soundtrack are a big highlight here and carry the show. But what makes this anime one of the saddest is its ending. Many fans have reported it to be one of the saddest endings they have ever watched; it's an instant tear-jerker.
17. Banana Fish (2018)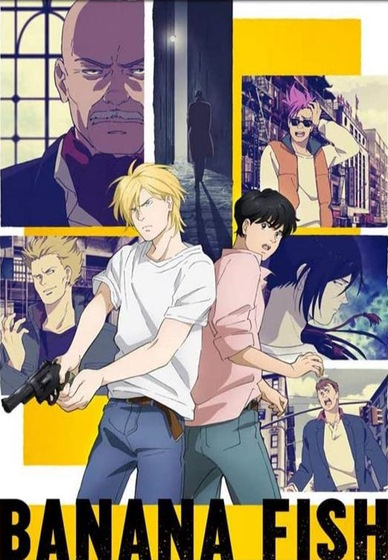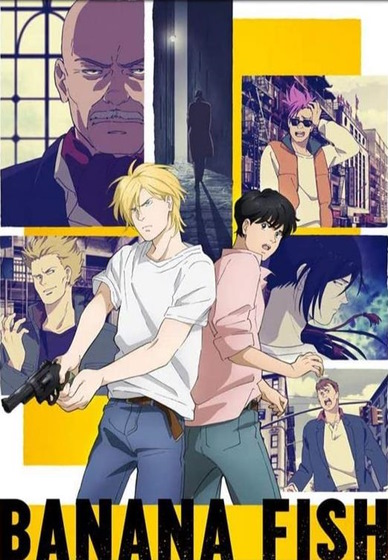 Title: Banana Fish
Author: Akimi Yoshida
Genre: Animation, Action, Adventure
Episodes: 24
IMDB/MAL: 8.2/8.5
Banana Fish is the perfect pick if you are looking to watch a different type of anime. The manga series Banana Fish by Akimi Yoshida was adapted into an anime of the same title. Here, the conflict between the Mafia leader Dino and a young person named Ash Lynx drives the narrative of this anime. It's also one of the best BL anime of all time, as it explores the romance between Ash and Eiji Okumura when they are caught up in this war
The anime packs Mafia organizations and drug traffickers, which keeps the story engaging. As a result, there is a lot of action in addition to the heartbreaking tale of the boy's love. Both Ash and Eiji try to work out their relationship amidst the chaos but will they have a happy ending? You have to watch it for yourself to find out.
Banana Fish is a sad anime that will see you go through a rollercoaster of emotions. Moreover, you can be sure that this anime is artistically amazing as it is made by MAPPA Studios, which has also developed works like Jujutsu Kaisen, Chainsaw Man, and more.
18. Anohana: The Flower We Saw That Day (2011)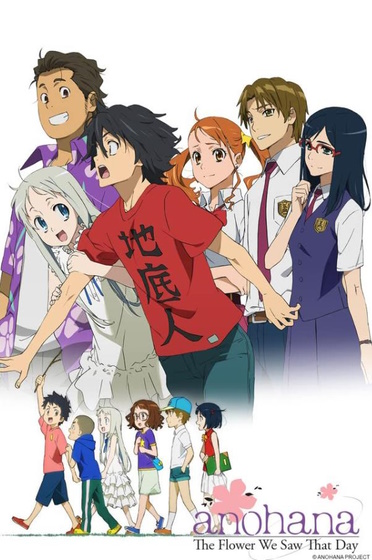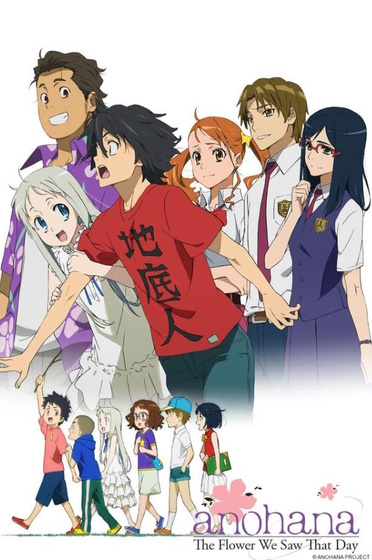 Title: Ano hi mita hana no namae o bokutachi wa mada shiranai
Author: Mari Okada
Genre: Animation, Drama, Adventure
Episodes: 11
IMDB/MAL: 8.2/8.32
Anohana: The Flower We Saw That Day tackles the subject of "loss" and moving on from it. The core of this anime is the idea that everyone deals with loss in their own unique way. Five childhood friends decide to reconcile when one of them, Jinta Yadomi, claims to have seen the spirit of his late friend Menma. She asks her friends to fulfill all of her unfulfilled wishes, and the group works on it so that she might finally rest in peace.
No matter what, the concept of loss always brings up a profound sense of sadness all over and affects everyone. That's exactly how this anime is, and it will leave you devastated. It is impossible for anyone not to cry at the end of this anime.
19. Into The Forest Of Fireflies' Light (2011)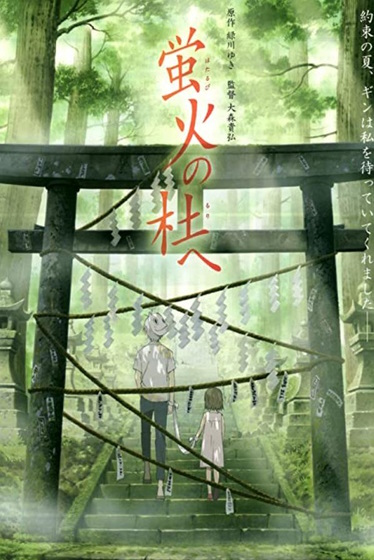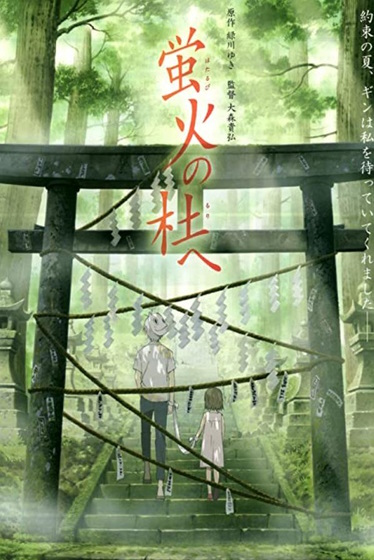 Title: Hotarubi no Mori e
Author: Yuki Midorikawa
Genre: Animation, Drama, Fantasy
Duration: 45 minutes
IMDB/MAL: 7.8/8.3
Into the Forest of Fireflies' Light is a short sad anime with a run time of just 45 minutes. Hotaru is a young girl who gets lost in a forest one day. But luckily, a boy named Gin rescues her only to find out he's a spirit. Gin then reveals that he is cursed by the human and that if any human touches him, he will disappear forever. Furthermore, these two started to get close as friends and their bond gets stronger over the years. But what awaits them as they start growing feelings for each other over time is the rest of the plot.
This anime provides a unique story and a unique set of characters, which is a fresh breath of air. Even with a short run time of 45 minutes, this movie connects you with the emotions of the protagonists. The bond shared between the two characters feels natural and is portrayed neatly. That said, Into the Forest of Fireflies' Light is the one if you are looking for a short sad anime.
20. To Your Eternity (2021 – )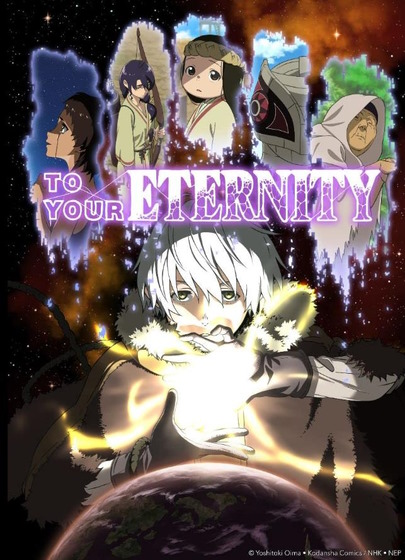 Title: Fumetsu no Anata e
Author: Yoshitoki Ōima
Genre: Animation, Drama, Adventure
Episodes: 38+ (Still airing)
IMDB/MAL: 8.5/8.37
To Your Eternity is a profoundly emotional anime that might not be everyone's cup of tea. It is the latest famous work of "A Silent Voice" fame Yoshitoki Ōima. This anime, in contrast to her other work, is about a lone guy who wanders the snow-covered polar areas of North America. He meets a wolf, and the two get along beautifully and end up being wonderful friends. The youngster has an enigmatic history and an equally mysterious future. The rest of the anime explores what lies in store for him.
When this sad anime was aired for the first time, it was instantly termed the best-animated anime in a long time. With an appealing story and heartful characters, it instantly captivates you. As we mentioned earlier, it is extremely affecting and makes one emotional easily. To Your Eternity is a new-gen anime and the latest addition to our list of sad animes.
21. The Girl Who Leapt Through Time (2006)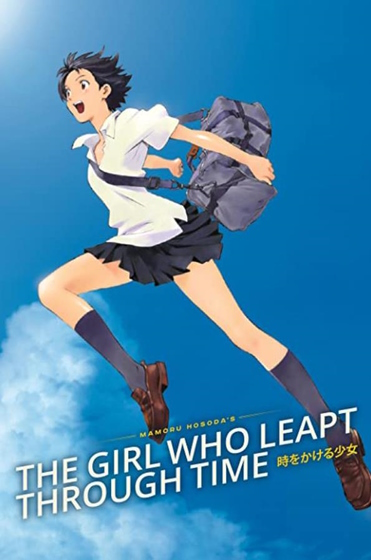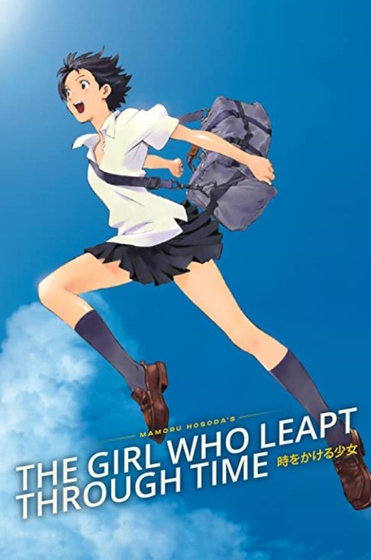 Title: Toki o kakeru shôjo
Author: Yasutaka Tsutsui
Genre: Animation, Comedy, Adventure
Duration: 1 hour 38 minutes
IMDB/MAL: 7.7/8.1
The Girl Who Leapt Through Time is an anime movie adapted from a novel of the same name by Yasutaka Tsutsui. As the title indicates, this anime portrays a time-traveling adventure. Makoto Konno is a high school student who is currently in her last year. She is unsure of what to do with the rest of her life until she comes upon a mysterious power one day. She has the ability to go back in time whenever she wants.
Yet one should always keep in mind not to tamper with the time ("The Flash" knows), but in this case, Makoto chooses to do so without considering the repercussions. And she quickly begins to have an impact on both her own life and those around her. So, what awaits her and those around her?
This 90+ minutes-long anime movie is a worthy one to be on this list of sad anime. Although it was released way back in 2006, it includes a nostalgic factor and great animation with beautiful soundtracks. In the end, it moves us with an important message and should be watched by anime fans worldwide. Everything we do in our lives has an equal amount of consequences, and that is explored in this anime.
22. Wolf Children (2012)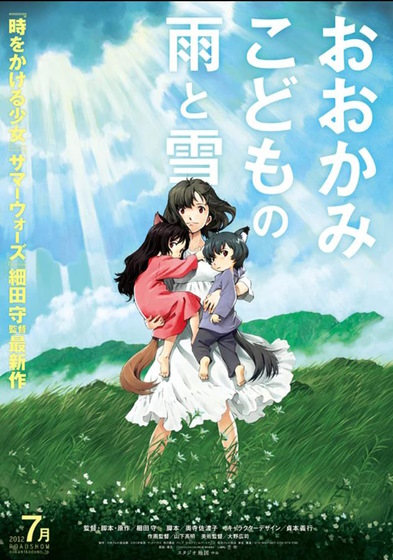 Title: Ookami Kodomo no Ame to Yuki
Author: Mamoru Hosoda
Genre: Animation, Drama, Family
Duration: 1 hour 57 minutes
IMDB/MAL: 8.1/8.6
While this anime's poster may give off a Ghibli-esque vibe, it is not made by them. In fact, this anime movie is developed by Studio Chizu. That said, the story is about a mother who has to raise two of her kids after her partner dies in an accident. But the catch is that her partner was a human who could turn into a werewolf and her children rightly inherited his father's trait. Now, she has to raise them in this modern world without revealing their true identities.
This anime movie talks about the hardships of single-parenting and overcoming the loss of a loved one. That is why it is a particularly hard watch, but it does deliver a beautiful message in the end. Moreover, it is always tough to let go of our loved ones and that part is handled in a mature way here, making it one of the best anime movies out there.
23. Fullmetal Alchemist Brotherhood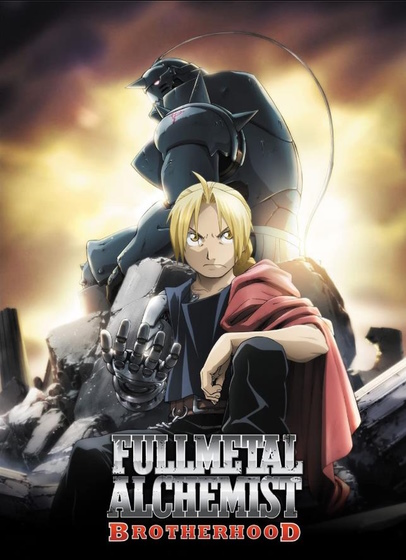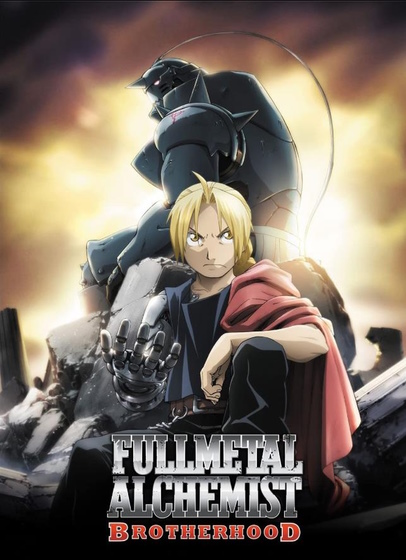 Title: Hagane no renkinjutsushi
Author: Hiromu Arakawa
Genre: Animation, Action, Adventure
Episodes: 68
IMDB/MAL: 9.1/9.1
After losing their beloved mother, the two brothers try to revive her back from the dead using Alchemy. But things suddenly go south during the process and result in the complete mutilation of the bodies of the brothers. Thus, after becoming proper alchemists, this duo searches for the philosopher's stone to restore their bodies to their original form. Whilst this is the main plot, the whole story of the anime expands into something unimaginably big and no one can predict it from the get-go.
FMAB is considered to be one of the greatest anime to be ever created and still ranks at the top in My Anime List's anime rankings. That's how much it is appreciated by the fans. It is a shounen anime completely packed with a brilliant story, unpredictable twists, and intriguing characters all over.
So for the sad part, this anime offers an extreme amount of heartbreaking moments throughout the show. The emotions are purely created and experiencing them tears you apart. That is one of the reasons why FMAB is called a perfect anime by the anime fandom. This is a must-watch and you should watch this if you're looking for an unreal experience.
24. Josee, the Tiger, and the Fish (2020)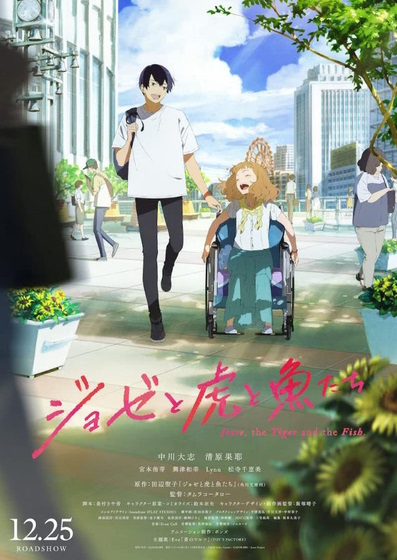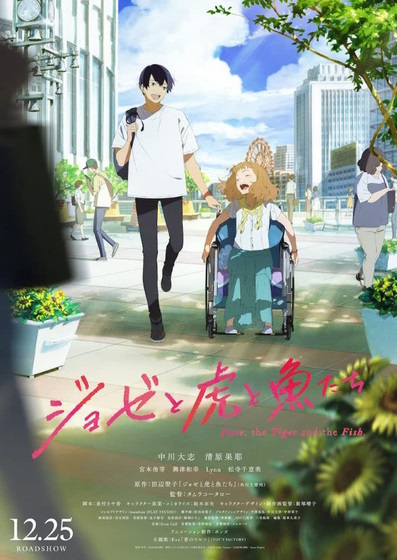 Title: Joze to tora to sakanatachi
Author: Seiko Tanabe
Genre: Animation, Drama, Romance
Duration: 1 hour 39 minutes
IMDB/MAL: 7.6/8.4
Josee, the Tiger, and the Fish is an anime movie based on a short story of the same title by Seiko Tanabe. It is about a young man named Tsuneo Suzukawa, a marine biology student who aspires to go abroad to develop his career. But he is stuck without the necessary means and is saving up money via his part-time job. One day, he meets an old woman who offers him a caretaker job that pays well for his future.
He is assigned to take care of her granddaughter named Kumiko, who is a disabled person in a wheelchair. Kumiko likes to be called Josee and comes off as a bit of an annoying person at first. But these two start to understand each other and begin working on their dreams.
This is a beautiful slice-of-life anime that is considered to be one of the best heart-warming dramas out there. The characters are neat and the simplistic story has a heart to it. It does not have a depressing ending, but it stays realistic and grounded to the core, which makes one happy at last. The despondent state of Josee can hurt one easily and is the reason why it is on our list of sad anime.
25. Children Who Chase Lost Voices (2011)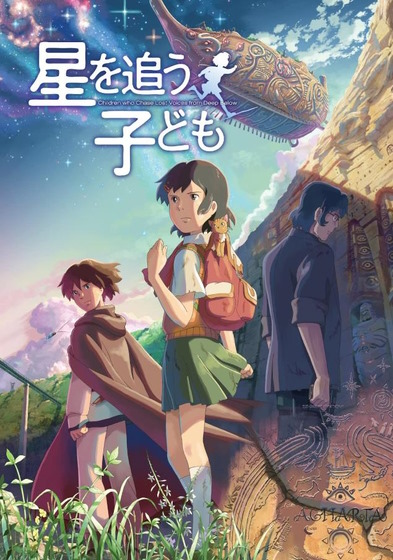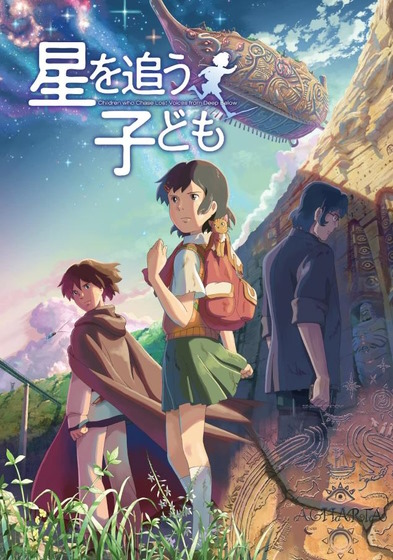 Title: Hoshi o ou kodomo
Creator: Makoto Shinkai
Genre: Animation, Drama, Adventure
Duration: 1 hour 56 minutes
IMDB/MAL: 7.1/7.5
This is the follow-up movie by Makoto Shinkai after his first popular work, 5 Centimeters per Second. Yet another coming-of-age drama about young love but in a different setup. Asuna Watase discovers bizarre new music coming out of her radio, which was left by her late father. She follows it to discover a new hidden world along with a mysterious boy named Shun.
While this anime isn't a flawless work like his Shinkai's best works. It is an entertaining one and you will enjoy every bit of it. It also has a Ghibli-esque animation rather than Makoto's trademark animation style. So for Studio Ghibli lovers should definitely watch this one. It is another anime that deals with the concept of the loss of a loved one and is heartbreaking to watch.
26. Weathering With You (2019)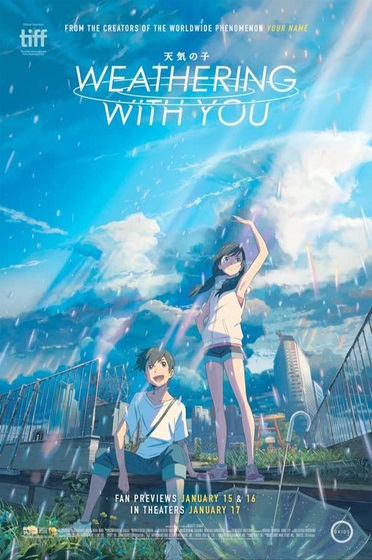 Title: Tenki no ko
Creator: Makoto Shinkai
Genre: Animation, Drama, Fantasy
Duration: 1 hour 52 minutes
IMDB/MAL: 7.5/8.3
Weathering With You is one of the most popular works of Makoto Shinkai. While there were lots of expectations for this movie after Your Name received worldwide appreciation, it certainly lived up to its expectations. Makoto's usual rom-com story takes place in a rainy Tokyo with jaw-dropping animations and soulful soundtracks.
As for the story, we have a high school student named Hodaka Morishima who runs away to Tokyo and meets an orphaned girl named Hina Amano. Hina possesses a mysterious power that lets her control the weather at will. But as you all know, with great power comes great responsibilities. As they seem to enjoy using the powers, the situation changes once they learn the truth behind the power.
This anime is truly a work of art and its impact never leaves you thinking. You will be grinning throughout the first half of the movie, but it delivers equally sad parts towards the end. The songs and visuals truly elevate the experience, and it is another must-watch anime movie.
27. Oshi no Ko (2023 – )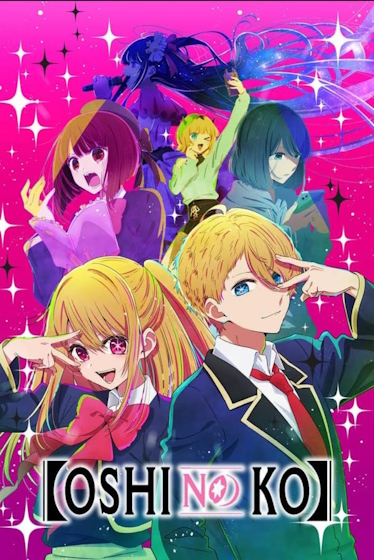 Title: Oshi no Ko
Author: Aka Akasaka
Genre: Animation, Drama, Fantasy
Episodes: 11
IMDB/MAL: 8.6/8.8
The Japanese music industry and idols are the subject of the anime Oshi no Ko. Several people drew attention to the first episode's peculiar plot when it was airing. But don't be deterred by the bizarre plot; be assured, it's much more than that. The following is the story: Twins born to a prominent Japanese idol (musical artist) endure life as entertainers while navigating the rough seas of the music business. The strange thing about that is the fact that a doctor and his patient were resurrected as identical twins and born to that idol. What happens to them and what all uncovers is covered by the anime.
It comes from the person who made the high school rom-com Kaguya-Sama Love is War. While his most well-known anime was a bright one with fun themes, the tone of this anime is significantly different. It becomes exceedingly gloomy and depressing, which might easily destroy one's heart. And for that reason, Oshi no Ko recently appeared on our list of depressing anime.
28. Cyberpunk: Edgerunners (2022)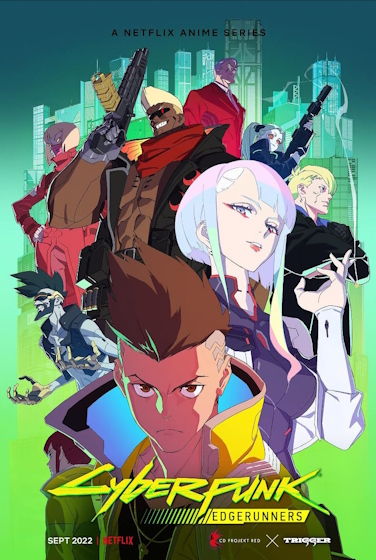 Cyberpunk 2077 might have got mixed reactions from the audience, but the anime based on it became a sensation. Yes! you read that right, Cyberpunk: Edgerunners anime was created by Netflix and is set and based on Cyberpunk 2077's world. This anime was a huge hit in that it won the Anime of the Year award at the 2023 Anime Awards. This impressive feat is a testament to how much of a masterpiece this anime is.
The plot is as follows: Set in a futuristic city, a kid struggles to live in a society that is obsessed with technological advancements like body modification, futuristic weapons, etc. Thus he becomes an Edgerunner to thrive as survival of the fittest is the law of the jungle. While this plot makes it sound like a cool anime, it gets incredibly sad during the end especially. Thus if you want an anime set on a different setup futuristic setup like this, Edgerunners must be your first suggestion to get started.
Frequently Asked Questions
What is the saddest anime ever?
Based on the numerous anime we have watched, our pick has to be The Grave of the Fireflies. That anime is just heartbreaking of the highest order and breaks you into pieces.
What is the top 10 saddest anime?
We have mentioned down the top 25 saddest anime for you from The Grave of the Fireflies to The Girl Who Leapt Through Time.
Which anime makes you cry?
All the anime we have mentioned above can be painful and can make one easily cry. So, if you're a light-hearted person, make sure to have your handkerchiefs/tissues ready.
---
Load More