WhatsApp is always working to add new features to its messaging app and the newest addition comes in the form of enhanced group privacy settings. The company has now decided to make it possible for you to choose whether you would like to be added to a group conversation or not. This is an important feature that's been present on the beta app for quite some time and well, it has finally arrived in the stable version of WhatsApp.
The new group privacy settings feature will help restrict your addition to random groups and also introduces an invite system into the mix. This means you'll now be in charge of choosing who can add you to new groups.
This feature has gone live for a few users, including me, at the moment, so let's take a quick look at how the group privacy setting works:
Controlling Group Privacy Settings
Note: I tested out the feature on WhatsApp's stable build 2.19.190 on my Nokia 7 Plus, running Android 9 Pie.
The group privacy settings have been appended to the existing privacy settings for your WhatsApp account. To change who can add you to a new group conversation, follow the steps underneath:
1. Go to the Settings in WhatsApp and navigate to the "Account > Privacy" option.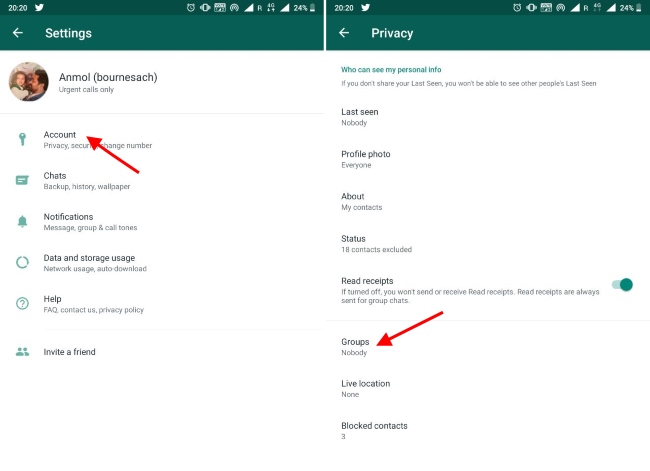 2. Here you will see a new 'Groups' settings, under which you'll find three very familiar options. While "Everyone" will allow any and all users (even people who are not in your contacts) to add you to groups, "My Contacts" is pretty self-explanatory and "Nobody" means literally no admin will be able to add you to any group.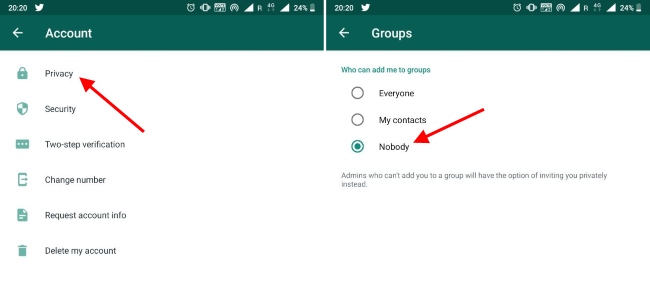 Now you must be thinking, well, if I choose the Nobody option here then will I never be added to any group conversations. No, you won't be randomly added to any groups and that's awesome. No more family or random hoax news distribution groups FTW. You will now have the option to pick what groups you want to be a part of. Yes, it's going to be a selective process.
When you choose the 'Nobody' option in the group privacy setting, the admins who are trying to add you to a group will see an error message. It will read 'Couldn't add [XYZ] contact. You can invite them privately to join this group.' Here, if the admin wants you to be present in a group, they can tap on 'Invite to Group' button. You will receive a message with the invite (as seen below) which you can tap to accept the request. Isn't it just great?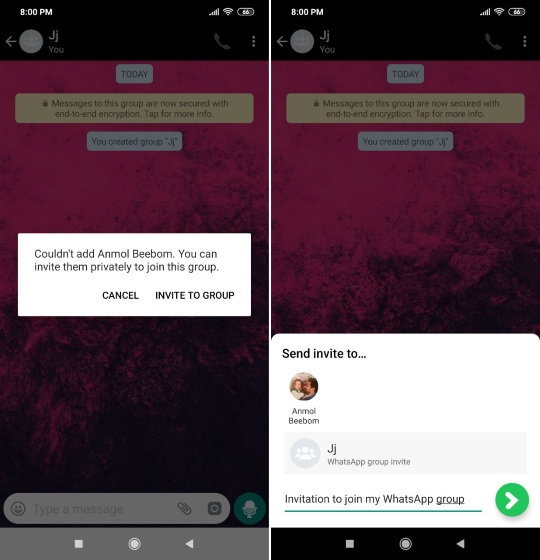 This sounds like a pretty useful feature and would save you a lot of troubles as you will have the option to accept group invites instead of shamelessly exiting from ones you've been added to without your consent. Well, it seems like WhatsApp did hear the Indian government's request for introducing a feature to require user consent when creating a group. This will help further curb the spread of fake news and misleading stories to the majority of WhatsApp users.