For those of you who maintain several WhatsApp accounts, there is some good news on the horizon! It seems like WhatsApp will finally let you access all of your different accounts with ease using a single device. Continue reading to know more.
WhatApp Account Switching Coming Soon!
As per a WABetaInfo report, WhatsApp will very soon let you switch different accounts on Android. This new addition is part of the latest WhatsApp Beta for Android version 2.23.13.5.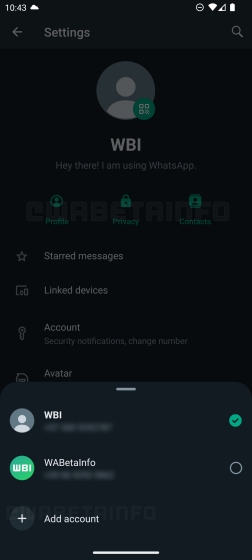 The above screenshot is representative of the upcoming multi-account feature. As you can see, the messaging giant has implemented a new bottom menu, that will allow you to add new accounts and switch between them with ease. First and foremost, you will need to log in to your other WhatsApp account via the 'Add account' option in your primary Whatsapp account. Once you are logged in, you can seamlessly switch between the two accounts.
However, do remember that once you are logged into your account, you stay that way. Switching between two different accounts will not log you out of the other. Additionally, it is not important that both accounts are of the same nature. You can add a Business account to your personal account and vice versa.
This is a useful addition for many users who are looking to keep their personal and work conversations bifurcated. This means that you will be able to maintain individual account privacy, notifications, and conversations while still maintaining access to all of them at once. As of now, the multi-account login feature for Android is still in development and will be available to beta testers in the future. Although spotted for WhatsApp Business accounts first, it won't be a business-exclusive feature.
Apart from this, as part of a minor update, WhatsApp on Windows is getting a new Call back feature for missed calls. This was spotted by WABetaInfo as well. The update is part of the latest WhatsApp Beta for Windows version 2.2323.1.0. The key objective of this update is to make missed calls more noticeable to users on the web.
The new "Call back" option will be available within the highlighted event message once you miss a call. This will show up when you open the chat of the person. You can click on it to directly place a call. You can check out the screenshot below for a better idea.
There's no word on when the aforementioned features will roll out to everyone but something official could be announced soon. So, stay tuned for further updates, and do make sure to comment down your thoughts on this below.