Meta has been updating the WhatsApp Business app with some pretty nifty features. Just recently, the platform got the ability to provide a "click-to-message ads" option with preset options for customers. Now, in its consistent endeavor to bring new features to Whatsapp Business, we have a few updates that will smoothen the operation of business owners. Keep reading below to know more.
New WhatsApp Business Tools Announced!
WhatsApp has published an official blog post outlining the features. The first update is in the form of WhatsApp Ads. You can now "create, purchase, and publish" Facebook and Instagram Ads, directly from the WhatsApp Business app. This means that going forward, you are not required to have a Facebook account anymore to create ads. This means that to get started, all you will need is a verifiable email id and payment method.
Simply design your ad, add your preferred payment method, complete your transaction, and that's it! Once done, your customers will be able to view your ad and click on it to interact with it. When clicked, it will open a chat-like window allowing your customers to view the ad, ask questions about it, and make purchases then and there.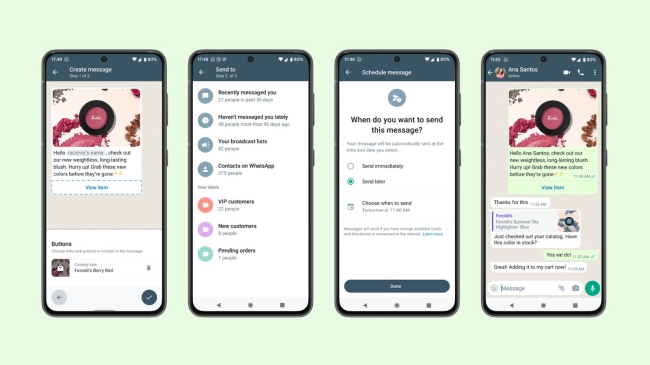 The next update appears in the form of Customer Reach for WhatsApp Business account holders. To help you establish quick connections with your customers and scale your business with ease, WhatsApp Business will soon let you send personalized messages to your prospective clients. This will add a personal touch to your messages ensuring higher conversion rates. So let's say you have created an ad for one of your products. Now, when it's time for you to share that information with your client, Whatsapp will attach an auto-generated template where you can write the name of the client before sending out the message. This is for when you are reaching out to a specific client.
Other than that, you can create custom greetings based on different categories like VIP customers, New customers, Pending customers, Broadcast channels, recently interacted customers, and dormant customers. You will be even able to schedule your messages with two preset options and a custom time selector.
So what do you think of these new WhatsApp features? Are you excited to try them out? If you are a Business owner how will this benefit you? If you are a customer how will it smoothen your purchases via WhatsApp? Don't forget to comment down your thoughts below.