I don't know about you guys but my iPhone is the most personal device that I own. I mean, everything important whether it be photos, passwords, documents or more is saved on my iPhone. Losing this data is something that I cannot afford. If you are like me, you know that even thinking of losing the data that is saved on your iPhone will send a chill down your spine. However, no matter how careful we are about our data protection or backups that we have created of our data, sometimes, the system just fails and we are left in dismay as all our data is lost.
It's in these unforeseen circumstances that we need the help of a good data recovery software which can help us recover the lost data and bring everything back to normal. While there are hundreds of data recovery apps that claim to do that, in my experience, 99% of them are garbage and do nothing. That's why, I was so happy when I was introduced to Tenorshare Ultdata, as it does everything that you would need from data recovery software. In this article, we are going to take a brief look at the same as I will show you its key features and explain why it's one of the best data recovery tools for your iPhone:
Key Features
As I said, let's first take a look at all the key features of Tenorshare Ultdata to see what it has to offer us:
Multiple Data Recovery Mode
One of the best features and probably the USP of Tenorshare UltData is that it supports recovery of not only the data that is saved locally on your iOS devices but also any and all data that is saved as iTunes or iCloud backup. This allows users to have complete control over the data that they want to recover. Do note that for recovering iTunes data backup, you should be using the same laptop which you use while creating the backup.

Supports All the Major File Types
One of the things that irk me about data recovery software is that most of them only support the basic file types which include images, music, and documents. While this is good enough for conducting a basic recovery of data, it's not good enough. Thankfully, Tenorshare UltData goes way beyond your basic data recovery and allows you to recover things such as contacts, SMS messages, iMessage, WhatsApp Messages, call history, Reminders, voice memos, voicemails, app-specific photos, videos, and documents, attachments, and more. UltData's support for these diverse file types makes this one of the most versatile data recovery software that you can get.
Recover Data Lost in Any Scenario
Another great feature of Tenorshare UltData is that it supports data recovery of lost data in almost any scenario that you can think of. The supported scenarios include recovery of data lost due to water damage, during upgrading or downgrading of iOS, factory reset, mistaken deletion, virus attack, locked/disabled, jailbreak, broken screen or dead display, and system crash or black screen of death among other things. No matter which of the above scenarios caused you to lose data on your iPhone, you will be able to recover it using UltData.

Preview of Data Before Recovery
This one is my favorite feature of Tenorshare UltData and it comes in very handy when you are recovering data from your iPhone. Basically, the preview feature allows you to see a preview of data that can be recovered using the software thereby allowing you to recover only the data that you want to. This will save you a ton of time and headache as you won't be recovering the data that you don't need.
Supports Multiple Platforms
Finally, the last key feature of Tenorshare UltData that I want to share with you guys is its cross-platform availability. UltData is available on all the major platforms, you can use UltData for Windows, UltData for Mac, UltData for Android, and UltData for iOS. This basically means that you can recover lost data on your iPhone and Android using either a Windows PC or Mac.
User Interface and Ease of Use
Now that we know about everything that UltData is offering to us, we will see how easy to hard does the software make it to recover your data. In my experience, the user interface of the software could not have been made any simpler. There are basically three steps that you need to go through to recover your data. The first is to connect your device to your Windows PC or Mac. The second is to select the recovery mode that you want to use and scan for lost data and the final step is to preview the data and recover the ones that you want to.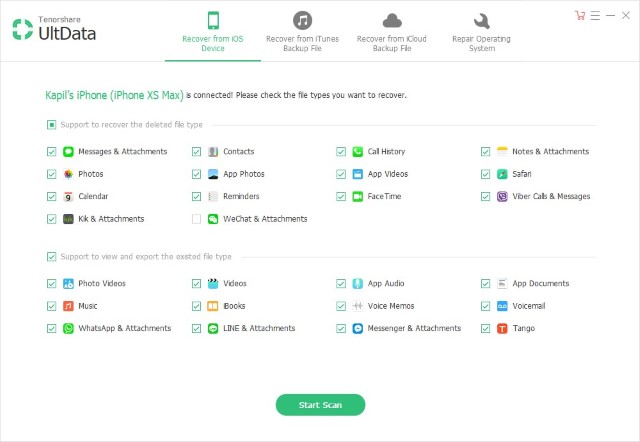 The user interface is excellent and you will find all the controls right where they are supposed to be. Everything is labeled so you don't have to spend time figuring out what a button does. Overall, I found the software to be pretty easy to use and I don't think anyone of you will have any problem in using Tenorshare UltData to recover your lost data.
Pricing and Availability
Tenorshare UltData is available to download and use right now. The software comes with a limited free trial which you can use to check out the software. That said, only the paid version will allow you to recover any lost data. There are various pricing plans depending on the duration of the software license and the number of devices that you want to use. For personal usage, the best plan is the Lifetime License which costs $59.95. The pricing also varies depending on your mobile and desktop operating system so it's better you click on the links below to check it out: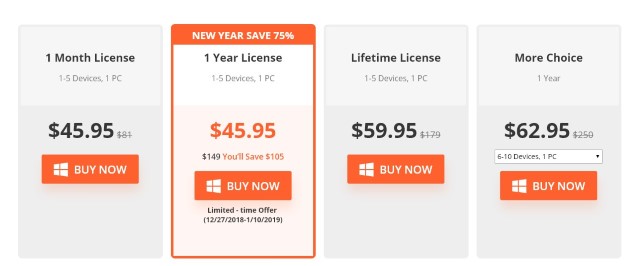 Pros:
Supports all the major file types
Supports all major data loss scenarios
Supports multiple platforms
Easy to use
Cons:
Free version doesn't allow recovery of any data
Multiple pricing plans make it harder to close the purchase
Get Back Your Lost Data Using Tenorshare UltData
If your data is important to you and you never want to be in a position to lose it, having a good data recovery app is very important. I trust UltData with all my data recovery needs and if you are looking for such a software, I can confidently say that it will be worth your time and money.
---
Load More