Due to obvious security reasons, your iPhone doesn't make it easy to let you extract the login ID and password information saved on the device. While it's great for thwarting any password theft attempts if you lose your device, it can be painful if you yourself want to access the old passwords that you don't remember. You see, most of us enter our passwords once on our iPhones and then forget them, that is until we need them again. And since iOS doesn't allow you to extract passwords from iPhone, it becomes exceptionally hard to access the same services on other devices. Well, today I am going to share a software with you which can potentially solve this problem. The software that I am talking about is called Tenorshare 4MeKey and it can help you find and recover passwords saved on your iPhone. So, if you are interested, let's check out the software, shall we?
Key Features
Tenorshare 4MeKey can help you recover many different types of passwords, that too, without jail-breaking your iPhone, which makes it an awesome software. Let's see what features this has to offer us:
Recover Saved WiFi Passwords
I do understand that iOS doesn't let me access login ID and password for different websites and services for security reasons. That said, I really can't understand why it cannot let me access WiFi passwords of the networks that I have already connected to in the past. Thankfully, Tenorshare 4MeKey can help you find saved WiFi passwords on your iPhone with just a click of the button.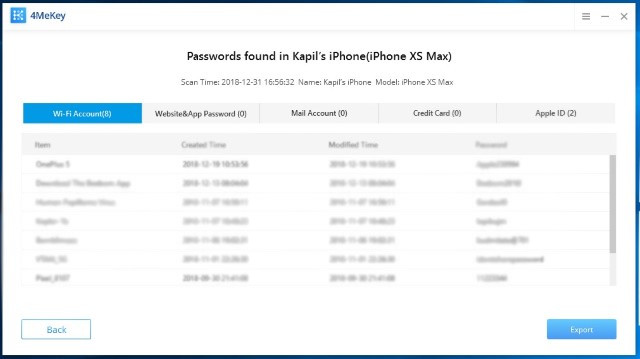 Recover Stored Website & App Login Passwords
If you don't have forgotten website or app passwords which you have installed on your iPhone there is only one thing that you can do which is to recover the accounts using password recovery. That is a painful and arduous process that no one wants to go through. Well, with Tenorshare 4MeKey you don't have to do that as you can easily recover all your saved passwords and export them in an easy to read format.
Manage Email and iCloud Passwords Along with Credit Card Data
Another useful feature of Tenorshare 4MeKey is that it allows users to also manage their email and iCloud passwords saved on their device. Whether you are using a single, or multiple email accounts on your iPhone, your login information can be extracted using this software. Not only that, if you have added any credit cards for payments on your iPhone, it's data can also be safely extracted.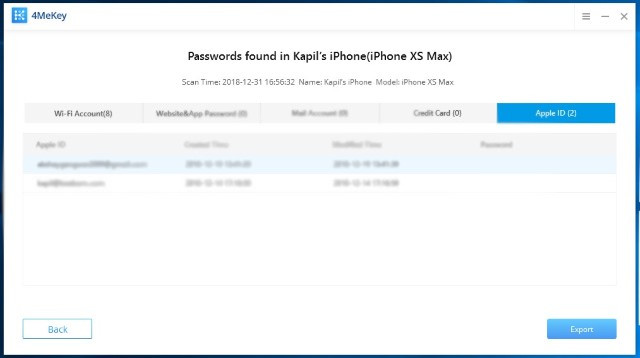 Transfer Passwords to Password Managers
I always recommend to users that they use a good password manager for managing their passwords as it will not only enhance their online security but also make it easy to access all the passwords and secure notes anywhere in the world using any device. If you are planning to use a password manager in near future, then this feature of Tenorshare 4MeKey will come in really handy to you. Basically, once you have extracted all your passwords, the software allows you to export them in a format which all the password managers can understand and import. Thus, allowing you to easily transfer all your login information to your choice of password manager with one click.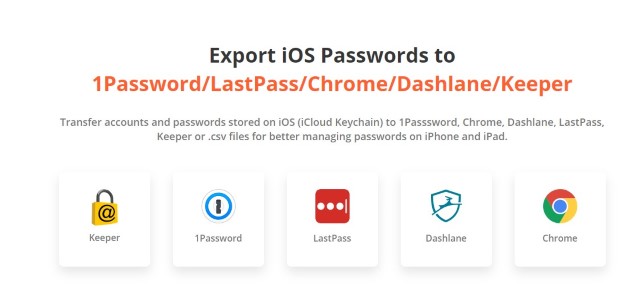 User Interface and Ease of Use
The software sports a pretty basic user interface and is extremely easy to use. You just launch the app and then connect your iPhone. The next step is to click on the scan button and it will automatically scan and log all the passwords that are saved on your iPhone. Once it's done scanning your iPhone, it will automatically present you with a list of passwords which are divided into different groups, mainly WiFi, app & website, mail account, credit card, and Apple ID.
If you notice, there's an export button at the bottom right which will help you export the data which can be imported into any third-party password manager. I mean, password recovery doesn't get any easier than this.
Availability and Pricing
Tenorshare 4MeKey is available to download and use from their website. The software is available for both Windows and Mac operating system so no matter which OS you are using, you will be able to connect your iPhone and recover all the passwords and login information. There's a limited free trial which you can use to check the app out before purchasing it, however, only the paid version of the app will let you recover your passwords. As far as pricing is concerned, it starts at around $25.95 for Mac and $15.95 for Windows operating system. That said the pricing varies depending on licensing duration and number of registered devices so I would suggest that you click on the link below to check the pricing details yourself.

Pros:
Recovers all the WiFi passwords
Recovers all your app and website login and passwords
Recovers mail and iCloud passwords
Exports password to password managers
Cons:
Pricing plans could be made simpler
Recover Passwords on Your iPhone with One Click
Before I used Tenorshare 4MeKey, I really wasn't expecting a software which will be this easy to use. I mean, you literally have to click ones to recover all the saved passwords and then you can deal with them however you want to. If you are someone who is in need of a password recovery app, this is the one of the best if not the best on the market right now.
Buy Tenorshare 4MeKey here