COVID-19 has changed the way we think about our daily work life. Suddenly, people are forced to self-quarantine and can't go to work. Companies are realizing that not all workers need to come to the office daily, and many of their employees can work from home as effectively as they could from the office. And I am quite sure that even after COVID-19 blows over, remote work will remain a norm. That being said, working from home has its fair share of challenges, and if people don't adapt to a smart working methodology, they will find it hard to succeed. Thankfully, companies like Nanosystems who provide smart and effective remote working solutions are here to help you out. In this article, I am going to take a quick look at Nanosystems' remote working solution Supremo and tell you how it can enhance and elevate your work.
What is Supremo?
You must have heard about Remote Desktop software like TeamViewer. You might even have tried using them but they didn't stick. TeamViewer and other such remote desktop software are both complex and costly. And now that you have to work from home, you don't know what to do. Well, that's the reason we are discussing Supremo. Supremo is a Remote Desktop software that allows you to take control of your remote working lifestyle with its teleworking features.
Using Supremo you can easily access any remote desktop and keep working from anywhere. Not only Supremo is easy to set-up but it also brings a stable and secure connection, enhanced features, and supports all major operating systems including Windows, macOS, Linux, Android, and iOS. In the sections below, we are going to look at its core features to see what it brings to the table and how it can improve your remote working environment.
Key Features
1. Plug & Play Remote Access
One of the best features of Supremo is how easy it is to download the software and get it running. The main problem with most Remote Desktop software is that you have to spend a considerable amount of time configuring the software before you can start using it. Supremo negates that problem by bringing plug & play remote access. Users don't need to configure their routers or firewall to remote into a computer. You don't even need to install the software. Just download it on your device and launch it.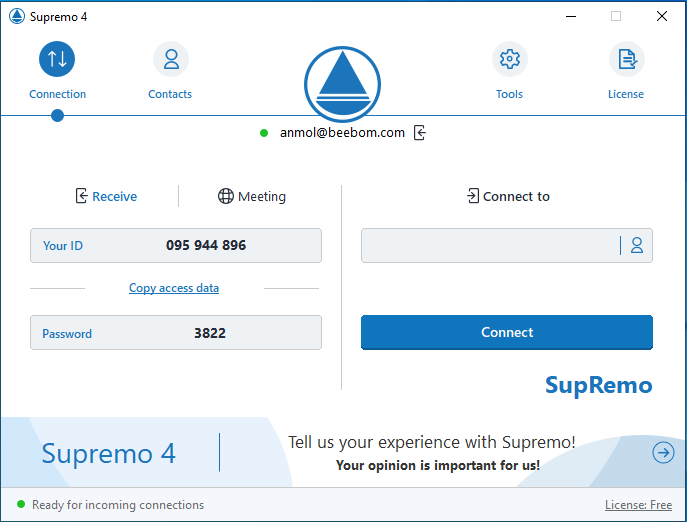 2. Unattended Access
Another great feature of Supremo is the ability to remotely access any device without needing a person in front of the screen. This gives you the flexibility to connect to a remote desktop anytime you want. For example, once you set-up Supremo as a Windows service on your office desktop, you will be able to access it from anywhere without needing anyone from the office to authorize the access. You can remote in anytime you want and get the work done.
3. "Allowed IDs" Feature
The unattended feature that we just discussed might make you think that Supremo is not secure as it doesn't require anyone to authorize remote access. Well, thanks to Supremo's "Allowed IDs" feature, no-one will be able to access your computer. The feature allows you to set specific devices that you consider safe. And you will be able to remote into your desktop only if you are using allowed devices. This means, there's no chance that anyone can remote into your desktop without permission.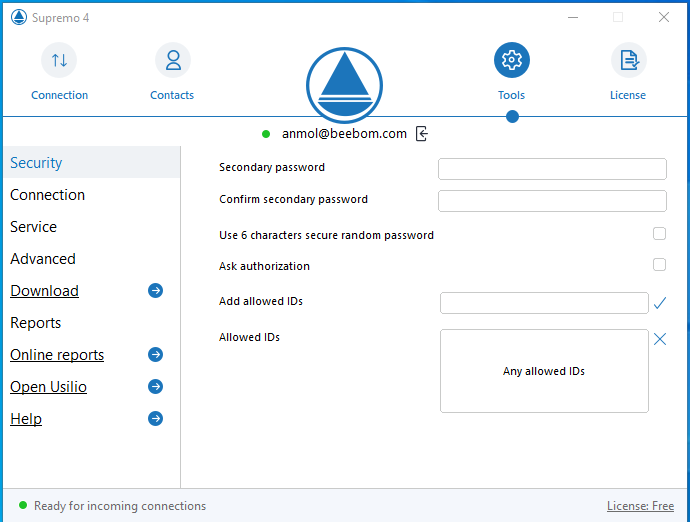 4. Easily Transfer Files
Once you start working from home, you might realize that you forgot to transfer some important documents from your work computer and now you need them. Well, thanks to Supremo's easy file transfer system, you can copy that file to your home computer and start working. Supremo also supports drag-and-drop gestures so you can easily manage files between devices. And since the data transfer is always encrypted, no unauthorized personnel can access your data.
5. Online Address Book and Contact Sharing
Sometimes you need to collaborate on projects with multiple team-members and it can be a challenge when you are working from home. Supremo brings a nifty solution to this problem. Thanks to its online address book and contact sharing feature, you can easily collaborate with other users. The online address book lets you instantly view if a contact is online or offline, and you can connect with them with just a few clicks. You can even share contacts with your colleagues and collaborate with them.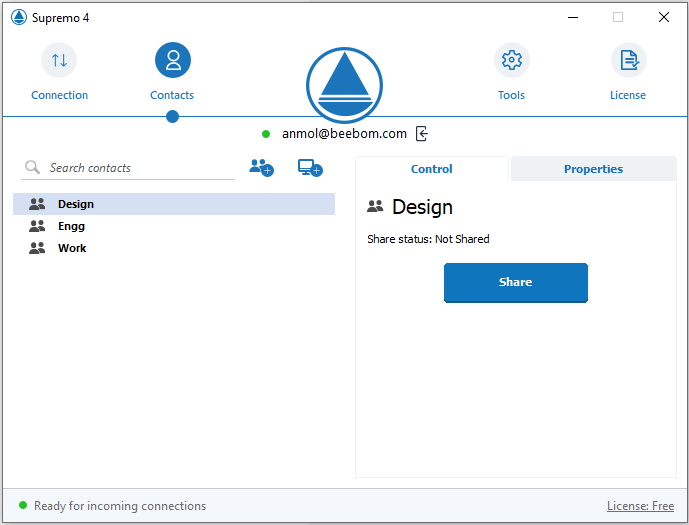 6. Online Report
If you want to have a successful work from home experience, you need a way to monitor connections and determine the productivity of your team. Using Supremo's online reports you can easily collect, view, filter, and export reports related to outgoing connections. You can also monitor connections made during the working days by all the connected accounts. This will not only help you determine your team's productivity but also help during invoice and billing.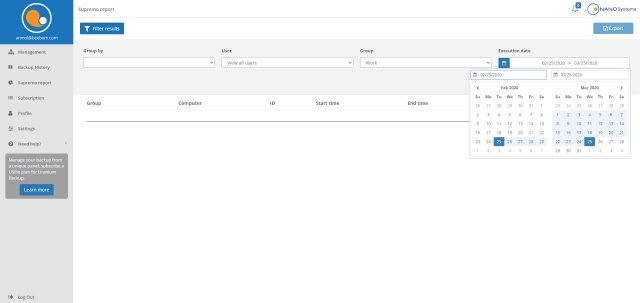 7. Interface Customization
If you are working in remote support, you don't want a Remote Desktop service provider's logo showing up on the clients' screen. That is not good for branding. Supremo allows you to customize the interface of its software by allowing you to use your company's logo, information, and references. This is an excellent feature and ensures that your branding is always on point.
User Interface and Ease of Use
As I mentioned, Supremo is one of the easiest Remote Desktop software to get used to. It's easy to install process and plug & play approach allows you to start working remotely within minutes. Also, the unattended connections feature is a boon for anyone who needs to constantly access work or home machines. The connection is secure and stable and you never feel any discomfort. Also, the easy to use drag-and-drop file management features ensure that you can always access that important file. Overall, I would say that Supremo has done a good job with its design and made the software accessible to everybody.
Pricing and Availability
Supremo is free for individual users who are using it for personal use. It also offers a comprehensive 21 day free trial for anyone who wants to test the software. For companies and freelancers working remotely, it is the most affordable remote desktop access software, thanks to its competitive price starting from $6/month/user. You can reduce this cost even further by getting the quarterly or annual plans.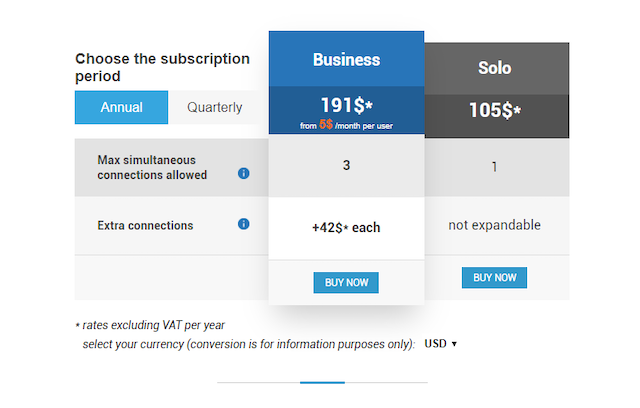 When it comes to platform support, Supremo doesn't disappoint. It's a cross-platform software for Windows, macOS, Linux, Android, and iOS. You can connect from a PC, smartphone, or tablet from anywhere. So, no matter what operating system you and your colleagues are using, you will be able to work and collaborate using Supremo.
Forget Expensive and Complex Remote Desktop Software: Use Supremo to Work Smartly from Home
Supremo is one of the best Remote Desktop software on the market. The two main USPs of Supremo, in my opinion, is its plug & play approach and affordable pricing. Both these features ensure that Supremo is accessible to more users than any other Remote Desktop software. So, if you working remotely and don't know what to, check out Supremo and see for yourself if it can help you and your team or not.
---
Load More