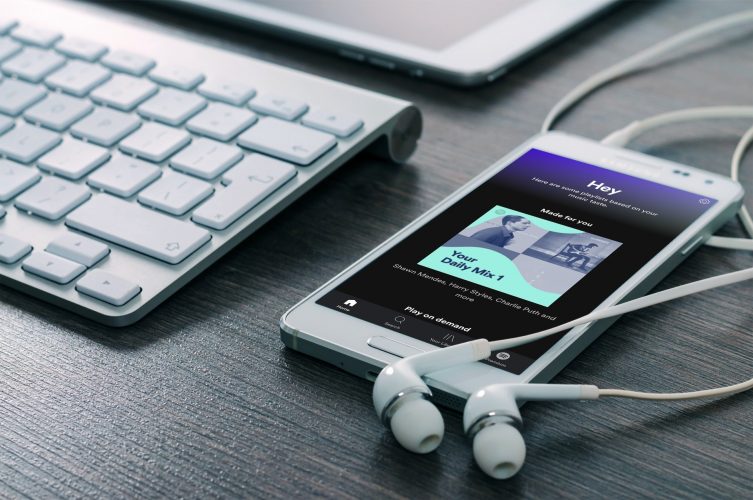 Spotify is all set to unveil a redesigned version of its app on April 24, but some users have already got an idea of what might be in store.
As we know Spotify plans to revamp its 'free tier' to offer non-paying users a more welcoming experience. And The Verge now reports that the updated UI is already rolling out to some Android and iOS devices. While Spotify has not confirmed the update, the redesign and new features sure fall in line with the company's reported plans for the app.
With the redesign Spotify has changed the number of tabs on the bottom to four. You get Home, Search, Library and Premium, with Browse and Radio dropped as compared to the current version.
Note: As Spotify is not available in India, we sideloaded the latest Spotify app (version 8.4.50.634) on the Nokia 7 plus running Android 8.1 Oreo.
Play on Demand
Free Spotify users no longer get a cluttered home view, instead Spotify will now offer them 'Play on demand' playlists curated to their liking.
The Search page has also received a major facelift, like the rest of the app, with coloured rounded boxes under the search bar, to aid in discovery.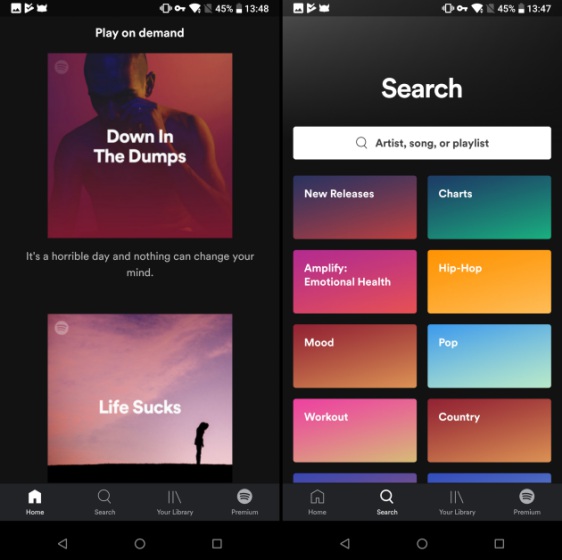 Listen in Shuffle
The ad-supported free version of Spotify without a subscription, you'd know that the streaming giant does not allow you to skip through music tracks at your will. You could only listen to the songs in pre-curated playlists in a random order. However, the new free tier would get a 'listen in shuffle' feature that'll allow you to jump through playlists of an artist or genre.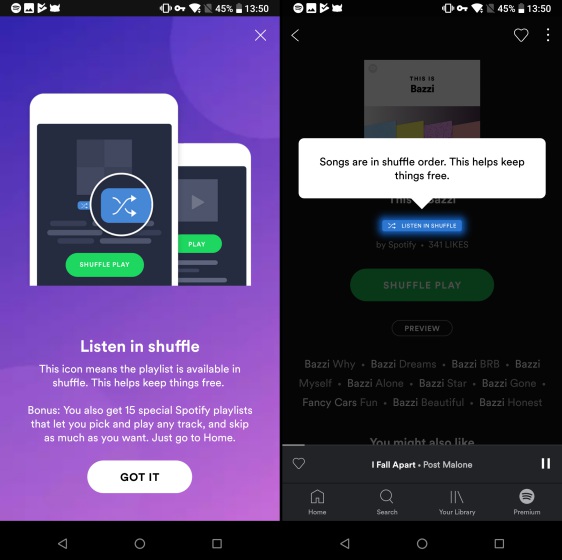 Special Spotify Playlists
As you can see in the screenshot attached above, Spotify will soon offer free users access to 15 curated playlists based on their musical tastes. They'll be able to 'pick and play' any track and skip to new tracks in these playlists.
As The Verge's Dani Deahl says,
These UI changes, which include the option to play songs on demand in select playlists, would make the free tier act more like a Premium account.
And this is obviously great for users who want to enjoy new music but can't afford to shell out money for a hefty monthly subscription. The latest redesign makes it easier to search for music, enjoy playlists and opt for a premium subscription if you like what you see.
While Spotify is sure to unveil this new design on stage, there are also rumors that it will bring voice control to its mobile app with this update, as well as a rumored Spotify speaker.
---