Spotify has long been rumored to be working on developing in-house hardware to complement its music streaming service. After all, Apple did launch the HomePod a while back, and that's little more than a complementary speaker for Apple Music.
While previously Spotify's plans for a brand new hardware launch were hinted at only due to the company hiring people in hardware positions, we now have new reason to believe that the company may be launching a hardware product after all.
Spotify has a launch event lined up for April 24 in New York City, which leads one to wonder what the company might be looking to launch there. Surely a hardware launch may be on the cards?
Then there's evidence that the company is working on an in-car controller for Spotify, so users can control their Spotify playlists and music using their voice. Back in February, a number of Spotify customers were sent an email regarding a product that they can get as part of a monthly Spotify subscription of $12.99 with a 12-month commitment. The device looked like an in-car controller for Spotify.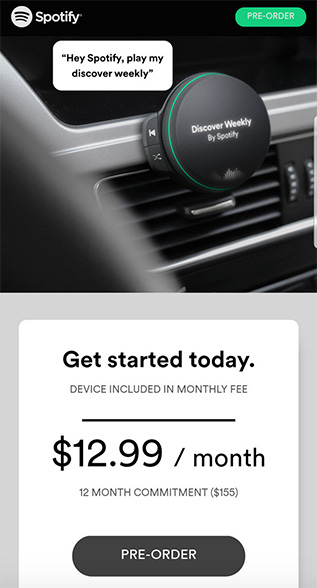 Other users shared similar screenshots, albeit claiming that Spotify showed them a monthly subscription of $14.99.
According to the screenshots, the device would be circular in shape, with buttons to control 'Shuffle' and 'Loop' in the app. The device is also seen sporting an LED light along the edges in Spotify's signature green color.