[UPDATE]
Moments ago, the app went live on the Play Store and the iOS App Store. Here are the links: Android, iOS
Note: Purchasing Spotify Premium is not yet available in the iOS app for some reason.
[Original content follows]
We've been hearing reports about Spotify's impending India launch for months now. And now, when news of Spotify taking a highly aggressive stance against Warner Music have cropped up just yesterday, we have got our hands on the India pricing.
Yes, this is an exciting moment for melophiles who had been waiting on the India pricing for the biggest music streaming service. We've stumbled upon the pricing while trying to create a new Spotify account, where you can now choose your country to be India.
The Premium subscription prices for India will then be displayed when you pick the free 30-day trial option. I can't be more excited to tell you that Spotify Premium in India would supposedly starts at just Rs 129 per month (and only Rs 119/ month for the first month when you're picking the free trial).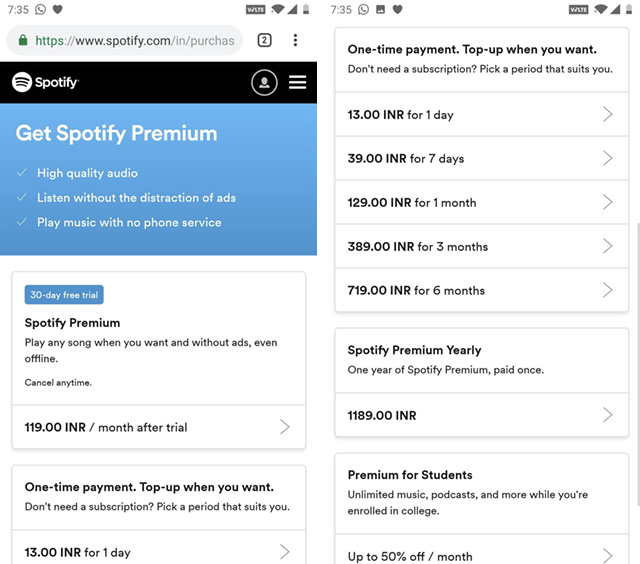 In addition to the monthly subscription plans, Spotify is looking to attract Indian masses simply by giving them the option to try out their Premium service for as low as Rs 13 per day. Yes, you could pick up a daily, weekly and fortnightly subscription for the streaming service.
And if you're extremely committed to Spotify, there are six-month and yearly Premium subscription plans available for Rs and Rs 1189 (Rs 99/month) respectively. I know which subscription pack I'm gonna pick.
As for the payment options, you can see in the screenshots attached below that you can either use your debit/credit card to pick the Premium subscription but Spotify has added Paytm and UPI payment methods to the mix for added convenience.
What's even better, especially for people direly waiting for Spotify for launching in India, you can pick a subscription right away. This looks to be a glitch on the streaming giant's end but Akshay was able to pick the Rs 13 daily subscription with ease, completing the payment through Paytm.
The Spotify Premium subscription plans for India going live only further adds fuel to the fact the streaming giant could finally land in the country really soon. Fingers crossed, I hope it's tomorrow or today itself. It will be the biggest surprise for us.
How do you like the India pricing for Spotify Premium? Should Apple Music and popular local music streaming be worried? Let us know your opinions in the comments below.