Making a video collage with music does not have to be hard and should not require you to spend hundreds of dollars on a complex software. And yet most of the video collage maker for PC on the internet command a very high price and still offer a complex UI. Personally, I don't want to spend hours for creating a simple video collage that I want to share with my friends and family. That's why I was happy when I discovered the SmartShow 3D which allows me to easily create video collages on computer. It is a simple yet powerful tool and is one of the best video collage makers on the market right now. Today, we are going to take a look at all its features to see if SmartSHOW 3D is for you or not.
What Makes SmartSHOW 3D Stand Out?
There are two main things that make a video collage maker with music good for users. Firstly, it should bring ample features to make video collages which look unique and beautiful. And secondly, all those features should be easy to use so that they don't require me to invest countless hours in learning the app. We will first start with the key features and then go the UI section to see how hard or easy it is to use.
Key Features
1. Make Collages with Animated Photos
SmartShow 3D comes with animation tools which not only allows you to animate still photos with different effects but even allows you to work with animated photos themselves. While most of the video collage maker apps don't support animated photos SmartSHOW 3D can handle them pretty easily. So, next time you want to integrate your favorite GIFs in a video collage with music, you can do that with SmartSHOW 3D. As you can see in the picture below, I am using two GIFs to create a video collage and it's working perfectly.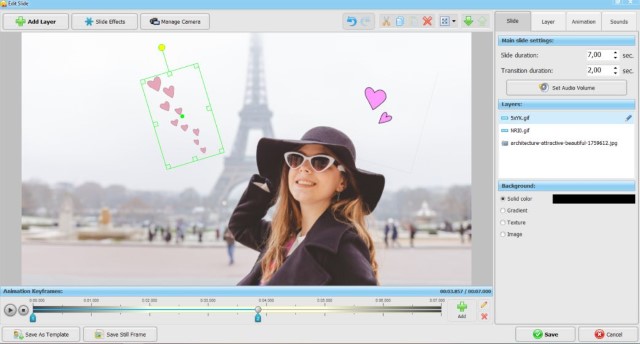 2. Make Collages from Photos and Videos
Apart from supporting both stills and animated photos, SmartSHOW 3D also allows users to use videos. Using videos is as easy as it is to use photos when making a video collage. Just click on the "Photos and Videos" tab and browse to the files you want to use. Drag and drop those files to the timeline and add any animation effects that you want to use. It's pretty simple and can give a new life to your collage making history.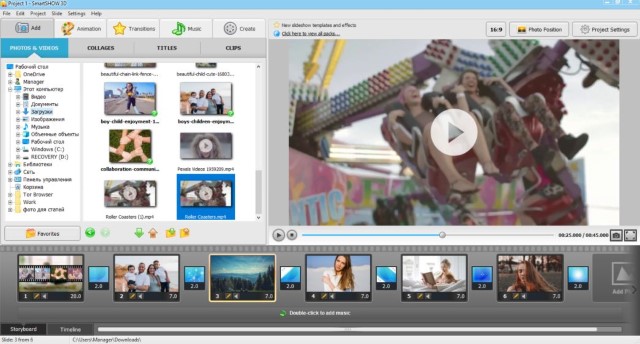 3. Make Photo Collages with a Video in the Background
One of the biggest benefits of having video support is that SmartSHOW 3D allows users to use video as a background. That means, instead of having a plain and boring background for your video collage, you can actually use a video which will add new dimensions to your collage. For example, you can add a travel video in the background with your photo collage on top to give your collage more depth. Just let your imagination fly and create video collages which will awe people.
4. Make a Picture-in-Picture Video
SmartSHOW 3D also allows users to create a picture-in-picture video collage where you can have a video playing in the background while there's a video on top of it in PIP mode. This is great if you ever want to add a commentary to your video. I personally find this feature really helpful when creating travel blogs for my family. I can just have the travel video playing in the background while explaining everything to viewers using a PIP window on top.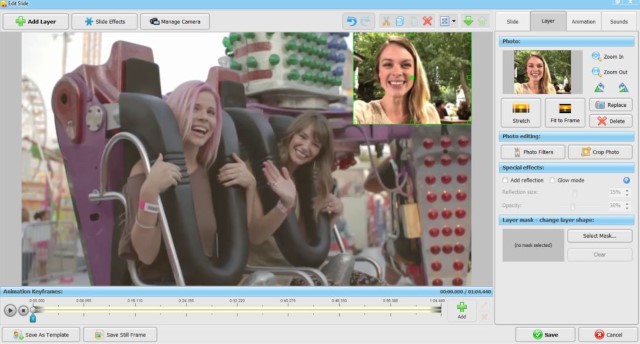 5. Make Photo Collages with Special Effects
If you really want to awe people with your video collage making skills, how about using special effects which can add extra pizzazz to your collages. You can access the effects by clicking on the "Animation" panel. Here, you can add motion effects, 3D effects, nature effects, and more complex effects such as fire, snow, bubbles, and more.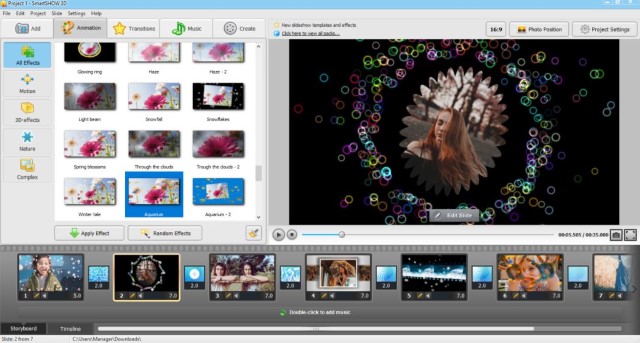 How to Make a Video Collage with Ease
After using the SmartSHOW 3D for a couple of days I can certainly say that the software is pretty easy to use. When you first launch the app you will get an option to either create a slideshow in 5 minutes or start a new project. The "Create a Slideshow in 5 Minutes" option is great for people who want to quickly create video collages with music. It comes with various templates where the only thing you need to do is import images and you are done. That's a great feature – no need to waste time thinking about how to make a video collage.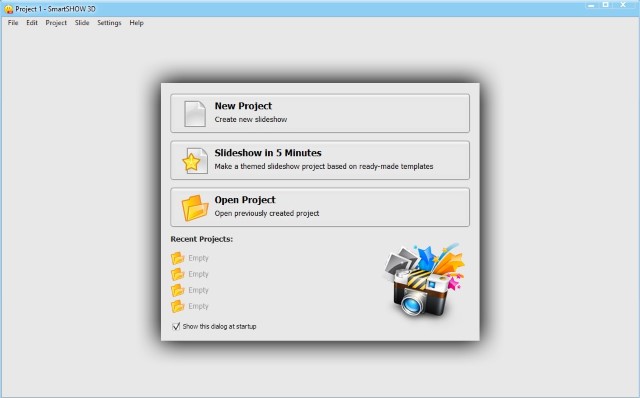 If you want more control over your video collage you should use the "New Project" option. The UI here is pretty simple and if you have ever used any editing program, you will feel right at home. The top-left quarter is for accessing files, the top-right for seeing a preview of video collage, while the bottom half is the timeline/storyboard, where you can rearrange your clips. Overall, SmartSHOW 3D is pretty easy to use.
Pricing and Availability
SmartSHOW 3D is available for Windows and is compatible with all the popular versions including Windows 10, Windows 8, Windows 8.1, Windows 7, Windows Vista, and Windows XP. You can download it right now from SmartSHOW 3D's website. There is a free version with limited features. You can unlock full features for $85. However, if you buy it right now with our link, you can get it for just $42.50.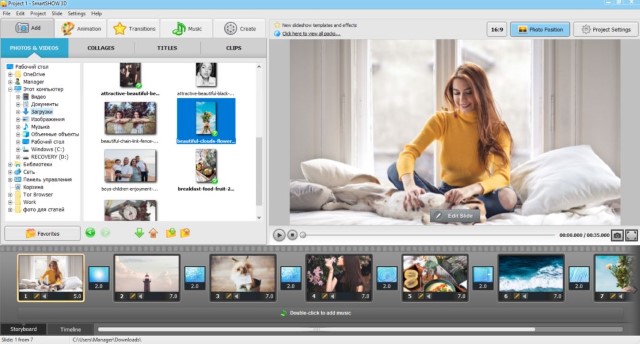 Checkout SmartSHOW 3D and Create Awesome Video Collages
As I mentioned in the intro, creating cool looking video collages shouldn't have to be hard and a costly affair. With SmartSHOW 3D, you can create beautiful collages easily and you don't even have to pay much. Overall, this is one of the best if not the best easy-to-use video collage maker on the market and you should definitely check it out.
---
Load More