Microsoft's Skype has been the go-to voice and video conferencing platform for personal use and businesses worldwide for quite a while. The platform offers users a wide selection of features, including VoIP, video calls, conference calls, group video calls, and screen sharing, however, there are quite a few alternatives that do all of that and bring even more to the table. So, if you've been on the lookout for the best Skype alternatives, here are a few options that you can choose from:
Skype Alternatives for Group Video Calls
1. Hangouts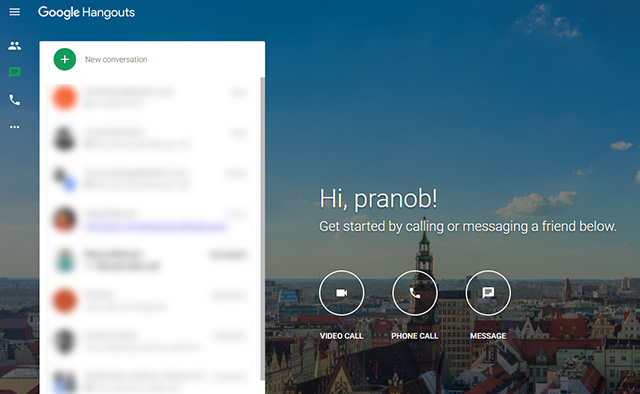 Even though Google has confirmed that it will eventually shut down Google Hangouts for consumers, it still remains one of the best Skype alternatives for businesses. With Hangouts, you can connect with others via text, video or voice chat and the service even allows users to conduct conference voice/video calls for up to 10 members at the same time.
What makes Hangouts a good alternative to Skype is that it doesn't require users to download a separate client, allowing users to make use of all of its features right from a browser window. While most of its features are free to use, calling to a mobile number or landline outside of US and Canada is chargeable.
The service is a great solution for businesses as Google bundles it with its GSuite offering. It's also safe to say that Hangouts for businesses is going to be around even after Google finally decides to kill it for regular consumers.
2. VSee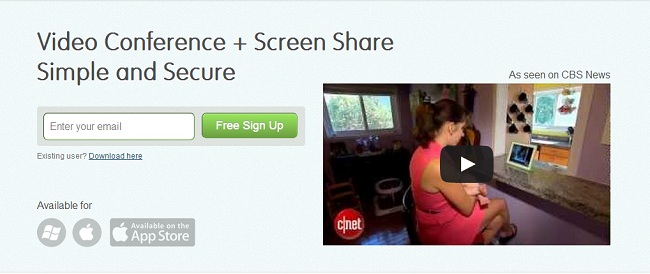 VSee lets you do unlimited group video calls for free. VSee started as a Tele-health app for providing medical consultation over Internet to the people residing in remote areas, but it isn't limited to that only, you can also use it for your own purpose.
VSee uses 50% less bandwidth than Skype, offers easy file sharing and 720P HD video calling. VSee's free plan lets you do the following things,
Unlimited group video
Instant messaging
File send
1 screen share per day
For uplifting the screen share limit, you will have to sign up for the paid plan, starting from 49 USD a month.
3. UberConference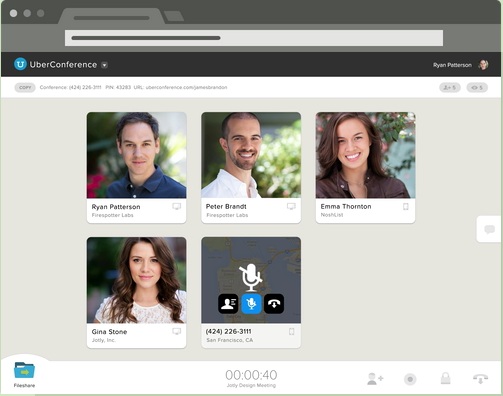 UberConference isn't a video conferencing service but when it comes to audio conferencing, it is the most widely used and most trusted software. It has both free and paid plans, let's find out what this tools has to offer in free plan:
You can do unlimited conferences with up to 10 callers, (up to 100 callers in paid plan)
Unlike all other conferences, here No PIN is required for the Organizer, (No PIN at all for everyone in the paid plan)
HD Quality Audio and you can record or lock (for security) the call as well
Integration with LinkedIn, Facebook, and Google+ Profiles
UberConference paid plan starts from 15 USD per user per month.
4. GoToMeeting

GoToMeeting is another great Skype alternative that you can try. The platform includes both paid and free variants, with the free variant offering unlimited meetings for up to 3 participants, including features like screen sharing. For the paid version, you can sign up for a 14-day free trial plan and if you like it, you can continue with paid plans that start at 19 USD a month. Let's find out the prominent features of this tool:
Up to 250 members can join for a video conference and can have unlimited meetings
HD video and audio quality
Supports Mac, Windows PC, iOS  or Android devices
Offers single click screen sharing, keyboard or mouse control sharing, draw & highlight on screen and many more features
Just like GoToMeeting is for holding video conferencing, GoToWebinar is for conducting webinars and GoToTraining is for holding training sessions online. You can find out more details about them by following these links: webinar/training.
5. Webex

Webex is a widely used and trusted tool for holding online meetings. This is another paid Skype alternative, but you can try it out for free for 14 days, no credit card required. The plans start from 24 USD per host per month allows up to 8 members in the meeting. Let's find out the features of this tool:
HD 720P video and high quality audio
Easy screen sharing, apps and file sharing and switching between files
Highlight important parts of documents shared in the meeting, online whiteboard so that you can note down important points discussed in the meeting
And many more features
Skype Alternatives for Voice Calling or Video Calling
6. Viber
Viber started out as a mobile app (available on all the platforms) for communicating via text or voice call and now it is available on Windows PC and Mac too. With Viber you can make free voice calls as well as video calls all around the world, but for that you have to make sure that Viber is installed on both the devices.
You can also make a call from a device on which Viber is installed to any mobile or land-line number worldwide, at lower prices. And yes, Viber is completely ads free.
7. jitsi

With jitsi, you can send free text messages, make video calls and can even use it for video conferencing (with screen sharing feature). It is an open source software currently available on Windows, macOS, Linux, Android and iOS. Let's take a look at some of jitsi's features:
High quality low latency video calls
WebRTC support
Support for advanced video routing technologies like simulcast, bandwidth estimation, scalable video coding, etc
Ubuntu and Debian packages for easy installation
Cross platform support
For more details about the jitsi, follow this link.
8. FaceTime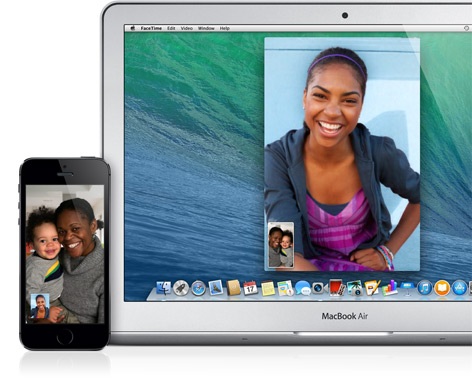 FaceTime is again an excellent alternative for Skype, but only for Mac and iOS users. With FaceTime, you can easily make High quality video calls for free. The app comes bundled with your macOS and iOS device, so you don't even have to depend on any third-party software.
But, as mentioned earlier, the app only works on macOS and iOS devices, and you won't be able to use it if you have a Windows, Linux or an Android device.
9. ICQ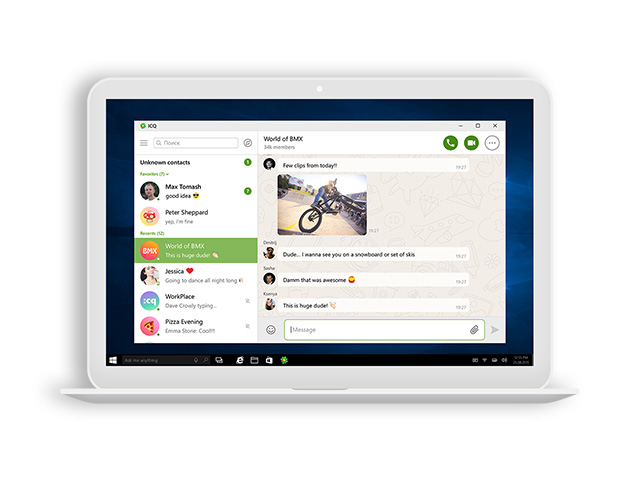 ICQ is also a great alternative for Skype users which includes almost all of the features you'd find in the latter. With ICQ, users will be able to make calls to landlines and mobile networks for a fee, send text messages and make group video calls. What's really great about ICQ is that it's available on a number of platforms, including Windows macOS, Linux, Android, and iOS, and it also offers cross platform support, so you can connect with people using different devices.
On top of that, video calls made using ICQ are encrypted which means that you can rest assured that whatever is said or done in a video call will only remain between the participants. ICQ is completely free to use and doesn't feature any ads.
10. TOX
If security and privacy is of top priority for you, you can also check out TOX – a secure Skype alternative that protects all communications made through the application with end-to-end encryption. The app uses peer-to-peer technology for data transfer, which means that there's no central server that has access to all your data.
Other than the normal functions you'd expect from a Skype alternative, including voice and video calls, instant messaging, and file sharing, TOX also features a desktop sharing option. While TOX is a great Skype alternative for video calls, it currently doesn't have a proper interface for video conferences which is a bummer, but you can use qTOX – a client based on TOX – for video conferencing. Being an open source software, TOX is completely free to use.
11. Wire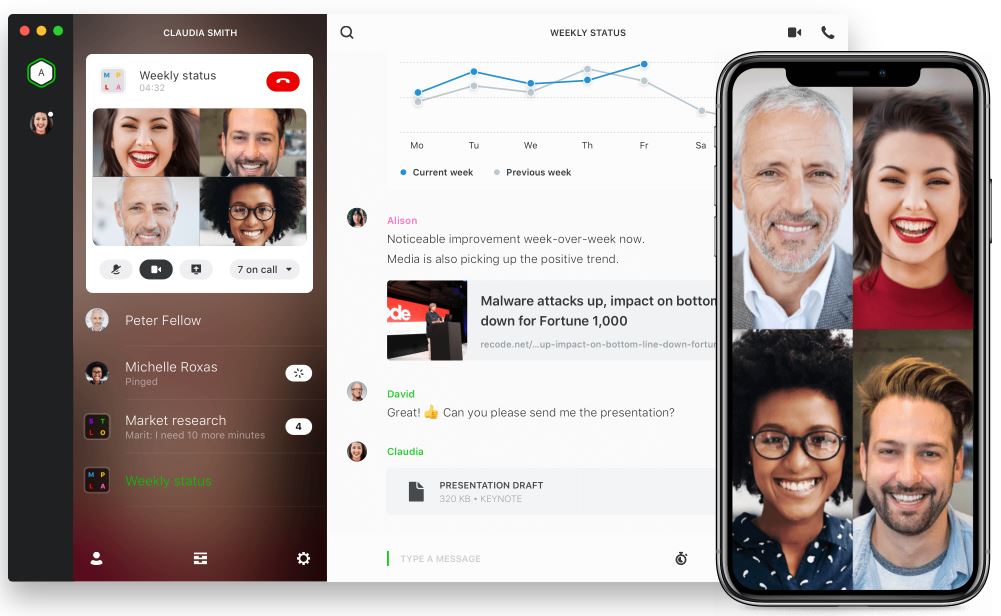 Wire is another great privacy focused Skype alternative that includes almost all the features you'd find on Skype. The application includes support for instant messaging, voice chat, video chat, and file sharing. In addition, Wire also allows users to share content directly from other platforms like YouTube, Vimeo, Soundcloud and Spotify with other Wire users.
On the downside, Wire only includes support for voice conferencing for up to five users and voice conferencing up to 4 users. When it comes to security, however, all conversations on Wire are protected by end-to-end encryption and all of the user data is stored on servers in EU which is known for its strict data protection regulations.
Wire is free for personal use, but free users are limited to messaging, voice calls and file sharing. The paid version of Wire for businesses starts at 4 EUR per user per month and unlocks all of the messengers premium features.
12. TinyChat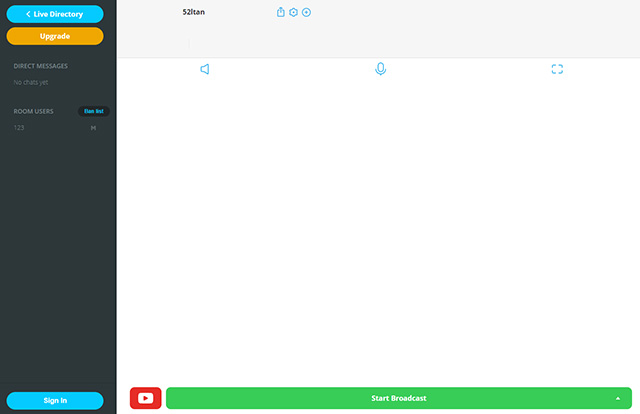 Rounding off the list is TinyChat, a web-based Skype alternative that allows users to host quick and easy video meetings without requiring them to download a separate client. Using TinyChat is quite easy, with the service requiring you to host a video call and share the call's URL with whoever you want to invite. You can also protect your chat rooms with a password, ensuring that no one else can enter the room even if they have the URL.
The application is also available on iOS and Android, and includes cross platform support, so you can easily connect with other users even if they're on mobile devices. Casual users can also use the service to join open chat rooms and connect with random people from around the world.
While the service is free to use in its basic form, paid subscriptions starting from 4.14 USD per month give access to high-quality full screen video chat, remove advertisements, and much more.
SEE ALSO: 10 Best Google Allo Alternatives
Try Out These Skype Alternatives Right Away
That sums up our list of the best Skype alternatives you can try. Each alternative has its own set of features that sets it apart from the others and depending on your particular use case, I'm sure you'll be able to find one from the list above that suits you best. In case you've already tried any of the aforementioned Skype alternatives, do share your experiences and let us know which one is your favorite in the comments section below.