The Sonos brand needs no introduction but for people unaware, Sonos is a company that has been building speakers for over a decade. However, it has gained a lot of popularity in recent years, thanks to its multi-room audio system, which lets you control the music of different speakers wirelessly through an app. Sonos offers three multi-room audio systems dubbed Sonos One, Sonos Play:1, and Play:5 along with home theater setups with its soundbar dubbed Playbar, music streaming system Connect and more. There was also a Sonos Play:3 system but that has been discontinued as of now. The Sonos multi-room audio system has gained a lot of traction, thanks to its excelling sound systems, support for almost all music streaming services (more than 60), easy setup and a great ecosystem.
However, not everyone can afford the Sonos speakers or setups, considering their high prices. Also, Sonos is no longer the only company that brings multi-room speaker experience as the advent of voice assistants like Alexa and Google Assistant and smart speakers have made multi-room audio more accessible to consumers. It means that you as a customer have a lot more control over the prices and the features that you want. So, if you are someone who is looking for Sonos alternatives here are the best Sonos One, Sonos Play:1, Sonos Play:3, and Sonos Play:5 alternatives that you can buy:
Sonos One and Sonos Play:1 Alternative
Sonos One and Play:1 are the cheapest multi-room audio speakers that you can get from Sonos. Here are the best alternatives that you can get:
1. Amazon Echo Plus (2nd Gen)
Amazon is the company which made the smart speakers popular and their latest premium speakers, the Amazon Echo Plus (2nd generation) goes head to head with Sonos One. The speaker comes with Alexa which is Amazon's voice assistant, allowing you to play music with just your voice. I love this feature as you don't need any other device to play music. Also, thanks to Alexa's integration with streaming services, you can use your favorite music streaming service including Spotify, Amazon, Pandora, iHeart Radio, Apple Music, and more to play music on the speakers. If you don't want to use your voice, you can cast music directly from your phone to the speaker system without any problem.
When it comes to multi-room audio, just like Sonos One and Sonos Play:1, you can pair multiple Amazon Echo speakers to get a multi-room audio experience. I also love the sound quality of Amazon Echo Plus as it provides a 360-degree surround sound experience which can easily fill your normal room. The speaker packs a 3″ neodymium woofer and 0.8″ tweeter which are perfectly tuned to give out the best possible audio experience.
Buy From Amazon: $149.99
2. Bose SoundTouch 10
Bose has always boasted of great speakers and its SoundTouch multi-room speaker line-up is no different. The SoundTouch 10 speaker competes with the Sonos Play:1 and Sonos One. It offers some unique features including Bluetooth support, a physical remote control, and the ability to set six different custom presets for buttons with the app. You can set these buttons to start a particular music offering or even radio stations so that you can quickly start listening to your favorite music. The Bose SoundTouch 10 also comes with Alexa support so you can connect it to an Alexa-enabled speaker (like the Echo, or the Echo Dot), and you can do all sort of things such as playing and pausing music, skipping a song, changing the radio station you are listening to and more just with your voice.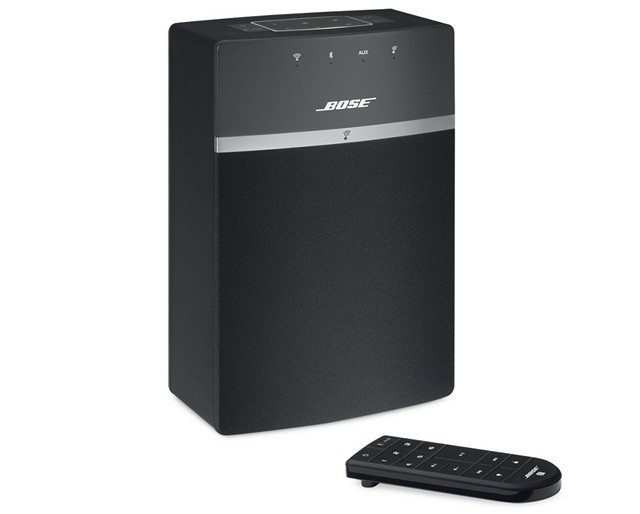 When it comes to music sources, you can use any of the music streaming services (Apple Music support is coming soon), internet radio services, or the music stored on your phone. Apart from that, the Bose SoundTouch 10 offers massive sound, considering its small size, thanks to its full-range driver. One speaker is enough to fill the room however you can also pair two of them in stereo to enhance the experience even more. Like Sonos, Bose offers the SoundTouch app for all the platforms including Android, iOS, Windows, and Mac allowing you to control music with the device in your hands.
Buy From Amazon: $199
3. Samsung Galaxy Home
Samsung announced the Galaxy Home a couple of months back and while it has still not hit the market, seeing Samsung's past speakers, I can confidently say that it will be a worthy Sonos One alternative. First of all, I really like the look of Bixby Home as it doesn't stand out like a big rectangular box and can easily blend with its surroundings. Samsung Galaxy Home will be powered by Samsung's own personal assistant Bixby which means you will be able to control the music with your voice. Whether you want to play a certain song or a radio station, you will just have to ask Bixby to do that for you.
Talking about the sound quality, the Galaxy Home speaker is bringing audio drivers powered by AKG which means you will be getting one of the best audio experiences. It is also bringing AI assistance which will allow the speaker to intuitively move a wave of sound directly toward you when you ask it to. So no matter where you are in the room, you'll find yourself immersed in sound. This is not a feature that you can get on either Sonos One or Sonos Play:1. We will surely update the pricing and other details when the Galaxy Home officially releases, however, seeing the competition, I don't think it will cost above $150. This is certainly a speaker that you should keep your eye on.
Coming Soon
Sonos Play:3 Alternatives
Since Sonos itself ended its Play:3 line of speakers, there was a huge gap in the market which thankfully other speaker manufacturers were able to competently fill. Here are the best Sonos Play:3 alternatives that you can buy
1. Bluesound Pulse Flex 2i
Unlike Sonos Play:3 which sported a considerable size, the Bluesound Pulse Flex 2i comes in quite a small package which is something that I really like. Despite being an ultra-compact speaker, the Bluesound Pulse Flex 2i delivers crystal-clear sound quality with very good dynamic range thanks to its direct digital amplifier and custom-tuned drivers. One of the unique things about this speaker is that it comes with a detachable battery pack which you can attach to use it without any input power.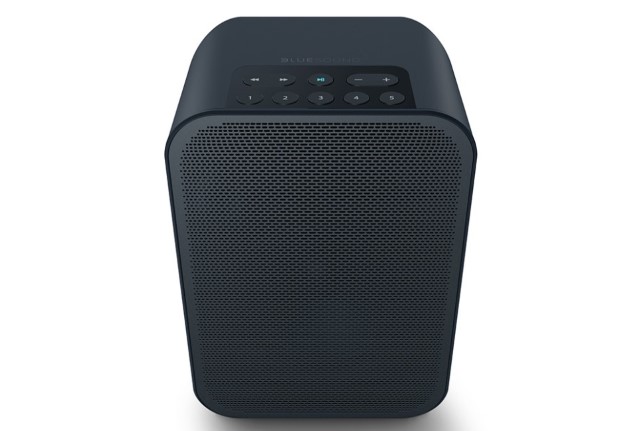 Another unique thing about this speaker is that while most other speakers only offer wireless options, the Bluesound Pulse Flex 2i brings a whole assortment of connections including aux input, USB-A connector, micro-USB connector, and more. It also supports Amazon's Alexa and Apple's AirPlay technology allowing you to send songs from Android or iOS devices. There's also the BluOS app which lets you stream music from services like Spotify, Deezer, Tidal, Amazon Music, Slacker Radio, and more. Moreover, thanks to aptX technology, you can stream audio in CD quality from your devices via Bluetooth.
Buy From Amazon: $299
2. Bose SoundTouch 20 – Series III
Like the SoundTouch 10, the Bose SoundTouch 20 is an excellent multi-room speaker system which can act as a worthy alternative to now-defunct Sonos Play:3. The SoundTouch 20 is basically the bigger and better brother of SoundTouch 10. So you will get everything that you got with the SoundTouch 10 with even better sound quality. The speaker gets very loud and can fill even the biggest of rooms in your home. Thanks to its casing design, it produces some great bass and the sound quality here is exceptional too.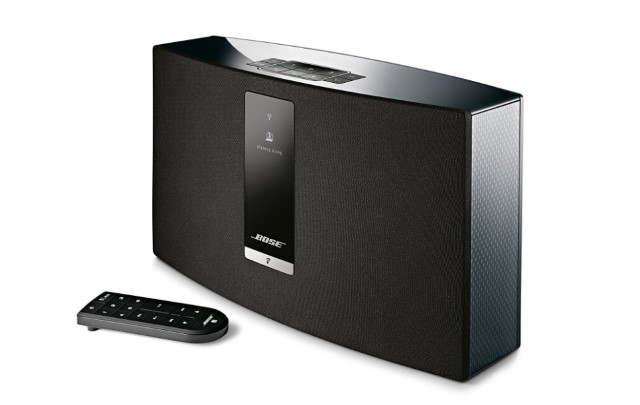 And while it's a little pricey, the speaker trumps Play:3 with added features like Bluetooth support, bundled remote control, ability to set six preset music services for the buttons in the speaker and an OLED display, that displays info about the music. It also comes with Alexa support which means you can connect it to your Alexa-speaker and get voice control along with access to 40 million songs if you use online music services such as Spotify, Amazon Music, Pandora, iHeartRadio, TuneIn, or any of the other such services out there.
Buy From Amazon: $349
3. Bang & Olufsen Beoplay M3
Another great Sonos Play:3 alternative is the Bang & Olufsen Beoplay M3 which brings a great audio experience thanks to its Signature Sound technology which brings authentic sound quality. The speaker uses quality materials including aluminium, wool, and polymer which not only make the speaker durable but also play a part in its sound delivery system. The speaker brings a 3.75″ woofer and 0.25″ tweeter which can fill a small to medium-sized room.
When it comes to connectivity the speaker supports Apple AirPlay technology along with Bluetooth audio streaming, built-in Chromecast, 3.5 mm jack, 1 micro USB, and a Mains connection. It also brings direct music streaming integration with services like TuneIn Radio, QPlay, and Deezer. Of course, you can use your iPhone or Android device to cast songs to the speaker using any music streaming app or on device songs that you want to. The biggest missing feature here is the missing voice assistant which means you can't use your voice to control the playback.
Buy From Amazon: $297.46
4. Marshall Acton II
One of my favorite speakers on this list is the Marshall acton II. First of all, it sports a unique retro look which I am a big fan of. Secondly, it sounds great with balanced audio delivery and offers physical dials to control the different elements including bass, treble, and volume so you don't have to fiddle with settings buried deep inside an app. And lastly, it integrates with Amazon's Alexa which means voice control and access to more than 40 million songs around the world using services such as Spotify, Amazon Music, Pandora, iHeartRadio, and many more.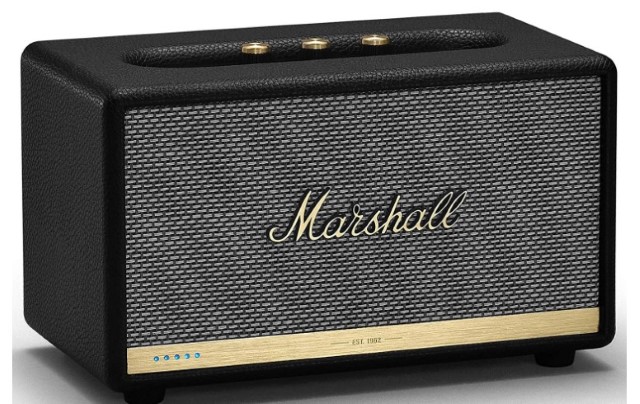 In short, Marshall Acton II has everything that you can desire from a Sonos Play:3 alternative and you will be really happy with it. With Marshall Acton II you can create a multi-room system and listen to different songs in different rooms or blast your favorite song across all speakers at once. You can connect to the speaker using WiFi, Bluetooth, RCA or 3.5 mm headphone jack.
Buy From Amazon: $279
5. Libratone ZIPP MINI
Libratone ZIPP MINI cannot be farther from Sonos Play:3 when it comes to the looks, however, don't be fooled by its small size. The speaker packs a punch and can deliver deep bass, full midrange, along with very clear lows. While the speaker doesn't bring any smart voice assistant, it does support AirPlay (AirPlay 2 support is coming soon), DLNA, and Spotify Connect. It means you can use both iPhone and Android devices to cast your favorite music to the speaker. That said, its support for music streaming services is quite limited(it supports Apple Music, Spotify, and a few of the others) and you won't be able to use your voice to control the music. You can get these features by connecting and pairing an Amazon Echo device but that will add to the cost of this speaker.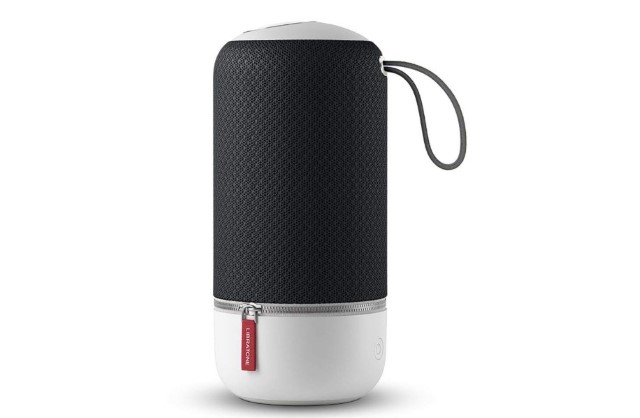 One of the biggest benefits of Libratone ZIPP MINI is that it comes with a built-in rechargeable battery which can last for 10+ hours on a full charge. That means you can take the speaker out for a trip when you want to so that you have the best audio experience wherever you go. You should also download the Libratone app on your smartphone as the company issues frequent firmware updates which improve its functionality and enhance new features.
Buy From Amazon: $249
Sonos Play:5 Alternatives
Sonos Play:5 is the company's most premium line of multi-room audio system speakers. Here are some of the alternatives that you should look at:
1. Google Home Max
When Google released its premium Home Max speaker, I was not so sure that company will be able to pull it off. Thankfully, the company dissolved all my doubts with this product as it offers an excellent audio experience. Priced at about a $100 less than the Sonos Play:5, the Google Home Max not only looks good but also brings a ton of features that you cannot find on the Sonos Play:5. The speaker sports a dual 4.5″ woofer set which produces deep bass while the custom tweeters deliver crisp highs and balanced lows. Like the Sonos Play:5, the Google Home Max is unidirectional, so you will have to place it in your direction to enjoy the best possible experience.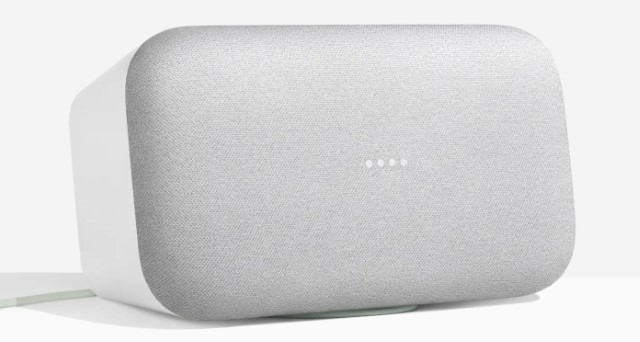 That said, thanks to the built-in Google Assistant and enhanced AI features which Google is known for, the speaker delivers a good audio performance no matter where you are sitting. The inclusion of Google Assistant also means that you get voice controls and the ability to play music using streaming services including Google Play Music, YouTube Music, Spotify, iHeartRadio, Pandora, and more.
Buy From Google: $399
2. Marshall Stanmore II
The Marshall Stanmore II is to Marshall Acton II what Sonos Play:5 is to Sonos Play:3. What this means is that you will be getting the same overall experience, it would be just better and more refined. The benefits of buying the Marshall Stanmore II is that it produces clean and precise audio, even at the highest levels, thanks to its advanced components which include two 15 Watt class D amplifiers powering its tweeters and a 50 Watt class D amplifier driving its subwoofer.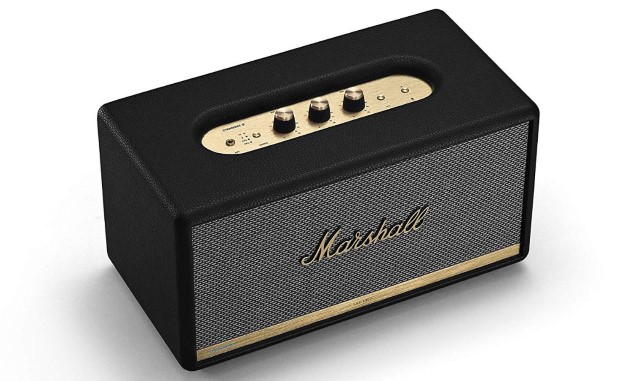 Apart from the sound quality, all the other features remain more and less the same, which means you will be getting physical dials for controlling bass, treble, and volume, and Alexa integration so that you can control the music playback just with your voice and streaming music any of the hundreds of services that integrate with it including Spotify, Pandora, Amazon Music, iHeartRadio, and more. You can also connect to the speaker using Wi-Fi, Bluetooth, RCA or the 3.5 mm input.
Buy From Amazon: $349
3. HomePod
Apple's HomePod in many ways is the most restricted speaker on this list. I mean, you have to have an iPhone for this speaker to work and you can only use Apple Music to listen to songs. However, if you are someone who is already involved in Apple's ecosystem then this is one of the best if not the best speaker system that you can buy. Apart from its clean and compact design which still blows my mind, boy do these speakers sound good. I mean, you really have to experience this live to understand why I was blown away by its audio quality.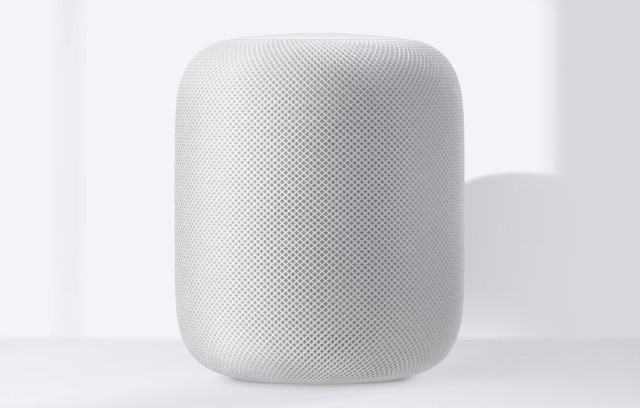 Since Apple is a technology company first, it's surprising how they made one of the best sounding speakers in the world. Apart from the sound, you get all the benefits of buying an Apple product which means it works great within the ecosystem, the set-up is seamless, and it packs a ton of technology. For example, with spatial awareness, it automatically analyzes the acoustics, adjusts the sound based on the speaker's location, and separates the music into direct and ambient sound. If you are in Apple's ecosystem, Sonos Play:5 won't even stand a chance against it.
Buy From Apple: $349
4. Denon HEOS 5
If you are someone who loves bass then this is the Sonos Play:5 alternative that you should look at. The Denon HEOS 5 brings a powerful audio delivery system which produces a heart-thumping bass experience. Denon HEOS 5 also offers the most versatile connectivity experience as the speaker supports all the major connectivity options including WiFi, Bluetooth, AirPlay 2, USB port, Aux Port, and Ethernet. The speaker even supports multiple voice assistants including Alexa, Google Assistant, SIRI, and JOSH.AI, thus allowing the consumers to use the voice assistant of their choice.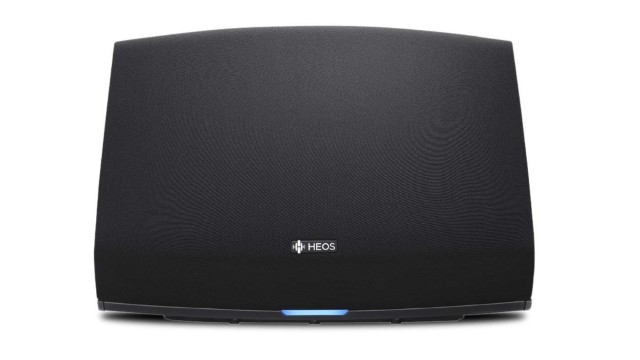 You can play your music either through popular services like Spotify, Pandora, TuneIn, Amazon Music, iHeart Radio, SiriusXM, TIDAL, and more or cast the offline music saved on your Android and iOS devices. The speaker also comes with a complimentary Denon Connect app which makes the setup and software upgrade process very easy.
Buy From Amazon: $399
SEE ALSO: 10 Best Dolby Atmos Speakers You Can Buy
Try these Sonos Alternatives for Amazing Multi-Room Audio Experience
Let's get this straight, Sonos multi-room speakers are one of the best on the market right now, however, they are not the only ones. Also, since Sonos killed its Sonos Play:3 speaker line, it has not released any replacement for it. To the people who are looking for Sonos alternatives, the above speakers are the best in the market as of now. Do check them out and let us know which is your favorite Sonos alternative on the market right now.