If you're currently in your teenage years, chances are you've heard of the popular lip-sync short video creation app called Musical.ly. It is also possible that you gave the app a swirl, trying to record a 15-second video of yourself singing your favorite music track. It may come as a shock to you but this viral video entertainment app is now being sold to a Chinese social media giant Toutiao for a reported $1 billion, which is a huge and surprising deal. While Toutiao plans to keep the Musical.ly app running independently, you can never be sure of an acquired company's fate. Hence, here are 5 alternatives that you can try out to create lip-sync videos of yourself:
Top Musical.ly Alternatives You Can Try
1. Dubsmash
When searching for alternatives to Musical.ly, the first name that will pop up in everyone's mind is Dubsmash. It has been present around for a really long while and allows you to do everything and more of what Musical.ly can do. The app has a large collection of short audio clips, which you can search and pick to lip-sync and record a version of the music video. There is no major limitation to the audio clips and can differ depending on the content.
Dubsmash not only enables you to record lip-synced music videos but dialogues from your favorite TV show, movie and cartoon as well. And if that doesn't suffice your creative mind, you're free to import your own sounds and record videos using the same. You can decorate your recorded videos with stickers and text as well.
Instead of using the usual feed-like structure most apps use to display community videos, Dubsmash shows videos in the form of Snapchat-style Stories that are segregated into two channels. One showcases currently popular Stories while the other shows what it is that your friends are up to.
Dubsmash once had a huge following but the advent of Musical.ly's stuttered music videos led to a decline in user interaction. It is, however, still very much a worthy competitor to the millennial sensation that is Musical.ly.
Install: Android (Free) and iOS (Free)
2. Flipagram
If you're sick of watching 14-year olds lip-sync to popular songs, it is much better you try out Flipagram. It is a powerful video editing app with a massive community of creators. It not only has a name that resonates with Instagram, but the app was once considered a threat to Instagram's growth. But the latter outgrew itself under Facebook's command and Flipagram continued its video-based journey.
The app has been in existence long enough to build up a loyal community of creators, who are quite active and have been using Flipagram's robust editing tools, filters and effects to show off their creative side. The user experience of the app is quite instinctive and it's easy to adopt for everyone and not just the millennials.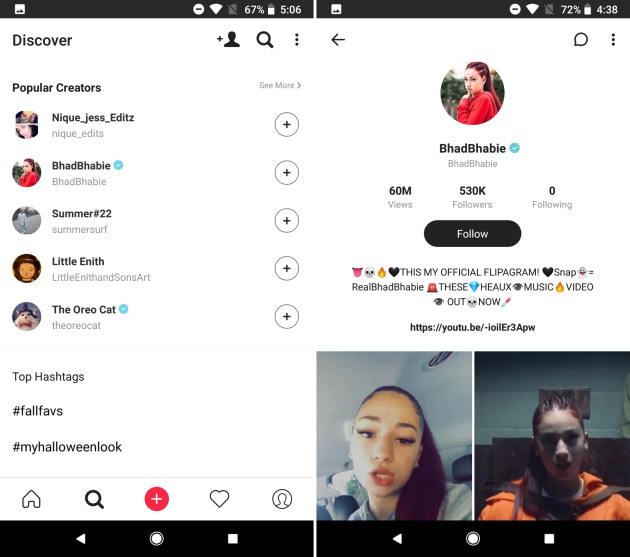 But, it seems the success of Musical.ly has touched everyone in the short video segment and Flipagram now also offers you the option to create music videos using its app. You're free to choose from its large library of songs, which also includes music from independent artists, to turn selfie videos into their favorite music video.
Install: Android (Free, in-app purchase starts at $0.99) and iOS (Free, in-app purchase starts at $1.99)
3. Funimate
If you've been looking for an app that is similar to Musical.ly both in form and function, then Funimate could probably be the best pick. The user interface of Funimate is quite reminiscent of the Musical.ly app and helps you record yourself lip-sync to some of the most popular music tracks. It, however, one-ups the experience by providing you a bunch of cool effects, emojis and other creative tools to add to your recorded videos and show off your creativity.
As you can see in the screenshot attached below, you're greeted with a scrolling feed of community videos (to inspire you!) once you open the app. You can choose to watch the featured videos or tap on the "plus" icon at the bottom left to select the sound, as shown in the right-hand side picture, and lip-sync to them.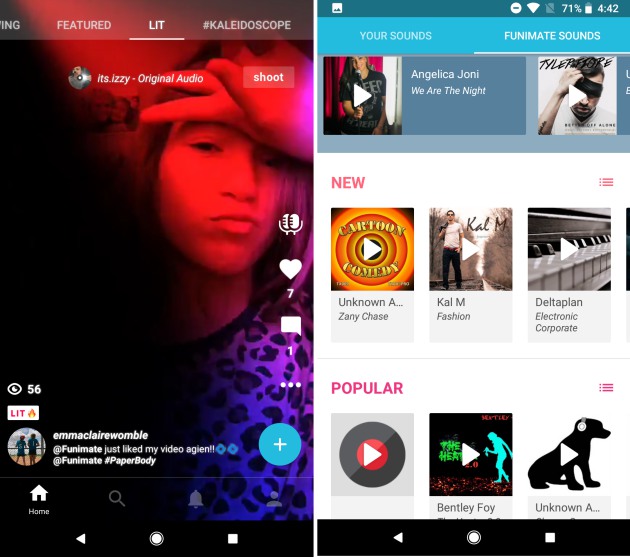 The highlight of Funimate is that you're not bound by a particular style of recording videos as the one Musical.ly's community has adopted. This app not only allows you to record lip-sync videos but also create stunning compilations, music videos, slow-motion captures, and many more formats. Funimate is not shy in touting of its capabilities and says that videos edited on their platform are the most creative and featured often on Musical.ly itself.
Install: Android (Free, in-app purchase starts at $3.99) and iOS (Free, in-app purchase starts at $2.99)
4. Tik Tok
Next up in our series of short video recording apps is Tik Tok, which seems to have taken cues from the wild success of Musical.ly and built a video platform almost similar to it. You can witness similarities between the format, user experience, and community of the platform when compared to the Musical.ly app.
As the company highlights in its app listings, Tik Tok has incorporated artificial intelligence and image capturing technologies to provide an intuitive experience to the youth. It turns your device into a full-blown creative editing studio with the rhythm synchronisation, special effects and other creative tools in tow.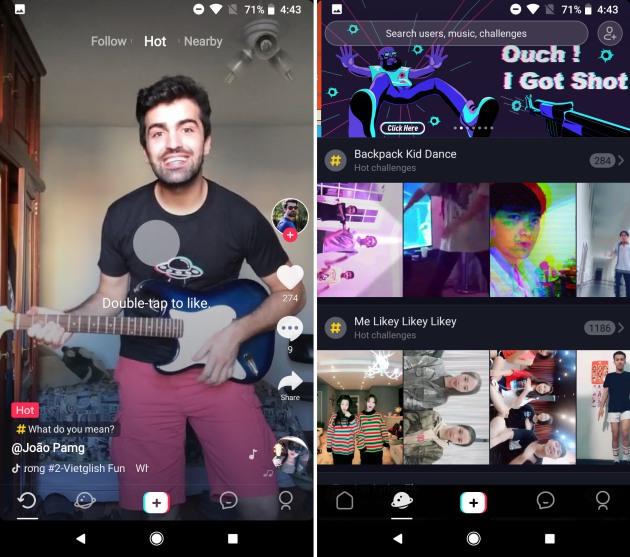 As you can see in the screenshots above, you get a swipe-based scrolling video feed that displays crowd-sourced lip-sync videos. You can either choose to watch the most popular lip-sync videos or the ones shared by users near your location. If not, you can choose to explore new users in the well-defined discovery section of the app.
As you try out the Tik Tok app, one thing will become crystal clear to you within seconds. The app is trying hard to emulate the viral success of Musical.ly by providing you a much similar experience, that's not actually bad. It highlights that the high-speed image capture and facial recognition capabilities will help you record crisp videos to share with everyone.
Install: Android (Free) and iOS (Free)
5. Cheez
Launched by popular live streaming platform Live.me a couple weeks ago, Cheez aims to fill the hole in the short video market left behind by the demise of Vine. It has a broader vision than Musical.ly and enables you to record, edit, and share funny short clips with the community of the fledgling platform. You can record instantly or choose to stitch together memories to create the perfect throwback video for an important event of your life.
Cheez is similar to Musical.ly in the sense that it enables you to record yourself dance and lip-sync to popular music clips. You can then spice up your videos using a robust set of editing tools and filters to make your content stand apart from the crowd. However, the highlight feature of Cheez is the daily dance-off and challenges that give you the chance to show-off your talent and creativity. You can even share your videos on other social platforms as well.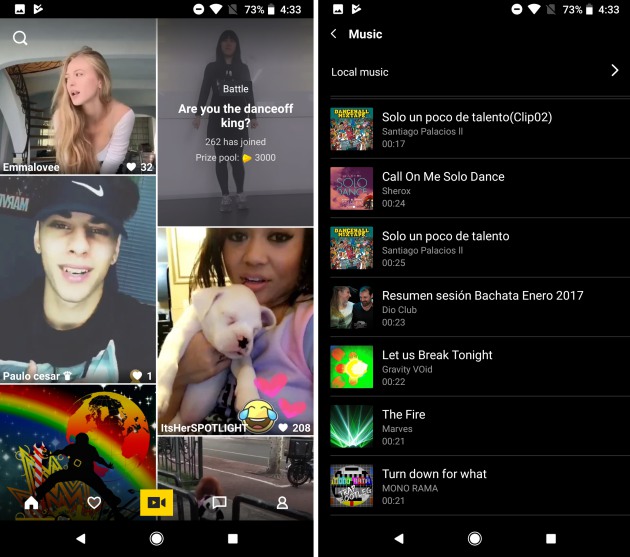 Since the time Cheez has been live, it has already amassed over 100,000 installs on Google Play and has a high 4.4 user rating. If Live.me plays its card right, Cheez could become the spiritual successor of Vine. The developers and community are now shouldered with the task of to making the platform attractive for the masses.
Install: Android (Free) and iOS (Free)
Bonus: Triller
Since we've already suggested you a host of alternatives to Musical.ly, the Triller app can be seen as one of the most powerful editing station that you can get on your phone. This app has been divided into sections, one where you can choose to create high-quality films and the other that helps you create Musical.ly-style music videos.
You can choose the film option to select and piece together videos you may have recorded earlier to build a story, while we're suggesting this app because of its ability to help create lip-sync videos using the huge collection of hit songs, which are currently trending on the charts. You can choose any one of them, decorate the video with filters, to record lip-sync videos.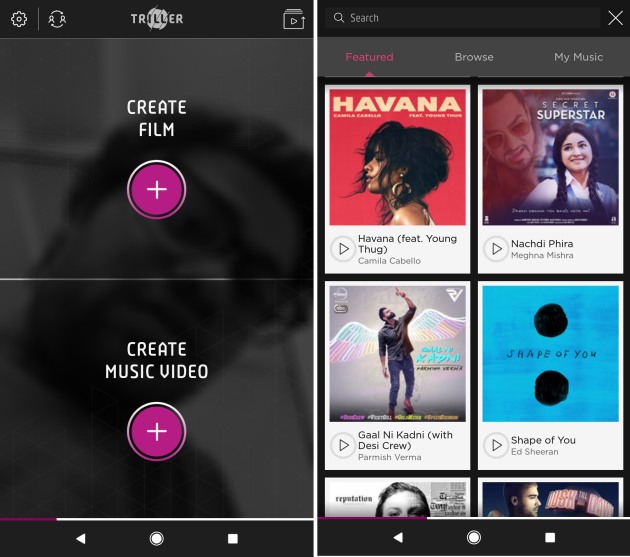 There is no community aspect to the Triller app as you can only share your creations on other social apps. It, however, enables you to collaborate with your friends to create a group video within seconds. These are the highlight features of this video editing app and they've helped it gain popularity among the masses.
Install: Android (Free, in-app purchase starts at $0.99) and iOS (Free, remove watermark for $8.99)
SEE ALSO: 5 Best Snapchat Alternative Apps
Musical.ly: A Widespread Pop Culture Phenomenon
As the bounds of the music landscape continue to diversify, apps like Musical.ly are sure to attract the utmost attention from teenagers of the current generation. This lip-sync music video recording app was lunged into virality by Gen Z back in 2015 and it has since become a worldwide pop culture phenomenon. Much like Vine, it has started to birth pop sensations and music labels cannot keep their hands off this hot merchandise.
Even musicians are now promoting their music on the app, asking teens to lip-sync to their latest tracks and share videos of them on social media. But, now that Musical.ly has been acquired by another Chinese media giant, we have to wait to witness the fate of this uber-popular app. What are your thoughts on Musical.ly? Are you part of this huge phenomenon as well? Let us know in the comments section down below.