While Apple has been making strides in the smartwatch business over the years, Google's Wear OS platform has gone through some fits and starts. I've said this before and I'll say it again – I've always found myself skeptical about recommending a Wear OS smartwatch mainly due to the fact that they're slow when it comes to software updates, and they all look and feel pretty much the same.
But for the past couple of weeks, I've been wearing the Skagen Falster 2 (Rs. 21,995) every day with an open mind. I was desperate to find out if Wear OS has gotten any better over the years. My first impressions of the watch were fairly positive, so I continued using it to, you know, glance my notifications and track my steps.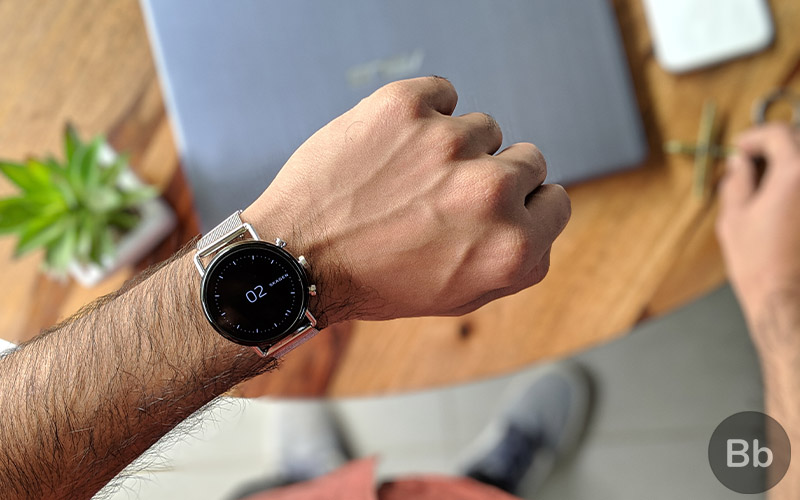 With a price tag of Rs 21,995, the Skagen Falster 2 is not particularly a smartwatch that would fit in everyone's budget. So, is it worth buying? Well, let's find out…
Skagen Falster 2 Specifications
The Skagen Falster 2 comes with all the bells and whistles that we've come to expect from modern-day smartwatches. It's available in 40mm size, which in my opinion, is not overly big, and it'll fit both men and women. Anyways, here's a quick look at the specs that you need to know about –
| | |
| --- | --- |
| Display | 1.190-inch (390x390) OLED |
| Water-resistance | 3 ATM |
| Connectivity | Bluetooth 4.1, Wi-Fi, NFC |
| Sensors | Accelerometer, Altimeter, Gyroscope, Ambient Light Sensor |
| Processor | Qualcomm Snapdragon Wear 2100 |
| Dimension | Case Size: 40 x 11mm |
| Price | Rs. 21,995 |
| Compatibility | Android 4.4+, iOS 9+ |
Now that's what's crammed inside the watch. Now, before we talk about the watch itself, let's take a quick look at everything that comes inside the box.
Skagen Falster 2 Unboxing
Skagen, as we all know, is a brand that's known for minimalism, so I wasn't surprised to see a small box with bare minimum contents. Here, take a look for yourself –
Skagen Falster 2
A wireless charger
Some paperwork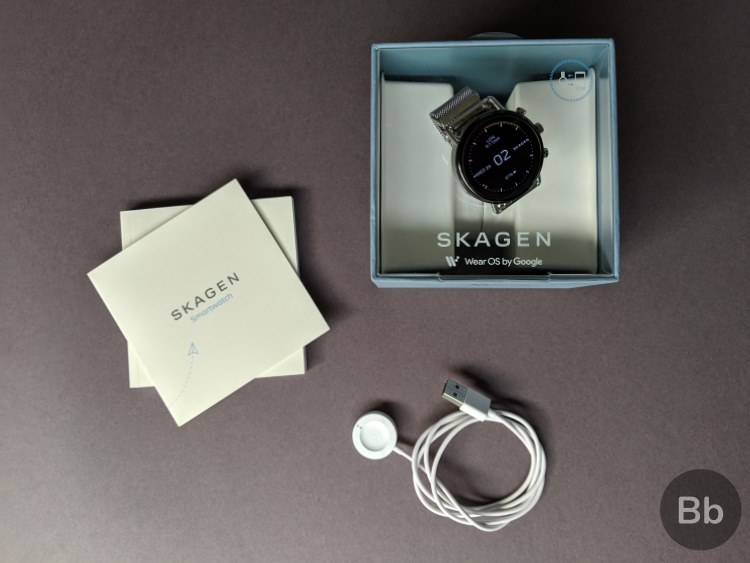 Yes, that's everything you get inside the box when you buy yourself this smartwatch. I was a little surprised to see that there's no charging brick. Look, I do understand that the person buying a smartwatch definitely owns a smartphone, so he/ she already has a power brick. However, I found it very annoying during the times when I wanted to charge both my smartphone and the watch at the same time.
I am all for minimalism, but I wish the watch manufacturers would take this into consideration. Anyway, I'll talk a bit more about the Falster 2's battery performance a bit later in the review so stay tuned to see whether it is an issue. Now, let's talk about my favorite aspect of the watch: its design!
Skagen Falster 2 Design and Build Quality
Fossil's launch event, where the company announced as many as seven new smartwatches, was my first time looking at the Falster 2. I had seen the watch in pictures, but I had never seen the Skagen Falster 2 in person before that. Needless to say, the Skagen Falster 2's clean and minimal design grabbed my eyeballs almost instantly. They had a couple of different variants of the watch on display, but I was particularly enthralled to see the model with metallic accents and a magnetic mesh band.
As you can see, that's also the variant which we have with us here for review. At first blush, the watch may look a little less masculine compared to other options that are out there. In fact, a lot of my colleagues at Beebom were quick to judge its appearance. However, I for one think that it looks absolutely phenomenal. I mean, just look at this thing –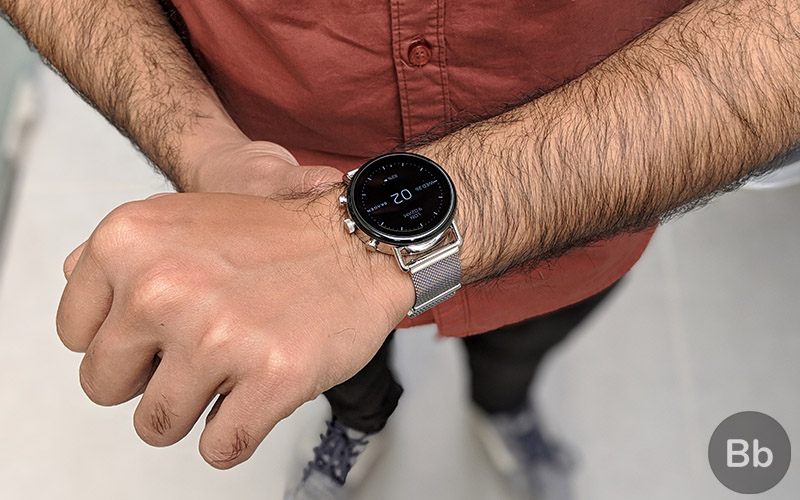 As I mentioned earlier, the Falster 2's minimal and light design has grown on me since the time I started using it. It has a lightweight design, it's extremely comfortable to wear, has no unsightly protrusion on the back, and so on. I have so many good things to say about the watch, that I can keep dropping words about it.
If you've seen the previous iteration of the watch, then you'll notice that the new Falster 2 now has three buttons instead of one. The buttons, as you can see, don't sit flush on the watch's body. Yes, they're nice and clicky buttons with great tactile feedback, but I hate the fact that they protrude from the body. If I could change just one thing about the watch's design, this would be it.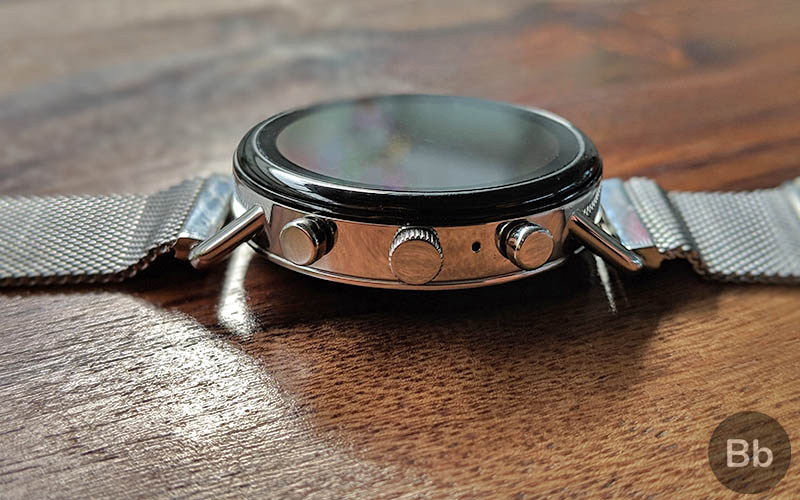 The center button also doubles as a rotating crown, making it easier to scroll through different options in the interface. The crown is not as nice as the digital crown found on the Apple Watch though. Don't get me wrong, it is probably the best rotating button/ crown that I've used on any Wear OS smartwatch, but the lack of haptic feedback puts it in a weird spot.
The Skagen Falster 2's minimal, yet elegant design made me want to put it on my wrist every single day.
The center button, as I mentioned earlier, is flanked by two more customizable buttons. You can program the buttons to open any app of your choice. I've personally set the top button to show me the weather info, whereas the button on the bottom pulls up Google Fit for me. The watch also has 3 ATM water resistance, so it can handle a bit of water without any issues.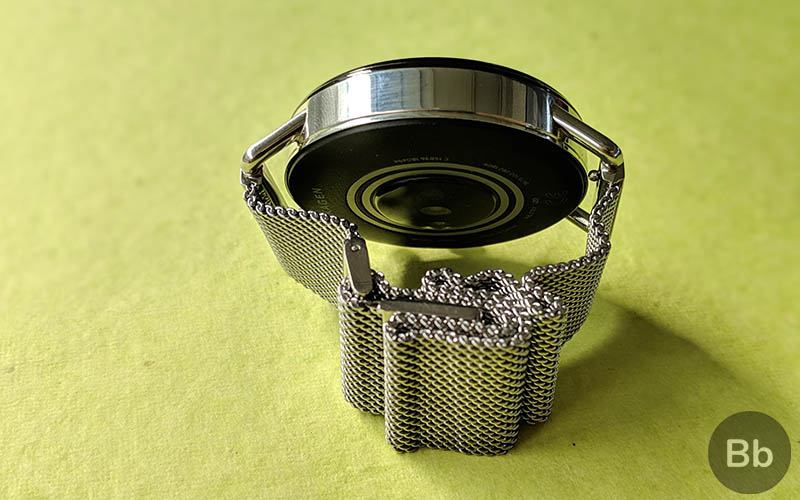 The magnetic mesh loop, though it gives a premium look to the watch, has a weird issue. You can say that I am nitpicking but the black rubber ring around the magnetic clasp starts wearing out fairly quickly. It'll start leaving a black residue on the strap over time, ruining the overall looks of the watch. I use a similar third-party mesh loop with my Fitbit Charge 2, and it's plagued by the same issue. Skagen, however, has a decent selection of straps for the watch. You can also swap in any 20mm band of your choice, which is just awesome.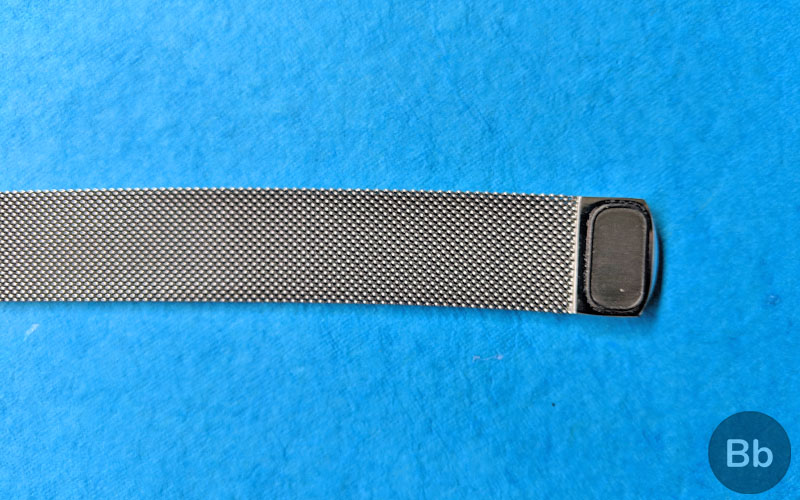 That being said, I truly believe that the Skagen Falster 2 deserves all the plaudits for its design. Despite its shortcomings, which we'll talk about later in this review, the minimal design made me want to put it on my wrist every single day.
Skagen Falster 2 Display
The Skagen Falster 2 has a 1.19-inch display which is a pleasure to look at. It's an OLED panel with a resolution of 390 x 390 pixels, so the display is crisp and you can see deep blacks and bright whites. The bezels are thinner than the one found on its predecessor, but they're still too big for my liking. Luckily, the watch faces bundled with the watch are black by default, and they do a great job of masking those ugly bezels around the display.
Skagen Falster 2's display is definitely one of my favorite features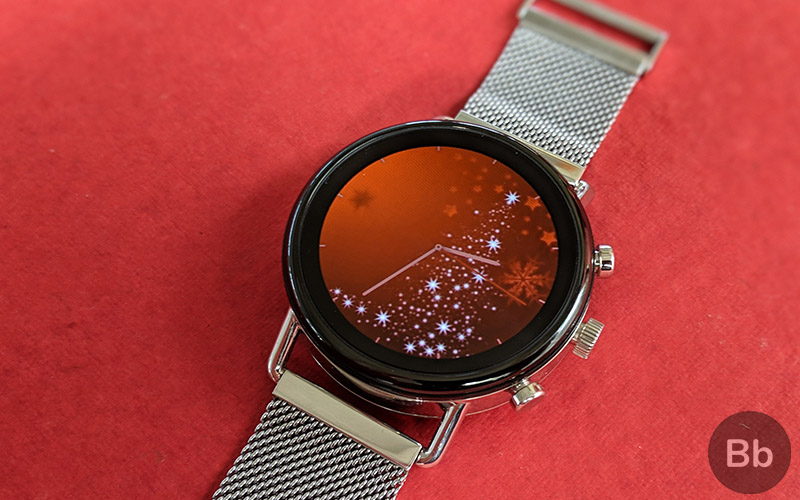 It is a vibrant display that also gets bright enough to be used in direct sunlight. Wear OS offers five different levels of brightness, but the ambient light sensor does an amazing job and has saved me the work of having to fiddle with the brightness setting time and again. Much like most of the smartwatches out there, the Falster 2 has an 'Always-on' mode that lets you see the time. This takes a toll on the battery life, but I'll suggest you keep this option turned on because I found the raise-to-wake feature to be hit-or-miss.
Overall, I really like the display of Skagen Falster 2. Besides the sizable bezels around the display, there's hardly anything to complain about here. It truly is one of my favorite features of the watch.
Skagen Falster 2 Performance and Software
Before I give my two cents on the performance, I'd like to point out a glaring omission. The Skagen Falster 2 is powered by Qualcomm Snapdragon Wear 2100 processor, which, in case you don't know, was released in February 2016. So yes, it is pretty out of date. New smartwatches powered by the latest Snapdragon Wear 3100 have started showing up on the market, which again makes me a little skeptical about recommending this watch.
That being said, the Falster 2 is running on Google's new Wear OS software. It's not the latest version of the software that's out right now, but it's far better than what I experienced with Android Wear back in the days of the Moto 360. App loading times are significantly faster than they were before. Scrolling through the app drawer and interacting with the Google Assistant is a lot smoother now.
Skagen Falster 2's age-old chipset is a bottleneck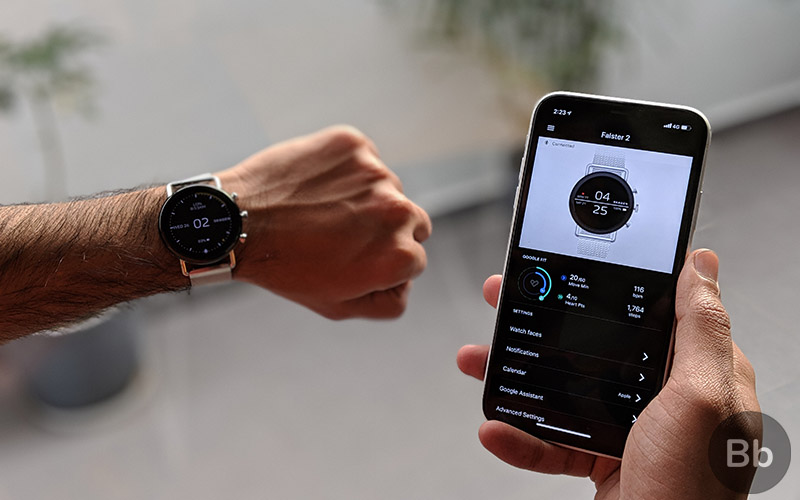 During my usage, I used the watch mostly to glance at my notifications and time, of course. Its fitness-centric features are limited, but I did use the heart rate monitor to keep tabs on my heart rate every now and then. I also loaded some of my favorite apps of choice like Uber, to see if I could use the watch to get things done without pulling out my smartphone. Well, I must say that the resource intensive apps like Uber, in this case, were a bit laggy. The app took a couple of seconds to fully load up, before letting me do anything. I am sure the age-old chipset is the bottleneck here.
Following a lot of criticism for omitting useful features, Skagen decided to turn things around and pack the Falster 2 with all the essentials like GPS, a heart-rate sensor, and NFC. I wasn't really able to get much use out of the NFC, but you can use it to take advantage of Google Pay to make purchases.
Skagen Flaster 2 Software Experience
The Falster 2 comes loaded with Google's Wear OS. Right off the bat, I was really impressed with the updated interface. It's not flawless by any means, but there's a lot to like here. There are plenty of watch faces that are all themed on simplicity. If you are someone who's always on the lookout for clean and clutter-free watch faces, then I am sure you'll really enjoy the stock watch faces that are bundled with the Falster 2. I think this would be a good time to acknowledge the fact the Falster 2 has a custom charging animation, which is a joy to look at. Here, check it out –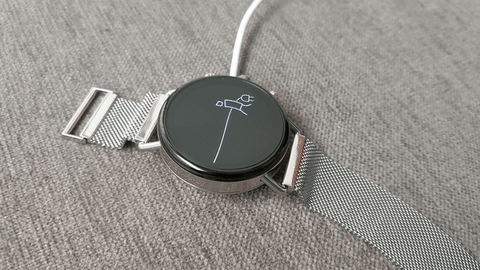 I paired the Falster 2 with my iPhone XR mainly to see how Wear OS worked with an iOS device. Unlike some other wearables with which you'll be prompted to download a bunch of other apps, all I had to do was download Google's Wear OS app (Play Store).
The app itself is fairly simple to use. It shows things like your Google Fit data based on the metrics collected by the watch, and lets you tweak some other settings like watch faces, notifications, and more. There's not a lot that you can do with the app, but I feel like it is more than enough for an average user.
There's a lot to like about the Wear OS experience on the Skagen Falster 2
Skagen Falster 2 Activity Tracking
I wasn't interested in using the Falster 2 to monitor my fitness activities mainly because it's not really a full-fledged fitness-centric watch. I am sure there are other watches out there that can help you do that more efficiently. However, I do have a few observations that I'd like to share.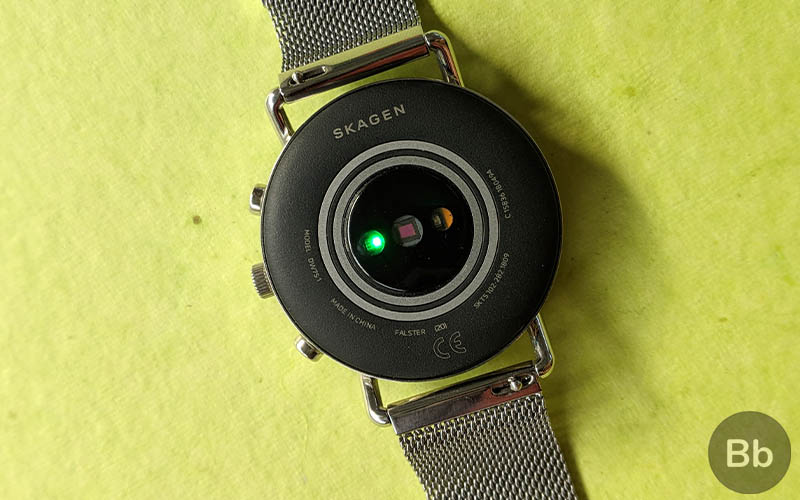 If you are buying the Falster 2 (or any other Wear OS-powered smartwatch), then pairing it with an iPhone is probably not the right move, especially if you are interested in keeping tabs on your fitness activities. I say this because you don't have the Google Fit app to sync your workouts with. You'll be restricted to the Wear OS app for now, which only offers a basic glance at your daily activity. Of course, you can download third-party apps like Runtastic or Endomondo, but the native Google Fit app support itself is missing, which is indeed a little disappointing.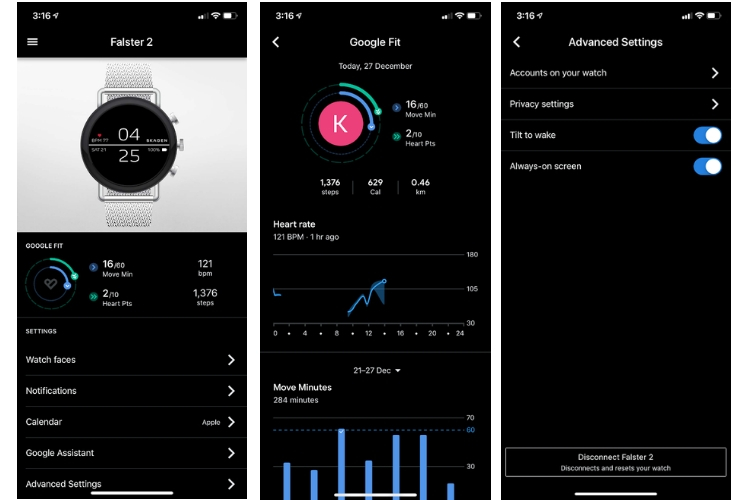 But if I have to judge Falster 2's tracking ability based on the limited data that I have with me, then I'll say it's decent. I am not the most active person, as you can clearly see, but it accurately showed me my activity level. The heart rate monitor works well, and it managed to give me a proper reading every time I tried it. Of course, it is not 100% accurate and I'd suggest you rely on dedicated heart rate monitors for medical purposes.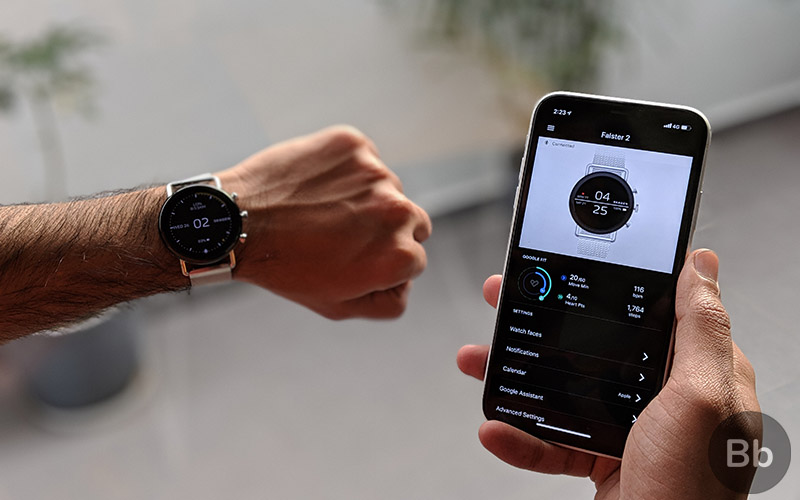 Skagen Falster 2 Battery Life and Connectivity
The battery life is also a major disappointment of the Falster 2. Skagen says it can last "up to 2 days" based on the usage, but I truly think it's an exaggeration. During my usage, I struggled to get more than a day out of the Falster 2, which is not worth appreciating. Of course, you can get more out of the battery if/ when you switch to the battery saver mode. However, you'll then have to sacrifice on features like the 'Always-On' display, continuous heart-rate tracking, and more.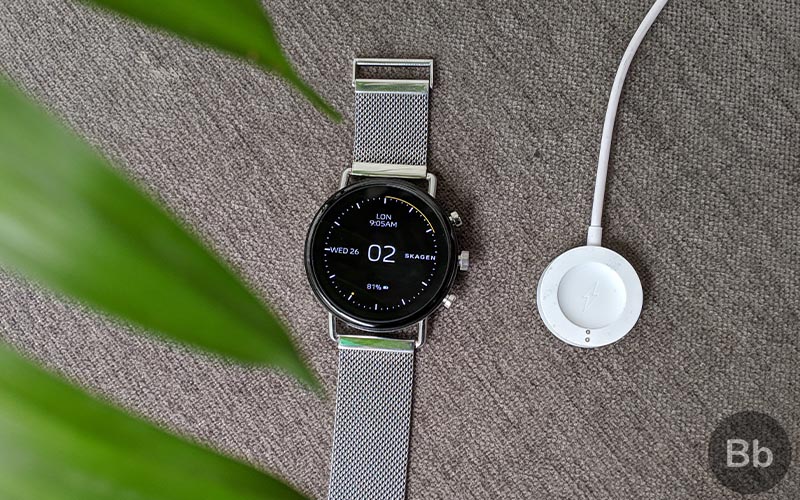 The battery life is a major disappointment of the Falster 2
The Skagen Falster 2, much like most other smartwatches, is capable of connecting to your smartphone over Bluetooth. It also comes with an inbuilt GPS for outdoor tracking. Falster 2 is using the same sensor found on some other Fossil smartwatches like the Fossil Q Explorist HR. I found it to be pretty efficient and generally quite fast while locating my position.
When it comes to the connection, I found the watch to be a little finicky and extremely unreliable. I even tried pairing the watch with an Android smartphone but that didn't help either. I am not sure if the issue was limited to my unit, but let me tell you that it was not an enjoyable experience at all. I even ended up missing some of my important notifications because of this.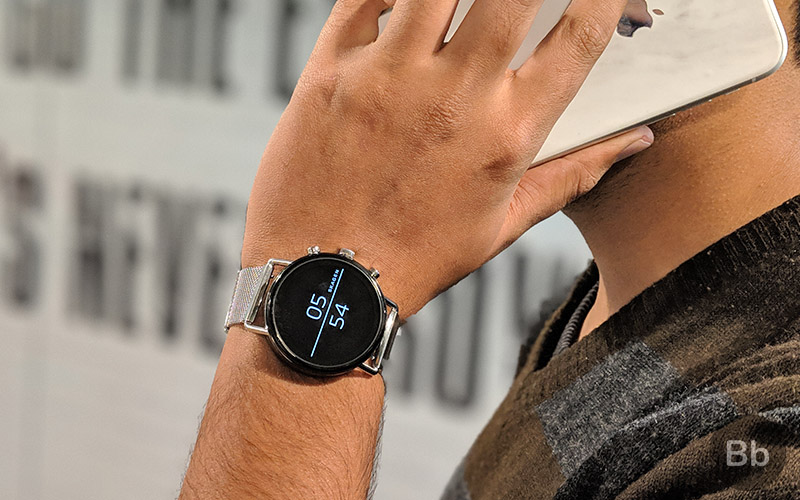 Also unlike Samsung's Galaxy Watch, you can't use the Skagen Falster 2 as a hands-free device for taking calls. You'll have to reach for your phone in order to answer an incoming call. Same is the case with messages. Though the watch shows you notifications from most apps, there's no option to respond to, say, a message. No, I am not asking for a full-fledged native keyboard to write long messages. I am talking about the ability to dictate short messages or quick reply options. However, none of that is available here, and you'll have to reach for your phone if you want to take an action any notification. This is particularly disappointing considering the fact that I was able to do this with the Moto 360 back in the days of Android Wear.
Skagen Falster 2: Pros and Cons
As you've probably guessed by now, the Skagen Falster 2 is a beautiful piece of gadget that comes with some annoyances that stop it from being perfect. Here's a quick look at the pros and cons of the watch –
Pros
Beautiful and minimal design
Lightweight and comfortable to wear
Gorgeous OLED display
Wear OS is an improvement
GPS, a heart rate monitor, and NFC is a welcoming addition
Cons
Powered by the dated Snapdragon Wear 2100 chipset
Mediocre battery life
Poor notification reply support
The magnetic mesh loop wears out easily
SEE ALSO: Samsung Galaxy Watch Review: Perfect Fitness Companion For A Samsung Phone
Skagen Falster 2: Should You Buy It?
The Skagen Falster 2, if you ask me, is undoubtedly one of the best-looking smartwatches that you can buy today. That, in fact, is one of the main reasons why you should be spending Rs. 21,995 on this watch, if you are planning to spend that much at all. Trust me, it is one of those watches that's guaranteed to bring you joy every time you look at it. Other premium watches that look as good as the Falster 2 carry a more hefty price tag, making it almost impossible for me to recommend.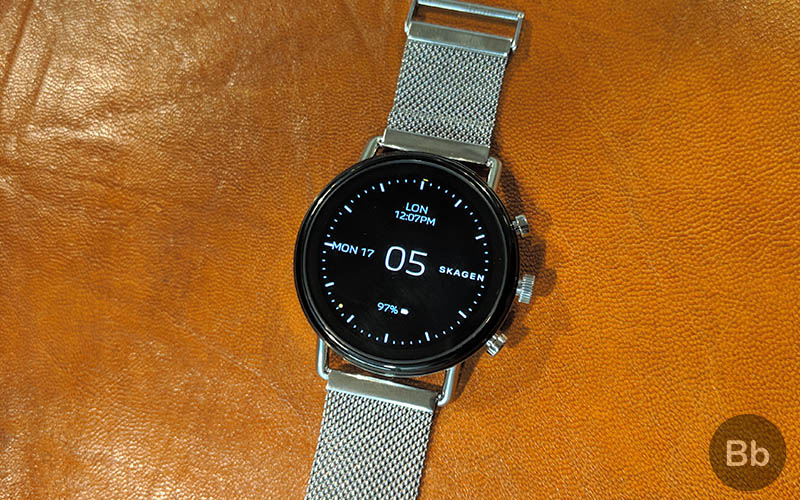 But the Falster 2 has its share of problems too. It's plagued by mediocre battery life, connectivity issues (at least in my case), and more. But a lot of these issues are not just limited to the Falster 2. From what I understand, a majority of other Wear OS watches suffers from similar issues, which puts the entire platform in a weird spot.
That being said, if you are looking for some alternatives, then you must check out Fossil's Gen 4 Explorist (Rs. 19,995). In fact, Fossil has a lot of other interesting Wear OS smartwatches, and you can find all of them here. If you are an iPhone user, then I'll suggest you buy an Apple Watch to get the complete experience. The new Apple Watch Series 4 (Rs. 43,900) packs a ton of awesome features and is proven to work flawlessly with an iPhone, complete with almost all the wellness features.
All that aside, I really had a great time using the Skagen Falster 2. I've enjoyed it to a point where someone has to pry it off my wrist and force me to put it back in the box. Like me, if you are not specs-inclined and don't mind charging the watch every night, then you can buy the Skagen Falster 2. You'll have a great time using it.
Buy Skagen Falster 2 smartwatch on Amazon (Rs. 21,995)
REVIEW OVERVIEW

SUMMARY

I really had a great time using the Skagen Falster 2. I've enjoyed it to a point where someone has to pry it off my wrist and force me to put it back in the box. Like me, if you are not specs-inclined and don't mind charging the watch every night, then you can buy the Skagen Falster 2. You'll have a great time using it, despite its age-old internals and Wear OS quirks.