Some believe that AI tools are going to replace humans in creative jobs like copywriting, marketing, photo editing, etc. However, Simplified is an AI platform that believes in augmenting AI's use in the creative process without replacing humans. It offers some great AI tools to help marketers, writers, and social media managers do much more in the quickest time possible and using a single app. Simplified AI allows you to instantly create copies using a keyword, rewrite content in multiple ways, generate images using natural language, and more. Now, if you want to learn about the Simplified AI platform and its key features, follow our in-depth explainer below.
Simplified AI Key Features (2022)
AI-Assisted Writing
Among the plethora of AI tools on Simplified, AI Writer is probably the best service for content creators. You can generate plagiarism-free content for more than 70 use cases, be it for blogs, marketing, ads, social media, articles, or a product. It has more than 70 AI templates for landing pages, ads on social media, product descriptions, and more, which you can write in more than 10 different tones.
And the best part about Simplified AI is that it lets you instantly translate content into 30+ languages, helping you reach users from various regions all around the world.
Generate Instant Copies
I decided to spend some time with the Simplified AI Writer tool over the weekend to see how good it actually is. First, I selected the "Blog ideas + titles" template and got a bunch of topics from the AI toolkit. Then, I mentioned what the blog post is about, and the tool almost instantly generated the text in a neat editor on the left side.
If you like what the AI wrote for you, you can simply export the text. Otherwise, you can manually edit the AI-generated text and make it more personal to your readers. What I liked about Simplified AI is that it allows both humans and AI to work together and elevate content creation rather than leaving everything to the AI.
Apart from that, you can select the tone, ranging from professional to optimistic, joyful, etc., and choose the output language to obtain the desired result. You can also enable the advanced options to adjust the creativity level and increase the number of results.
Another good thing about the AI Writer is that it also comes with a plagiarism checker built-in. You can simply select the content and look for plagiarism against the generated text. Once you are satisfied with the results, you can proceed and generate a blog outline, section, and conclusion. AI is there to help ease the process all along the way.
Create Long Form Content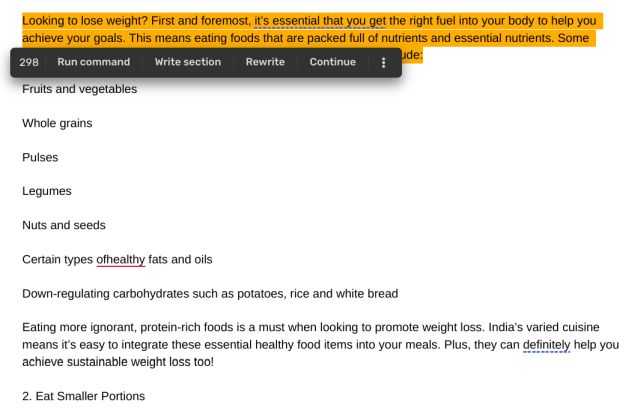 Not just instant copies, Simplified's AI Writer can help you write long-form content like essays, articles, and even books. It has some great AI-powered tools to overcome writer's block. For example, the sentence expander baked into Simplified AI can help you generate the next line by understanding the context. You simply need to right-click and choose "Continue" to generate the subsequent sentence. It can even generate paragraphs using AI with great accuracy, and that too in real time.
AI Rewriter Tool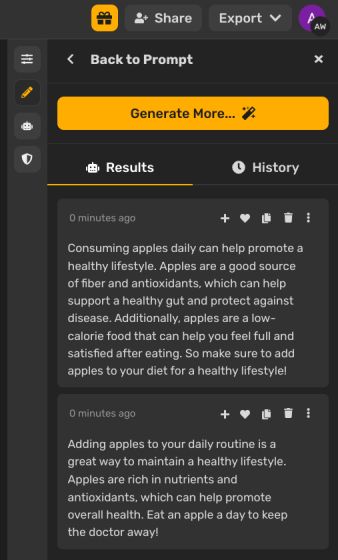 For marketers, rewriting content in different styles without changing the overall meaning is a crucial job. And Simplified's AI Rewriter tool lets you do that. You can instantly make copies of the same product description or caption and publish the rephrased copies on different social media websites and apps. So what are you waiting for? Go check out the "Content Rewriter" template on Simplified AI to make your existing content more engaging for different audiences.
Collaborate With Your Team
Apart from the AI-powered features, Simplified also makes it easier for you to collaborate with your team members in real time. You can invite your team or clients and edit the content on the same page while accessing the AI tools. There is also support for content scheduling using the content/social calendar, and you can publish posts on various social media platforms by integrating them.
AI Graphics Design
As mentioned above, Simplified AI is an all-in-one platform for businesses to generate and publish content as quickly as possible. So after written content, it's time we talk about all the graphic design tools, including the AI text-to-image art generator, on Simplified.
AI Image Generator
Yeah, you read that right! Simplified recently integrated a powerful AI image generator on its platform, and it works extremely well. You can enter your text input in natural language, and it will automatically generate photos based on your input. If you are wondering which deep learning model it's operating on, well, you would be surprised to know that you get to choose between two options – DALL-E 2 or Stable Diffusion.
Simplified AI also lets you select the style of the image and choose the camera angles like closeup, over-head, low-angle, and more. In my brief testing, the AI image generator was accurate and did a good job. So if you're writing an article or a blog and want to bring an idea to life, you can use Simplified's AI Image Generator tool.
Remove Background From Images
While the AI Image Generator is cool, Simplified also brings some amazing smart features to make graphics designing simple. You have a background remover tool integrated into this website, and it works with just a click. You can easily remove clutter and make images with a transparent background while editing them, and it's accurate as well.
In my testing, it correctly identified the border and made a precise cut with all the elements intact. It is one of the best image background remover tools other there. So you no longer need to open a different app to edit photos. The Simplified AI platform is a one-stop solution that includes all the cool features you need to get your work done.
Image Eraser Tool
Simplified has its own image Eraser tool that allows you to remove unwanted elements from your photos or designs. And it does a very decent job at that. I added an image, adjusted the brush size, and simply erased the object I wanted to remove. It was erased, but there was some blemish left behind.
Beautiful Templates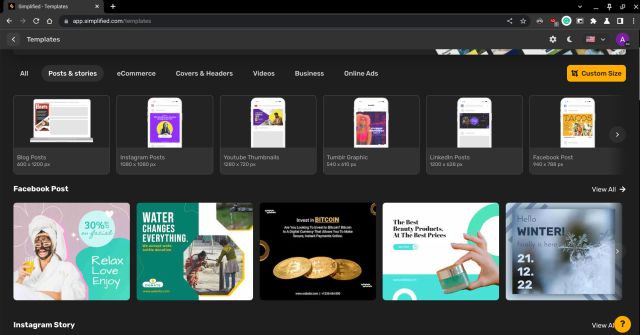 If you are a marketer and looking for a one-stop platform to create beautiful posts and stories for Instagram, Pinterest, Shopify, etc., then Simplified AI should be your only destination. Be it online ads, covers, headers, eBook covers, logos, or newsletter popups, you can create a variety of designs from a huge range of templates on Simplified. Frankly, in terms of design templates and assets, I found it better than Canva.
More Simplified Editing Tools
You have many more editing tools for one-click designing on Simplified AI. You can select the dimensions for a Facebook post, Instagram post, YouTube thumbnail, etc. Besides that, you can crop images with ratios and shapes of your choice. The interesting addition here is the ability to animate elements and make your design stand out. You can choose presets from the existing options and apply transitions as well. Not to mention, Simplified offers millions of design assets from popular free websites such as Pexels, Unsplash, Pixabay, Storyblocks, Flaticon, and more.
Simplified AI Platform: Pros and Cons
Now that we have learned about all the key features of Simplified AI's platforms, it's time to take a look at the pros and cons. The pros far outweigh the cons here, especially if you consider some of the splendid AI-driven features you are getting. They are effortlessly integrated with the rest of the services.
| Pros | Cons |
| --- | --- |
| All-in-one platform with all the essential tools for professionals | No AI Image Enhancer available |
| Free for personal users | Only 3,000 words per month for free users |
| AI-powered Instant Writer | |
| Rewrite content using AI | |
| Complete sentences using AI | |
| 70+ Writing templates | |
| AI Image generator, powered by DALL – E and Stable Diffusion | |
| Image Background remover, Eraser tool | |
| Great library of templates | |
| Schedule content for various social media websites | |
| Real-time collaboration with your team | |
Simplified AI Platform: Plans and Pricing
Based on what you need — AI Content Writing, Graphics Designing, Video Editing, or Social Media Publishing — you can choose one of the plans and subscribe to Simplified. For all categories, the pricing structure is the same as mentioned below. In case you wish to have access to more than one category, you need to subscribe to them separately.
Note that the below prices are based on the yearly plan, which offers a 40% discount to creators. So instead of opting for the monthly plan (which starts at $50 for businesses), I strongly recommend going for the annual plan. Simplified AI's price plans are as follows:
| Free Forever | Small Team | Business | Growth |
| --- | --- | --- | --- |
| Free | $18 for up to 5 members | $30 for up to 5 members | $75 for up to 5 members |
Create and Publish Content With the AI Magic of Simplified
So these are the key features of the Simplified AI platform, and it offers a good set of smart and AI-driven features for the asking price. I would have loved it if there was a universal plan for all the categories of products. Nevertheless, if you run a digital marketing agency or create content for websites and social media, Simplified is going to make your life so much easier with its AI-powered tools. So if you are interested, go ahead and check out Simplified from our link below.
Check Out the Simplified AI Website
---
Load More