Ever since the new Samsung Galaxy S8 flagship smartphones hit the shelves, there were several reports that users were facing a certain red tint issue in their displays. Well, now the company is providing a solution in the form of a software update which brings an additional setting in Adaptive Display screen mode, that lets you adjust the full screen color balance as per your preference.
The update is currently being rolled out to Galaxy S8 and S8+ smartphones in South Korea, Europe and India. The latest firmware version for the Galaxy S8 is G950NKSU1AQDG and the one for S8+ is G955NKSU1AQDG.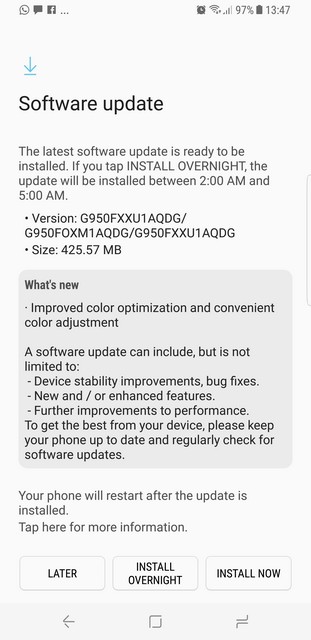 The Galaxy S8 devices in India are receiving the update, almost a week prior to its launch in the country. Well, this does ensure that the company is taking primitive measure for the Galaxy S8 units in India before it goes on sale in India on May 5.
After the update, you will now be able to notice a new Screen edge colour balance in the Screen Mode menu, which lets you tweak the colors at the edges of the display, where the red tints are usually more apparent for the users who've faced this issue. Unfortunately, the color balance adjustment only works if you're in Adaptive Display mode, so you might have to sacrifice on the calibrated setting to get the red tint off your screen.
If you're still worried about your display, Samsung has apparently promised to replace the affected devices if the owner is dissatisfied. After all, it is essentially the company's responsibility to ensure that nothing is blown out of proportion by the users, unlike the Galaxy Note 7 debacle last year.