No matter how careful we are with our data, sometimes tragedies happen and we lose important files. Whether your hard-drive corrupts or your PC had a system-wide failure, losing data can be painful. What's even worse is that most data recovery software on the market are quite costly and not all of us can spare that kind of money. That's why I am so happy to share with you a free data recovery software today. The software that I am talking about is called SALVAGEDATA Data Recovery Software. And in this article, we are going to take a brief look at this software to see what it has to offer us.
Key Features
SALVAGEDATA Data Recovery Software is a really good data recovery software for your Windows, Mac, and Linux machines. We will start by taking a quick look at some of its main features and then move on to its user interface. So, without wasting any more of your time, here are some key features of SALVAGEDATA.
1. Data Recovery
Of course, the headlining feature of SALVAGEDATA Data Recovery Software is its ability to recover lost data. The best part about SALVAGEDATA is that not only it supports internal hard drives but also external hard drives. The software is pretty good at finding the deleted files and recovering it. It can recover deleted files, missing partitions, corrupted data, and more. Below are some of the reasons why it's so good at recovering data.
Fast and Detailed Scanning
SALVAGEDATA Data Recovery Software brings a super-fast scanning system which scans the entire system in just a minute if not a few seconds. Despite bringing a fast scanning system, it is very good at extracting all kinds of lost files. Data scanning is where most data recovery apps fail but SALVAGEDATA is not one of them.
Supports Most File Systems and Formats
Another big pro of SALVAGEDATA is its support for a huge range of file systems and formats. When it comes to file systems, SALVAGEDATA support Windows' FAT, exFAT, and NTFS file systems along with HFS and HFS+ on macOS, Ext2, Ext3, XFS, and ReiserFS on Linux, and UFS1 and UFS2 on BDS.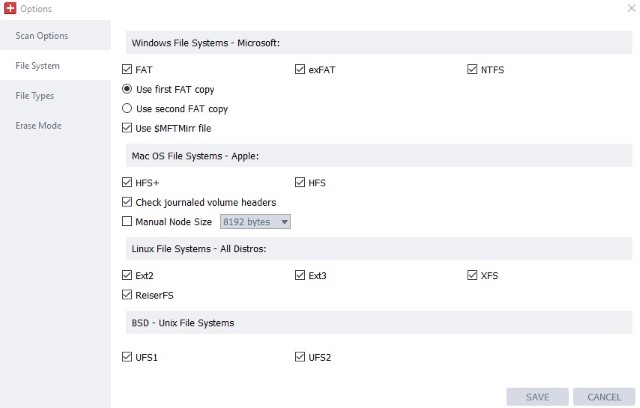 In all these file systems, SALVAGEDATA supports the recovery of most file types for photos, videos, audio files, documents,emails, and more. Needless to say, there is no popular and even obscure file or file system you are using that cannot be recovered using SALVAGEDATA.
2. Image and Clone
Apart from allowing users to recover lost data, SALVAGEDATA also lets users clone their existing data. You can easily select the drive that you want to clone and create a clone with just a single click. This feature is great if you want to create a replica of your desktop as a backup.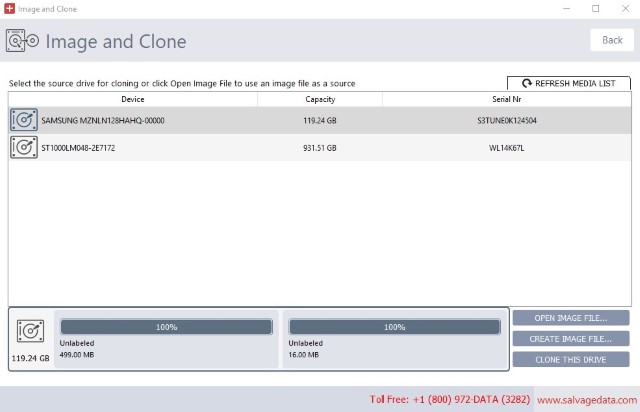 3. Secure Wipe
Finally, there's also a "Secure Wipe" feature, which as the name suggests, lets you securely wipe files from your system. As it's clear that SALVAGEDATA and similar apps can let you recover even deleted data, it's always good to securely wipe your computer before selling or deprecating it. I use the secure wipe feature quite regularly to complete destroy sensitive files which are not needed anymore. It gives me peace of mind to know that no matter what happens, my sensitive data will never fall in the wrong hands.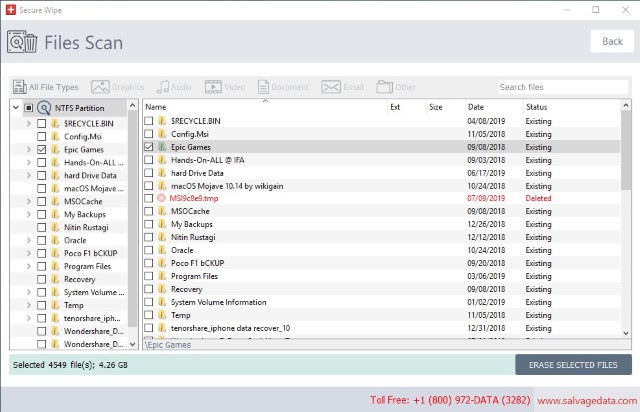 User Interface and Ease of Use
SALVAGEDATA Data Recovery Software is one of the easiest data recovery apps that I have ever used. When you launch the app, you are presented with its three main options; Data Recovery, Image and Clone, and Secure Wipe. I have already explained all the three features above. Depending on what you want to do, you will click on any one of the options.
The next steps are pretty simple and similar. You select the drive you want to scan to recover lost data or create a copy or securely wipe and then click on the relevant button at the bottom right of the page. All the buttons and features are clearly visible and you don't have to rifle through menus of items to find what you are looking for.
Another thing that I would like to mention here is that SALVAGEDATA Data Recovery Software shows no ads. Most free data recovery software rely on ads and they kill the user experience. Since there are no ads on SALVAGEDATA, you are never interrupted or coerced into clicking on something that you are not supposed to. Overall, it gets A+ marks from me as far as UI and usability is concerned.
Pricing and Availability
As I told you before, SALVAGEDATA is free to download and use. There are no hidden costs and no ads to kill your user experience. The app supports all three major desktop operating systems including Windows, macOS, and Linux. The app is available to download from its website.
Check Out SALVAGEDATA Recovery Software: Free
Excellent Free Data Recovery Software
SALVAGEDATA Data Recovery Software is one of the best if not the best free data recovery software that I have used in a while. Not only the app works great but it's also easy to use and elegant to look at. This is a software that you should always keep on your computer as you never know when you will need it.