There is no doubt that Roblox gives us a ton of options when it comes to character customization. But there's no match to creating your own clothes in any game. And since we already have a guide in place to help you make custom shirts in Roblox, it's only natural that we move on to make pants and complete the outfit. So here's how to make pants in Roblox and get your avatar to wear them. We have shared the link to the official Roblox pants template in this article, which will make it easier for you to design pants.
How to Make Pants in Roblox (2022)
Download Template for Roblox Pants
Roblox has an official set of templates to enable players to customize clothing items, including shorts and pants. Using such a template not only saves time but also ensures that all the elements of your pant design fit your avatar without any issues. With that out of the gate, here's how to download the official Roblox pants template:
1. To begin, visit Roblox's official website and click on the "Create" option at the top of the webpage.
2. Then, a new page will open to promote the Roblox Studio. There, click on the "Manage my experiences" option, located at the bottom of the webpage.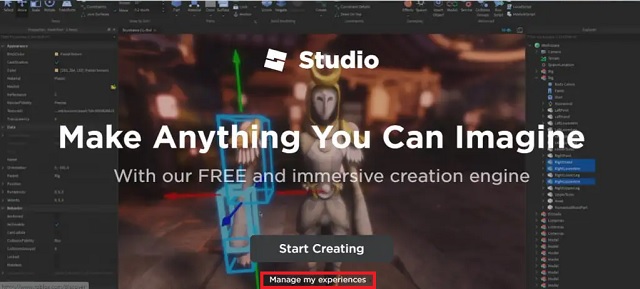 3. After that, move to the "Pants" section from the left pane under the "My Creations" tab. Click the "download it here" button in the right pane to open the template image.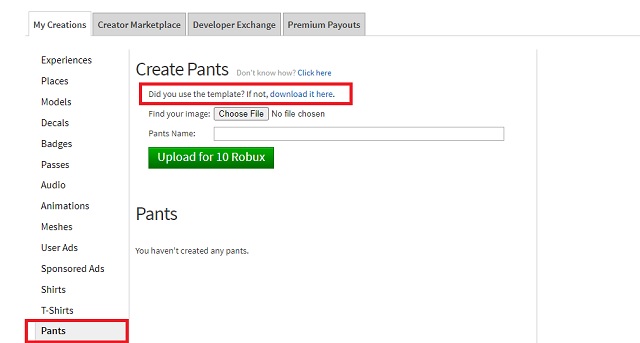 4. The pants template will open in a new tab within your browser. Then, you have to right-click on the template and use the "Save image as" option to download it as a PNG file.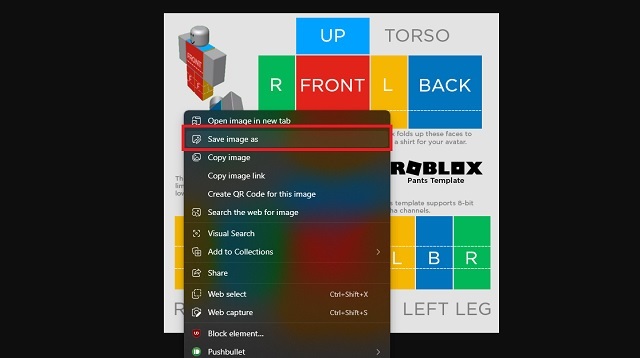 How to Make Pants for Roblox (Windows & Mac)
Once you have the Roblox pants template, it all comes down to editing it as you like. You can use any free photo editing software for this purpose, but we suggest using Photoshop or its alternatives for precision and ease. With that said, follow the steps below to make custom pants for Roblox:
1. First, right-click on the template and use the "Open with" option to load the image into the editing software.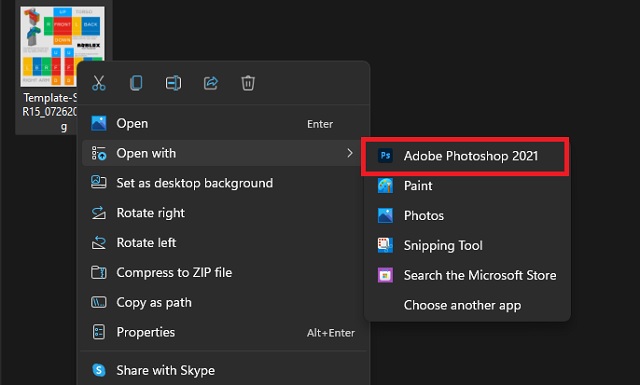 2. Then, feel free to let your creativity flow and edit the pants template as your desire. You can recolor it, retexture it, and even add pictures to the template. But make sure not to use copyrighted or offensive imagery.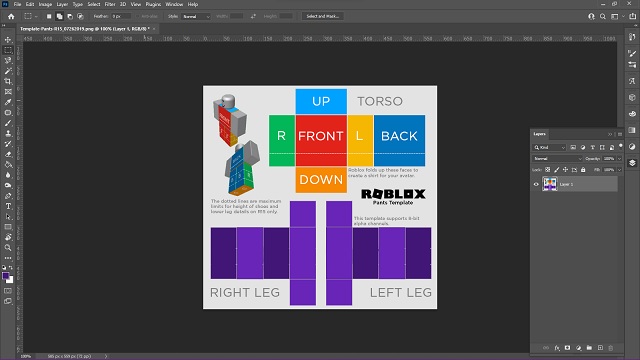 3. Once you are done with the basic design, it's time to add fabric textures. For that, we are going to use the textures provided by the user Iskender_Argead (get here). Though, you can also explore Roblox communities for more free options.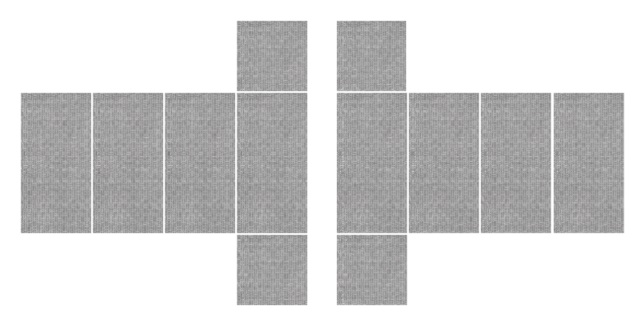 4. Then, import the downloaded textures to your image editor and align them with the basic template. Once the fabric texture is in place, you have to blend it into your design by changing the layer's blending mode to "multiply" and lowering the opacity to 50%.
5. Once you are satisfied with your design, save the edited template as a PNG file with whatever name you want.
How to Make Pants for Roblox (iPhone & Android)
You can use the same Roblox pants template on phones, tablets, and desktops. You simply need to visit the Roblox website to get the pants template. So make sure you have the template saved on your device, and let's get started.
1. First, download the Picsart app on your device. It is available for free on iOS, Android, and Windows. Not to forget, you can also use any other photo editor if it gets the job done.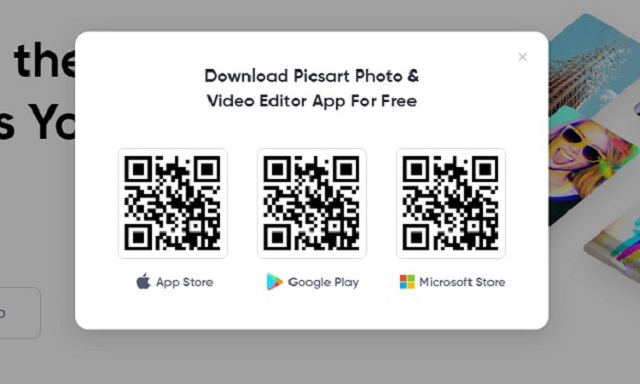 2. Next, open the Picsart app. When you open the app for the first time, it will ask you to create an account. The creation of this account is free, but you can tap the "skip" button to continue without it.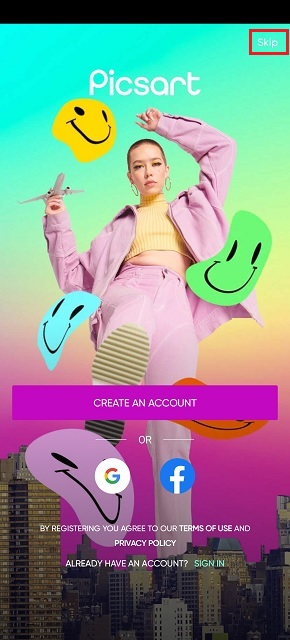 3. Then, tap the "Edit a Photo" button on the next page. If you are an existing user, you will have to press the plus (+) sign in the middle of the bottom navigation bar to find the photo editing option.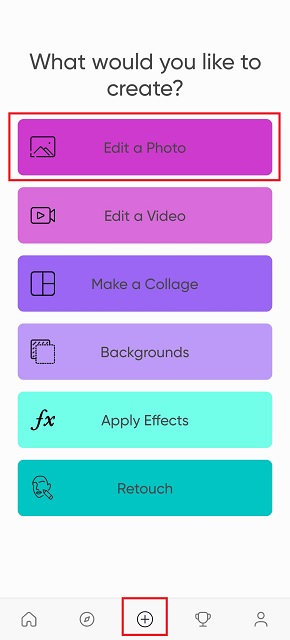 4. Unless you are an existing Picsart user, the app will ask for permission to access the media files on your device. Tap the "Allow" button to give it access.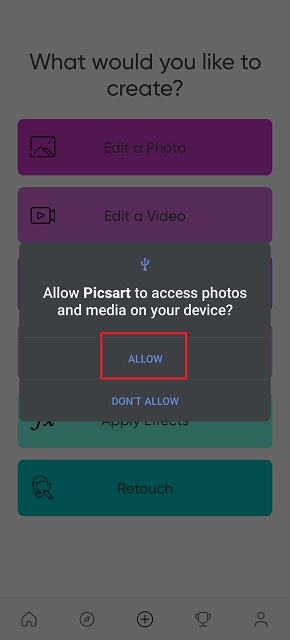 5. Then, select the Roblox pants template from your gallery and import it into Picsart.
6. When the image opens in Picsart, you can use the app's various editing tools to add stickers, shapes, and even text to your Roblox pants. Use the scrollable toolbar in the menu at the bottom to find all your editing options.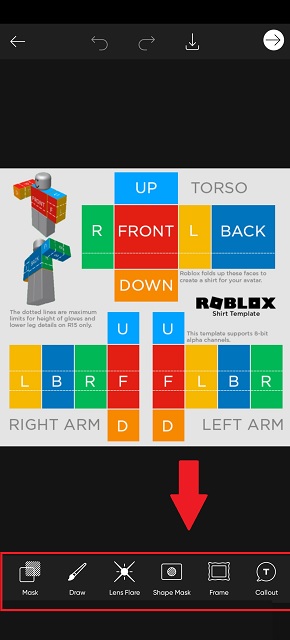 7. Finally, after doing all the edits, tap the download button in the top menu, indicated by a downward arrow.
Upload Custom Pants Design to Roblox
At this point, your custom Roblox pants are ready for action. So all that's left is getting them into the game. But make sure you have at least 10 Robux in your account to pay the skin upload cost. Then, follow these steps to upload your pants to Roblox:
1. First, go back to the "Pants" page on the Roblox website from where you downloaded the template. Use this link to save yourself a few clicks.
2. Then, click the "Choose file" button to upload your edited pants template. You can also choose a custom name for the pants in the same section. Once everything is in place, click the "Upload for 10 Robux" button. It will cost you 10 Robux to upload one pant.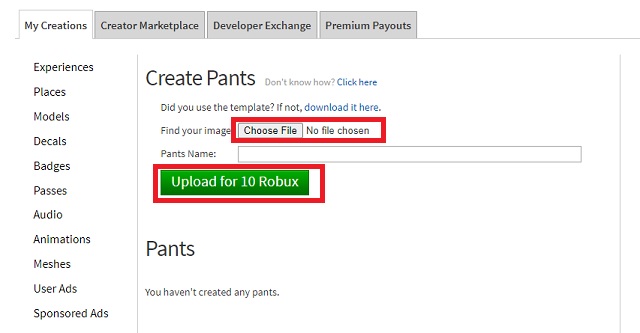 3. Once the custom file is uploaded, it will take Roblox around 30 minutes to 2 hours to review it. If the file is approved, it will appear in your avatar's inventory. But if it's rejected, you can edit the file and upload it again. In either case, the paid 10 Robux aren't refunded.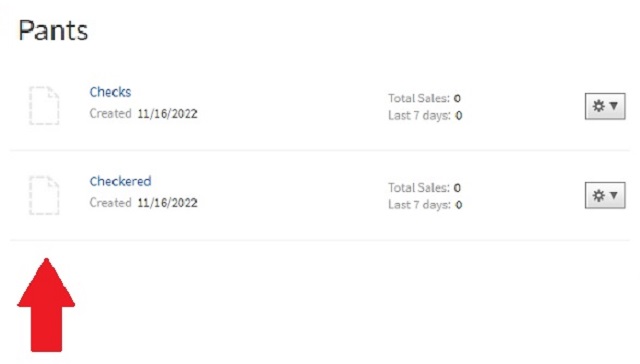 How to Use Your Custom Pants in Roblox
Once the pants are reviewed and ready for use, you can freely use the pants on your Roblox avatar. Here's how to do that.
1. First, go to the avatar area to customize your Roblox character. You can use this link to open the avatar editor in your browser, or you can find it within the character options section of the Roblox app.
2. Then, click on your custom-made pants to activate and equip them.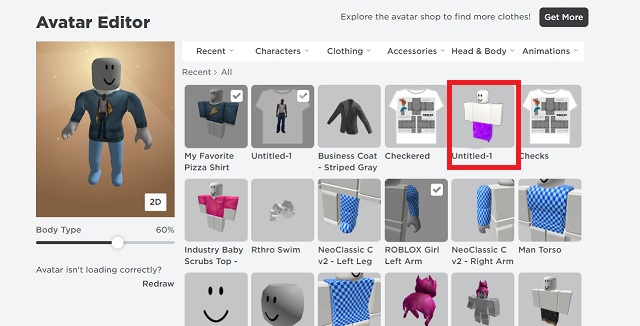 3. If you like how your pants design turned out, you can even sell them on Roblox's avatar shop. But that's an entirely different territory. So we suggest going through Roblox's monetization guide first.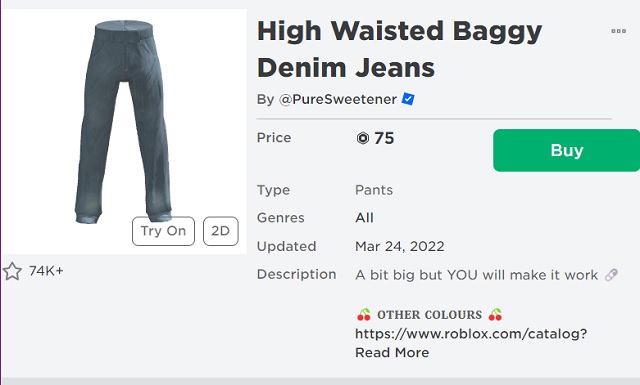 Make and Use Custom Pants in Roblox
With that, you are now ready to create your custom pants in Roblox using the official template. Whether you want to blend into a group or recreate your real fashion style in the game, our guide is here to help. But your new pants are of no use if there's no place to show them off. So once your pants are ready for use, it's time to explore some of the best scary Roblox games. While you're at it, you should also check out the Roblox Squid game to make your creations available to an even larger audience. Having said that, what color are you choosing for your Roblox pants? Tell us in the comments below!