In terms of engagement and impact, Instagram has become a colossal social media marketing tool. Both top-notch brands and small businesses use this huge platform to not only stay trending but also interact with prospective customers. While this rapidly growing photo and video sharing platform is packed with almost all the sought after features, there is one thing that's been missing for long – Reposting. But bother not, there are quite a few workarounds to overcome the roadblock and repost on Instagram with ease. Whether you are a professional and wish to promote your brand on Instagram or a normal user who loves to share cool stuff, here is how you can repost on Instagram.
Tips to Repost on Instagram with Ease in 2020
Keeping in mind convenience and compatibility, we've explained multiple ways that can help you reshare an Instagram post not just on Android and iOS devices but also on your computer. But before getting started, there are a few things you must consider.
Never Forget to Give Credit to Original Poster
It's really tough to create out-of-the-box contents as a lot of effort and dedication go into it. The genuine creators deserve praise and must always be given the due credit. So, never forget to give the credit where it's due. Before reposting any Instagram photo or videos, you must always ask for permission. You can do so by sending an Instagram DM or just commenting on the post and requesting for permission to share it.
If you don't follow this norm, you will be violating the terms and conditions. Thus, you may find yourself embroiled in serious legal battles. Considering how significance it is, put it right at the top of your agenda without any fail.
Note: Whenever someone tags you in their stories, you get the instant notification via Direct Message along with the option to add them to your story. Keep in mind, you will be allowed to repost any story (in which you have been @mentioned) for only up to 24 hours. In this extensive tutorial, we are looking beyond this limited feature.
Reshare Instagram Posts on Android Device
We've tried out many third-party apps that allow reposting on Instagram. And after putting them to an acid test, we've picked out "Repost for Instagram from Kimcy929"(free, in-app purchase) as the most reliable option. This third-party app sports a neat interface and comes for free. So, download it before going ahead with the process.
1. First off, open the Instagram app on your Android device and locate the photo or video that you would like to reshare.
2. Now, hit the three dots at the top-right and choose Copy Link. The link will now be copied to the clipboard and you should see the confirmation on the screen.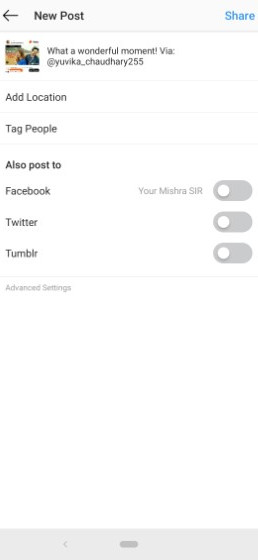 3. Next, launch the Repost for Instagram app on your Android device and allow it to access your photos, media, and files.
4. Next up, the app will automatically recognize the link and show the content on the screen. Tap on it. On the next screen; tap on the Repost button at the bottom left. Then, it will let you know that the post caption was copied to the clipboard. Tap on OK.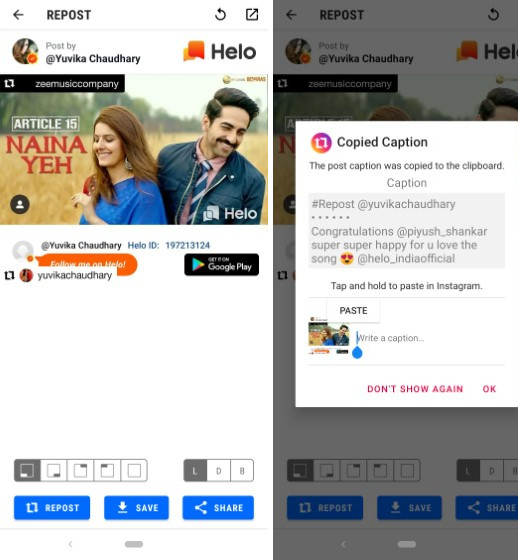 5. Now, tap on Feed.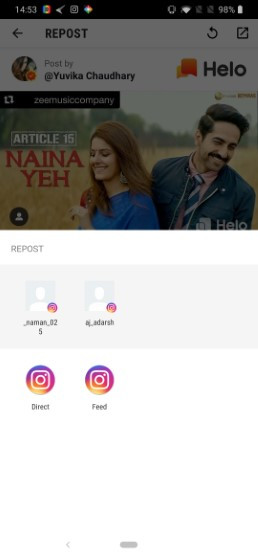 6. Then, you have the option to crop the photo using the built-in photo editor. After that, tap on the arrow at the top right.
7. Here you can use filters and editing tools to refine the pic. Then, click on Next at the upper right corner.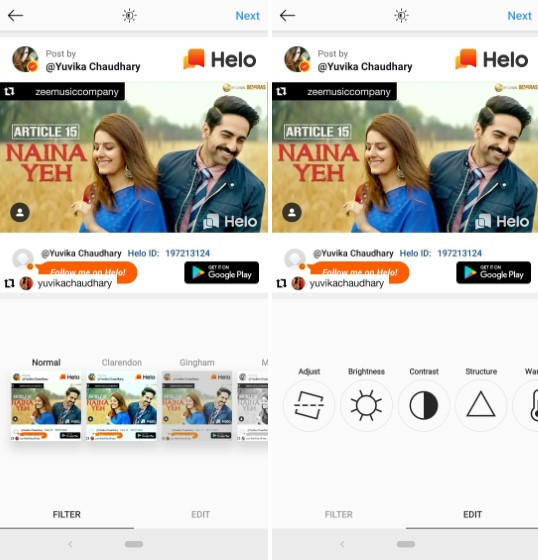 8. Finally, write down the suitable caption and be sure to give credit.
Just like any other post, you can also add location, tag people and even share them on sites like Facebook, Twitter, and Tumblr at one go. Once you are done, tap on Share to finish.
Repost for Instagram Alternative?
Considering that there is no one app that can satisfy all users, we thought it would be better to mention an able alternative. And, I can safely say that "Repost for Instagram from Red Cactus" (free, in-app purchases) seems to be a pretty solid bet as it's designed to get the task done without any hassle.
As for the process, it's quite identical. In a nutshell, open this app -> hit the Instagram icon at the top right. Now you will be taken inside the Instagram app, look for the content you want to reshare. Here, tap on the three dots and choose Copy Link. Now, open Repost for Instagram app and then tap on Repost at the top left. After that, it's business as usual.
Repost Instagram Posts on iOS
Resharing any Instagram photo or clip on iOS is just as straightforward. To get the task done with the needed convenience, we've chosen "Repost for Instagram". Talking about the process, it keeps everything pretty simple and has got a relatively clean interface. Besides, you can get this app for free. Make sure you've already downloaded Repost for Instagram (free with ads) on your iOS device before following the steps.
1. Open the Instagram app and find the post you would like to reshare. Hhit the three dots and select "Copy Link" in the menu.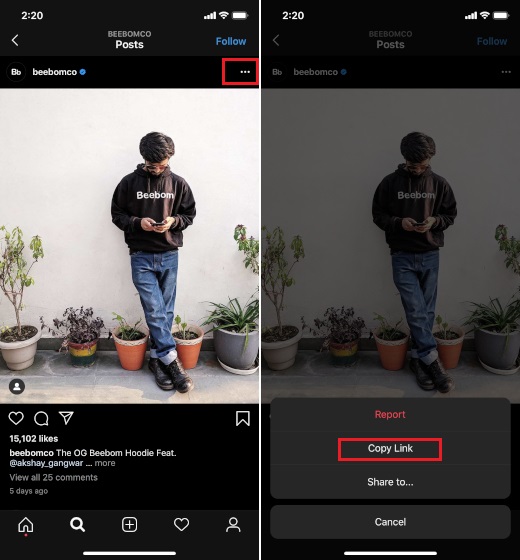 2. Next, open Repost for Instagram app and it will quickly recognize the copied link. Tap on "Ok" to proceed. Also make sure to grant it any permissions that it needs to function.
4. Finally, Hit the Repost button. At this stage, the app might show an ad. After that, tap on the "Open & Repost" button to repost the post on your Instagram profile.
Is There Any Other Option?
Yes, "Repost: For Instagram" By Bench s.r.o. (free) is equally impressive, both in terms of ease of use and reliability. And just like its counterpart, it is free. The repsoting process is identical so you can follow the same steps explained above to reshare an Instagram post from your iOS device.
Repost on Instagram Using Windows and macOS
Thanks to super handy third-party apps, re-sharing an Instagram post on mobile devices is hassle-free. But if you think that the process may not be as upfront on computers, then you are wrong.
To easily reshare posts on Instagram using a Windows or macOS device, I would suggest you try out a pretty intuitive Google Chrome extension called "Downloader for Instagram". It allows you to download any photos and videos from Instagram. And once you've downloaded the post, you can reshare it just like any other content.
1. First, click on the link to download the "Downloader for Instagram" (free) Chrome extension.
2. Now, click on Add to Chrome. Then, you have to click on Add Extension to confirm.

3. Next, go to Instagram.com on your computer and locate the image or video you want to reshare.
4. Now, you hover the pointer on any video, a Download button will pop up. Click it to download the content on your computer.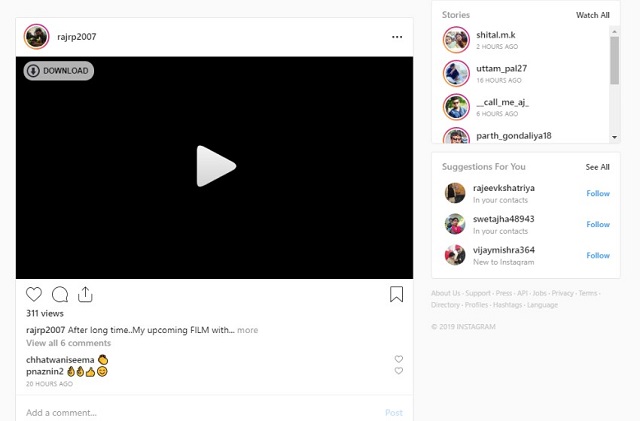 5. After that, repost this content just like any other photo or video. But do not forget to give the much deserving credit.
An Equally Good Alternative: DownloadGram
Just in case, you don't want to add an extension to Chrome, DownloadGram would be a better way to go. With the help of this site, you can download any image or clip from Instagram on your computer.
1. Head over to Instagram.com and sign in to your account, if you aren't already. Then, click on the three dots at the top right of any post and choose Copy Link.
2. Then, go to DownloadGram.com (visit website) and paste the link. After that, hit download.
3. Now, click on Download Image/Video.
After the content is downloaded, you can reshare and watch it as and when you want. That being said, you will notice that there's no native Instagram app for Mac and the Windows app is not that great. If you want to be able to use Instagram on Mac or PC without any restrictions, click on the links to read the articles on the same.
Keep Resharing Coolest Stuff on Instagram
So, that's how you can reshare all the eye-catching Instagram content from your mobile device or computer. Of course, it would have been a lot easier had there been an official option. That said, the above-mentioned options do get the job done with ease. Therefore, get the most out of them to bolster your brand on Instagram or keep enthralling your friends.
Instagram may have far less active users than Facebook. However, when it comes to high engagement, it's second to none. What seems to have stood this photo and video sharing app in good stead is the wide range of adorable features like Stories and tons of attractive filters. What's the one thing you adore a lot in this app? Shoot your thoughts in the comments down below.