Reddit didn't have an official mobile app until 2016, though there were a bunch of third-party clients that allowed users to experience the "front page of the internet". Two years later, the official mobile apps have become Redditors' most-preferred way of browsing and the platform is now taking the next step towards engaging more users over smartphones.
Reddit, which already allowed promoted content on its website, says that it will now roll out the ability for natively promoting ads on its official Android and iOS apps. This development comes after the company acknowledged that 41% of the total time spent by users is via official mobile apps. It also noted that users who are logged into mobile apps spend 30 percent more time than desktop users whereas 80 percent of the users who use the app do not browse Reddit through the desktop site.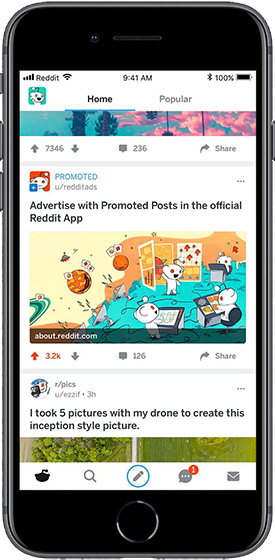 These statistics are compelling enough for the company to allow advertisers to reach out to users. Reddit also announced that the promoted posts will have features of a standard post including upvote and downvote options, and a full-fledged comments thread. Currently, ads on the Reddit app do not allow commenting and the addition will help marketers add a human touch to the ads as well as give an additional boost to the ranking of the posts.
Marketing Land notes that the native ads will roll out to iOS on March 19, while the Android app will get the feature in the coming months. Reddit has not declared if they would launch an ads dashboard within the apps, or even a dedicated app just like the one for Facebook ads. Redditors can promote their posts by targeting the subreddit, time of day, user interests and their location. Meanwhile, advertisers will also be able to roll out ads separately for Android and iOS users.
It remains to be seen how enthusiastic advertisers will be considering Reddit's very niche demographic and stance on divisive issues, which may be why the company has revamped its content policy in recent months to target hate speech and online trolls.
---