The foldable smartphone category has started becoming fierce with options like the Oppo Find N2 Flip and the Tecno Phantom V Fold other than Samsung's Galaxy Z Fold and the Z Flip offerings. This also includes the upcoming OnePlus and Pixel foldable phones and joining the bandwagon is Realme, which has just teased its first-ever foldable. Check out the details below.
Realme Teases Fold and Flip Phones
Realme's CEO Madhav Sheth recently took to Twitter to ask people about their preferences for a foldable phone by Realme. He gave out two choices; a Realme Fold and a Realme Flip (possibly going to change), suggesting that either of the two (or both) is set to launch soon.
Although, there's no word on when this will happen. Given that Oppo has already made the Find N2 Flip global and OnePlus has also teased one, we can expect Realme, which is their sibling brand, to launch one too, that too, this year.
For those who don't know, back in 2021, we got a look at the design of Realme's foldable phone, which is purportedly called the Realme GT 2 Fold. The patent images showed a vertical folding mechanism for the phone, much like the Galaxy Z Fold 4. It is also expected to have an 8-inch primary screen and a 6.5-inch secondary one, along with 50MP dual rear cameras.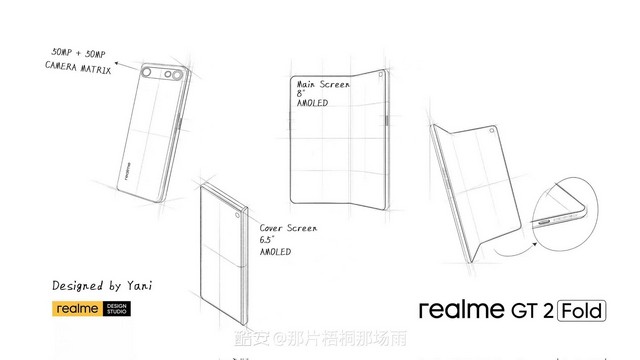 But, there's completely no word on the spec sheet of the Realme Fold or the Realme Flip or whatever name it will wind up with. There are a lot of unanswered questions and now that Realme has started talking about its foldable phone, we might get some official details on it soon. Whenever that happens, we will ensure to keep you updated. Therefore, stay tuned, and do let us know if you are interested in a Realme foldable phone in the comments below.