Despite facing competition from Huawei's Kirin, Samsung's Exynos, and MediaTek processors, Qualcomm's Snapdragon still remains the most preferred option out there for SoCs in smartphones. The company had previously launched their flagship processor, the Snapdragon 845, and then also launched the Snapdragon 710, which manages to bridge the gap between the 6xx and the 8xx series. Now, Qualcomm has another new SoC up their sleeves.
Qualcomm has just announced the Snapdragon 670 Mobile Platform, building upon the success of the Snapdragon 660 SoC. The main focus for the new chipset has been the incorporation of a better support for advanced AI.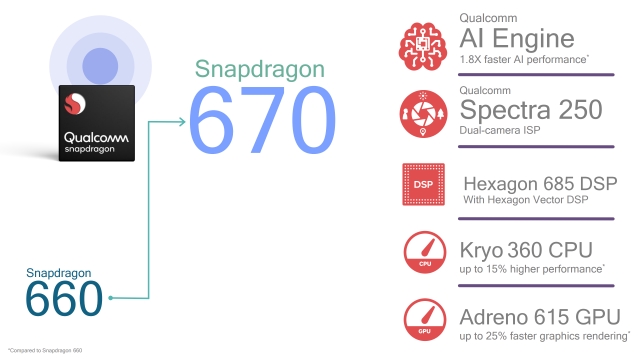 The Snapdragon 670 features a collection of architectures, including the Qualcomm Kryo CPU, Qualcomm Spectra ISP, Qualcomm AI Engine, and Snapdragon X12 LTE modem, for high-quality mobile user experiences. This new mobile platform gives OEMs freedom to add more features and experiment with different mobile device sizes than our previous generations. For consumers, this means more options to choose from, depending on what suits their needs.
The Snapdragon 670 comes with an all-new architecture, that features two Kyro 360 performance cores, clocked at speeds up to 2.0 GHz, along with six Kyro 360 efficiency cores, clocked at speeds up to 1.7 GHz for better battery life.
According to the company, the Snapdragon 670 SoC makes use of Qualcomm's 3rd generation AI Engine, designed to deliver up to 1.8x AI performance than available in the previous generation. As such, users can expect near real-time responsiveness, improved privacy, and enhanced reliability, even when the device lacks a network connection.
But AI is not all that the company has focused upon. Qualcomm states that the Snapdragon 670 SoC should offer better camera quality as well, thanks to the Qualcomm Spectra 250 ISP used in the processor. Thanks to this, the end-user can make use of professional features such as noise reduction, image stabilization, and active depth sensing. Additionally, they can record videos with Ultra HD Video Capture, a feature that uses up to 30 percent less power than its predecessor.
The Snapdragon 670 comes with the X12 LTE Modem, supporting download speeds of up to 600Mbps and upload speeds of up to 150Mbps. What's more is that the modem is engineered to automatically switch between LTE and Wi-Fi, depending on which mode has the strongest signal quality and highest speeds at the time.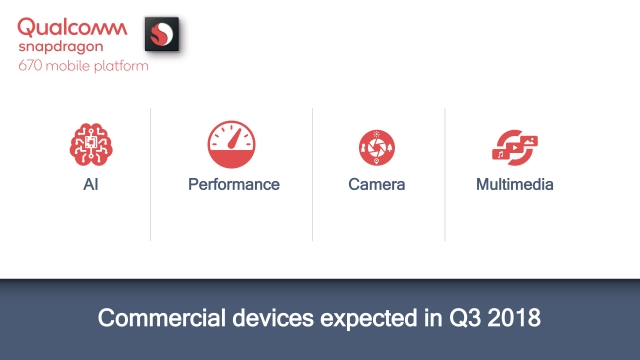 While no OEM or Qualcomm themselves have confirmed the presence of the new SoC in any of the upcoming devices, Qualcomm states that they expect Snapdragon 670 powered SoCs in Q3 2018.
---